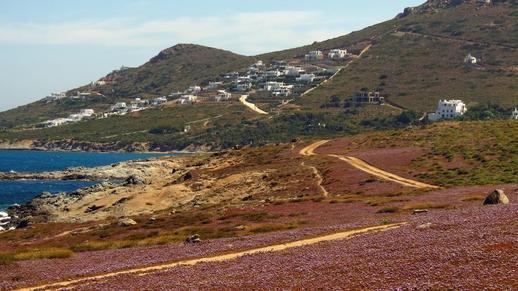 Cape Agios Prokopios view toward a recently-built residential neighbourhood on the west side of Stelida mountain. We walked a coastal trail below the houses and followed a dirt road back to Agios Prokopios beach.
[Editor's note: This is the fifth instalment in an ongoing series of reports about our 2014 spring vacation in the Cyclades and Athens. Click here to see Part 1, click here to access Part 2, click here for Part 3, and click this link for Part 4. You can view full-size versions of all the photos posted below in the Naxos May 23 2014 album on the MyGreeceTravelBlog Flickr page.]
Friday May 23
 Final full day: Time passes far too quickly when we're on vacation! We were completely relaxed and feeling right at home on Naxos, but already it was our last full day on the island. After breakfast tomorrow we would have to pack, check out of the hotel and get to the port for our ferry to Syros. Where did the time go?
I had been certain we would see and do a lot more on Naxos than we actually did. Before coming to the island, we had tentatively planned to visit at least one village — Koronos and Apollonas were the likely candidates — and to mountain bike as far down the south coast as we could possibly go. Windy conditions forced us to scale back our biking plans, while this morning we simply didn't feel like hurrying into Naxos Town to catch a bus and spend more than an hour riding it to one of the villages. I felt guilty that we didn't get to scratch more Naxos destinations off our must-see list, but a whirlwind sightseeing tour could wait for a future trip — today we found it more important to unwind and take it easy.
That's what passengers appeared to be doing on two different sailboats that arrived in Agios Prokopios Bay while we were having breakfast. One was a large sailing yacht, probably a private charter, flying flags for Turkey and Greece. The other was a private sailboat flying a German flag. Both dropped anchor in the bay a hundred meters or so offshore, where their occupants would enjoy impressive panoramic views of Agios Prokiopios beach, Stelida mountain, and the rocky southern shores of Cape Agios Prokopios. As I watched them float quietly on the sparkling sea, I started daydreaming about what it would be like to cruise the Greek Islands on a sailboat. I hope some day I'll get the opportunity to find out …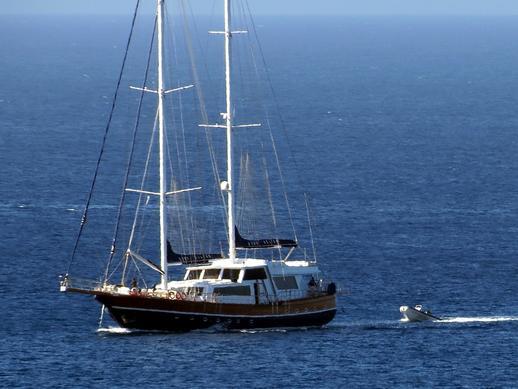 A Turkish-flagged sailing yacht approaches the west coast of Naxos …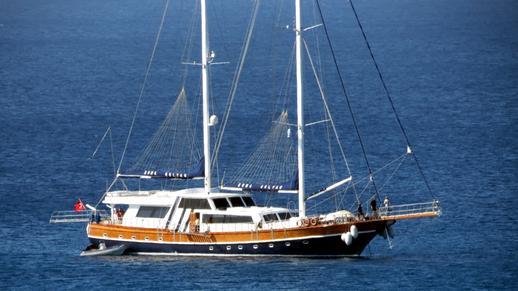 … and drops anchor in Agios Prokopios Bay, a short distance from shore …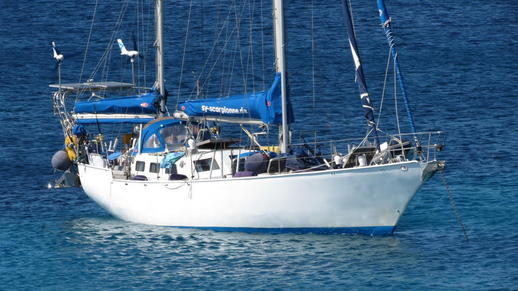 … joined soon afterwards by another sailboat
A walk along the Cape and west coast of Stelida
Although we felt lazy, we didn't want to spend a day sitting around or laying in the sun — we needed to move around, but at a relaxed pace. So after breakfast we took a long, slow walk along Cape Agios Prokopios and the west side of Stelida mountain, eventually making our way back to the hotel.
Click on the 2 in the link below to continue reading the trip report and view dozens more photos of the sights we saw during our hike.
CONTINUED ON PAGE 2