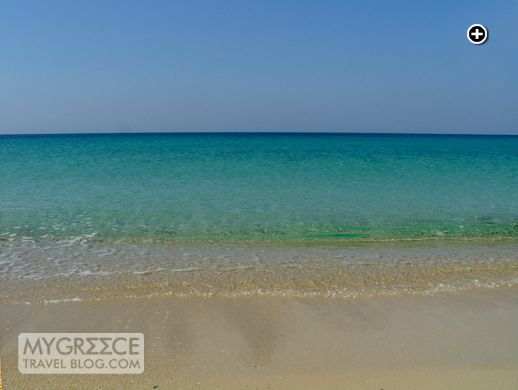 Looking across the brilliant turquoise sea as waves softly break against the sand at Agios Prokopios beach on Naxos
Feeling the chill: Clouds. Wind. Rain. That pretty much sums up the dreary, depressing weather we've been experiencing here in Toronto since late October, when Hurricane Sandy started moving out of the Caribbean on its way to wallop the USA's eastern seaboard. We were supposed to see a mix of sun and clouds on Sunday, Monday and again today, but the sunshine didn't last for more than a few minutes. So you can imagine how envious I felt this morning when a friend in Athens bragged about being on her way to the beach because it was a balmy 29 degrees (Celsius).
At the time, I was sorting through photos from our visits to Naxos in 2005 and 2006, looking at pictures of some of the island's beautiful beaches. Just out of curiosity, I checked the weather for Naxos. The island wasn't getting the same blast of heat as Athens, but the temperature was still a summery 24 C.  Meanwhile, we were shivering with a high of only 2 C.
CONTINUED ON PAGE 2