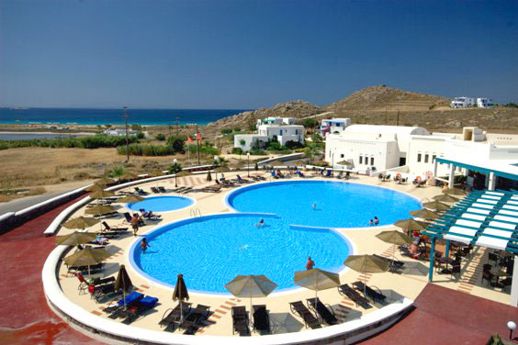 This pic from the Naxos Imperial Resort & Spa website shows the Figure 8 shape of the hotel's swimming pool above Agios Prokopios beach
Swim in circles: One of the big changes we noticed on Naxos during our May 2009 visit was a brand-new resort just a few steps down the road from the Lianos Village Hotel, where we have enjoyed staying on our last two Naxos holidays.
We could see that finishing touches were still being applied to the five-star Naxos Imperial Resort & Spa, which had been built during the winter of 2008-2009. But the large luxury resort (it has a main building with restaurants, bars and spa facilities, plus six separate wings with single, double, triple and quadruple hotel rooms) didn't appear to have any guests at the time. At least, there were none that we could see.
CONTINUED ON PAGE 2