Nobody was taking a dip in the large round swimming pools, and not a soul could be seen sunbathing on the spacious seaview pool terrace. The entire property had an eerie, lonely atmosphere — like an abandoned ghost town. It's quite possible the hotel wasn't accepting guests just yet; this year, the hotel website shows that bookings could be made only from May 29 onwards (the Imperial closes in mid-December). I'm sure things got lively once the Imperial made it onto the radar of travel agents and Internet booking sites, particularly since Naxos had been lacking upscale, luxurious accommodations.
Below are some photos we snapped of the swimming pool when we walked past on our way down a road leading from Stelida to Agios Prokopios beach. There's also some pics of the hotel's private beachfront, which we shot from the Express Skopelitis ferry that took us from Amorgos to Naxos. Additional photos of the pool and beach can be viewed on the Naxos Imperial hotel website.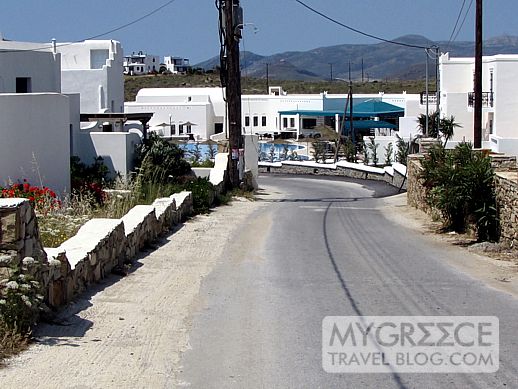 Approaching the Naxos Imperial from a road to Agios Prokopios beach
The Naxos Imperial's pool viewed from the road to Agios Prokopios beach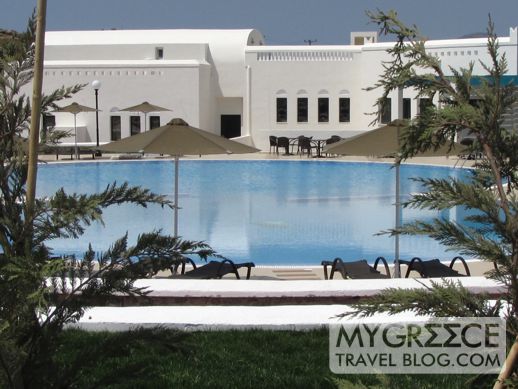 The 5-star resort opened for business in the spring of 2009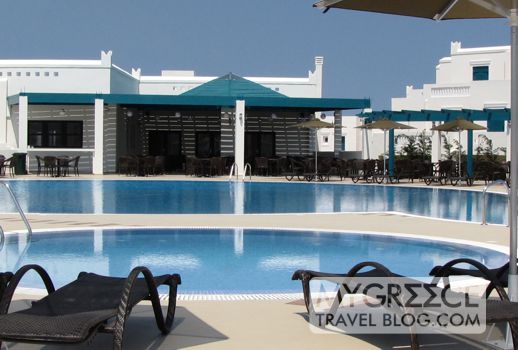 A shallow round wading pool sits next to the large Figure 8-shaped swimming pool. The terrace has views of the sea and nearby Agios Prokopios beach.
For sunbathers who prefer to take a dip in the sea instead of the pool, Agios Prokopios beach is only a two-minute walk away
xx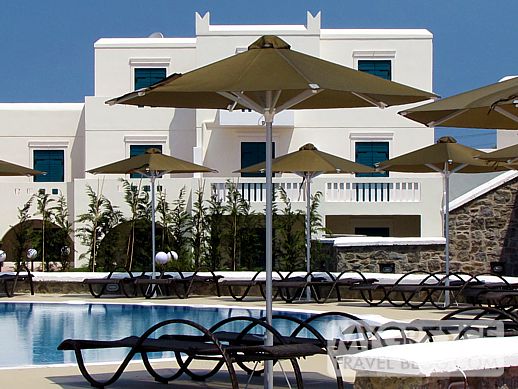 Lounge chairs and umbrellas ring the perimeter of the Figure 8-shaped pool
xx
The Naxos Imperial has its own umbrellas and lounge chairs on a brown sand beach behind the 7-building hotel complex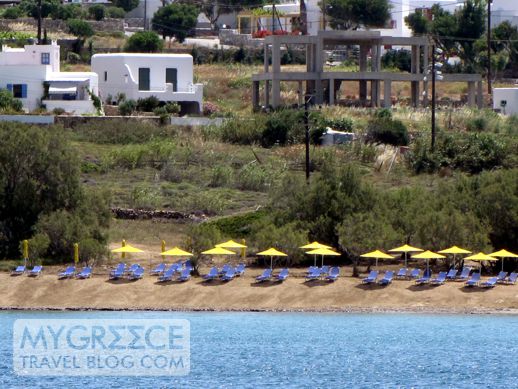 The hotel beach is situated on the Stelida coast of Naxos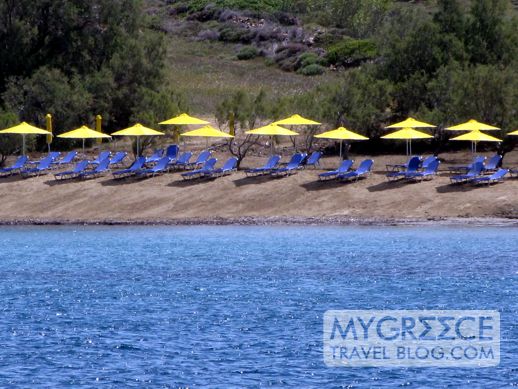 The beach faces west, offering views of nearby Paros island