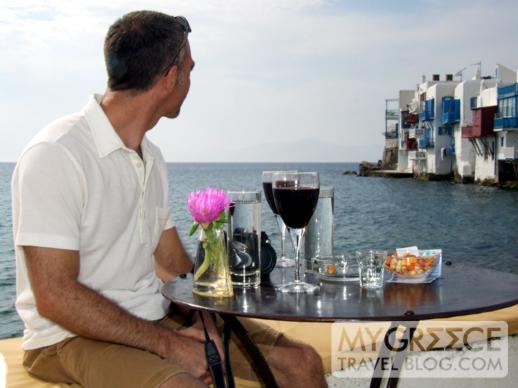 Gazing toward Tinos island from Semeli bar at Little Venice, Mykonos
Seaside drinks and dining: One of the things I love most about Greece, especially in the Islands, are the bars and tavernas with seaside tables. I always find it soothing and refreshing to enjoy a drink or meal while sitting just a few feet, or even mere inches, from the sparkling waters of the Aegean Sea. Gazing toward nearby islands, watching the waves, or savouring a spectacular sunset comforts and re-invigorates me. Experiencing my own "Shirley Valentine moment" is always a highlight of my holidays in Greece. Probably because it's something I can never enjoy at home, unfortunately.
Although my home city, Toronto, has an extensive waterfront along Lake Ontario, there are precious few lakeside restaurants where you can enjoy an alcoholic drink or restaurant meal while overlooking the water and the Toronto Islands. In fact, you could probably count on one hand the number of dining spots that are within a stone's throw of the water here. And most of those are situated side-by-side on just one outdoor terrace at Harbourfront's Queen's Quay Terminal, about 50 feet from the water's edge (which usually isn't even visible if any of the big Toronto harbour cruise boats happen to be in port at the time; they block most views of the water from all the restaurant patios). In Toronto, you just can't enjoy food or beverages any closer to the water's edge unless it's fast food takeout or a picnic lunch you've lugged along.
The fact there are barely any harbourfront bars or restaurants in Canada's biggest city is completely pathetic in itself, but what's worse is our province's incredibly antiquated and Puritanical liquor laws. Here in Ontario, we're allowed to consume alcoholic beverages on outdoor restaurant patios only if the terrace is completely enclosed by a fence or barricade of some sort. If you ever dared to move a table and chair to the water's edge, and sat down with a beer or glass of wine, you'd get charged with a provincial liquor law violation, while the restaurant would be fined and probably get its liquor licence suspended, if not revoked altogether. And if they served you any food, city health inspectors would probably shut down their kitchen.
But in Greece, you won't risk getting a criminal record if you drink a glass of wine or a bottle of Mythos at the seaside, and the taverna that serves you won't be shut down by the authorities. And that's exactly the way it should be.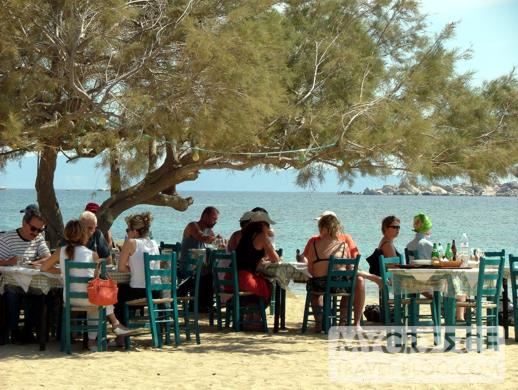 Paradiso Taverna has tables under a tree on the golden sand of Maragas beach (near Plaka beach) on Naxos.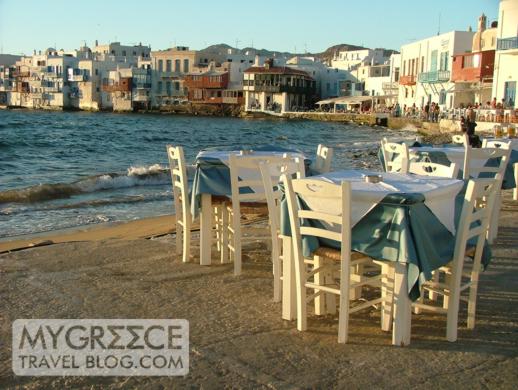 These tables at a taverna in Little Venice in Mykonos Town sit only a few feet from the water's edge, and offer incredible sunset views…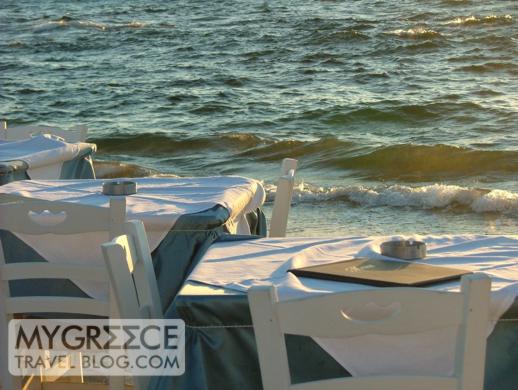 …if the tables were any closer to the sea, diners would get their feet wet!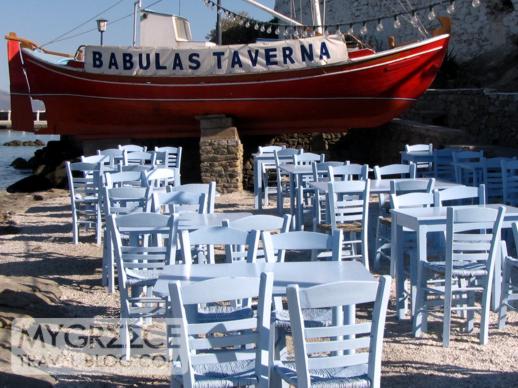 Harbourside tables at Babulas Taverna in Mykonos Town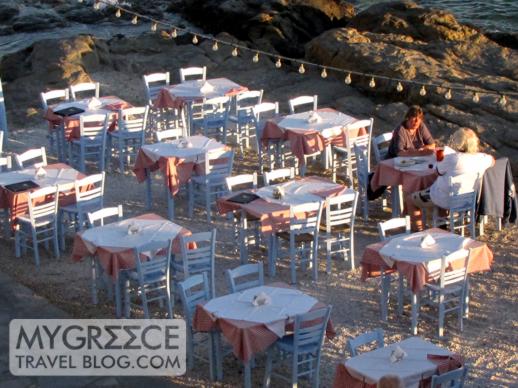 An overhead view of Babulas Taverna in Mykonos Town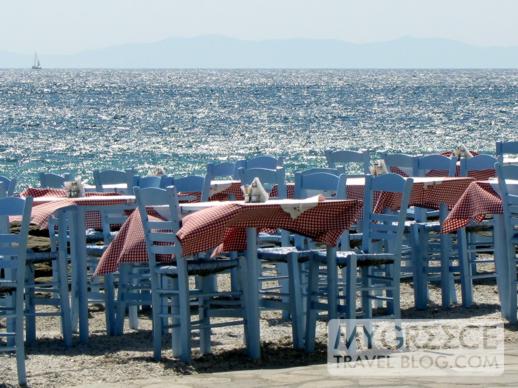 From the harbourside tables at Babulas Taverna, Tinos island is faintly visible across the sparkling waters of the Aegean Sea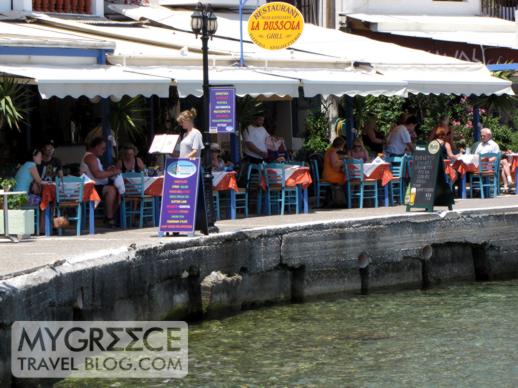 Harbourside tavernas in the scenic village of Kokkari on Samos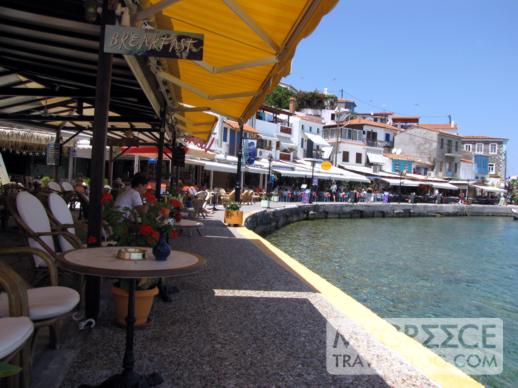 Tables sit barely more than a meter from the water's edge at dozens of bars and restaurants in Kokkari on Samos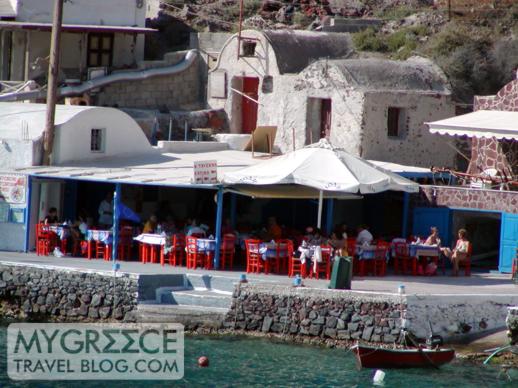 Katina's fish taverna at Amoudi Bay below the village of Oia on Santorini
Seaside tables at Sunset Taverna at Santorini's Amoudi Bay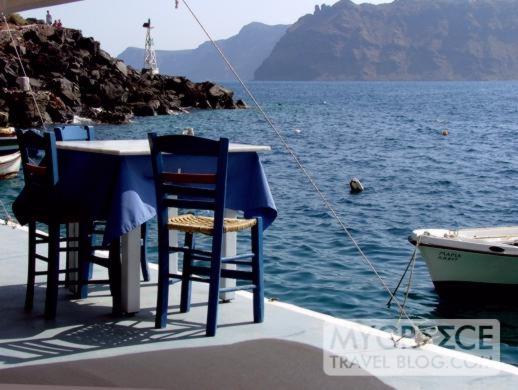 A table right next to the water at Amoudi Bay on Santorini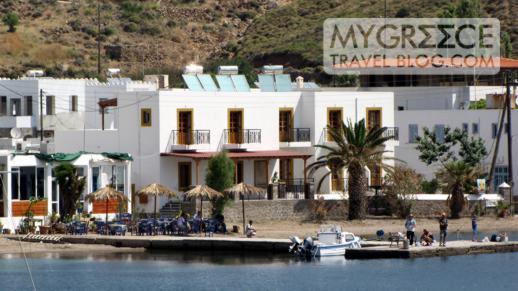 Oasis taverna has tables right on the sandy beach at Grikos Bay on Patmos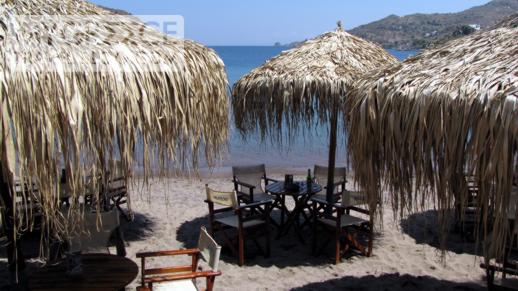 Meltemi beach bar in the port town of Skala on Patmos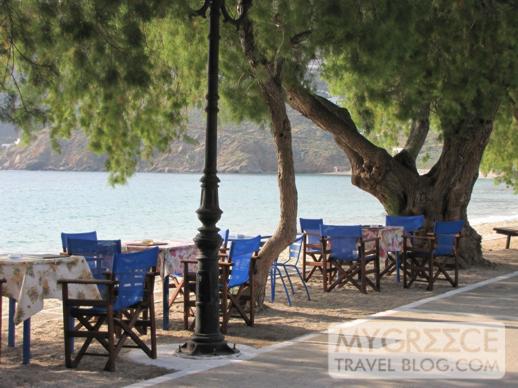 Taverna tables beside Egali beach on Amorgos island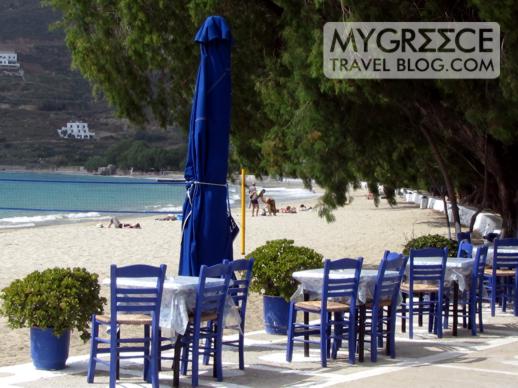 Taverna tables beside Egali beach on Amorgos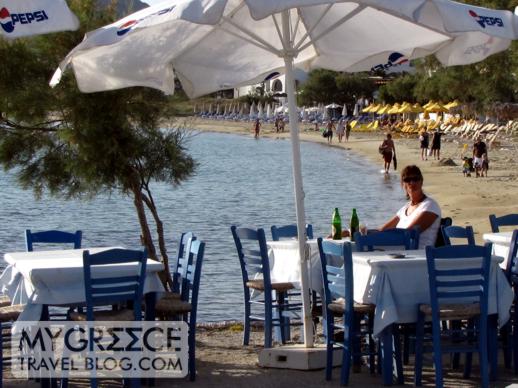 Taverna tables beside the beach at Agia Anna on Naxos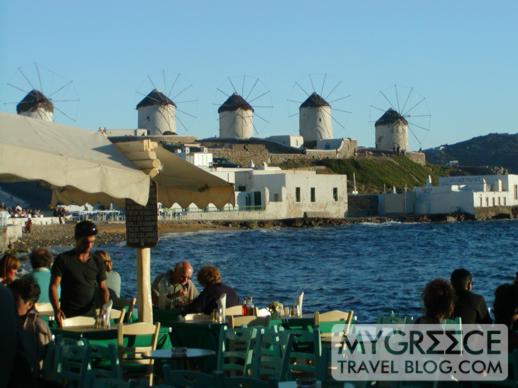 Views of the famous Mykonos windmills from a seaside bar in Little Venice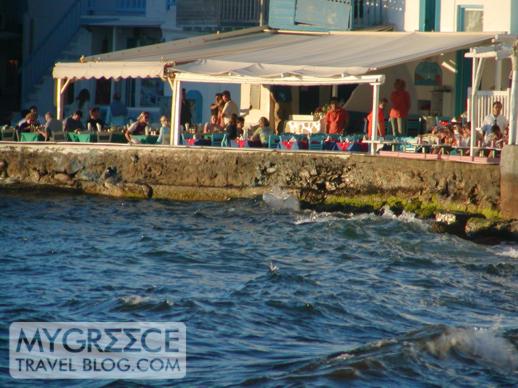 Seaside cocktail bars at Little Venice in Mykonos Town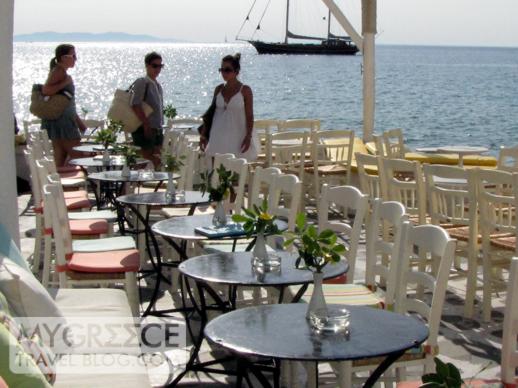 Sun-soaked Semeli cocktail bar at Little Venice in Mykonos Town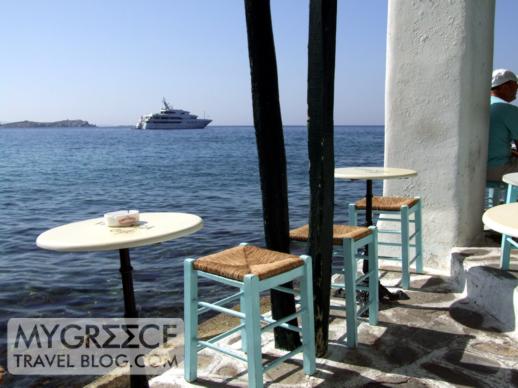 Tables right at the water's edge at a Little Venice cocktail bar in Mykonos Town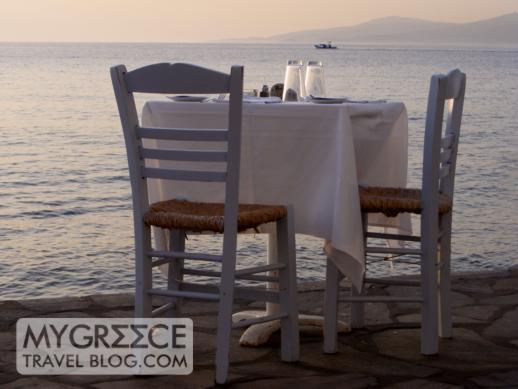 A table beside the water at Little Venice in Mykonos Town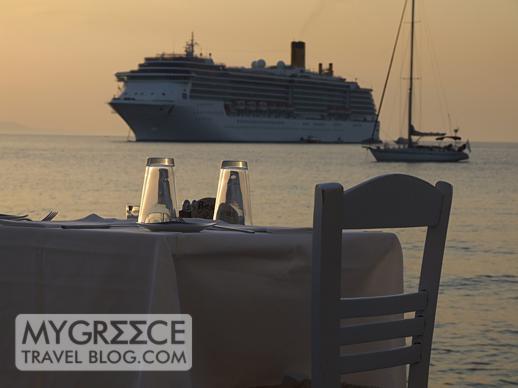 Sunsets, sailboats and cruise ships are all part of the view from the bars and tavernas along the seaside at Little Venice on Mykonos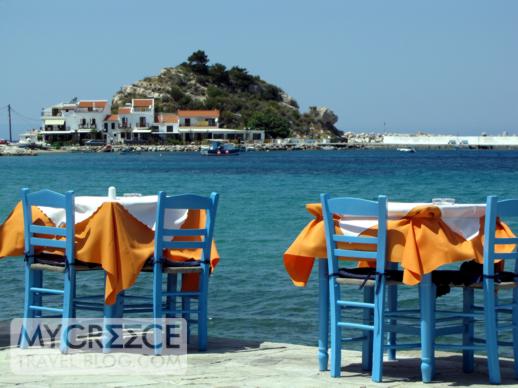 Tables overlooking the harbour at the village of Kokkari on Samos