This film by Studios Trasias captures breathtaking views of snow-covered Nymfaio, a traditional mountain settlement in the Florina region of northern Greece. It's regarded as one of the most beautiful villages in Europe.
Alpine gem: When winter storms brought freezing temperatures and snowfalls to many parts of Greece this week, my social media newsfeeds quickly filled with photos and videos of snowy scenes from places as diverse as Ancient Messenia, Kalavrita, Meteora, Arachova and Thessaloniki, and such islands as Kefalonia, Evia, Skopelos, Skyros, Lesvos and Crete.
The winter wonderland scenery in many of the images looked impressive, but far more striking are the scenes in this film of Nymfaio, which I stumbled upon today while researching for another blog post I'm writing.
Situated at an altitude of 1,350 meters on a ridge of Mount Vitsi in the northern Greece region of Florina, Nymfaio has been inhabited since 1385. It is often described as looking like something out of a fairy tale, and it has been named to lists of the most beautiful and most picturesque villages both in Greece and in all of Europe. From the opening seconds of the video, it's easy to see why — Nymfaio looks simply picture postcard perfect under a crisp blanket of fresh snow. 
Though it's a year-round travel destination, Nymfaio isn't a place you can easily visit for a quick look-see — roughly a 7-hour drive north of Athens, it's well off the main tourist routes in the southern half of Greece. (It's much closer to and easier to reach from the cities of Ioannina and Thessaloniki, which are less than 2 hours' driving distance.) But this alpine gem certainly appears to be well worth the trek, particularly for visitors who have already seen or who want to avoid the busy tourist magnets like Athens or the islands.
If you've become intrigued by Nymfaio and want to learn more about it, here are links to websites and blogs offering photos and detailed information about the village:
♦ the Nymfaio page on Greece Virtual will take you on a virtual tour of the village with its more than 20 panoramic / 360-degree photos;
♦ In April 2018, the Greek travel agency Fly Me to the Moon published a destination spotlight on Nymfaio on its blog;
♦ In May 2016, the U.K.'s Telegraph newspaper highlighted Nymfaio in a feature list of the best places to visit in northern Greece;
♦ In a 2014 post, the travel blog Moco Choco profiled Nymfaio as one of the 10 most beautiful mountain villages in Europe;
♦ The Discover Greece article Nimfaio, The Mountain Nymph of Stone and Snow includes photographs and information about accommodations in and near the village, which the Greek tourism website describes as "one of the best winter holiday destinations in Greece";
♦ the Visit Greece article A Fairytale Escape to Nimfaio in Florina includes photos and brief descriptions of the history, traditions and activities of what it hails as "a year-round charming destination."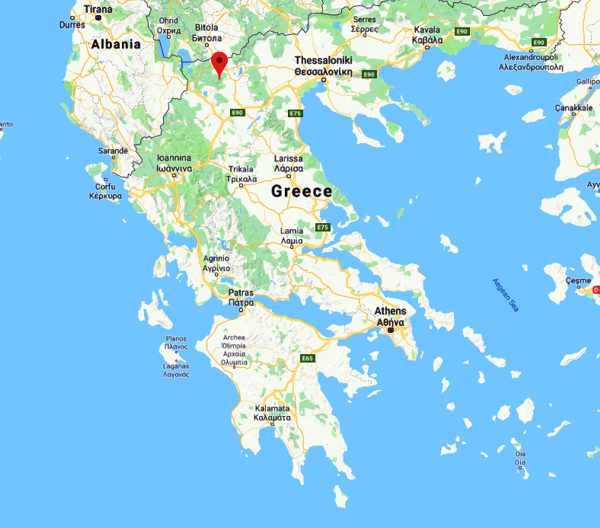 The red marker pinpoints Nymfaio's location in northern Greece on this map from Google