Summer DJ lineups for major venues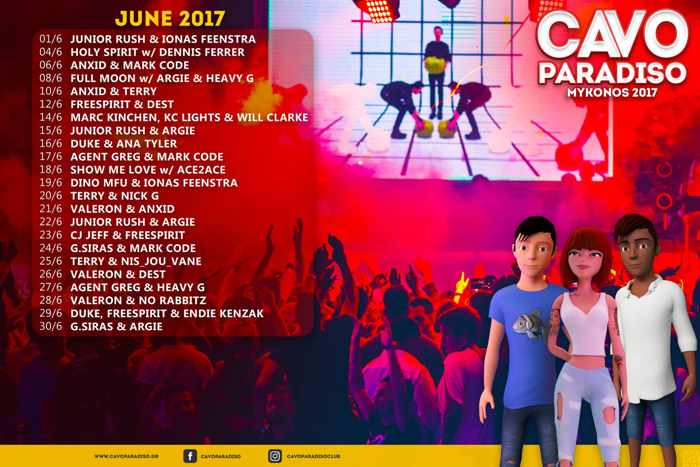 The June DJ lineup for Cavo Paradiso, the biggest club on Mykonos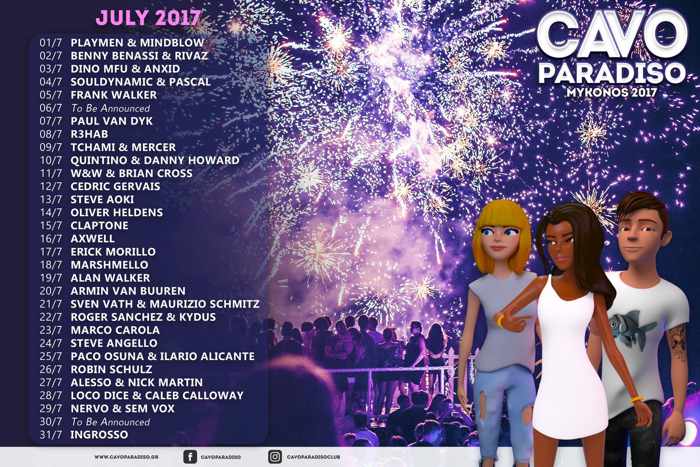 The lineup of international DJs appearing at Cavo Paradiso in July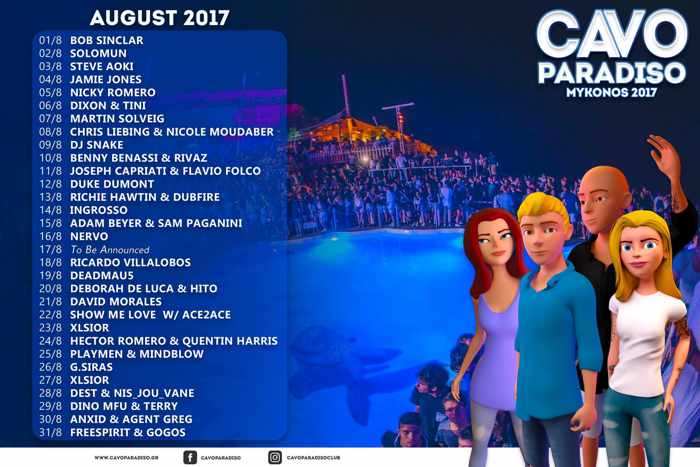 Cavo Paradiso's DJ roster for August. The DJ schedule for September has not yet been announced.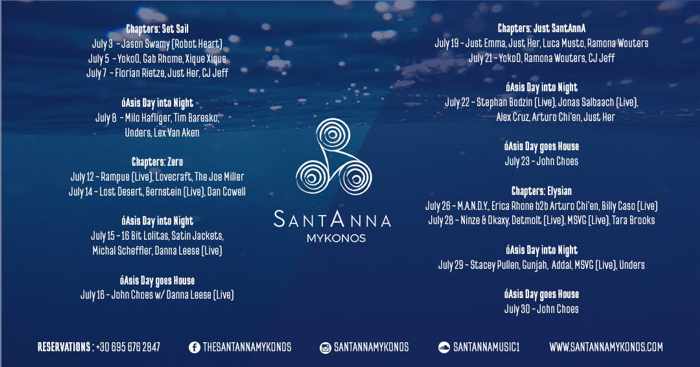 The new SantAnna Mykonos bar and restaurant at Paraga beach has these DJ and live entertainment acts lined up for July

VOID has released its DJ lineup for the summer. The club starts its season on July 6. Appearance dates for some of the DJs listed above have been announced — you'll see promotional flyers for those acts in the July and August event sections of this post.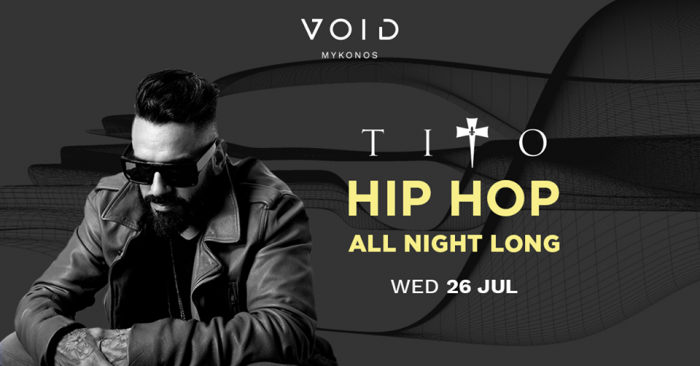 Starting on Wednesday July 26, VOID will host a hip hop party every Wednesday, Saturday and Sunday with DJ Tito on the decks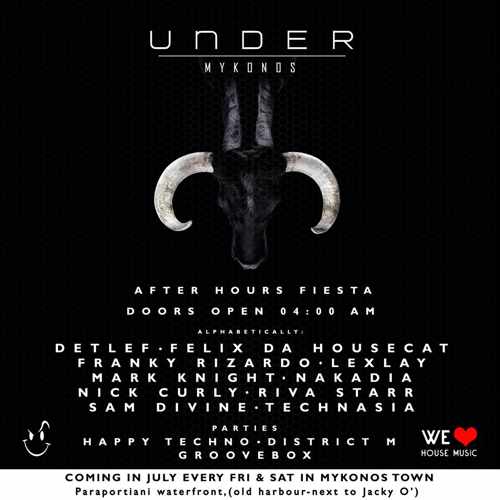 Opening in July is the new Under Mykonos after-hours club, located on the Mykonos seafront next door to JackieO' Bar. Parties will take place on Fridays and Saturdays, starting at 4 a.m., and feature DJ acts scheduled to appear at the club are listed on the promotional image above.
Weekly parties and regular scheduled events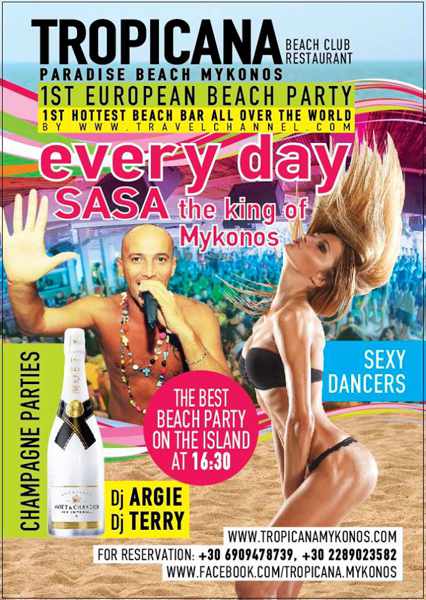 The most famous party beach on Mykonos is Paradise, and that's where you'll find the legendary afternoon parties at Tropicana beach club. Thanks to host Sasa ("the king of Mykonos"), DJs Argie and Terry, sexy dancers and champagne parties, Tropicana has earned a reputation as one of the world's top beach bars.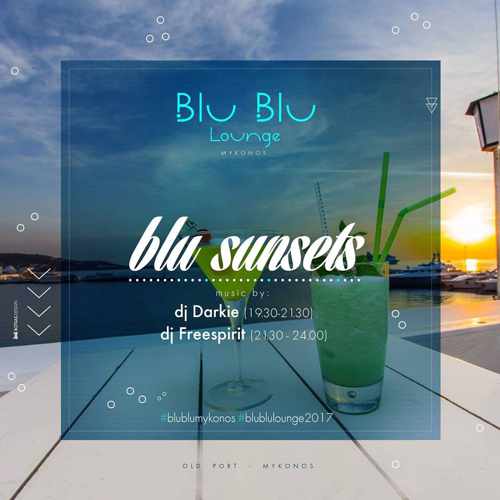 The nightly Blu Sunset parties resume at Blu Blu Lounge on June 27, with DJ Darkie on the decks from 7.30 to 9.30 p.m., followed by DJ Freespirit from 9.30 to midnight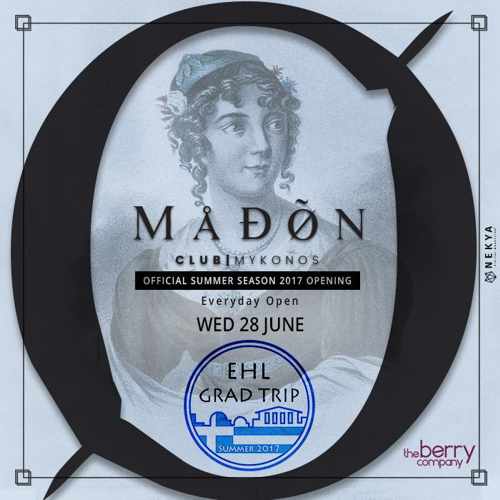 Starting on Wednesday June 28, Madon club will be open every night for the summer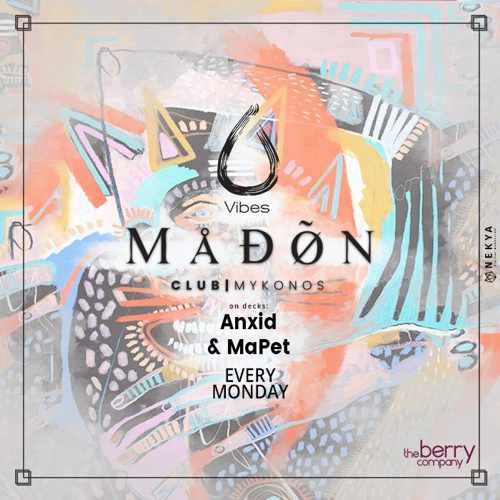 Every Monday night this summer, Madon presents Vibes, a party featuring DJs AnXid and MaPet

Again this summer, Kalua bar at Paraga beach presents its weekly Obsessions party with DJ Agent Greg every Friday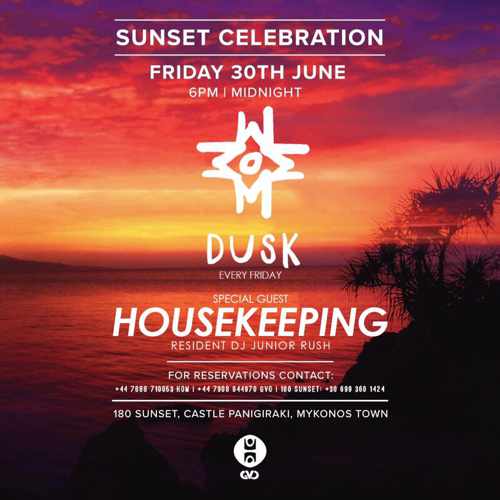 Dusk is a new summer event at 180º Sunset Bar at Castle Panagirakis overlooking Mykonos Town.  Taking place every Friday from 6 p.m. until midnight, the Sunset Celebration Party will feature a guest DJ playing "tribal vibe" tunes.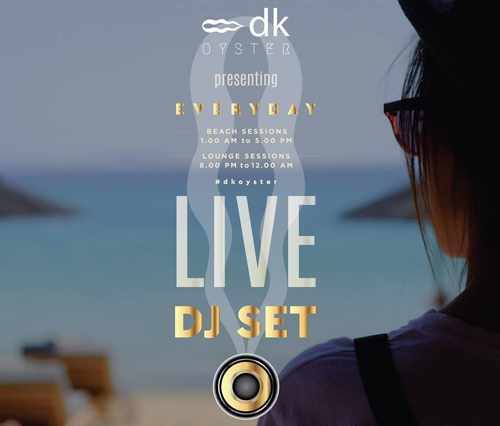 DK Oyster, a new all-day restaurant and beach bar at Platis Gialos, will present two live DJ sets per day this summer.  In-house DJ Danny Jeff II will spin from 1 to 5 p.m. for the daily Beach Sessions, and will be back on the decks for the evening Lounge Sessions, which start at 8 p.m. and run until midnight.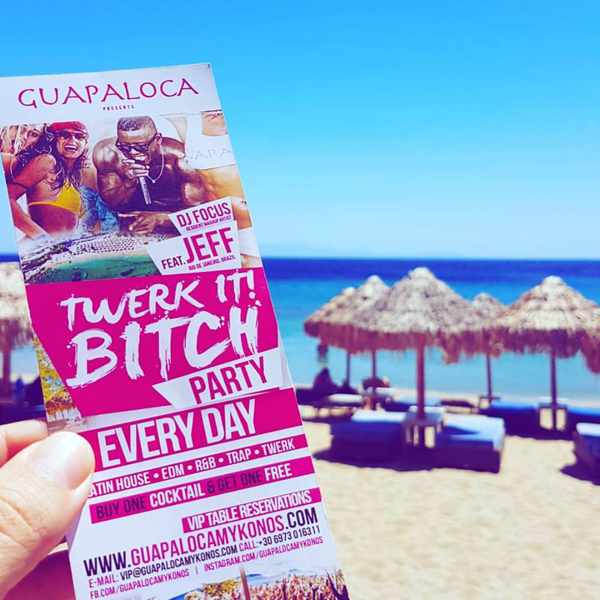 Guapaloca Bar's Twerk It Bitch parties start every day at 4 p.m.

DJ Beau J from Melbourne Australia spins the music for Guapaloca Bar's Body Paint Party, which starts every night at 10 pm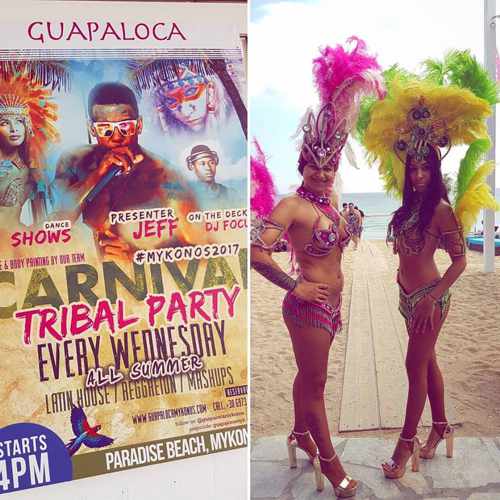 On Wednesday afternoons at 4 pm, Guapaloca heats up Paradise beach with its Carnival Tribal Party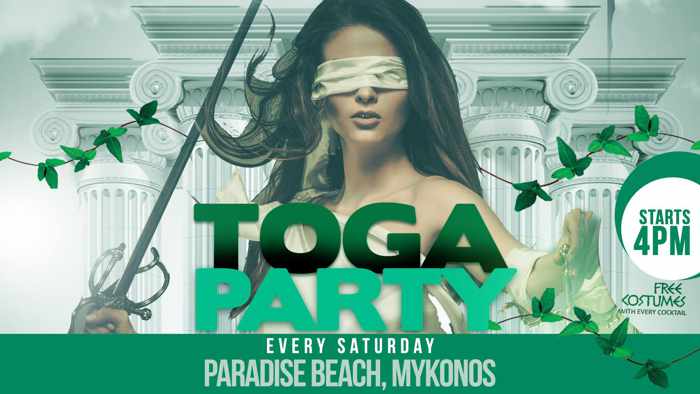 Every Saturday afternoon starting at 4 pm, Guapaloca Bar presents its crazy Toga Party (free costumes will be available for those who forgot to pack their own togas for their trip to Mykonos.)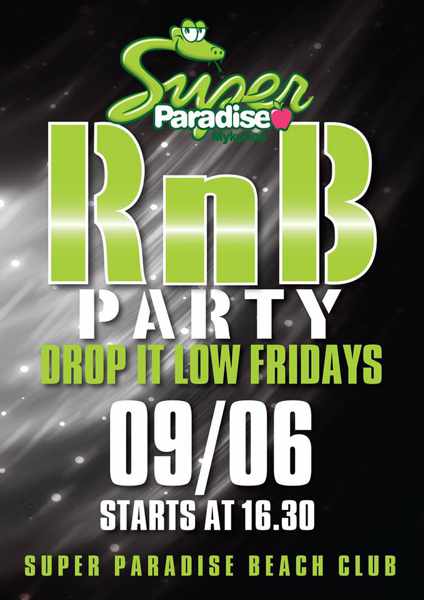 Super Paradise beach club cranks up the RnB music with its weekly Drop it Low Fridays beach parties. First bash of the season takes place June 9.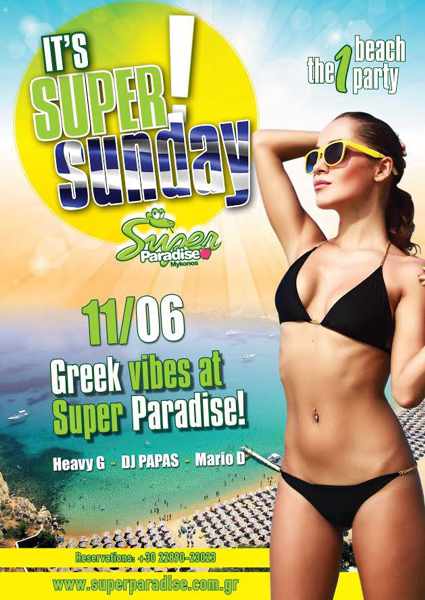 Again this summer, Super Paradise beach club hosts its Super Sunday Greek vibes parties with DJs Heavy G, DJ Papas and Mario D.  The first Super Sunday of the season takes place on June 11.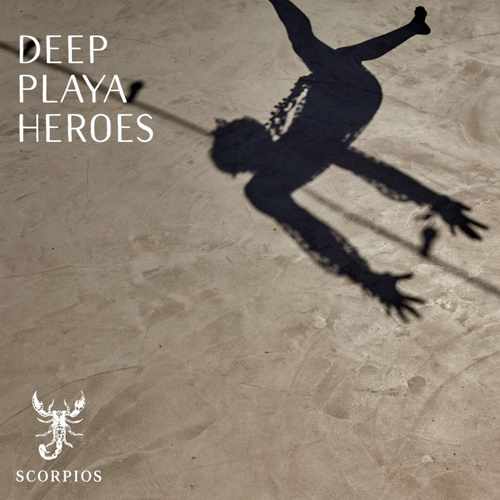 Each Tuesday this summer, Scorpios presents its Deep Playa Heroes program.  "From the Inner to the Deep Playa, from sunset till sunrise, the crowd gathers and the dance floor heats up," says an announcement describing the weekly event.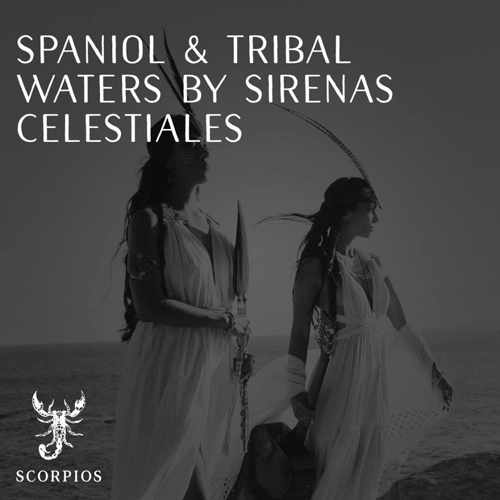 On Wednesdays, Scorpios hosts Spaniol & Tribal Waters by Sirenas Celestial.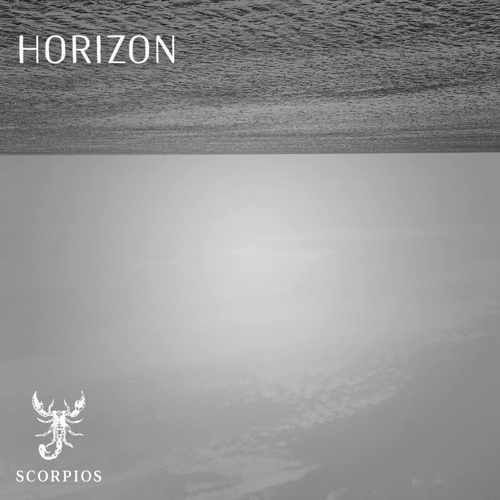 On June 1, Scorpios launches its Horizon program, which will take place every Thursday evening starting at 5 pm. Horizon will spotlight "nurturing acoustic and experimental sounds from renowned and upcoming artists." The season opening show features Feathered Sun.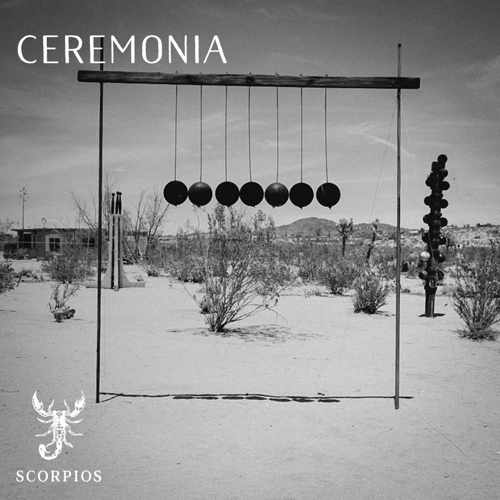 Ceremonia is the weekly "down-tempo relaxation" program at Scorpios, held every Friday. It promises to be the "perfect frequency to unwind and prepare for the weekend."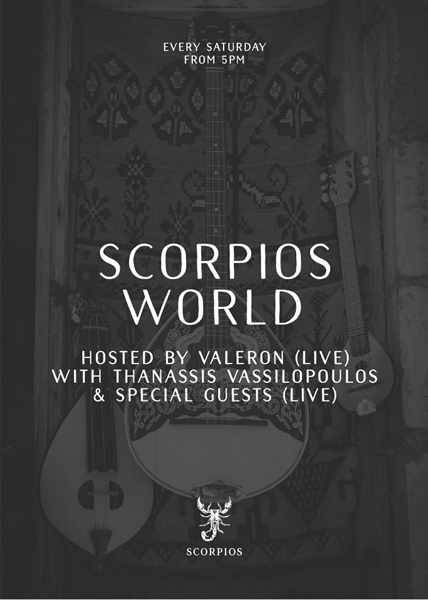 Scorpios World is the weekly program being held every Saturday evening at Scorpios.  The event starts at 5 p.m. and its regular and guest DJs will "sample sounds and traditional instrumental styles from Greece, the global south, and beyond."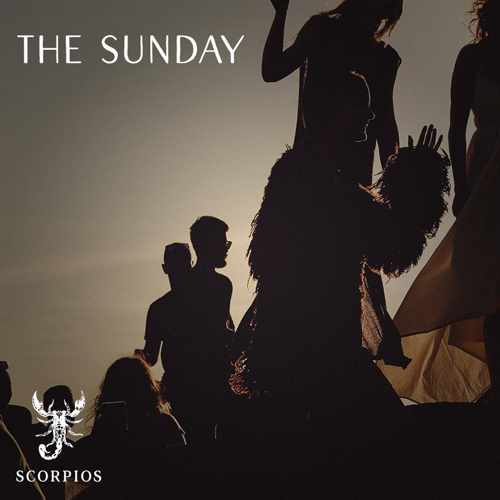 Last year's Sneaky Sunday event at Scorpios was the most popular regular sunset party on the island. This year it's back with a new name — The Sunday — though Sneaky Sound System will be appearing regularly again this summer.  The Sunday program launches at 5 pm on May 21 with an "ethno-electro sonic feast" by Jean Claude Ades and Kaz James. 

A roster of house DJs will provide the evening entertainment at Scorpios every Monday and Wednesday this summer. The sunset events commence at 5 pm and run until midnight.

Blond:ish brings its Abracadabra show to Scorpios on six separate dates during June, July, August and September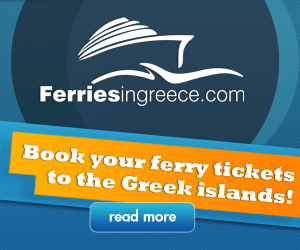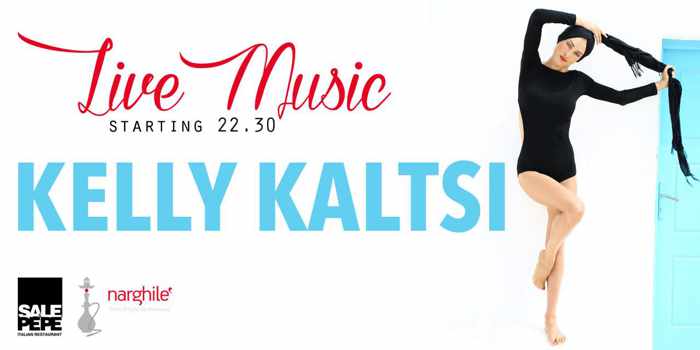 Songstress Kelly Kaltsi appears nightly, Monday through Friday, at Narghile Bar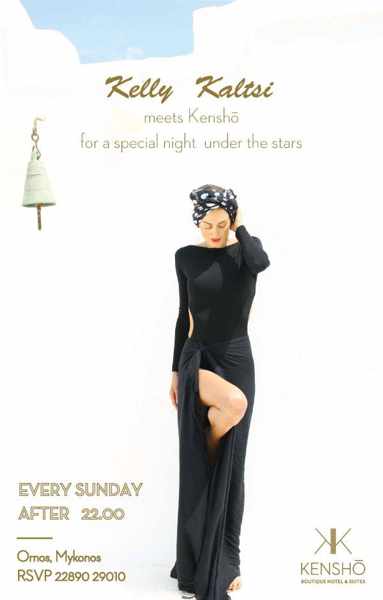 If you can't catch Kelly Kaltsi's weeknight performances at Narghile, you can attend her Sunday night appearances at Kensho Boutique Hotel.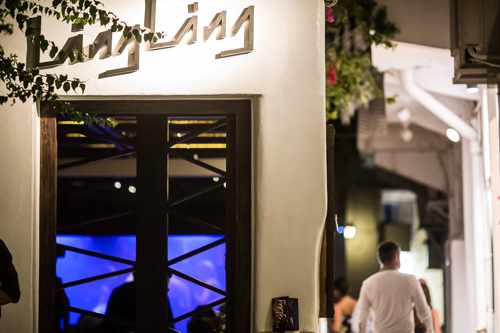 Back for its third season, Ling Ling is the premier venue for late night dining, drinking and dancing in a sophisticated and chic courtyard setting in the heart of Mykonos Town. It's open nightly from 8 p.m., and its in-house DJs play an eclectic variety of electronic tunes.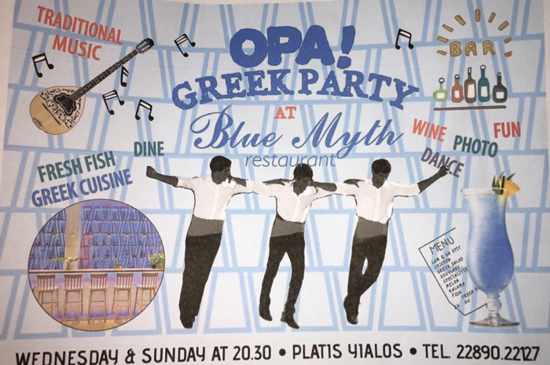 If you want to dine and party Greek style, Blue Myth restaurant at Platis Gialos beach is the place to go on Wednesday and Sunday evenings
Please click on the link below to see events scheduled for February, March and April (listed on page 3).
CONTINUED ON PAGE 3