~ Mykonos parties and special events, continued from page 1 ~
Guapaloca bar is one of the top places to let loose at Paradise beach. This is the club's official promotional video for 2016.
When does party season start? The beach parties and nightlife get off to a gradual start in spring, steadily picking up steam as July approaches and thousands more people arrive on the island.
Between late March and mid-April, you'll typically find that several beach clubs as well as a few bars in Mykonos Town have opened their premises. Last year, the chic Ling Ling Mykonos nightspot in Mykonos Town launched its season on March 23 — and it plans to reopen in March again this year. Room 101 and JackieO' Bar welcomed visitors back starting on April 8, Porta and Galleraki followed on April 15, and Scarpa, Semeli Bar, Thalami and Vicolo all opened on the 22nd. Numerous other bars in Town opened during the second half of the month. At Paradise beach, Guapaloca got its parties started on April 15, and Tropicana Club threw its opening party on the 18th. Nammos at Psarou beach opened  on the 23rd, and has already announced that it will open much earlier this year — on April 8, to be precise. At Paraga beach, Kalua kicked off its 2016 season on the 29th, and Alemagou restaurant and bar at Ftelia beach held a warm-up party on the same day.  
Alemagou, at Ftelia beach, is one of the hippest beach restaurants and bars on Mykonos. It hosts regular sunset parties and special events, including its annual Made of Sounds Summer Beach Party.
The month of May is typically when grand openings take place for some of the most well-known and most popular venues on Mykonos, including Moni, Skandinavian Bar, Scorpios, Cavo Paradiso and Paradise Club. By late June, the remainder of the island's bars and beach clubs will have launched their seasons and held their opening events. Since tourist traffic to Mykonos increases significantly during June, the partying really starts to rev up  toward the end of the month, and as mentioned before July and August are the hottest months to be on the island, both for parties and for weather. 
The fierce party activity of August tapers off in early September, which is an ideal time to visit Mykonos for a chill atmosphere, warm sunny weather and perfect swimming conditions. Some of the exclusive nightclubs in Mykonos Town will close at the end of August or during the first half of September — that was the case last year for Bonbonniere, Güzel, Madon, Toy Room Club and VOID. The two biggest DJ venues on Mykonos — Cavo Paradiso and Paradise Club — generally wrap things up with  season finale parties during the third week of September. If you can only travel to Mykonos in September, try to schedule your holiday for as early in the month as possible if a very active and vibrant party scene is a top priority for you.
Now that was one helluva party! This huge mound of empty champagne bottles, seen at Tropicana Club near the end of its 2016 season, is proof positive that the place throws plenty of good parties. 
Is there nightlife in fall and winter? Since the tourist crowds thin out during October, many bars and clubs will wind down and shutter their premises for the winter. But parties will continue at Paradise beach and Super Paradise beach until the middle of the month. In 2016, Tropicana Club held its last regular beach party on October 15, and threw its closing party on October 23.
By November, which is when the "off" season begins, all of the big-name, high-profile party venues will have shut down. A small number of bars in Mykonos Town (along with Wild Cafe-bar in Ano Mera) remain open during the off season, which lasts until mid March. Some of these places, such as Notorious, Magas Cafe-Bar and Central, bring in local bands and musicians from other parts of Greece for occasional live shows.
Winter is definitely off season for Mykonos, though, and the island's bar scene at this time is focussed mainly on Greek musical entertainment for people who live on the island year-round. Because of the cold wet weather, winter is an extremely slow period for tourism, and is certainly the worst possible time to visit if your goal is to experience the Mykonos beaches and parties you've heard about or seen on Instagram and YouTube. To avoid disappointment and guarantee yourself a unforgettable fun time, plan your holiday for either peak season, or for late June or early September. If your preference is a less crazy and more laid-back party scene,  you'll enjoy Mykonos during the considerably quieter periods of May, early June, late September or early October.
If you can only travel to Mykonos in winter, but still want to enjoy some active nightlife, try to schedule your visit for Carnival time, when you'll find plenty of partying (including crazy costume and masked events) taking place at many of the bars.  The party posters on page 3 of this article will show you some of the Carnival theme parties held on Mykonos during the 2017 celebrations.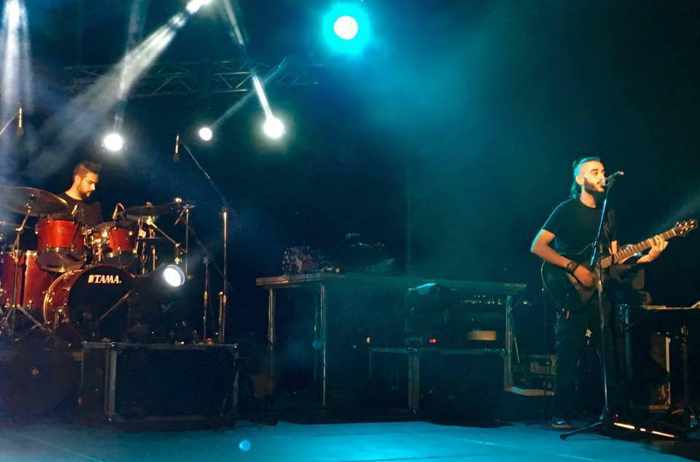 During off season, local musicians like the V Bros rock band (Nick and Peter Veronis, above) perform occasionally at several Mykonos cafe-bars, including Central, Notorious and Magas.
Where were the good parties in 2016? To get an idea of the kinds of events that take place on Mykonos throughout the tourist season, take a look at my Mykonos bar & club openings and party events post from 2016. It features promotional flyers for club openings, special parties and DJ appearances for each month of the main tourist period last year. The list doesn't include every party that took place in 2016, since many clubs don't announce all their special events and because some exclusive parties are publicized by word of mouth or on social media the day they take place (One such private villa party on Mykonos last July featured Academy Award-winning actor Leonardo DiCaprio and DJ Afrojack.)
To keep informed on club openings and special events this year, bookmark this post and check back from time to time. I will be updating this post with information about DJs and upcoming parties as soon as venues release their event announcements. 
Check out this short video to see  what you missed if you didn't make it to any of the beach parties at Tropicana Club in 2016. You can expect more of the same during summer 2017!
Please click on the link below to see events scheduled for February, March and April (listed on page 3).
CONTINUED ON PAGE 3