Mykonos events report, continued from previous page: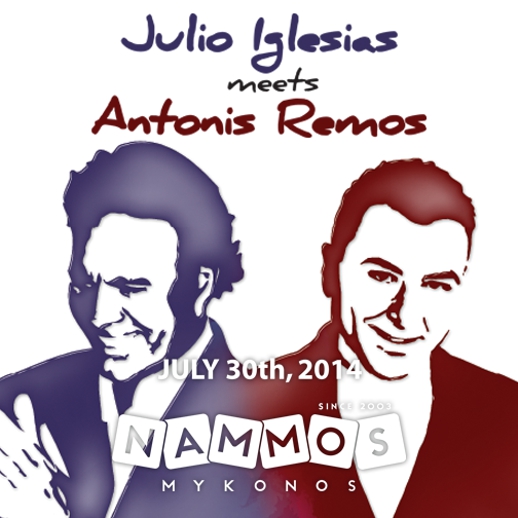 A promotional image for the upcoming live appearances by Julio Iglesias and Antonis Remos at Nammos by the Sea on Mykonos
Other events at Nammos
The Iglesias & Remos concert is just one of four major entertainment events that Nammos is hosting at Psarou beach during the next three weeks.
On Saturday afternoon (July 26), Nammos is holding its Ultra Beach Party with a set by Greek DJ & music producer Vassili Tsilichristos.
On the evening of Saturday August 9, Egyptian music star Amr Diab, the "Father of Mediterranean Music," will appear in concert.
And from 3 to 10 p.m. on Sunday August 17, Nammos will hold its TeaDance Mykonos beach party with feature sets by DJs H.O.S.H. and Freespirit.

 DJ Vassili Tsilichristos will headline Nammos's Ultimate Beach Party

Singer Amr Diab will appear in concert on August 9
People will be kicking up their heels on Psarou beach during the TeaDance Mykonos party the afternoon & evening of August 17
Upcoming events at other Mykonos venues
The hot place to party tonight is the Kiku Japanese restaurant at the posh Cavo Tagoo 5-star hotel in Mykonos Town, where three DJs — Anastasis Tsirikos, Ninefold  and Clubkid — will be spinning for the Asian Moustache Party.
On Sunday afternoon (July 27), Solymar Beach Bar & Restaurant will host its Doors Afternoon Party at Kalo Livadi beach.  The event features a DJ set and live act starring DJ Andre and Nikos Apergis.
Starting at 9 p.m. Sunday evening, Anna's Place Restaurant & Bar at Paradise beach will host a special Cuban music party, featuring live performances by Ramon Soto and his band from Cuba.
Also on Sunday night, the new ODE Mykonos nightclub in the Tria Pigadia area of Mykonos Town is hosting an After Party with a special set by MadeofSounds and warm-ups by John Kitsopoulos and Mixed H.
Looking ahead, Semeli Bar on the Little Venice seafront of Mykonos Town will celebrate its 10th anniversary on August 1 with a 10 Years Party featuring noted DJ/musician Quentin Harris.

A promotional image for the Asian Moustache Party taking place at Cavo Tagoo Hotel's Kiku Japanese Restaurant

A promotional image for the Doors Afternoon Party taking place this Sunday at Solymar Beach Bar & Restaurant

Semeli Bar will celebrate its 10th anniversary on August 1 with a party headlined by Quentin Harris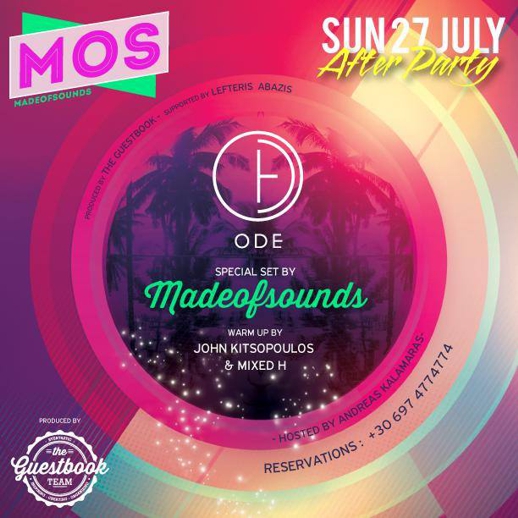 A promotional image for the July 27 2014 MadeofSounds After Party set at ODE Mykonos nightclub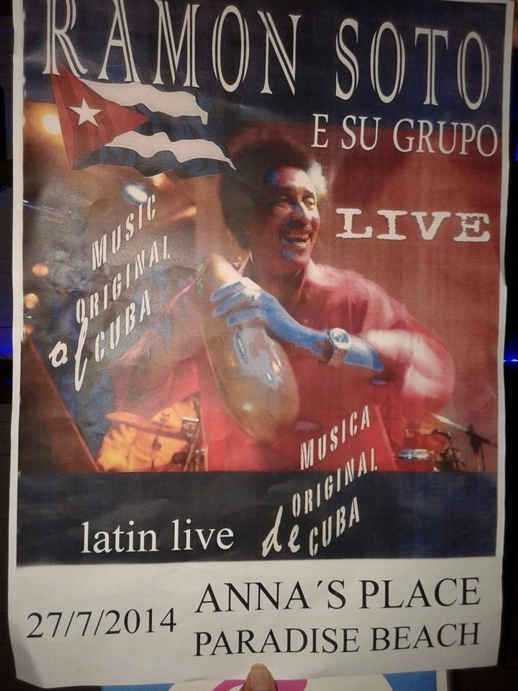 A poster for the July 27 live appearance by Ramon Soto and his band at Anna's Place Restaurant & Bar at Paradise beach