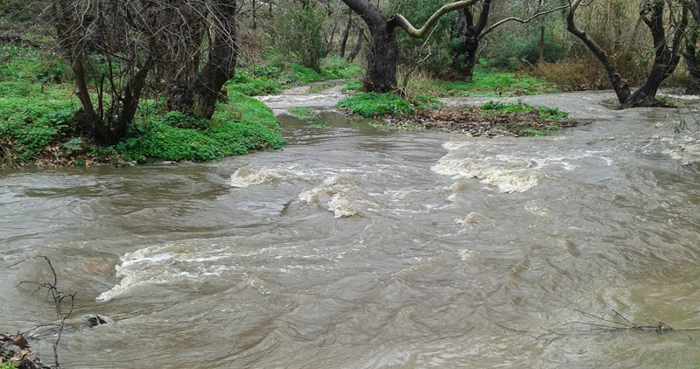 Stormwaters surged across fields, farmlands and roads on Naxos after heavy rain lashed the island on Tuesday. This picture of an overflowing stream appeared in a January 23 2017 photo report published by Naxos Times.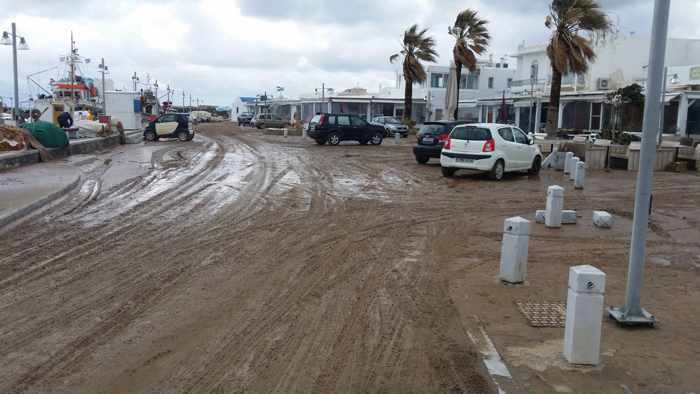 After the Tuesday rains, this waterfront strip in Naoussa village on Paros was left a complete muddy mess. This was one of several photos that Kay Will shared on Facebook to show the aftermath of the storm.
Devastating downpours: Winter weather has been packing a powerful punch in Greece this month.
First it was unusually cold temperatures and snowfalls that struck much of the country during the first week of January (see the stunning pictures and videos in my recent posts Amazing winter wonderland scenes from Greece and Greece in white winter glory).
The mercury has since climbed and the snow in many places has melted, but Mother Nature wasn't finished — she decided to pound some of the Cyclades islands with heavy downpours that lasted throughout the day on Tuesday January 24.
The rain, occasionally accompanied by hail, pelted Paros, Naxos, Tinos, Mykonos, Sifnos, Andros and other islands for more than 24 hours.
Paros was particularly hard hit by the storm and seems to have suffered the most water damage. There was extensive soil erosion as well as some landslides, and flooding caused widespread damage to farm fields, shops, homes, churches, vehicles, and roadways.  
According to a January 25 report on the local news website ParosIn, damage to some areas was so severe, the island's mayor has written to regional authorities requesting they declare a state of emergency so that resources can be deployed to assist with the massive cleanup and repair work that must now be undertaken.
The news story noted that the mayor's letter described severe damage in the municipal areas of Naoussa, Kostos, Lefkon, Archilocus, and Marpissa, as well as places in and around Parikia.
According to the Naxos Times, the deluge doused Naxos with so much rain that streams turned into "rushing rivers" that "drowned" farms and fields, and flooded some roads.  Near Koronida village, where wildfires had burned several weeks before, the water washing down the streams was black from all the soot being carried away, the January 24 Naxos Times report stated.
This short videoclip, shared by the Maistros Panormos Tinos page on Facebook, shows some of the rainwater damage at Rochari beach on Tinos
Click on the link below to continue reading and see more storm photos and video on page 2 of this post.
CONTINUED ON PAGE 2