~ continued from page 1 ~
View from Stelida toward the Agios Prokopios beach resort area on the western coast of Naxos. Photo by Mike Andrew.
From our base in the small village of Stelida, it is only a five minute drive (or twenty minute walk) to the island's most famous beach. Agios Prokopios, by anyone's standards, is a monster — 1.5 kilometres of uninterrupted, golden sand. It is a haven for wildlife and local day trippers alike. However, we decide to forsake the sand for now and instead head for Naxos Town. The island's main port and centre of commerce, the town clings to the hillside, rising away from the harbour like a giant amphitheatre, the iconic Cycladic architecture of white cubic buildings and blue domed churches beginning to glint in the late afternoon sun.
Once a port of major significance in ancient antiquity, the town was built to be an impenetrable maze to all those uninitiated. A defence to deter pirates and invaders. Having read much about this would-be labyrinth before our visit, I am keen to pit my own navigational skills against the town planners of old. So, after spending some time sitting on the harbourfront, nursing a local beer and watching two fishermen preparing for an evening's work, their craggy seaworn faces a picture of concentration as they unreel and repair their nets, it is time to head inside.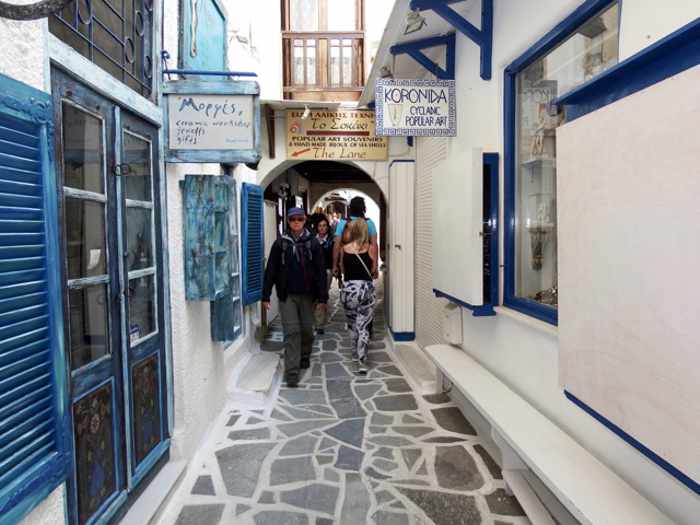 A lane in the heart of Naxos Town. Photo by Mike Andrew.
We soon come upon the main market square. A street so quaint and characterful, it appears like an image from a child's storybook. Sweet scented bougainvillea encircles virtually every doorway. Local craft shops, jewellery and pottery, line the streets. Tavernas hide away in secret courtyards, their presence only announced by the odd fleeting glimpse of blue chairs and inviting aromas of souvlaki and gyros slowly cooking. Locals perch on doorsteps, thumbing their worry beads and sipping ouzo, seemingly putting the world to rights. Unlike some of Naxos' more popular neighbours, this doesn't feel like a staged tableaux for the snap-happy masses. This all feels very real.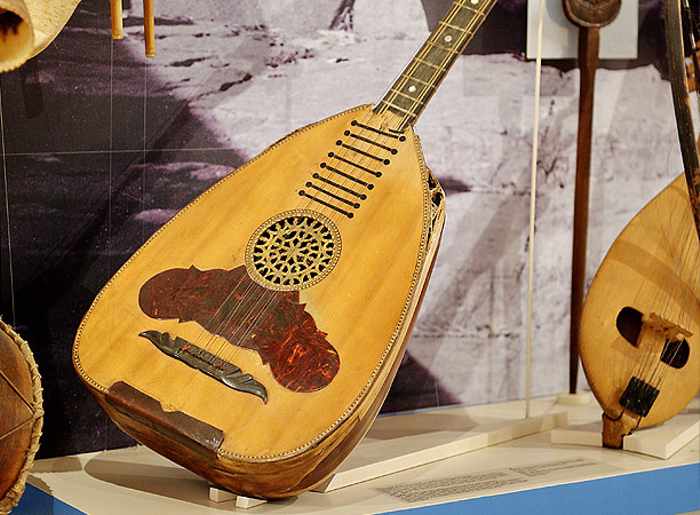 Musical instrument display in the Folk Museum in Naxos Town. Photo from the museum website.
Just off the main drag we find the Naxos Folk Museum, a small but perfectly formed display of island life through the last century. The array of basic farming and cooking tools (all original) help to transport you back to a far more simple time. Clearly, even within living memory, life was hard, poverty rife and the risk of starvation real if the crops failed.
However, in stark contrast to these reminders of everyday toil, the display of musical instruments and festival costumes that would be donned during the numerous Saints days the Greeks celebrate throughout the year only shows that whatever hardships arose, they were faced together and the sense of community was ever present. I'm particularly taken with a bouzouki, dated from 1910, and wonder what tales this battered but clearly much loved instrument could tell. Feeling somewhat humbled, we move on.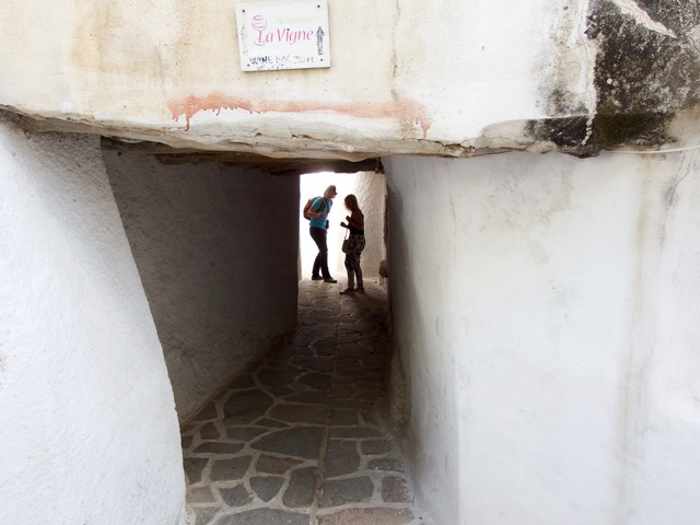 A narrow, low passageway amongst the maze of lanes and alleys in Naxos Town.  Photo by Mike Andrew.
This is where it becomes tricky. Now deep in the centre, we fall victim to the town's anti-pirate measures and quickly become completely lost. Alleyways become narrower, curving off at irregular angles. Covered passageways invite you to explore further, only to find a dead end. Stairways seemingly lead to nowhere. For nearly a hour we wander in circles, thrilled to be lost in this maze of whitewashed walls and bougainvillea.
Eventually, more by luck than skill, we find ourselves at the 15th Century Venetian fortress that still defiantly stands watch at the heart of the town. Climbing to its ramparts affords us a perfect view of Naxos' most famous monument: The Portara, an unfinished temple to Apollo. The giant window-like structure sits on a rocky outcrop, stoically facing the sacred island of Delos, supposedly the birth place of the all-powerful and much feared sun god. Many choose to climb up to the Portara at sunset. However, from our private vantage point, the now sinking sun's rays shining through the once sacred structure look even more special.
Now came the hard part. Finding our way back down.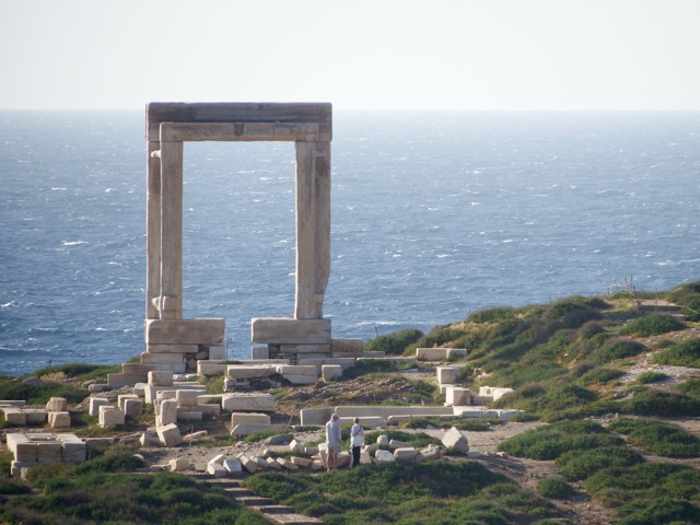 The Portara monument, the unfinished Temple of Apollo, stands on a peninsula near Naxos Town. Photo by Mike Andrew.
Descending by a completely different route, we stumble upon an unexpected treat. Sweet Haven (also known as Naxia Sweet Home) is an artisanal handmade sweet shop. Tucked away in a small, unassuming alley, it beckons us inside. In the interests of research, we consume all the free samples that are offered to us. Unusual flavours abound, including sage, ouzo and chili jam. After much indecision we settle on a bag of brightly coloured bubblegum-flavoured sweets and leave before further temptation can take hold.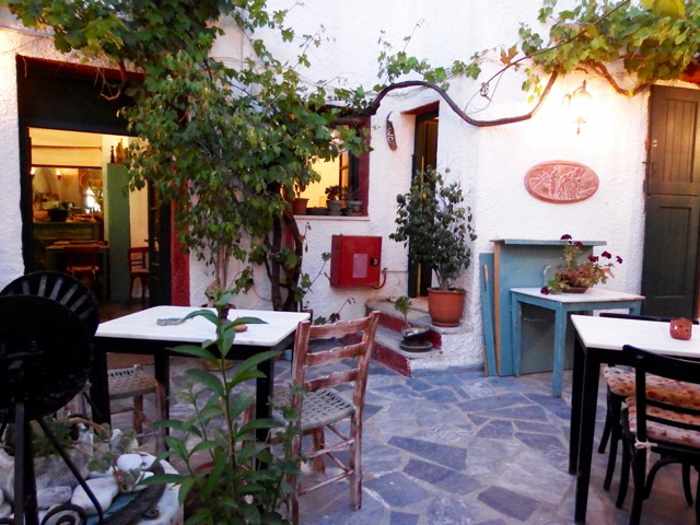 Part of the courtyard terrace at Labyrinth Wine Restaurant in Naxos Town. Photo by Mike Andrew.
That evening we elect to eat at Labyrinth Wine Restaurant. A taverna that offers traditional Greek cuisine with a modern twist, it more than lives up to its name, unassumingly nestled in the streets below the castle.
Discreetly housed behind a pair of green gates, the courtyard where we sit to eat is beautiful. Vines creep overhead, tasteful mosaics cover the walls and the original well adds genuine character. Owner Stravoula welcomes us warmly and we dine on a delicious meal of stuffed vine leaves and seafood risotto, washed down with traditional yogurt and honey and excellent local wine.
Finding our way back to the harbour, we conclude that being lost is certainly no bad thing when you are somewhere as uniquely quirky and traditionally beautiful as Naxos Town.
Now we decide it was time to turn our attention to the island's mountainous heart.
Keen to explore some of the traditional industries and products that still thrive inland, we point our hire car north and headed straight for the hills. Slowly rising away from Naxos Town, the twisting narrow roads lead deep into the countryside, through uncountable gnarled olive groves and wildflower-filled meadows.
Our first stop was the small village of Halki. Tall, Venetian-style buildings huddle around a central square, where the locals have already gathered to chat and drink their mercilessly strong, tar-like, morning coffee.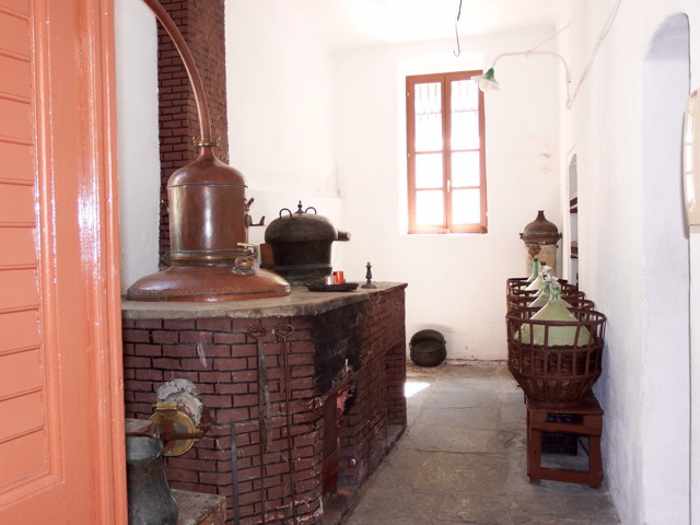 Inside the Vallindas Kitron Distillery. Photo by Mike Andrew.
Whilst small in size, Halki remains the centre of production for one of this Island's key products. Kitron is a spirit made (unsurprisingly!) from the fruit and leaves of the citron tree. Whilst hard to find outside of Naxos, the demand for it here remains strong.
The oldest working distillery on the island — Vallindras Kitron Distillery — can be found at Halki, housed in an innocuous building in the centre of the village. The Vallindras family opened for business here in 1896 and are still producing their product in the traditional way. Displayed inside are some of the original distilling vats and tools and, of course, the all important tasting room.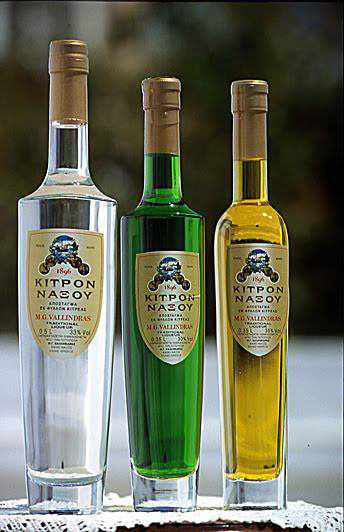 Vallindras distillery photo of its three varieties of kitron.
Kitron has three varieties. Green is sweet and contains the least alcohol. Yellow, however, is significantly stronger and full of citrus zest. The third, clear-coloured, option is somewhere in between. Best compared to limoncello, but perhaps more drinkable, even at this mid-morning hour, the delightfully smooth and fresh taste of Kitron really does awake the senses and leaves tongues tingling all round.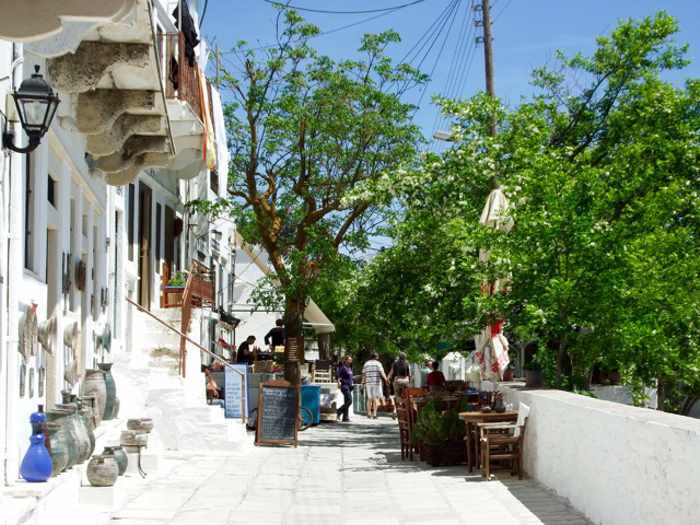 A marble-paved street in Apiranthos. Photo by Mike Andrew.
We follow the road that curves around Mount Zas. As we climb higher the views become ever more breathtaking and the drops eye-wateringly steeper. Our next stop is the village of Apiranthos, or the marble village, as it is better known. The whole place is built from this ancient stone. Houses, pavements, archways, all gleam and twinkle in the midday sun. Every angle affords a stunning, perfectly framed view to the valley below.
We stop for a lunch of freshly baked cheese pies and pastitsio, the Greeks' answer to lasagna. A local trots by on a donkey, a shaggy grey haired Collie walks to heal. "Kalimera!" he beams, before disappearing up an impossibly steep track, his loyal companion in close pursuit.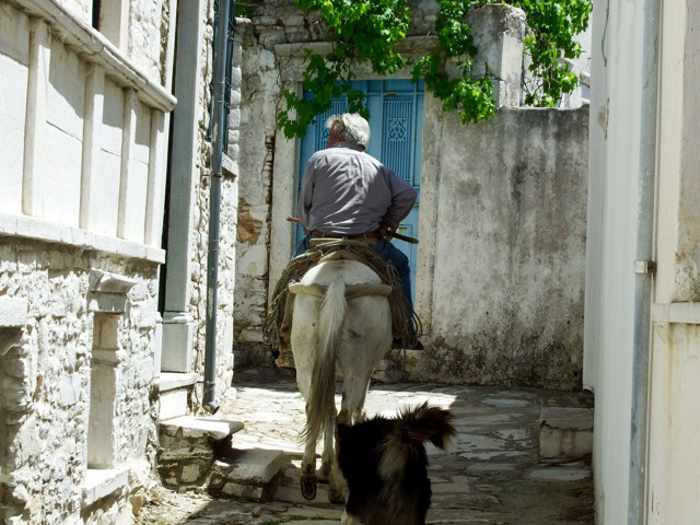 A man rides a donkey down a lane in Apiranthos village, followed by his loyal pet Collie. Photo by Mike Andrew. 
The further north we head, the more wild and unforgiving the terrain becomes. Arable farmland gives way to rocks and boulders. Fertile meadows are replaced by steep, angular cliffs that fall sharply away to the Aegean below.
Here, another of Naxos' important industries becomes apparent. The island quarries thousands of tonnes of emery each year and, to this end, has some of the deepest such mines in the world. The stones are literally wrestled from the earth using some of the most primitive tools imaginable. Miners still work by candlelight in most of the pits. Clearly the march of progress has not made itself felt here.
Emery mine entrances near Koronos. Photo from NaxosIsland.tv.
Passing through the town of Koronos, the entrance to these vast chasms can be seen all too well. Lurking menacingly in the landscape, one would be forgiven for thinking their impenetrable darkness was in fact the gateway to Hades.
We stop at the bizarre statue of Kouros, a giant marble sculpture laying prone halfway up a mountainside, seemingly abandoned for centuries, before dropping down into Apollonas. This pleasant and typically Cycladic town marks the most northern point of the island. By this time the meltemi is once again showing its hand and there is a slight chill in the air. A point illustrated by a single occupant on the town's beach. Resolutely fast asleep, seemingly oblivious to the strengthening wind, we leave him to his slumber and move on.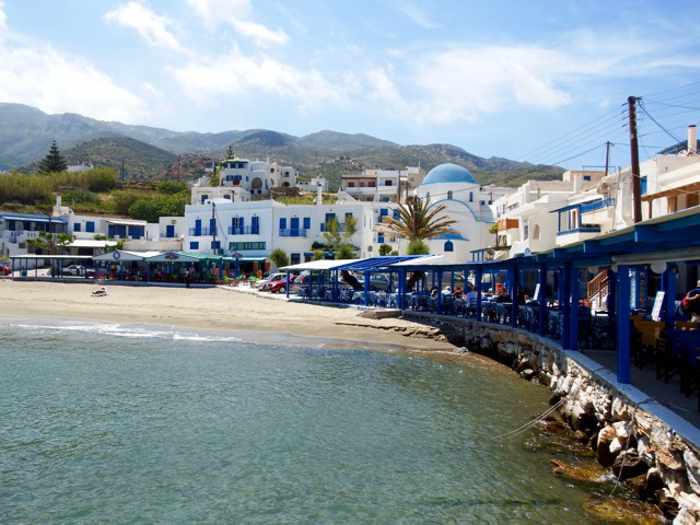 The seafront and beach at Apollonas. Photo by Mike Andrew.
Heading back to Naxos Town the landscape once again becomes green and lush.
Six kilometres outside of the capital, hiding in a secluded hillside, sits the beautiful village of Eggares, a place described by Greek historian Nikos Kazantzakis as an "Earthly Paradise."
Positioned above one of the island's most fertile valleys, the rows of fruit trees, olive groves and herb plants stretch as far as the eye can see. Never has silence been so pleasingly deafening, and we conclude that Kazantzakis definitely had a point.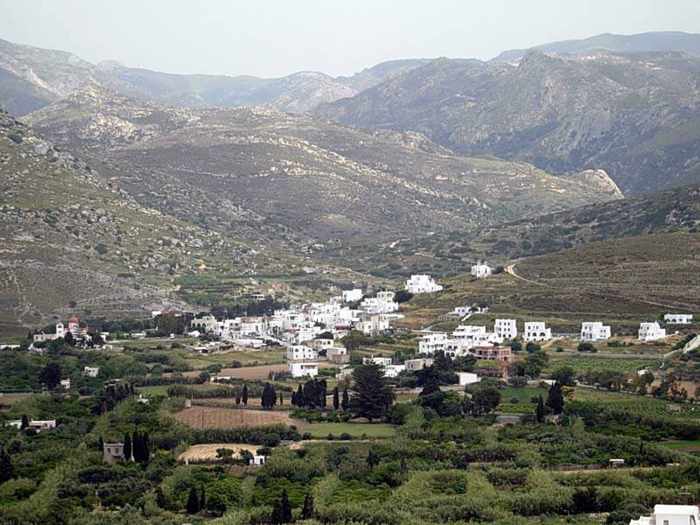 Eggares village is situated on a hillside overlooking one of the island's most fertile valleys. Photo from the Travel to Naxos Facebook page.
Eggares is home to one of the oldest olive oil presses on Naxos. Originally starting production in 1884 and now newly renovated by a dedicated husband and wife team, Eggares Olive Press occupies a commanding view over the village. New owner Nikoletta Antoniou Lianou is keen to show us around and educate us on the long and physical process of olive oil production.
Walking us past an array of turning, pressing and mulching machines, she explains how many producers on Naxos still favour these old school methods. The golden nectar that is produced at the end being a more than worthy reward for all the physical exertions that go into its production.
"At the end of the harvest the men are like Greek gods," Nikoletta exclaims with a wink, "always a good time!"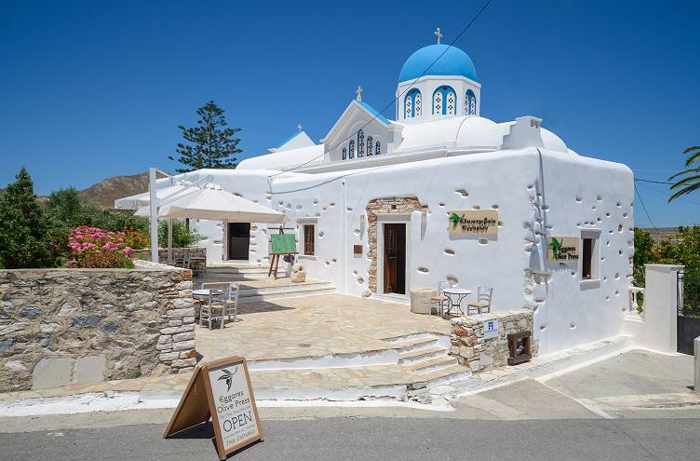 The Eggares Olive Press, seen in a photo from the museum's website
Eggares Olive Press produces a wide range of products, including of course their own wonderful olive oil; there is olive and donkey milk hand cream, herbal teas and a delicious olive jam, to name but a few. We sit awhile on the terrace, sipping one of Nikoletta's rosemary teas, and watch the shadows from the late afternoon sun dance across the valley.
Driving back into Naxos Town, we are once again treated to the sight of the sunset framed through the Portara, its final last rays marking the end of another day on this beautifully serene and proud island.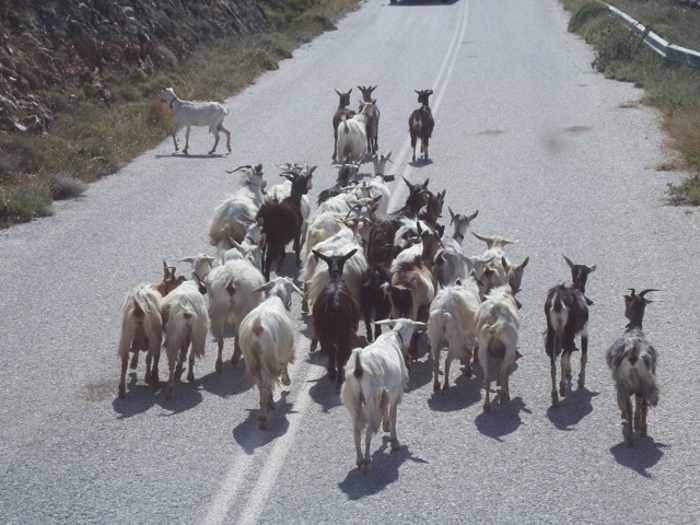 A herd of goats on a Naxos road. Photo by Mike Andrew. 
So, can Naxos stand up to its much coveted Cycladic neighbours as a place to visit?
If it's hipster cool or thriving bohemian nightlife you're after, then the answer is resolutely no. However, if the thought of a place where goats massively outnumber people and traditions are fiercely guarded, where locals are keen to share their culture and their homes, and where the spirit of true Greek pride is evident throughout, appeals to you, then you would struggle to do better than Naxos.
A point best illustrated by Demetrius, a potter we met in Halki. Inviting us into his home, he explained he is a third generation craftsman. Despite possessing hands like shovels and a back stooped from years bent over his wheel and kiln, he handled the clay with the delicacy and precision of a neurosurgeon.
One of his most popular items is the Pythagoras cup, or the "Cup of Justice," as it is sometimes called. He explains that to ensure everyone drank the same, the cup contains a hidden internal chamber. If anyone greedily attempts to over fill their cup, this internal mechanism would act as a siphon and drain all their drink out of the base of the vessel.
Proudly holding his cup aloft, Demetrius proclaimed: "We all drink the same or we drink nothing at all."  A sentiment I believe acts as a wonderful illustration of this island as whole.
James Andrew is a freelance writer based in York, UK. He has toured Europe extensively but has a particular passion for Greece and her islands.