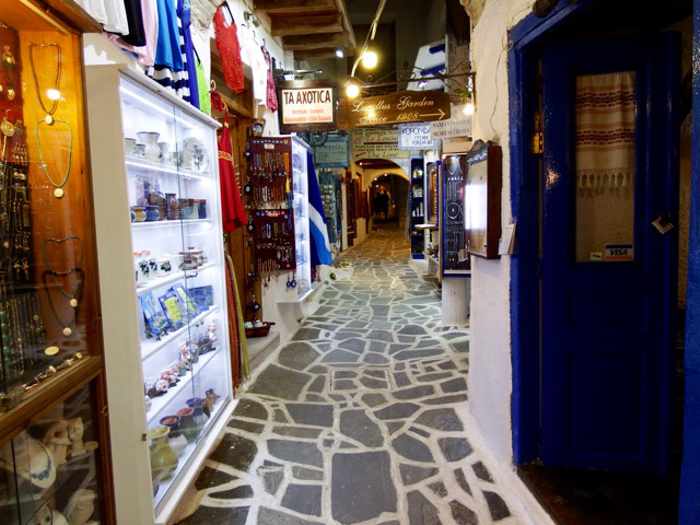 Shops line a narrow lane in the historic Old Market district of Naxos Town. Photo by Mike Andrew.
Sitting at the heart of the Aegean, can the unassuming and traditionally minded Naxos hold its own against its cosmopolitan neighbours?
Guest post by James Andrew
The shutters bang and clatter against the window. The howling, whistling noises coming from outside are more than a little disconcerting. The meltemi, the strong warming wind that blows constantly through the Aegean at this time of year, is definitely strong today.
Looking out of our villa window at the large, agriculturally rich fields, curious, twisted rock formations and, in the distance, the somewhat foreboding Mount Zas silhouetted against the dusk skyline, this all feels slightly alien. Certainly it's a world away from the cosmopolitan and touristy island of Santorini from which we caught the ferry earlier in the day. No, this is very different. This is the much less visited and certainly less known island of Naxos.
Positioned at the heart of the Cycladic (or White) Islands, Naxos sits somewhat oddly next to its much-lauded neighbours Santorini, Mykonos and Paros. Whilst the island has gradually been building a fan base amongst Greece afficionados in the know, it still remains defiantly off the main cruise routes. Its main port in Naxos Town sees the arrival of daily ferries but no towering cruise ship behemoths like the ones that anchor in Santorini's caldera.
The highest peak in the Cyclades, Mount Zas dominates the island. Breaking from the image of barren, volcanic lunar landscapes one most associates with this area of Greece, Naxos is blessed by nature. Green and verdant throughout, it defies convention. So, how would this island that lacks Santorini's chic, polished veneer and Mykonos' cool, hipster vibe reveal itself? Can it compete with its upmarket neighbours? We cracked the rattling shutters open and stepped into the wind to find out.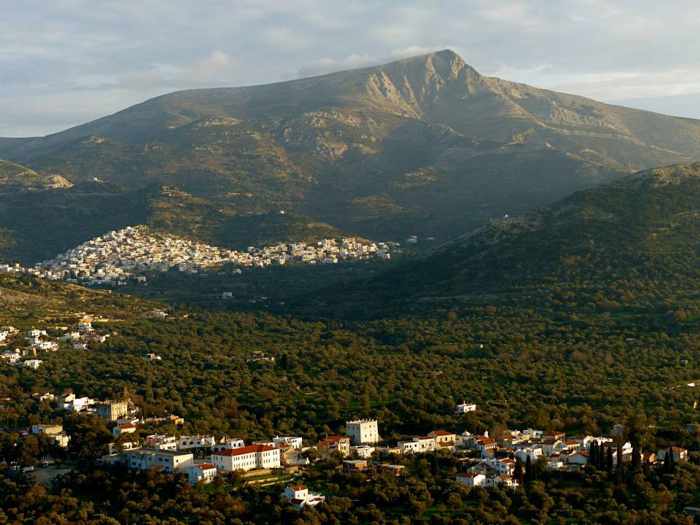 A view of Mount Zas, Filoti village and Halki village (bottom). Photo by the Fish & Olive Creations art gallery and shop in Halki.
Please click on the link below to continue reading and view more photos.
CONTINUED ON PAGE 2