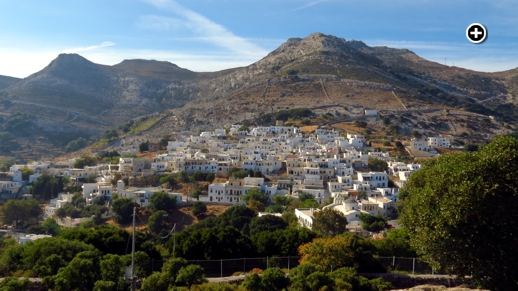 Apeiranthos is sometimes referred to as "the marble village" because many of its buildings, lanes and public squares have been constructed from marble and stone. Click on the photo to see a full-size image.
Marble marvel: One of our memorable excursions on Naxos last October was a visit to Apeiranthos, described in many travel guides and websites as one of the island's prettiest mountain villages.
Literally made of stone, Apeiranthos is often called "the marble village" since many of its squares, streets and buildings have been constructed with slabs and sheets of the crystalline rock.
The village is home to four separate museums (Archaeological, Folk Art, Geological and Natural History), the Zevgoli Tower (which dates to the 17th Century), several tavernas and cafés, and some local artcraft and gift shops.
Village is situated 28 km from Naxos Town
We got to Apeiranthos by taking one of the local buses which, at that time of season, operated only a few return trips per day on the 28 km route between Chora (Naxos Town) and the village. Return fare cost €12.40 — a price of €3.10 per person each way. The highlight of the ride was the tremendous scenery we got to enjoy, particularly the mountain and valley views on the twisting section of highway above Filoti village (check out the post below for a videoclip showing some of the fabulous views from the bus). Despite the limited departure and return bus trips, we still had several hours at Apeiranthos — plenty of time to explore the village and vicinity, as well as stop for a drink and snack at Samaradiko Café.
The village was fairly quiet during the several hours we spent visiting the museums and walking around. We saw several small tour groups and perhaps three dozen other tourists (at most) wandering through the village or having coffee or lunch in one of the cafés. Besides the people working in restaurants and shops, we saw just a handful of local residents plus a few cats and dogs. We had most of the village entirely to ourselves which was wonderful, since we don't like crowded places.
A video walk along the marble-paved streets
Below is a two and a half-minute videoclip that I shot while we were walking through passageways and up some of the marble- and stone-paved steps. I think it will give you a reasonably good impression of what it's like to actually wander the village's residential hillside streets.
To see more of this charming mountain village, click here to view over 300 photos in the Apeiranthos album on the MyGreeceTravelBlog Flickr page.
If you would like to learn more about Apeiranthos, click here to read a richly detailed article that was written by Konstantinos Toubakaris and published on the travel website This is Naxos. Take note that if you plan to do further research, you will probably encounter several variations in the spelling of the village name. Besides Apeiranthos, I have seen guides, maps and websites use Apiranthos, Aperanthos, Aperathos and Aperathou. They're all one and the same place.
Here's a 2.5-minute videoclip I shot while walking around "the marble village" of Apeiranthos on October 9 2013.