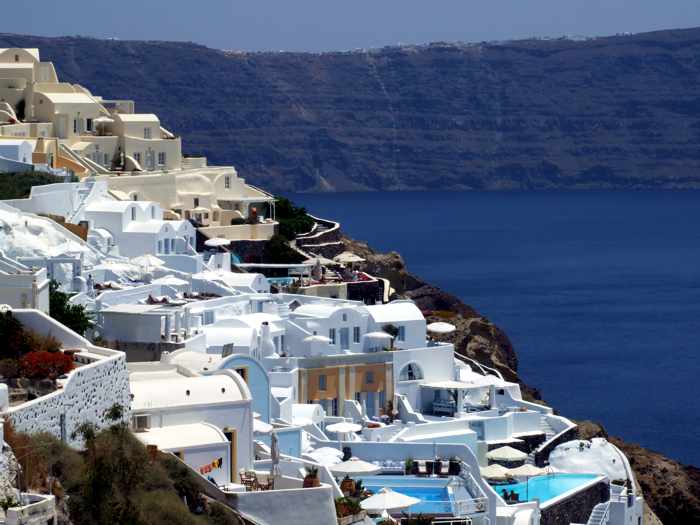 Hotel buildings and infinity swimming pools cling to the sides of the imposing caldera cliffs in Oia village on Santorini island
Guest post by Lisa Griffin
Greece is a Eurozone country, and this fact often keeps travelers with a student budget at bay from taking a trip there. Many people think they will require loads of money to travel to Greek resorts. It is a common prejudice which is closely connected to myths that only tycoons and other financial demi-gods  can afford the resorts .
The truth is different. Times of Aristotle Onassis have passed, and now any student can afford cheap holidays to Greece, either taking a trip to a sunny island like Santorini or feeling the antique air of Athens without paying much.
Students' leisure shouldn`t be expensive!
Cheap Greece vacations are not a dream anymore. Greece is a highly underestimated budget travel destination. Just follow the simple rule – if you are not a millionaire, don`t pretend to be one. Don`t book expensive hotels; eat out in small traditional restaurants, and use low-cost airfare and transport.  Otherwise, you can turn the pleasure of your vacation into endless money wasting.
A statement like this applies to every country in the world – you can say that any city is expensive unless you're willing to change your habits and try to look for ways to economize. 
In Greece,  don't always go for the most popular places. Local people are usually trying to earn money on tourists not caring if they will be satisfied with their expensive services  – tomorrow the flux of tourists will be all the same.  Check Greek island vacation packages for bargains. Often these packages include delightful spots that aren't as popular as the mainstream destinations, so you can enjoy low-cost services while having all you need for a good rest and entertainment.
Yet even the more expensive Islands like Santorini are accessible to everyone, since you can usually find hostel accommodation for as little as €15 per night. it might be a bed in a tent, but do you need more? People travel to Greek Isles not to sit in a hotel, but to see as much as possible and spend time somewhere on a distant beach. The main thing is to have a shower, a kitchen to cook fresh products bought in local markets, wifi, a place to put your stuff, and a bed to sleep.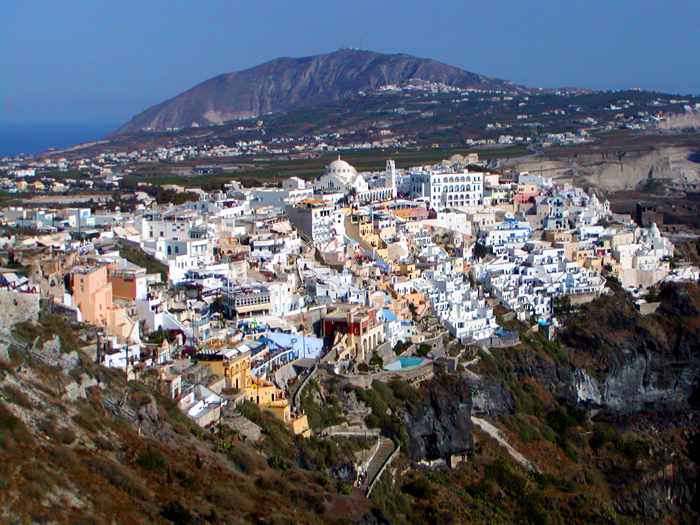 Fira, the main commercial center on Santorini. Although it's one of the most expensive places to visit in Greece, Santorini still offers hostel and other cheap accommodations that suit a student budget.
Please click on the link below to continue reading page 2 of Lisa Griffin's article.
CONTINUED ON PAGE 2