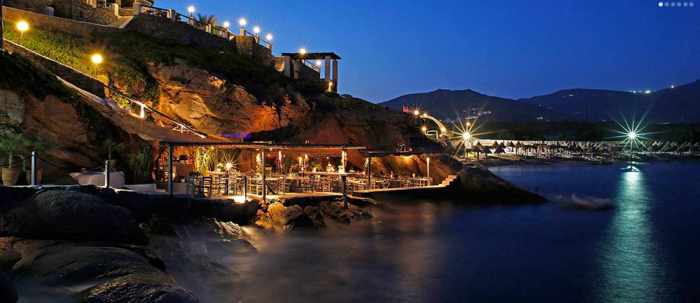 Lobster pasta and freshly-caught sea urchins are two of the signature dishes that writer Heather Warburton recommends ordering at Spilia. It was one of her seven favourite restaurants on a recent trip to Mykonos.
Guest post by Heather Warburton
There are many reasons to go to Mykonos—the color of the water alone, the music, and the stunning villas—but, undoubtedly, the food scene will convince you. If you intend to eat light and vegetarian, you'll find no better place, and then again, if you're more into feta cheese and baklava, you'll be just fine, too.
I spent five days in Mykonos in early July, and these were my favorite restaurants:
♦ Scorpios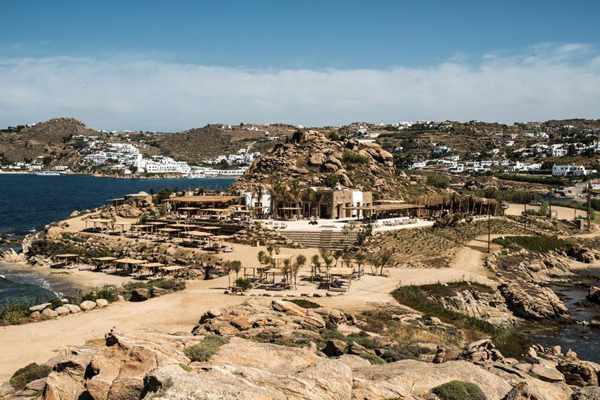 Scorpios is one of the only places to succeed in being both a terrific restaurant, and a really fun party. On a charming stretch of Paraga Beach, Scorpios is a sprawling compound. There's an indoor area that's light and spacious, with comfortable couches and a well-designed bar. If you come early in the day (read: before noon), you might see people working on their laptops sipping a green juice. Outside there is one large bar, a deck, a beach with over 40 lounge "beds," and finally, a restaurant.
Despite its massive size, Scorpios boasts impeccable, friendly service and an intimate vibe. Graze on tzatziki, hummus, and spicy pita chips while waiting for a table. They'll be the best pita chips of your life. You'll find a vegetable driven menu once seated, with Mykonian salads (tomatoes, capers, cucumbers and feta cheese), whole roasted fish with your choice of sauce, and so many others. (I loved the quinoa with raisins and the zucchini with fresh mint). Their cocktail list is particularly impressive and long, with innovative and not-overly-sweet takes on your spirit of choice.
Go for a late lunch or sunset dinner.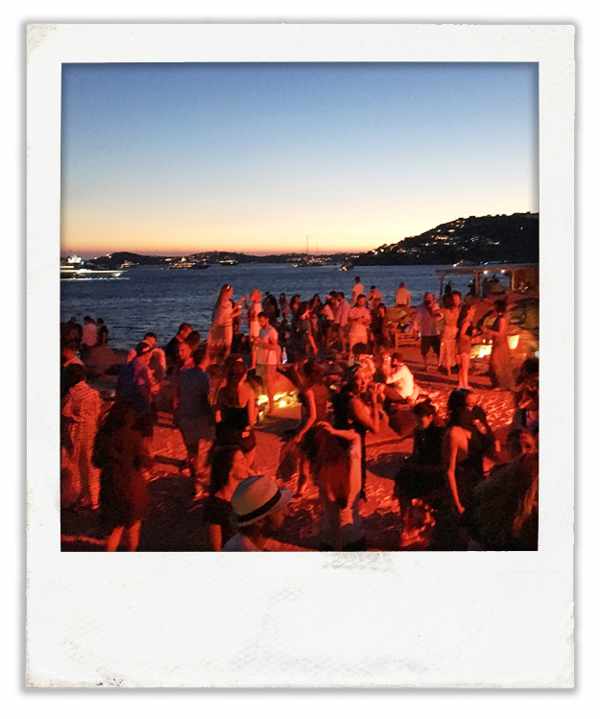 A sunset party scene on the Scorpios seafront
Please click on the link below to read about the other 6 restaurants that Heather recommends on Mykonos. 
CONTINUED ON PAGE 2