~ continued from page 1 ~
♦ Interni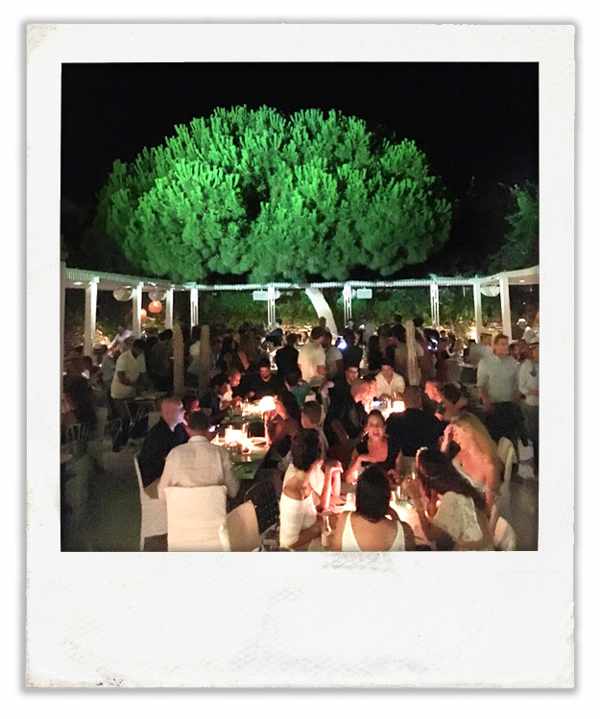 Dining under the night sky at Interni
Interni brings a Miami or even Havana-like feel to the Med. Tables are outdoors, white, and exude a certain sexiness. It's the type of spot where you'll run into friends, or meet new ones. As with most restaurants in Mykonos, the menu has its classic ceviches, tartares and Greek delights, while integrating a number of Italian influenced dishes. (Hello, gnocchi).
Go for dinner.
♦ Spilia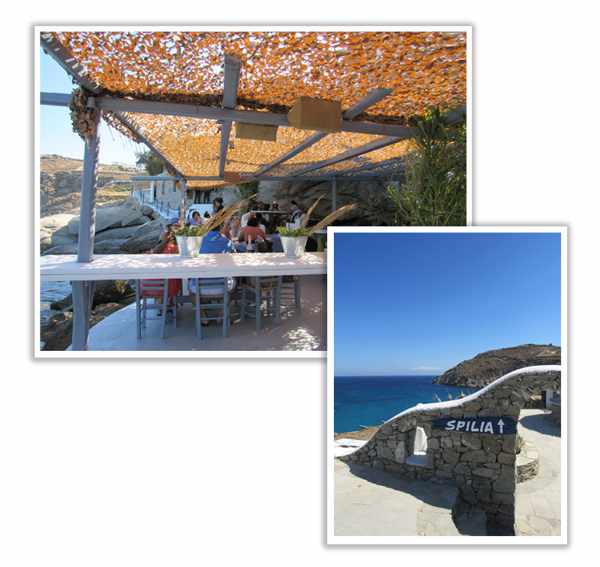 The entrance path and one of the dining verandas at Spilia
Built into a cove of Agia Anna, next to Kalafati beach, Spilia is one of the more elegant restaurants on the island. The restaurant is multi-level, giving each seating area an intimacy occasionally lacking in Mykonos, and the soft blue water is truly at your feet (half our table took a dip between courses). Their lobster pasta is one of the signature dishes, and a waiter caught and opened sea urchins in plain sight, ensuring total freshness. Can't miss item? The fudge-like chocolate cake. Trust me, you want it.
Must do for lunch.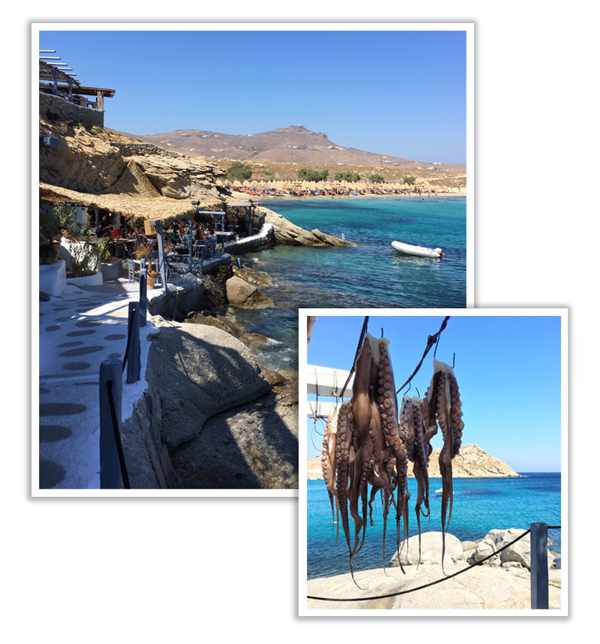 Freshly-caught octopus hanging to dry at Spilia
♦ Katrin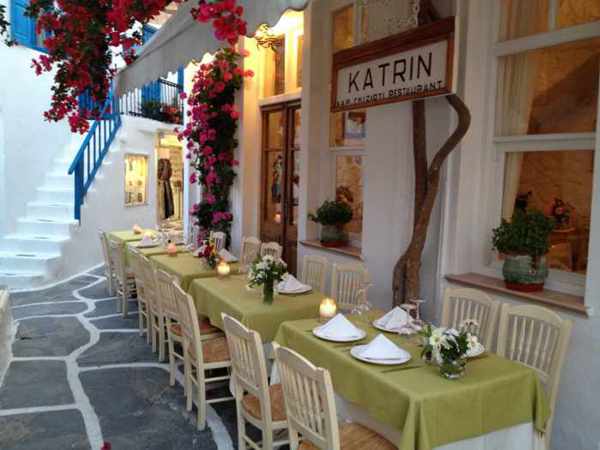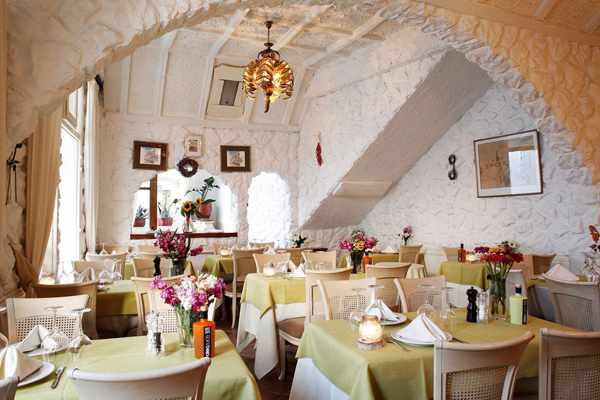 Street and interior views of Katrin in Mykonos Town
A friend and I headed to Katrin one night — just the two of us — while others recovered from a big lunch. Most days are spent on the beaches, so it's nice to explore town in the evening. Shops stay open well past 1 a.m., giving the blue and white drenched town a complete vibrancy you won't find elsewhere in Europe.
We did not have a reservation, but the owners of this family-run restaurant took care of us. Completely traditional in fare, Katrin's serves fantastic spanakopita (spinach pie), meat pies, and others dishes you just have to say yes to. Waiters bring dishes out when they're ready, family style, and simply slice you a piece of something and serve it as if you were in their home. It is totally authentic and was one of my favorites.
Couples: play by ear for dinner. Groups: go after a long beach day for some comfort food. 
♦ Kiki's Tavern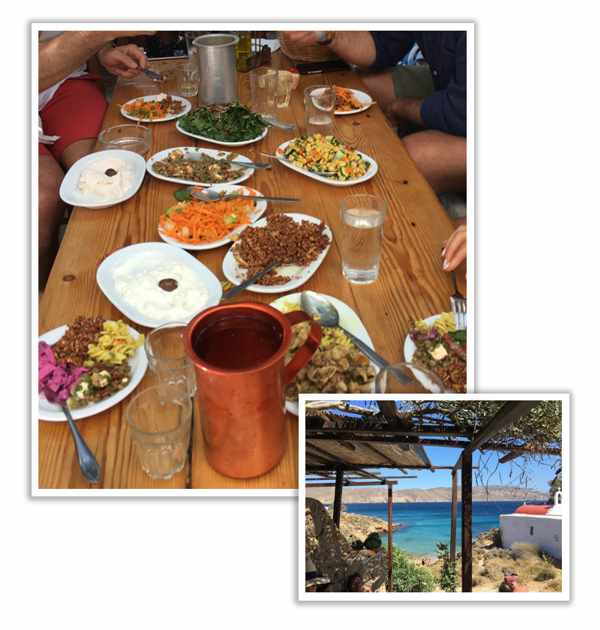 Kiki's is famous for its selection of delicious cold salads, perfectly-grilled meats and fish, and its mesmerizing view 
Kiki's is one of the more charming places in Mykonos, but comes with a caveat—they do not accept reservations, and the wait will surely be over an hour and a half. With that said, it's a must do if you're in Mykonos for more than a few days.
The tavern sits on a hill above a small cove near Agios Sostis beach, on the northern side of the island. The restaurant probably has 12 tables, a wood fired oven and an indoor refrigerated section with salads. Do your best to arrive at noon, and be sure to bring a towel and a book—the wait is inevitable. But once inside you'll have fresh beet salads, cracked corn, and the most delicious grilled sausages! There's plenty for both vegetarians and meat lovers alike. One of the perks? It's one of the wallet-friendly restaurants on the island, even with vino.
Like the jewel it is, Kiki's doesn't have a website. Ask around…and arrive early for lunch! (But don't go too late in the day — Kiki's does not stay open after dark.)
♦ Avra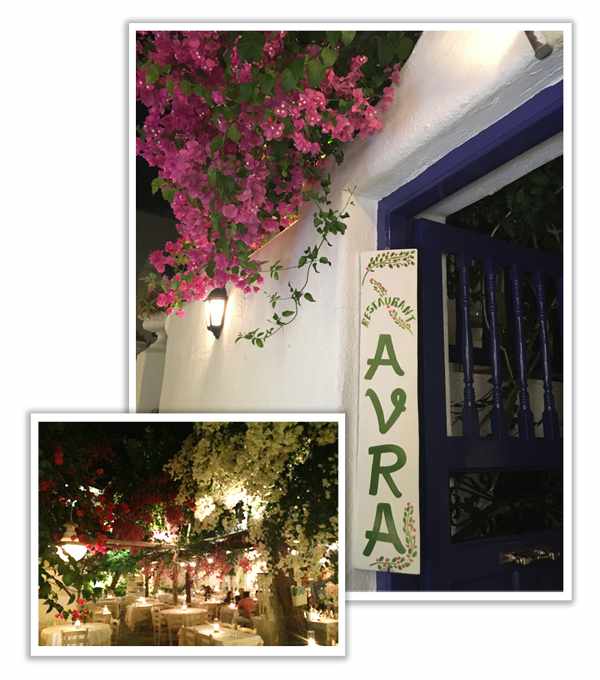 Looking for a romantic spot? Avra wins the prize. Tucked away in town, Avra occupies a bougainvillea-drenched courtyard. White linens and candles cover the tables, creating a sanctuary you can't help but feel at home at. We were a large group for dinner, and though we trickled in at various times, the staff graciously let us sit. The service was some of the best in Mykonos, and the ambiance allowed all of us to hear each other easily. A good spot for both groups of friends and families alike (and especially couples).
The appetizer section immediately caught our eyes, and we all agreed were we to go back, we'd double down on first courses. Our favorites were the moussaka (minced beef and aubergine), the spinach crepe, and the fried feta cheese. Oh, and the Haloumi bacon. Needless to say, we didn't exactly eat light, but we left totally satisfied!
♦ The Belvedere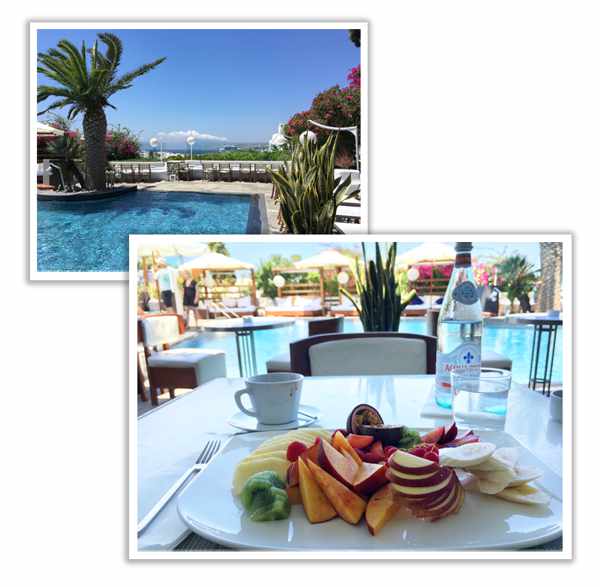 The chic Belvedere Hotel boasts not one, but two poolside restaurants
One of the most well-known hotels in Mykonos, The Belvedere sits at a southern entrance to the town center, making it a convenient meeting point.
Our group had sunset drinks at the pool after a long beach day, sharing crispy squash blossoms and a salmon crudo. With both a Matsuhisa and a traditional Greek restaurant on site, you can have the best of both cuisines.
My insider tip? Check if your departing flight is running on time (many are delayed in the summer). If it is – check your bags at the airport, then head to the Belvedere for a pre-flight snack and glass of wine! Just make sure you've got the EasyJet app…
Heather Warburton is the director of branding at WIMCO Villas, which rents private villas with concierge services on Mykonos and in other destinations, including St. Barths.