~ continued from page 1 ~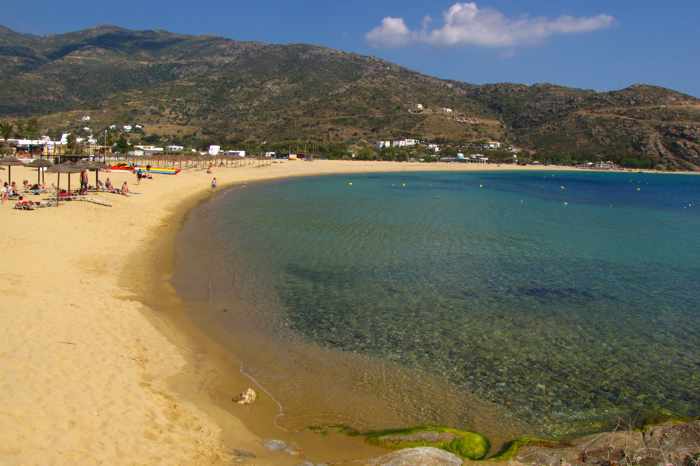 Mylopotas beach on Ios is one of the most popular beach destinations for students to visit in the Cyclades group of islands.
Low budget travel options
The Nomadic Matt travel guide gives a useful classification of low budget travel in Greece. Prices given can vary, but not significantly:  
1  Undergraduate
Hostels – €10 (low-budget variant)
Food – €7  (food from local markets)
Treats– € 5
Total: € 22
2  Student
Hostels – € 10
Food – €7
Treats– € 10
Sightseeing – € 10
 Total: € 37
3  Unemployed graduate
Hostels- € 10 / budget hotel: € 20
Food – € 15
Treats – € 10
Sightseeing – € 10
Total: 55 euros
4  Want to see everything in two weeks traveler 
Hotel – € 25–30
Food – € 20
Treats – € 15
Sightseeing  – € 20
Total: € 80-85

 5  Middle-class traveler
 Hotels – € 50 (you can afford a nice hotel with this amount of money!)
 Food – € 25
 Treats – € 15
Sightseeing – € 40
 Total: € 130
See Greece by participating in a volunteer program
You can also travel for free and sometimes even earn money in the process. How? Choose a volunteer program. Find an activity you like, and enjoy your trip with other like-minded travelers while helping people around the World. There are so many of these program  – you just need to refresh the list of offers from time to time and search for volunteer activities you want to be involved in.
There are many options, but there is a list of volunteer opportunities in Greece on the Go Overseas website.
In Greece, there are plenty of historic sites and ancient temples which need some care. The government of Greece is launching programs to save the national heritage. from time to time involving volunteers who can do some hard work.
It's the same for archaeological digs – these projects always need some spare helping hands. 
Always remember that while Greece is famous for its fantastic sceneries and landscapes, it also is amazingly affordable. It`s one of the most visited travel destinations full of sun and fascinating history. And the prices are thrice as cheap as in the rest of Europe.
Lisa Griffin is a blogger and freelance writer. Her lifestyle credo is "Traveling – it leaves you speechless, then turns you into a storyteller." You can contact her via Twitter
___________________________________________________________
Related articles previously published on this blog:
♣ Greece's best destinations for budget travellers
♣ Santorini & other islands ranked cheaper to visit than Athens for backpackers & budget travellers