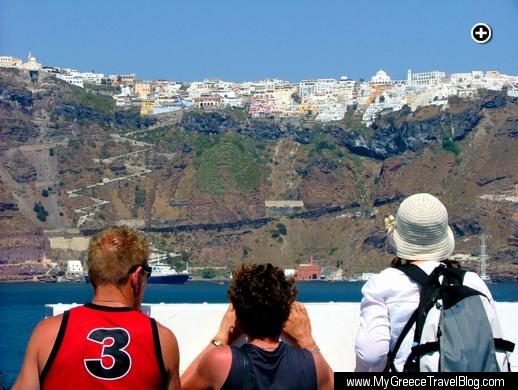 Passengers on a Blue Star ferry get a good look at Fira village as the ship passes below Santorini's stunning caldera cliffs
Cost comparisons: Backpackers and people travelling on tight budgets will find their money goes farther on Santorini and other Greek islands than in the city of Athens.
According to the European Backpacker Index for 2014, Santorini and other islands rank 18th on a listing of the 51 cheapest cities to visit in Europe this year, while Athens is slightly more expensive in 22nd place.  Bucharest, Romania holds the #1 spot as cheapest destination.
The Index is compiled by Price of Travel, a website that maintains a database of travel costs in major world destinations. The database was established in 2010.
Index based on costs for 5 standard expenditures
The Index is based on price estimates that have been extensively researched for each of the destinations on the chart. For each city, the Index considers the price of :
(1) One night in the cheapest bunk at the least expensive hostel that has a good location and good reviews;
(2) Two rides per day on public transportation;
(3) Entrance fee to one famous attraction each day;
(4) Three "budget" meals daily; and
(5) An "entertainment fund" of three cheap local beers or glasses of wine per day. (Price of Travel explains that since "non-drinkers might have dessert and coffee or attend a local music performance instead," this item "is a general benchmark that should be proportional for each city."
All Greek Islands 'quite affordable'
The Index describes Santorini as Greece's "most popular holiday island," but says it was named in the listing as a "placeholder" for the other Greek islands, which "all tend to be quite affordable."
The Index calculated costs for Santorini of €40.60 per day (U.S. $55.62) based on €11/night accommodations at Anny Studios at Perissa beach, €3.20 for transportation, €14.40 for meals, €9 for drinks or entertainment, and €3 for entrance fees to famous attractions.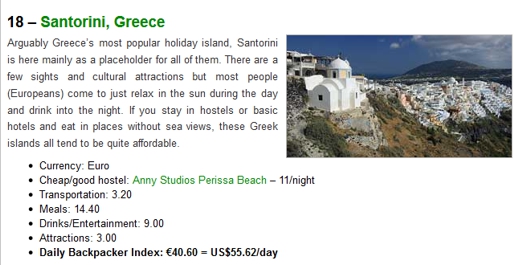 This is a screenshot of the European Backpacker Index listing for Santorini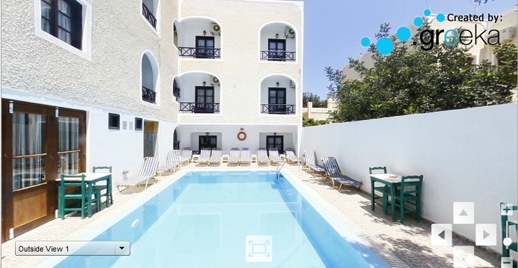 This photo, from the Anny Studios website, shows part of the hotel building and its swimming pool area. Anny Studios is the accommodations property that was considered for the Santorini listing on the travel index.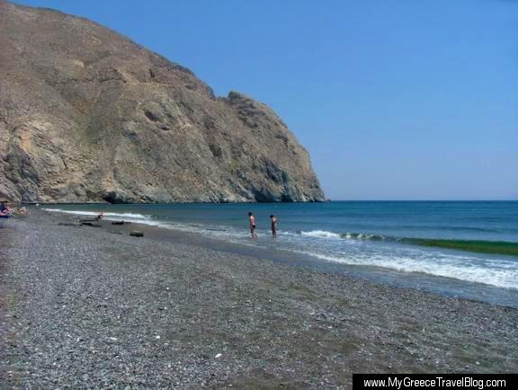 Perissa beach on Santorini, where Anny Studios is located. The spectacular caldera scenery is on the opposite side of the island, a return bus trip away.
Please click on the link below to see more photos and information about budget travel to Athens, Mykonos and Santorin on page 2 of this report.
CONTINUED ON PAGE 2