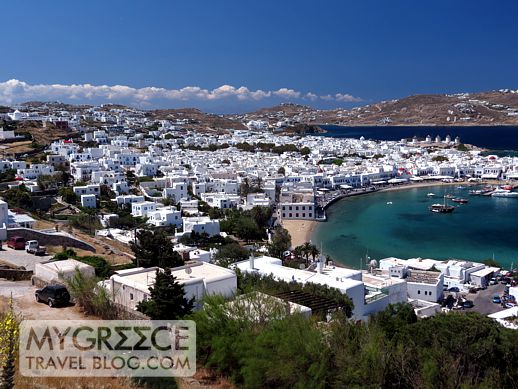 Mykonos is one of the most expensive destinations in Greece, so it can be a big challenge to visit the island on a tight budget — especially during July & August. But its main commercial center, Mykonos Town (above) is one of the prettiest and most vibrant towns in the Greek Islands.
Budget more for travel to Mykonos
Although the Index ranking for Santorini is supposed to be representative of other islands, I personally think it might be a stretch to meet the budget on Mykonos, which is one of the most expensive destinations in Greece. Entry fee to the Delos island archaeological site alone costs €5, for instance, while the fare for the return ferry ride cost €17 in 2013. (While Delos is a separate island altogether, daytrips to it are the most popular tourist excursion activity on Mykonos.) Going to Delos — which I would describe as a "must" while on Mykonos — will easily eat up several days' worth of the transportation and attractions component of the budget.
Dining on less than €15 per day may be possible if you're content to subsist on a diet of gyros or cheap sandwiches (some cafés and bakeries sell what look like hefty-sized submarine sandwiches, but which I've discovered are basically just thick pieces of bread with smidgens of lettuce and cold cuts stuck in between — for a rip-off price of €3 or more). A small coffee can often cost as much as a gyros — it's tough to find a decent cup of java for under €3 though you can find some take-away places that charge around €2.
You can get a tasty gyros and a soft drink for €3 to €5 at a number of cheap eats places in Mykonos Town, like Jimmy's, but if you're an active guy with a big appetite, you'll need to eat at least two gyros and maybe even three to feel full. A fairly substantial —  and delicious — souvlaki meal platter will cost around €7 and up at Sakis Grill House, but is more suitable for lunch than dinner.  At the self-serve cafeteria at Paradise beach, the most popular party beach on the island, a hearty portion of a hot dish like moussaka or pastitsio, plus a beer, will cost around €10, while a Greek salad and drink isn't significantly cheaper. 
Booze is expensive at popular bars & clubs
Alcohol prices can easily blow the budget, too. Though you can find cheaper booze and beer at some small bars in the Lakka neighbourhood and near the Fabrica bus depot in Mykonos Town, one large beer at a popular nightspot like the world-famous Skandinavian Bar will dent your wallet by at least €5, while a glass of wine at nearby Semeli Bar in Little Venice costs €7. (Two-for-one specials at some places will help stretch the entertainment budget a bit.) You can find €7 cocktail specials at a few spots, but the fancy drinks generally cost in the double digits.
For accommodations, backpackers probably get the best bang for their buck at Mykonos Camping near Paraga beach. They can either pitch their own tent or rent equipment, dorm rooms or bungalows. Click here to see their pricelist. Alternatively, travellers can wait until they get to the island to find cheap rooms. When arriving by ferry, travellers will inevitably see local residents near the port exit, holding signs to advertise available rooms. They will display photos of the accommodations and are generally willing to negotiate prices, so bargains can be found. But always ask to be shown, on an island map, exactly where the rooms are located. Sometimes prices are low because rooms are in the middle of nowhere, a long walk from town, the nearest beach or even the closest bus stop.  Also keep in mind that it can be risky arriving on Mykonos in July and August without having accommodation booked in advance — fewer residents will be waiting at the ferry ports, and pickings could be extremely slim and not as cheap as anticipated.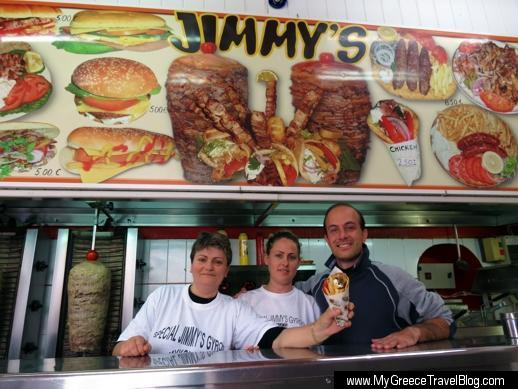 Irini (left), Bona and Savvas are part of the team serving up tasty gyros, souvlaki and other affordable eats at Jimmy's in Mykonos Town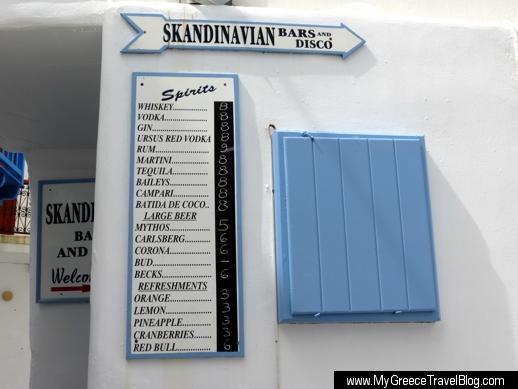 This photo shows part of the 2013 price list for Skandinavian Bar in Mykonos Town. Booze prices at Mykonos party clubs can easily blow a backpacker's budget to smithereens. Several cafés and bars in the Lakka and Fabrika areas sell cheaper shots, beer and cocktails, so head to those neighbourhoods and look for signs advertising drink deals. To further keep costs down, buy booze at minimarkets and drink it at your hotel before going out on the town.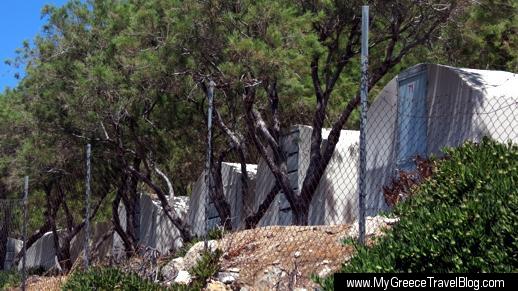 Bungalows at Mykonos Camping. The campground is situated on a peninsula between two of the top party beaches on Mykonos — Paraga and Paradise– and offers a range of camping facilities at cheap rates.
Athens still a 'reasonable deal'
The Index describes Athens as "a reasonable deal for the moment" and speculates that the city "may get even cheaper. Political instability has kept some people away, which has helped keep hotel and hostel prices affordable."
The Index rated Athens as 22nd cheapest destination based on €8 nightly accommodation at Pagration Hostel, €2.80 for transportation, €19.20 for meals, €7.50 for drinks and entertainment, and €8 for entry to attractions.
 This is a screenshot of the European Backpacker Index listing for Athens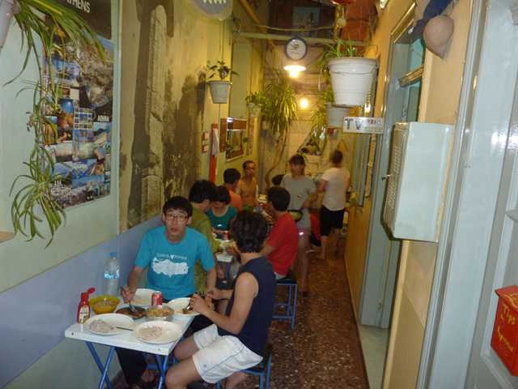 This photo of Pagration Youth Hostel's common eating area appears on the hostelbookers.com website listing for the property
 Similar rankings for 3-star hotel travel
For travellers with slightly higher budgets and a preference for staying in hotels rather than hostels, Santorini and Athens ranked a bit better on the Europe 3-star Traveler Index for 2014, placing 17th and 20th, respectively, out of the 51 city destinations on the list.
The 3-Star Traveler Index is based on two people sharing hotel rooms and taxis. Costs were determined based on:
(1) One night "in the cheapest 3-star hotel available with a desirable central location and mostly positive reviews." However, the Index explains that "Hotel prices are per person based on double occupancy, so the full nightly rate is double what is listed for each city";
(2) Two 3-kilometer taxi rides each day (one paid ride per person);
(3) Admission to one cultural attraction daily;
(4) Three budget meals per day; and
(5) An "entertainment fund" of three beers or glasses of wine per day.
Visit islands in shoulder season for best prices
 The 3-star index notes that food and drinks "are reasonably priced on the islands," but costs for scooter rentals and water sports activities can quickly add up. On Mykonos, for instance, I've seen scooter prices as cheap as €15 per day in May, but know that they will cost €18 to €22 in the peak season months of July and August. ATV rentals can cost over €25/day in low season and upwards of €35 in midsummer.
Budget travellers will find their money gets them much more for everything — lodging, food, drinks and attractions — on other islands in the Cyclades, like Ios and especially on Naxos. In 2013 a Greek salad on Mykonos averaged about €8. On Naxos, by comparison, we found restaurants advertising specials for €8 to €10 that included a salad, another food item (typically moussaka or calamari), and a glass of wine.  Last October our daily expenses for food, drinks, lodging and transportation on Naxos cost us less than one night's accommodation at a Mykonos budget hotel.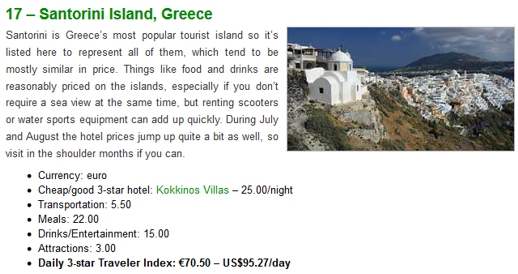 Screenshot of the Europe 3-star hotel index listing for Santorini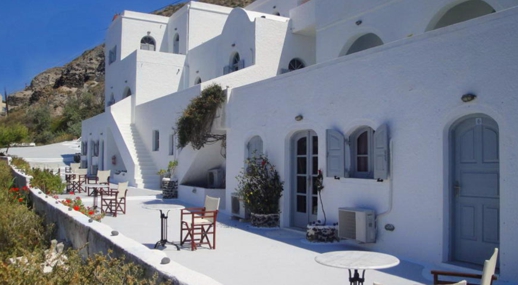 This is Kokkinos Villas in Akrotiri village on Santorini — the hotel considered in the 3-star travel index. The image appears on the Kokkinos Villas website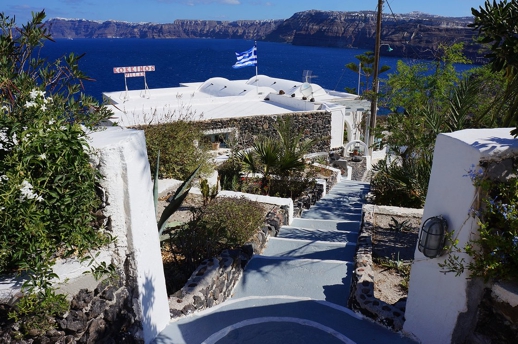 This photo, also from the Kokkinos villas website, shows the entrance to the hotel property with Santorini's caldera cliffs providing a spectacular scenic backdrop
Bargains can be found in Athens tourist areas
The Index calls Athens "a relative bargain for the 3-star traveler," offering affordable hotels right in some of the main tourist zones.  It notes that hotels can quickly fill up in peak season — something we've discovered even in the spring, so I recommend booking early if you already know your Athens travel dates.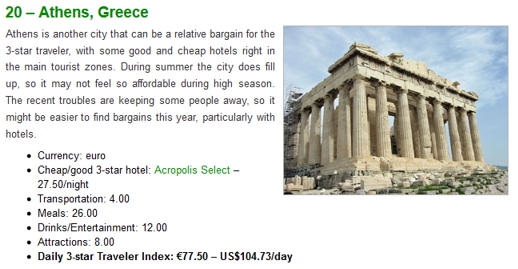 Screenshot of the Europe 3-star hotel index listing for Athens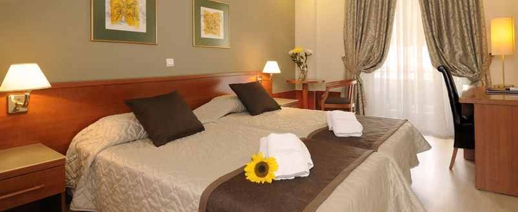 A room photo from the from the Acopolis Select Hotel website. This was the Central Athens Hotel that the Index considered for its 3-star index listing.