— continued from page 1 —
New restaurants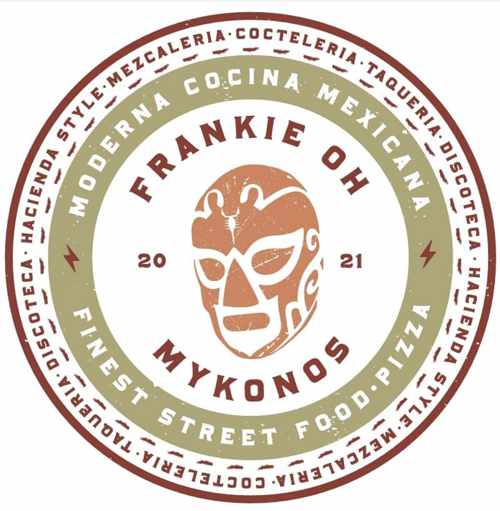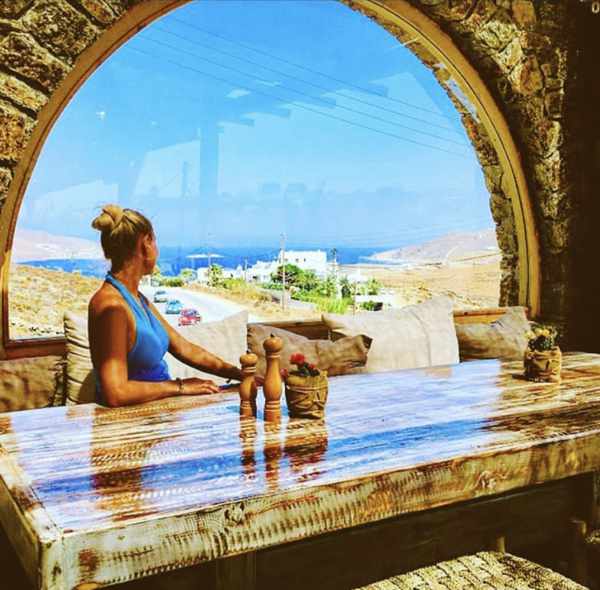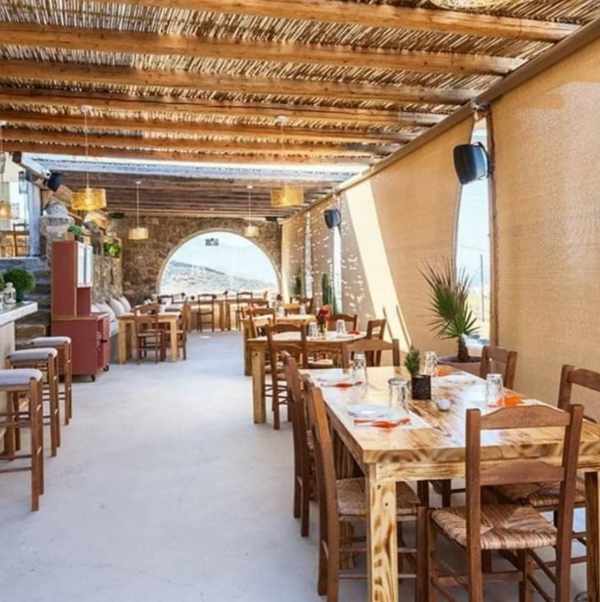 Mexican food fans will be delighted by the arrival of Frankie Oh, a fun new eatery destined to become one of the island's hottest hangouts this summer. The menu includes Mexican cuisine and street food, served in a cheery space oozing with Mexican atmosphere and exuberance. Tequila lovers will want to try the restaurant's signature 100% agave Añejo Tequila. It's aged more than 12 months in barrels, and tastes marvellous when served chilled with a slice of orange. Frankie Oh is located in the Koukoulou area of Mykonos, just outside Ano Mera village.  
_____________________________
Michelin-starred British chef Jason Atherton has chosen Mykonos as the location for his first restaurant in the Mediterranean. Designed as "a bespoke, all-day dining destination," Mykonos Social will open on Wednesday June 16 at the luxurious 5-star Santa Marina Resort at Ornos. The poolside, sea-view restaurant will feature a menu of Mediterranean and Greek dishes, and of course a bar serving creative Tiki-style cocktails and fine wines.
_____________________________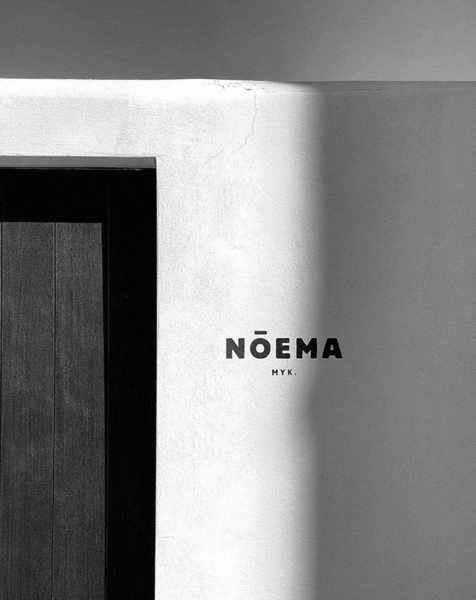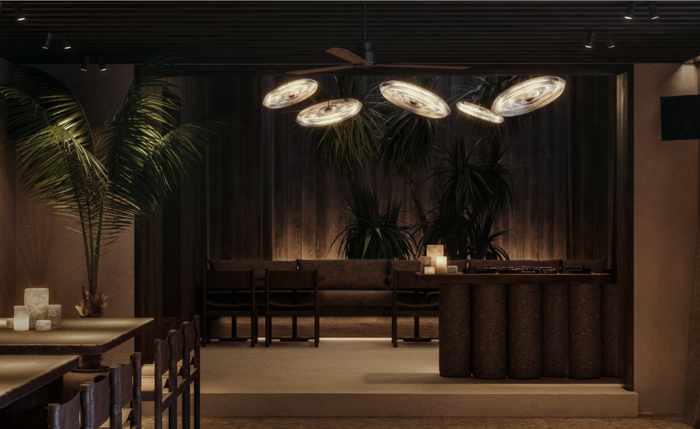 Opening May 21 in the Panachra district in the heart of Mykonos Town, Nōema Mykonos describes itself as a "contemporary Greek restaurant and bar," serving "a new Cycladic cuisine that spotlights indigenous ingredients and cooking methods, sharpened with an experimental attitude to satisfy the modern palate."  Besides being a place to gather with friends and family for delicious food and drink, Nōema will be a destination for music entertainment. DJs and musicians will perform in Its courtyard patio, exploring "musical horizons that defy categorization." Uji, Kaz James and Valeron are among the musicians and DJs scheduled to perform live at Nōema in June.  The restaurant premises will include a retail boutique offering a "conscious collection of timeless fashion, hand-made objects and ethereal jewellery that embody effortless Greek island attitude."
_____________________________
Long one of the island's premier 5-star hotels, the Mykonos Grand Hotel & Resort at Agios Ioannis beach will be introducing its new Nama restaurant and pool bar this season.  Located beside the hotel's main swimming pool, Nama has indoor and outdoor dining areas that boast unrivalled views of the sea, Delos island, and the spectacular sunsets.  The menu takes "a contemporary approach towards making classic Greek dishes more sophisticated."  The restaurant will serve an à la carte and buffet breakfast, as well as à la carte lunches and dinners.
_____________________________
Pere Ubu, the in-house restaurant at the new Kalesma luxury hotel, is set to make its mark as one of the island's top destinations for fine dining.  "We serve small 'mezes' plates, full meals or light lunches by day, and by night Pere Ubu transforms into a vibrant social hub with innovative cocktails and gratifying menus," the Kalesma website states.  You won't have to be a registered guest at Kalesma to reserve a table — the all-day restaurant will accept bookings from people staying anywhere on the island. Kalesma is located in the Aleomandra area of Mykonos.
_____________________________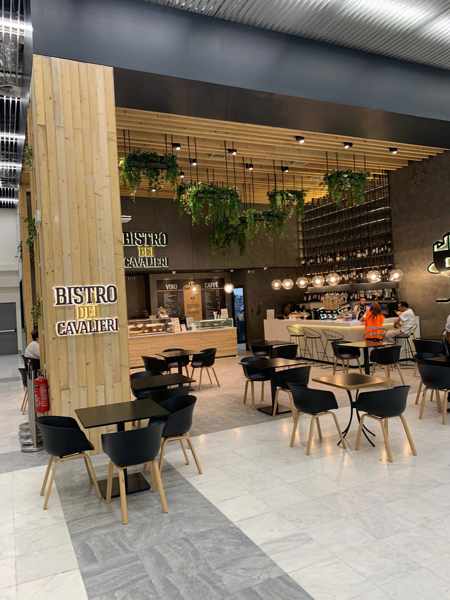 The fully-renovated Mykonos International Airport terminal now has a hip new restaurant where flyers can enjoy quality Italian cuisine before a flight — or immediately after arrival on the island. Bistro dei Cavalieri is a traditional Italian bistro decked out in a stylish contemporary decor with modern furnishings designed by ENKA Moisiadis of Thessaloniki (click on the link to see more photos of the restaurant).  The bistro's Mediterranean menu includes handmade pizza cooked in a wood burning oven; panini; and fresh pasta. The restaurant also has a coffee and wine bar where travellers can select from a variety of Italian and Greek wines as well as premium specialty coffee drinks.
_____________________________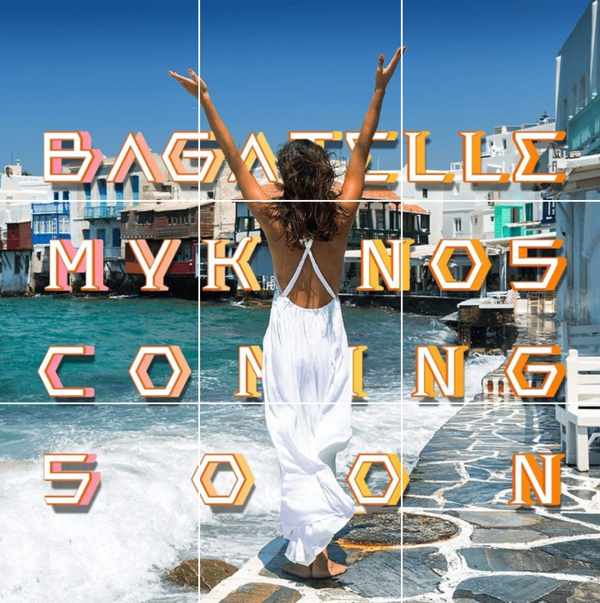 Bistrot Bagatelle is bringing its contemporary French Mediterranean cuisine and ambience — and its signature joie de vivre — to Mykonos. Self-described as "the quintessential host for foodies, jet-setters, celebrities and tastemakers, " Bagatelle operates "blissful and sexy" restaurants in 10 A-List locations — including Miami, New York City, Dubai, St. Tropez, St. Barth, Monte Carlo and Ibiza. Bagatelle Mykonos will be the chain's newest member, and its first foray in Greece. It was supposed to open last summer, but its launch was delayed because of the Covid-19 pandemic. This year's opening date has not yet been released as the venue — situated on the coast, just a short walk west of Fabrica Square in Mykonos Town — is still under construction. 
_____________________________
The first IT restaurant in Greece will be opening in Mykonos this summer.  Founded in Ibiza six years ago, IT Restaurants also has locations in Milan, London and Tulum, along with a pop-up in Porto Servo, Sardinia.  According to the company website, each of the IT restaurants represents "the founders' unique vision of combining carefully curated music, best-in-class Mediterranean cuisine and contemporary interiors in cosmopolitan destinations."  The IT Mykonos  restaurant and lounge will be located on the peripheral road in the Drafaki area above Mykonos Town, and is expected to open in June. 
_____________________________
Cantera Mykonos is a meat sushi restaurant situated at the scenic Little Venice seafront of Mykonos Town. Scheduled to open on June 15, Cantera is a "meat fusion" concept restaurant that combines "the tradition of Japanese cuisine and the unmistakable flavor of meat." 
Bars and cocktail lounges
Owned and operated by local residents, La Barran is a new cocktail bar in the heart of Mykonos Town. It stands out for its slick and curvaceous white bar and its distinctive illuminated ceiling, seen in the photo above which the bar shared as an Instagram story. La Barran is situated on Enoplon Dinameon Street, in the premises previously occupied by the Replay clothing store. It opened for take-away service on Saturday April 22.
_____________________________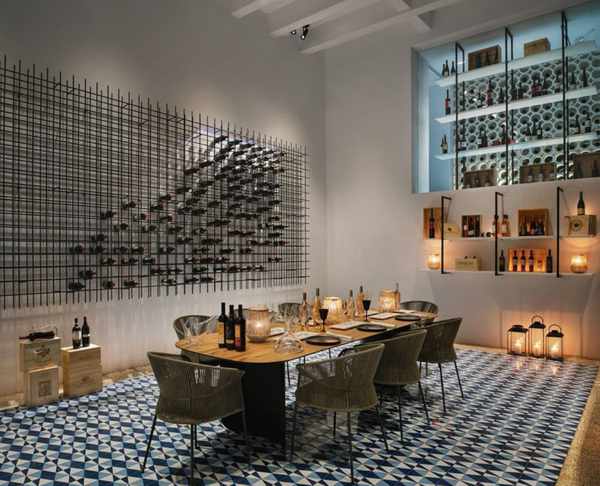 Another new-for-2021 feature at the Mykonos Grand Hotel & Resort is The Wine Cellar, designed to "become the ultimate private venue for wine aficionados."  The Wine Cellar will offer "bespoke wine classes, tastings, food nad wine pairings, as well as private events."
Paloma is a cocktail lounge that will be opening on Kouzi Georgouli Street in the heart of Mykonos Town. Paloma was still under construction at the time we published this post, so photos of the bar aren't yet available, and the opening date has not been set. We will provide an update when Paloma management is able to provide further information.
Cafes and bakeries
HUG Espresso Bar opened on March 6 near the Mykonos airport. It offers a selection of espresso, capuccino and other coffee drinks,  juices, Bradley's Tea, and other beverages, as well as muffins, pastries, sandwiches, and snacks. 
_____________________________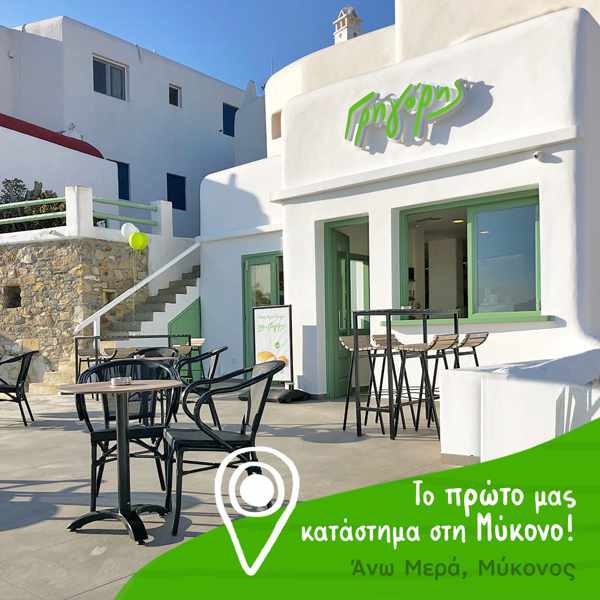 The Γρηγόρης (Gregorys) cafe chain has opened its first outlet on Mykonos. The store sells coffees, smoothies and other beverages, as well as sandwiches, salads, snacks and desserts. The Mykonos Gegorys cafe opened in March in Ano Mera. 
_____________________________
Cookie Smart Bakery opened its doors early this year, offering a mouth-watering selection of cookies, pastries and other sweet treats, along with breads, sandwiches and beverages. The shop is located at 8 Agiou Louka street in Mykonos Town, close to the Fabrica Square bus station.
_____________________________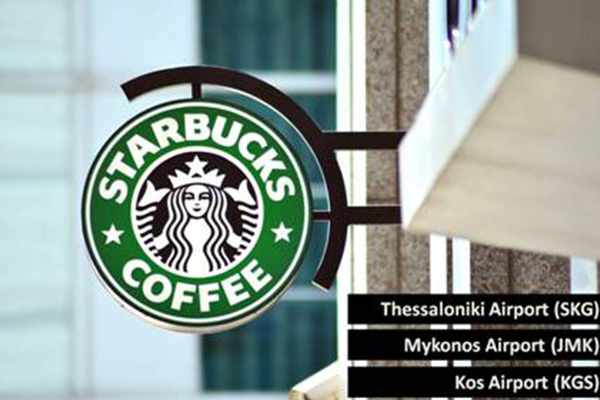 Good news for Starbucks fans: The coffee chain has opened a service counter in the new terminal building at Mykonos International Airport. It's the second Starbucks outlet to open on Mykonos. The first, a full-service location with an outdoor patio, is situated along the peripheral road in the Drafaki district above Mykonos Town and has been operating for about 15 years. 
Specialty food shops
If you're planning to host BBQs or dinner parties while staying in a villa or rental home on Mykonos, Toro D' Oro Karelas Finest Meat has a selection of premium meats for your grill, as well as a selection of innovative products ready for you to pop in the oven, cook and serve. The shop, which opened on February 13,  is part of a family-owned butcher business that has been operating in the Thessaly region of mainland Greece since 1993. The company started in the city of Larissa and subsequently opened locations in Karditsa and Volos. The Mykonos shop is its first retail outlet on a Greek island. Toro D' Oro is located in the island's Vothonas district, near Veneti bakery on the road from Mykonos Town to Ano Mera. Have a look at the Toro D'Oro Instagram profile to see photos of their amazing Hawaiian beef burgers, chicken flower pocket pies, beef meatballs with crispy crust, crunchy chicken lollipops, and many more high-quality meat products.