Watching the town come alive
May has been our favourite time to visit, and one of the big reasons is that it's so interesting and fun to watch Mykonos Town come alive. The entire place changes from day to day as shop and restaurant owners clean, paint, stock supplies and prepare to open for the season. You can walk down an empty street one day, and barely recognize it the next once a shop or taverna has opened and put merchandise or tables and chairs in the street or square beside it. And there's an excitement and energy in the air as the locals get ready to welcome thousands of international visitors each week for the next six months.
The entire look of many streets can change dramatically during the course of a day even after May. A lot of businesses will open for a few hours in the morning to serve the local population, but then will close for an afternoon "siesta" before they reopen in early evening and stay open late (until midnight or even longer, if there's  still a lot of people out and about and ready to browse). The doors to some places that appear to be shuttered storefronts by day don't even open until dusk, revealing surprises like a cozy cocktail bar or café you never knew existed.
Below are some images, from this past May, of my favourite little Greek city by the sea.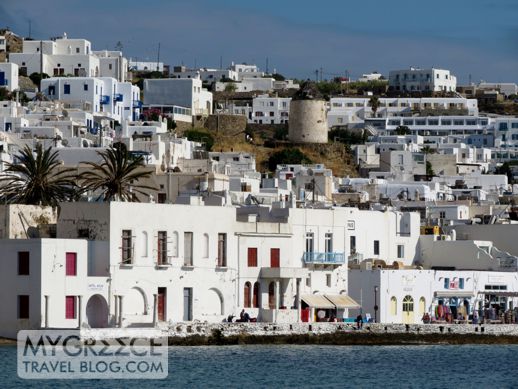 Part of the Mykonos Town harbourfront and a hillside rising up behind it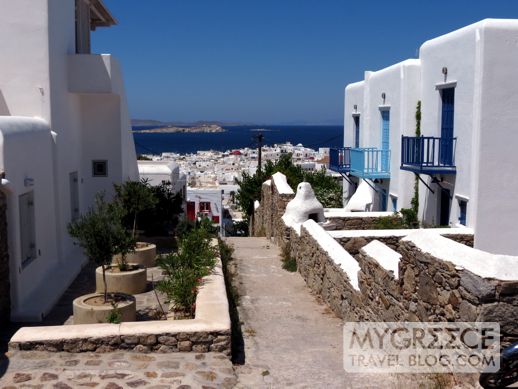 A street on one of the hillsides high above the town center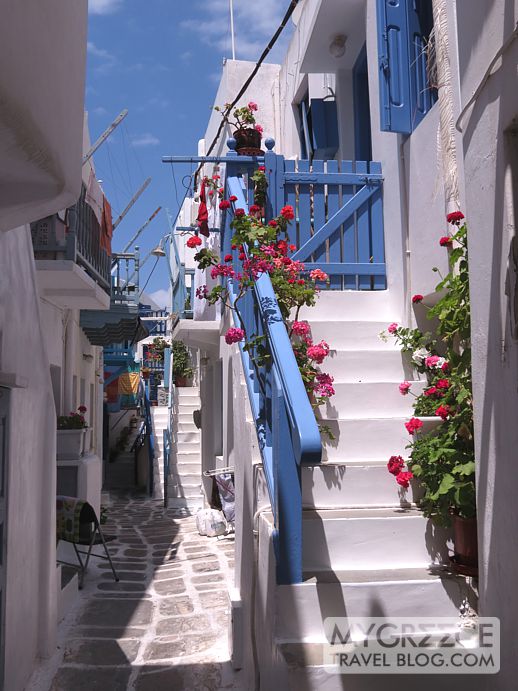 Colourful steps on a residential street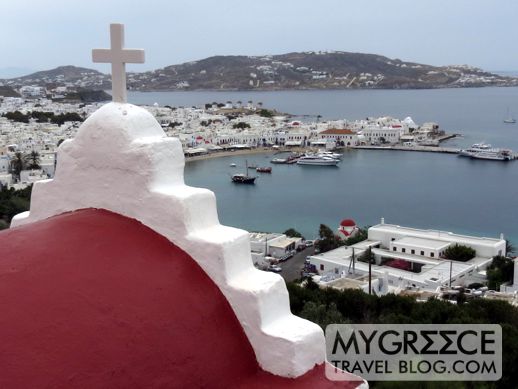 A red-domed church high above the harbour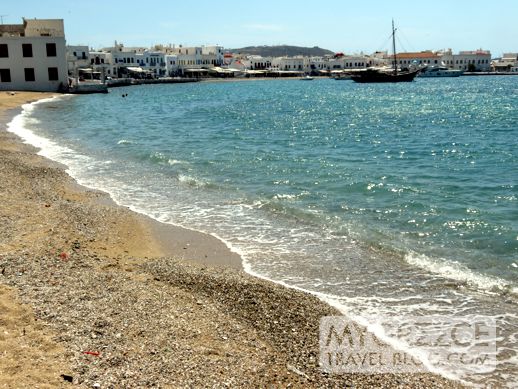 A harbour view from Agia Anna beach in Mykonos Town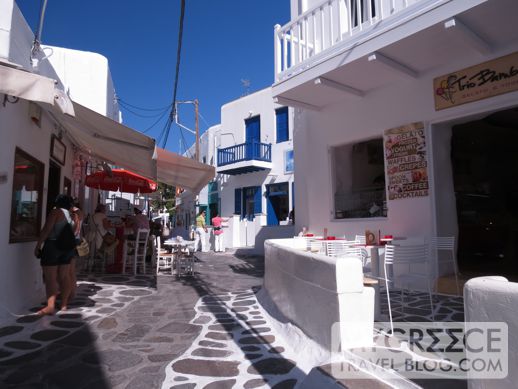 A streetcorner in the heart of Mykonos Town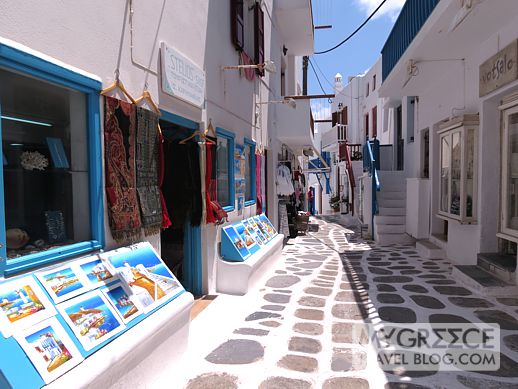 A souvenir shop in the center of Mykonos Town
The famous Little Venice seaside district of Mykonos Town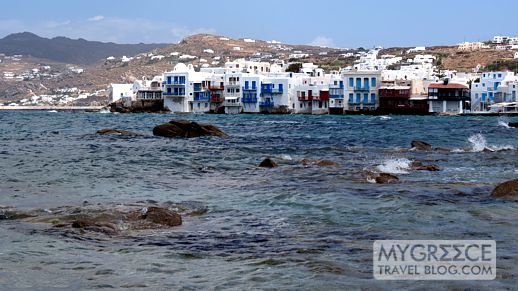 A sea-level view of Little Venice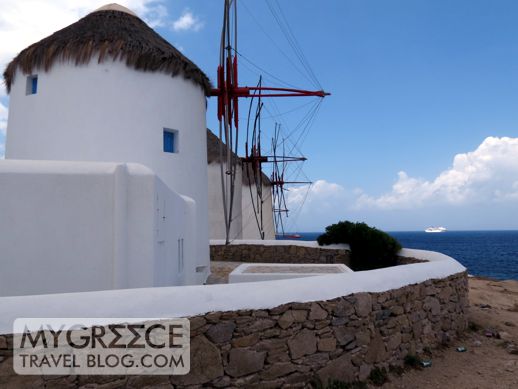 Some of the windmills on the hillside overlooking Little Venice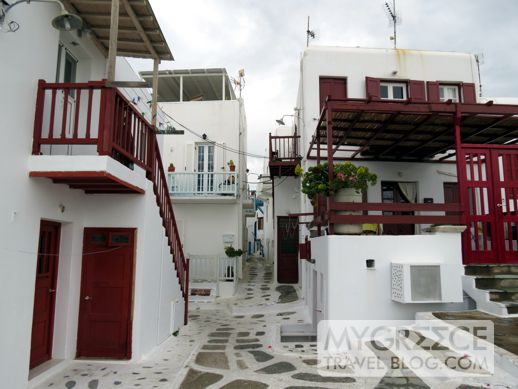 A residential street in Mykonos Town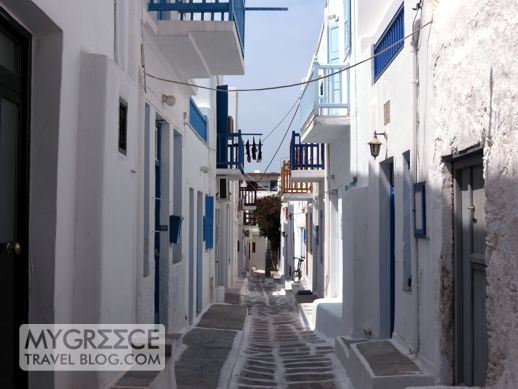 Midafternoon and not a soul in sight on this street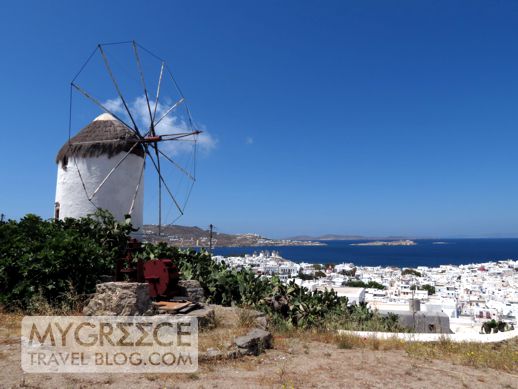 The folklore museum windmill on the hillside above the town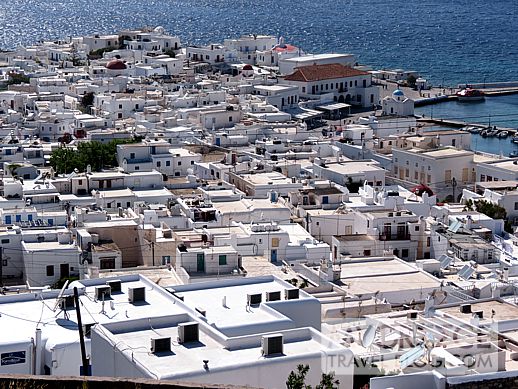 Overlooking a sea of white roofs from a vantage point on a hillside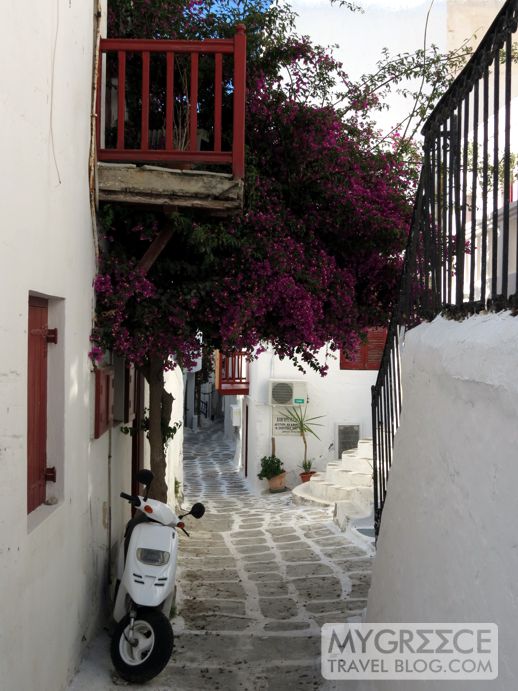 A scooter parked on a residential street near the center of town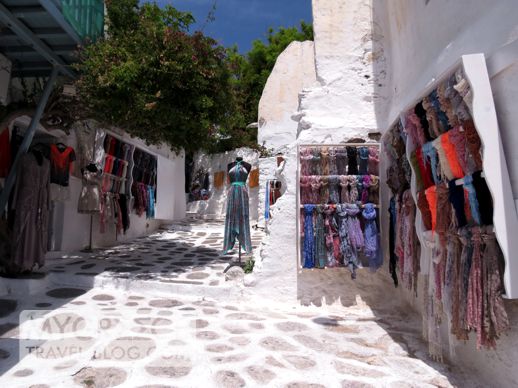 A women's fashion shop displays its wares in the street
The Dolphins of Delos excursion boat moored at the Old Port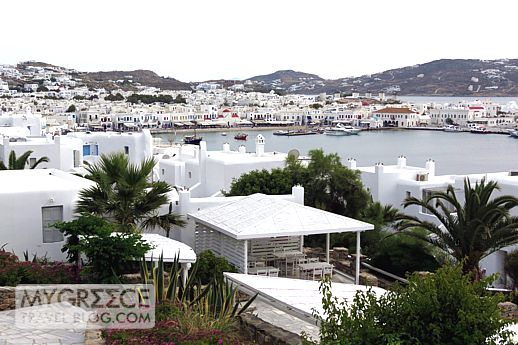 Even on a severely overcast day, guests at the Porto Mykonos Hotel still see this great view of Mykonos Town and its harbourfront area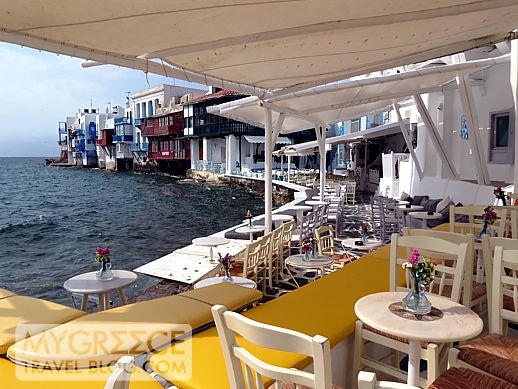 How some of the cocktail bars at Little Venice look during the day …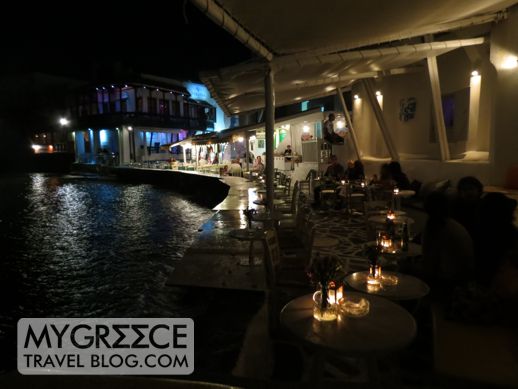 … and how they look by night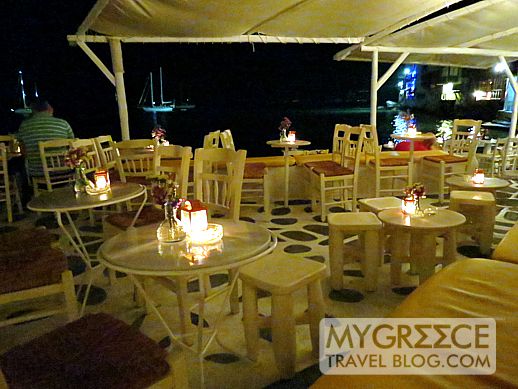 Another view of a Little Venice seaside bar at night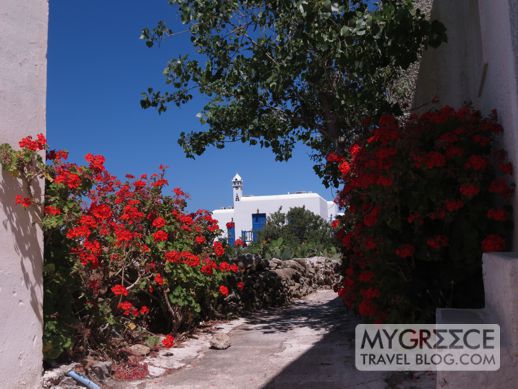 Red geraniums add colour to a pathway on a hillside above the town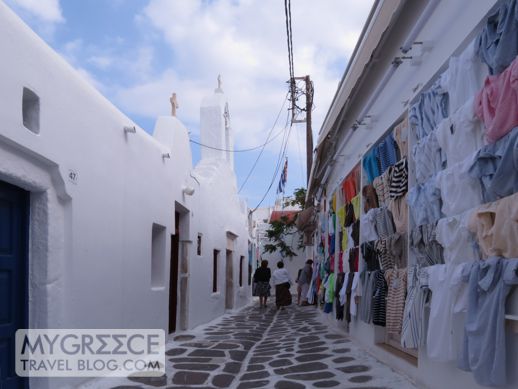 A church on the left side of the street, a clothing store on the right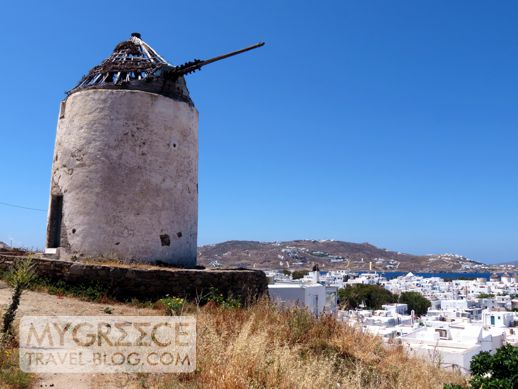 An old windmill on the hill above Mykonos Town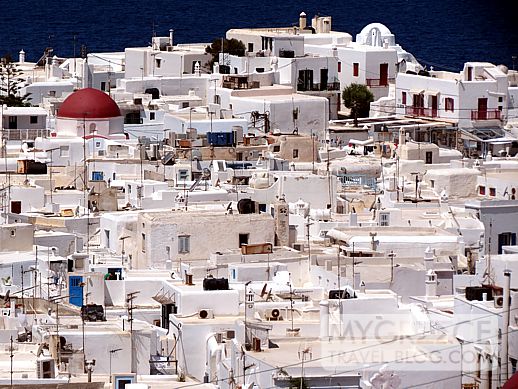 Another hillside view of the town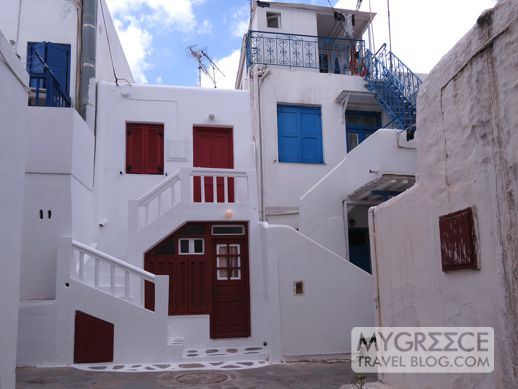 A residential street near the center of town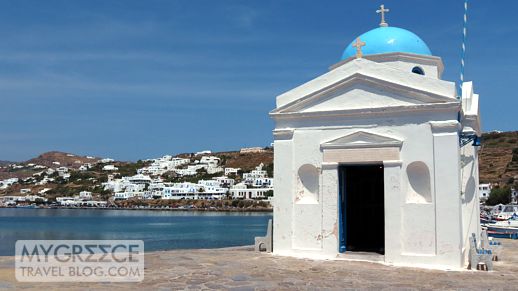 A little blue-domed church next to the Mykonos Town harbour
A passageway on a Mykonos street
A palm tree outside a house near the windmills at Little Venice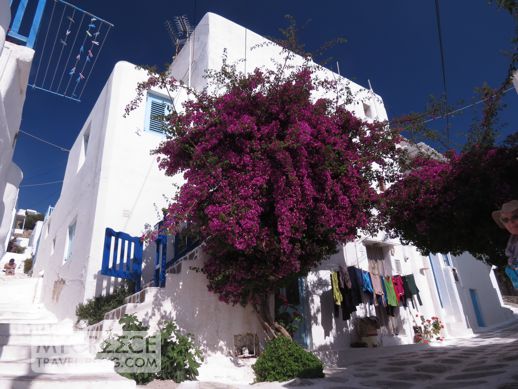 A colourful street corner in Mykonos Town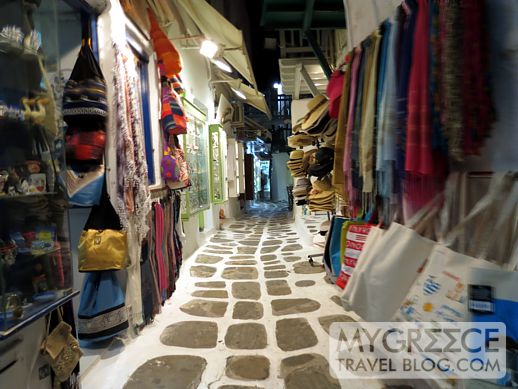 Night view of a shopping street near Little Venice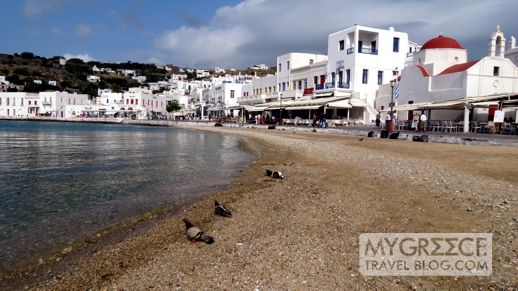 The Mykonos Town waterfront is lined with shops and tavernas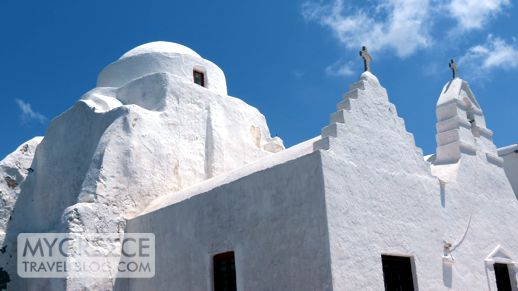 Paraportiani Church near Little Venice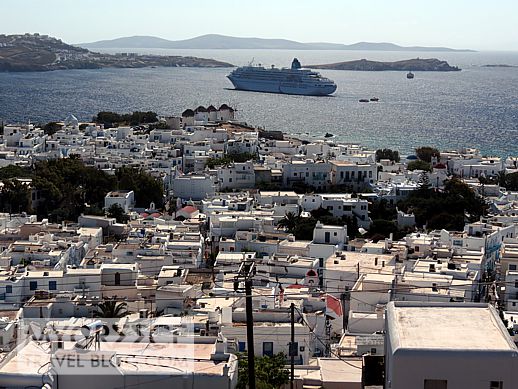 A cruise ship anchored in the bay off Mykonos Town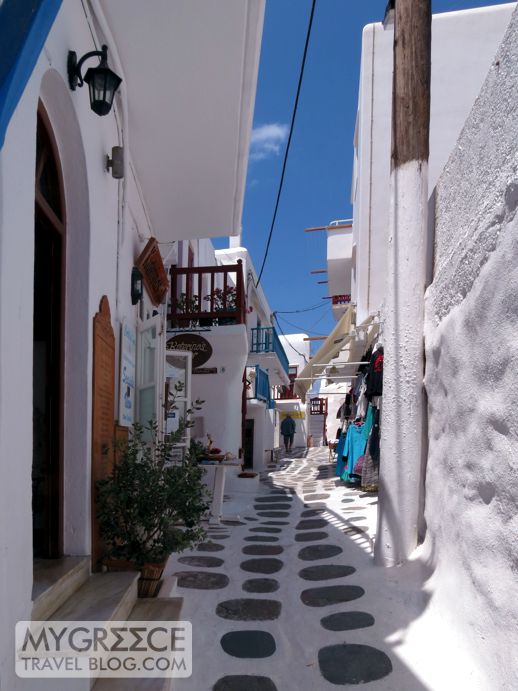 A shopping street in the center of Mykonos Town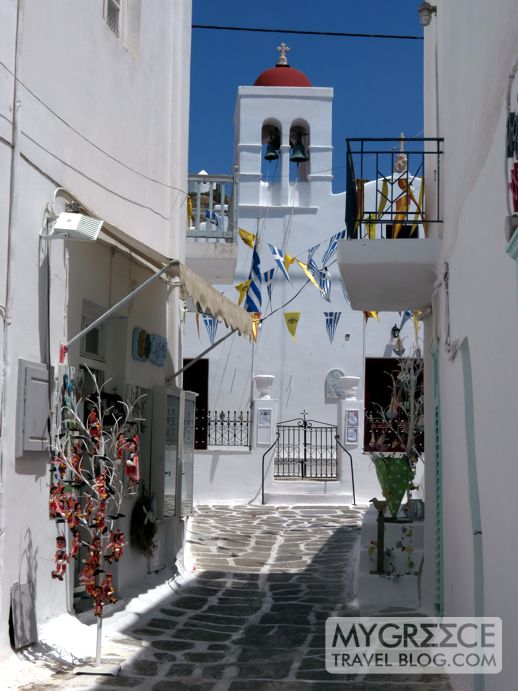 A red-domed belltower above a church in Mykonos Town