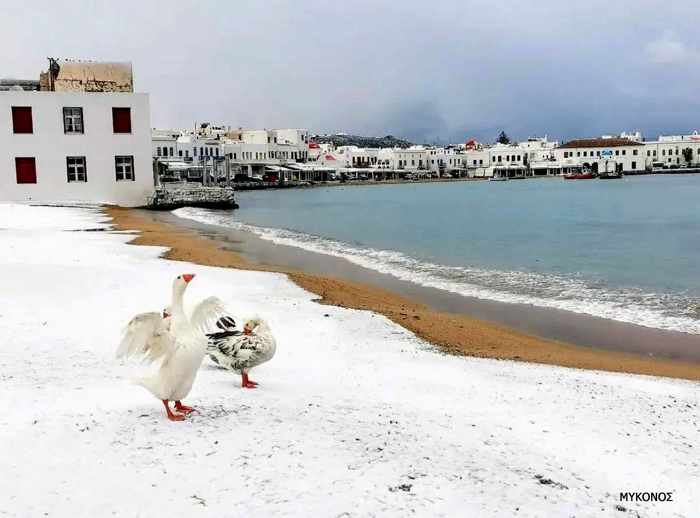 The snow on Agia Agia beach at the Mykonos Town harbour had at least one of the island's resident geese in a flap. This photo by Argiris Chatzis has gone viral on social media.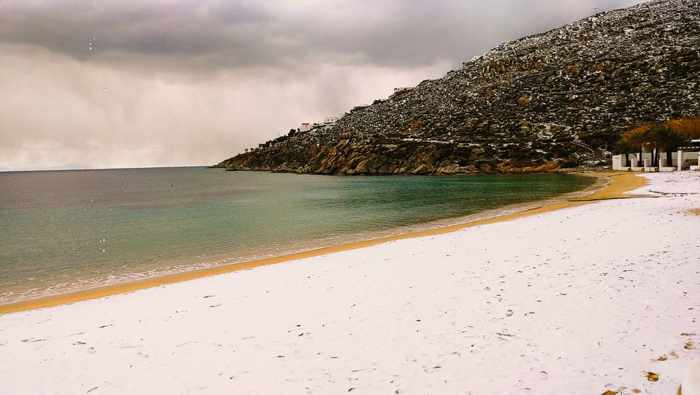 People who have danced on the sand at the world-famous Nammos beach club would probably never have imagined that Psarou beach could look like this in winter. The photo was shared on social media by Mykonos Live TV.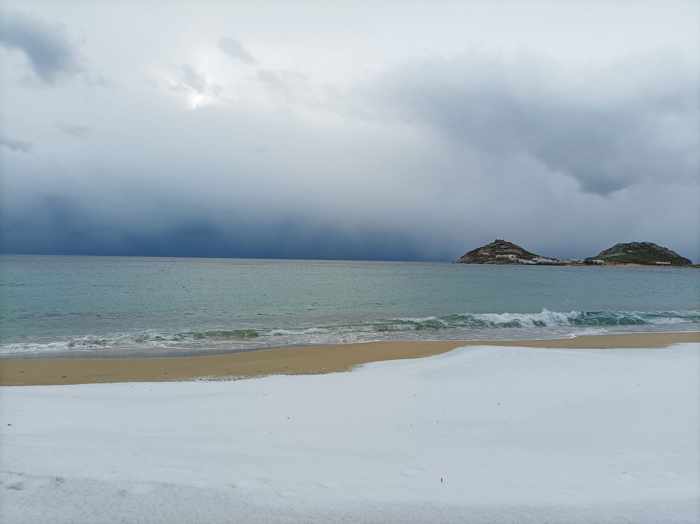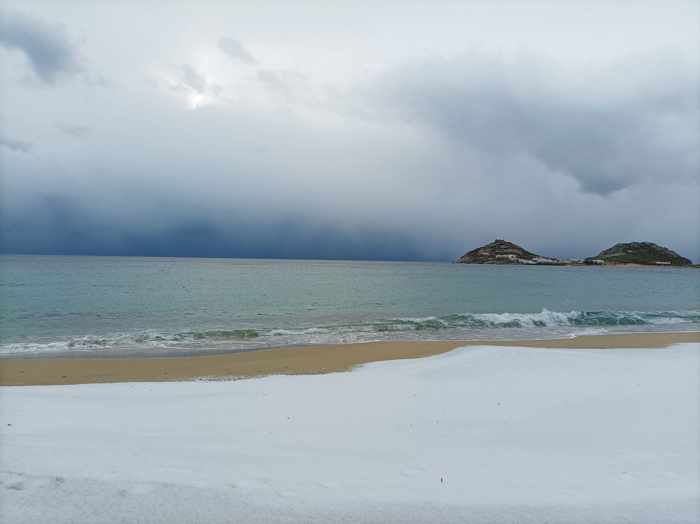 Snow covers Kalafatis beach while ominous stormclouds lurk above the two hills at Divounia that Mykonos locals have nicknamed "Aphrodite's Breasts."  Ηλίας Παναγάκος shared this image to the Meteo GR weather group page on Facebook.
Snowy strands: Mykonos is renowned for its dozens of beautiful beaches, but few tourists have ever seen them transform overnight from gorgeous golden sands to fluffy white powder.  That's what happened this week when a winter weather system that meteorologists named Elpis swept across Greece's Aegean islands, leaving a layer of crisp white snow in its wake.
On Sunday January 23, Mykonos residents awoke to find their homes, yards and vehicles under a blanket of snow — the heaviest snowfall the island has received in nearly 40 years.
While parts of the island got just a light dusting of the white stuff, some areas attracted deeper accumulations — and some no snow at all. That resulted in the striking sight of patches of vibrant green winter vegetation — another feature most Mykonos tourists never get to see during the dry, barren months of summer — surrounded by wide expanses of snow-topped fields and hills.
On the other side of the Atlantic, we awoke to snowfalls, too (a normal January sight here in Canada), but were taken aback to find our social media pages filled with stunning pictures and videos showing Mykonos with snow-covered landscapes and moody winter stormclouds looming overhead — just like here!
The famous Mykonos beaches looked amazing, though rather than showing off their usual tones of golden brown, they appeared just as white as the island's iconic sugar-cube buildings.
Below, we have re-posted some of the social media photos, to show you how striking the beaches looked in their white winter coats.
We're sure the images will astound people who have spent summer holidays partying , sunbathing and swimming at these beaches, but never imagined how drastically different they might appear in winter. The photos might even come as a complete shock to many people around the world who mistakenly believe Mykonos weather is similar to the Caribbean's, since they've only seen pictures and videos showing the island in summer, with beaches, palm trees and swimsuit-clad tourists basking in the sunshine.
— Ornos beach —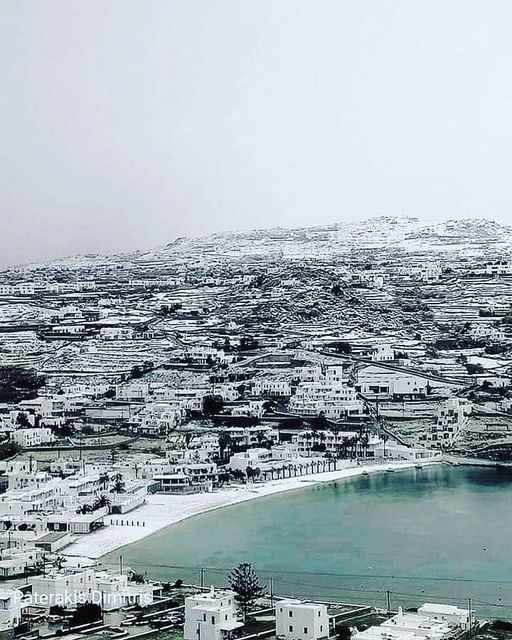 The Ornos beach area is seen in a photo that was widely shared on social media formats and credited to Dimitris Paterakis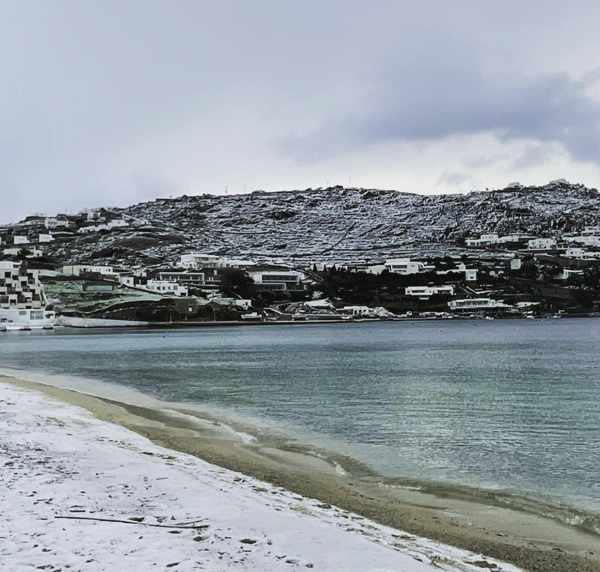 Ornos beach and hillside view from an Instagram photo by @katerina_brb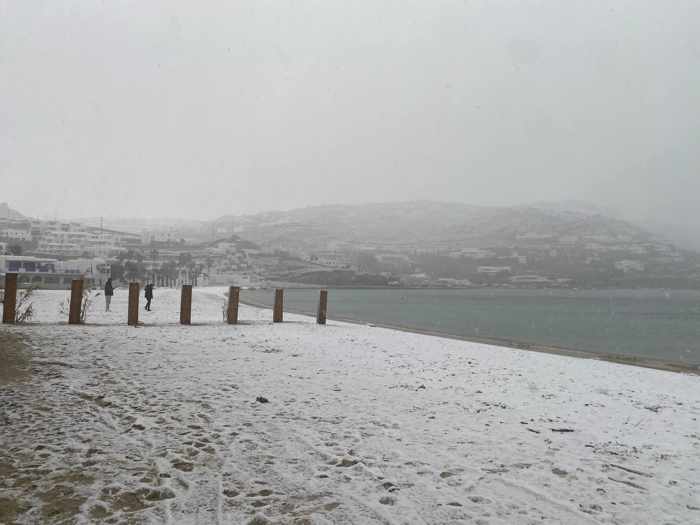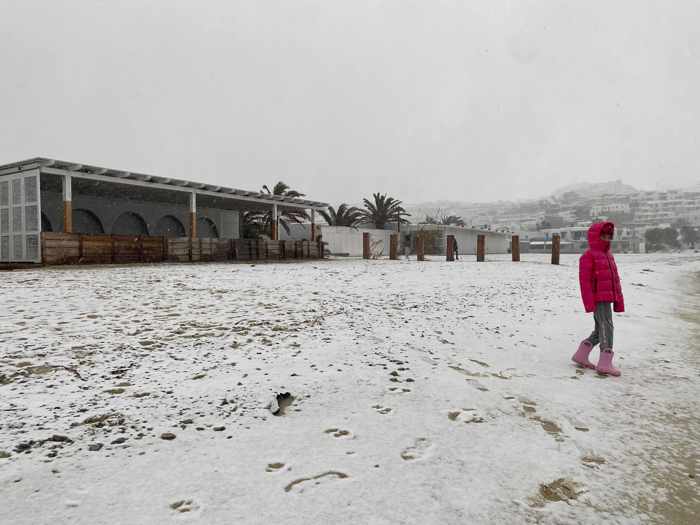 Above, two ground-level views from the southern end of Ornos beach as snow continued to fall. The images were both shared on Facebook by Kostantis restaurant, one of the beach tavernas at Ornos.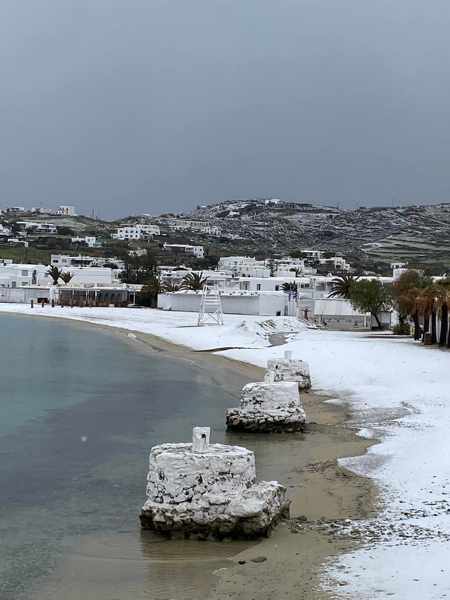 Another  photo by Kostantis restaurant, this time showing  Ornos from the northern end of the beach
— Super Paradise beach —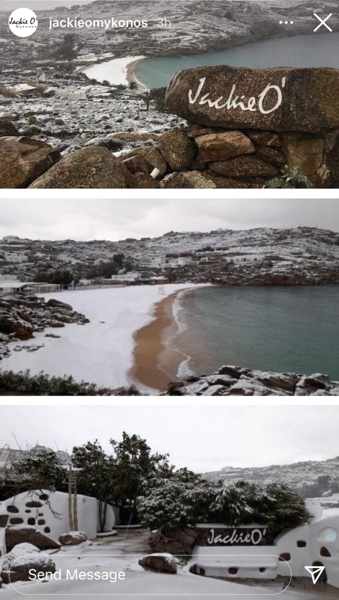 Views of snowy Super Paradise beach and the JackieO Beach Club, seen in images shared in the club's Instagram stories
— Kalo Livadi beach —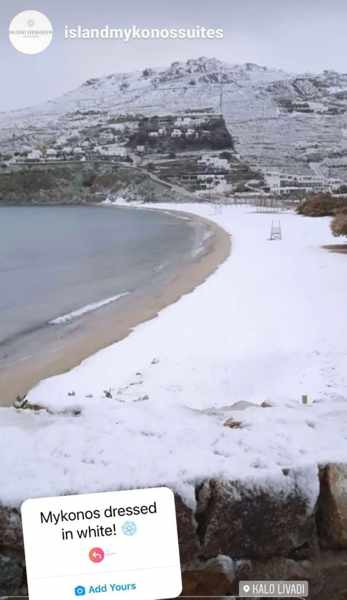 With this layer of snow giving it a different look, Kalo Livadi beach might be unrecognizable to people who have been to Solymar Beach Restaurant or Lohan Beach House in summer months. The photo was shared on Instagram by Island Mykonos Suites.
— Agios Stefanos beach —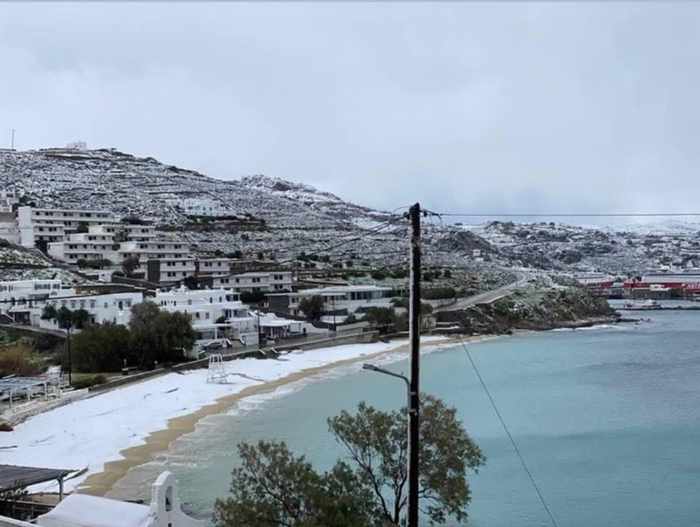 Agios Stefanos beach next to the Mykonos New Port is seen in an image, credited to O. Kyrantoni, shared on the Delos Tours Instagram page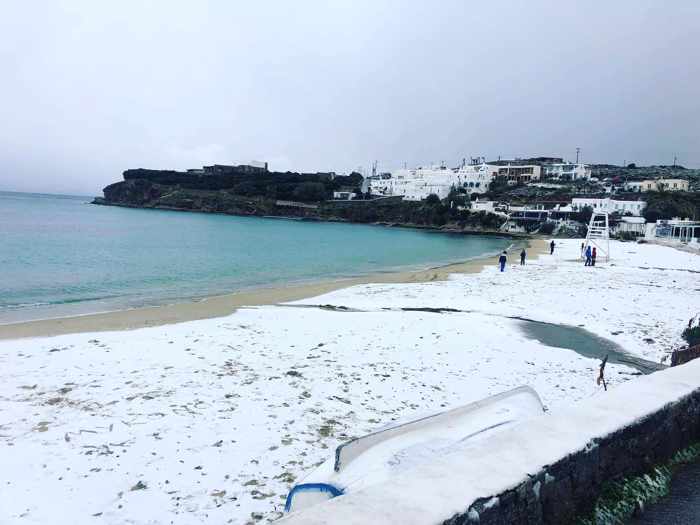 A ground-level view of Agios Stefanos beach from the opposite direction to the image posted above. This picture was shared on Facebook by Olga Pavlidi.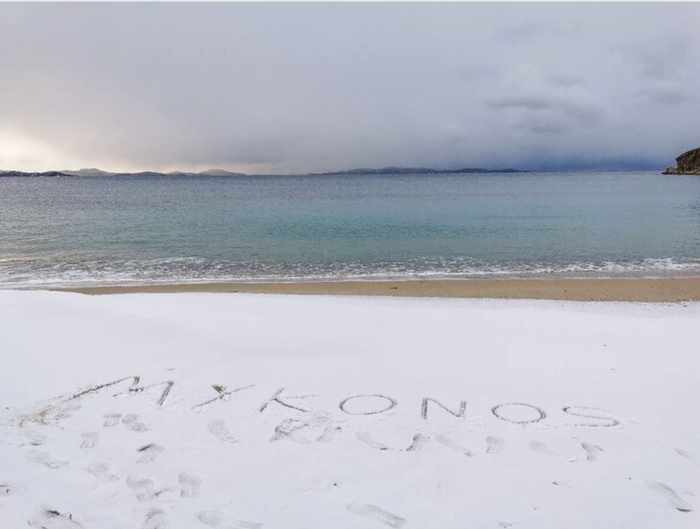 The view toward Delos and Rhenia islands from Agios Stefanos beach, as seen in an image shared on Facebook by  O Lofos Luxury Boutique Suites
— Psarou beach —
The snowy slopes surrounding Psarou beach seen in an image shared by @kostis_krg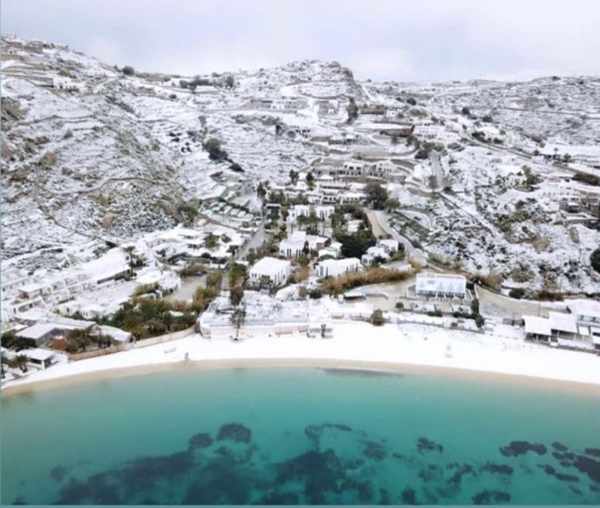 Another aerial view of the snow-covered hills and beach at Psarou. This image was shared on Instagram by Betty Chanozidou.
Mykonos Live TV captured this image of sunshine sparkling on the turquoise waters at snowy Psarou beach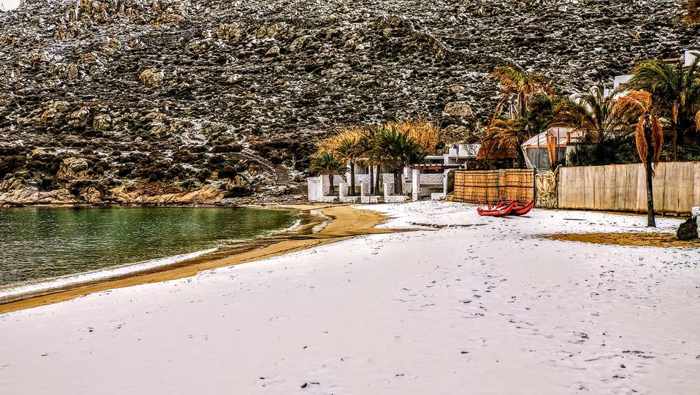 Another Mykonos Live TV view of Psarou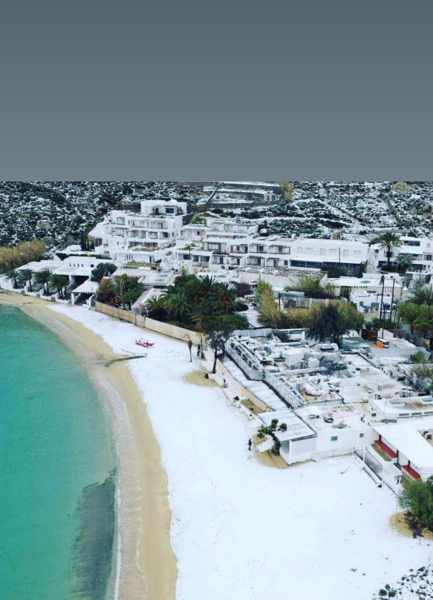 Ioannis Revithis shared this photo of Psarou beach on Facebook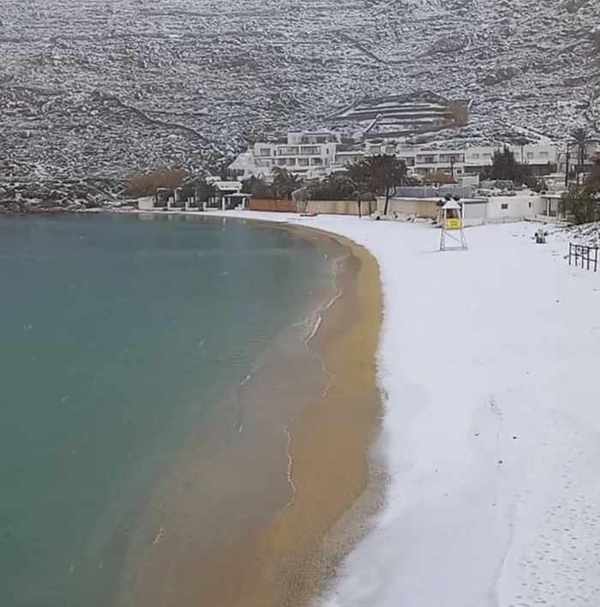 Snowy Psarou beach and the surrounding hillsides are shown in an image Mykonos Animal Welfare shared on its Instagram account, along with a message urging island residents to open their hearts and doors for strays and farm animals that might need food, water and shelter during the cold snap that will last several days.
— Agrari beach —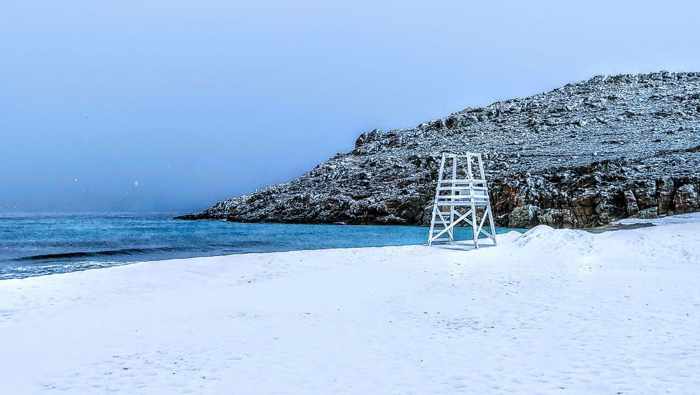 A Mykonos Live TV social media image of snow-laden Agrari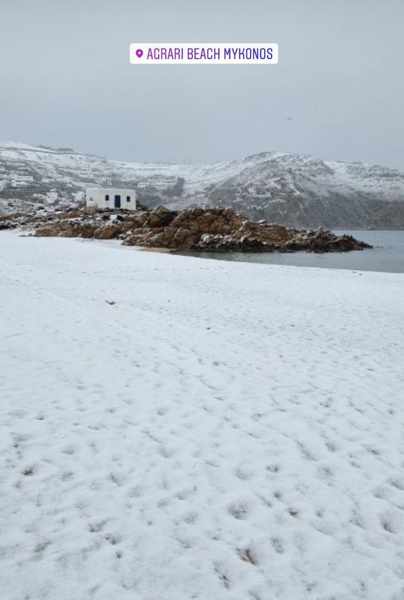 The golden sand of Agrari beach is completely covered by snow in this image shared on social media pages for Mykonos Live TV and Agrari Beach
— Paraga beach —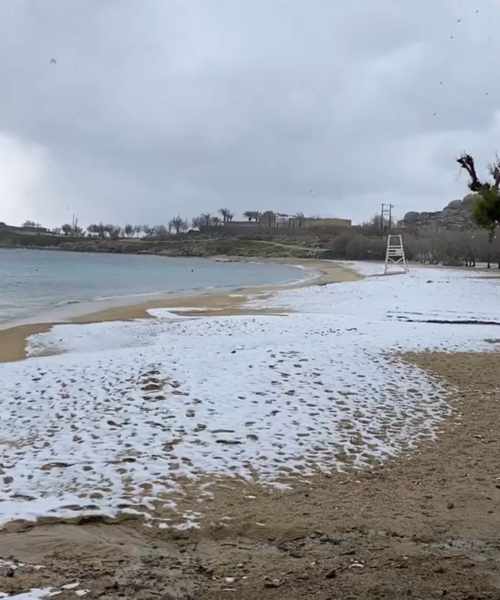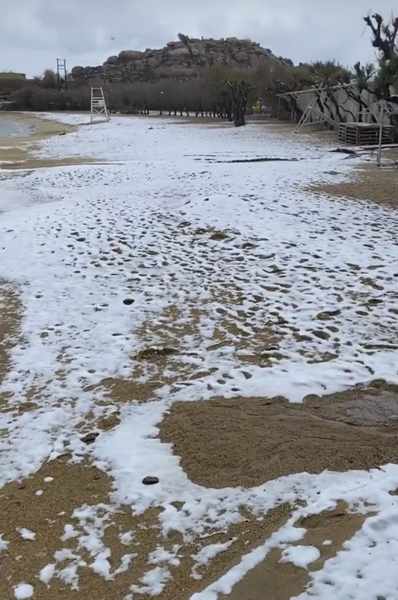 Snow-dusted Paraga beach is seen in two screen captures from a video that Paraga Cafe shared in its Instagram stories
— Kalafatis beach —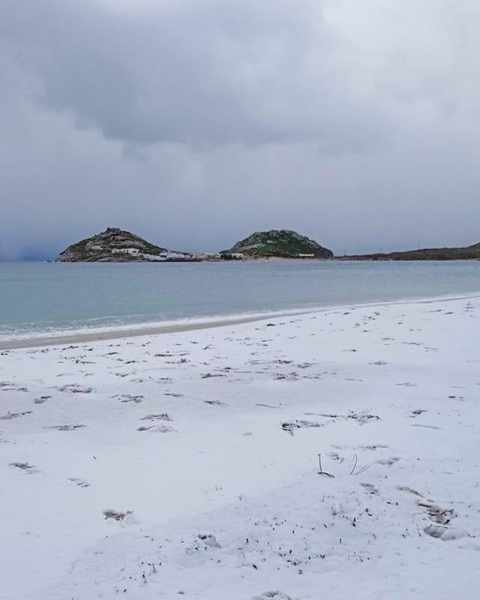 Skandinavian Bar shared this photo showing a view toward Divounia from the snow-powdered sands of Kalafatis beach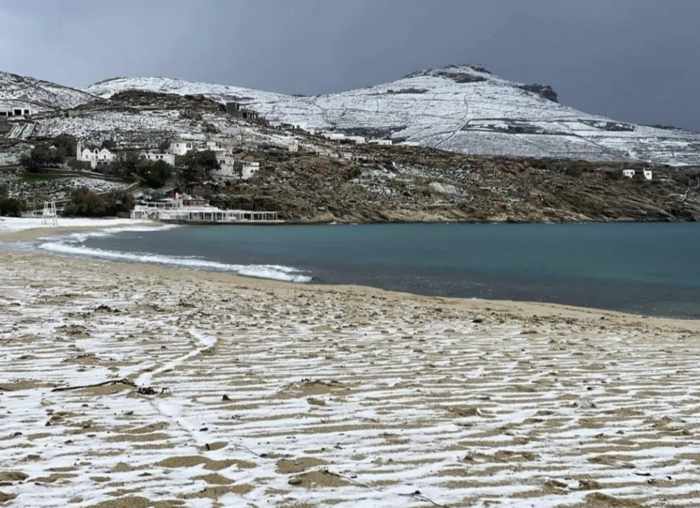 A view of Kalafatis from the southern end of the beach. The photo was widely shared on social media and credited to Stacey Papaiannou.
— Elia beach —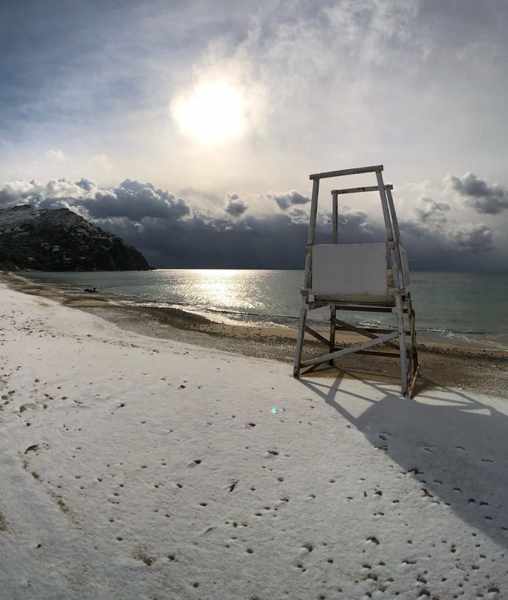 Sunshine breaks through clouds above Elia beach in an image shared on Instagram by yioris_gk
— Agia Anna beach at the Mykonos Town harbour —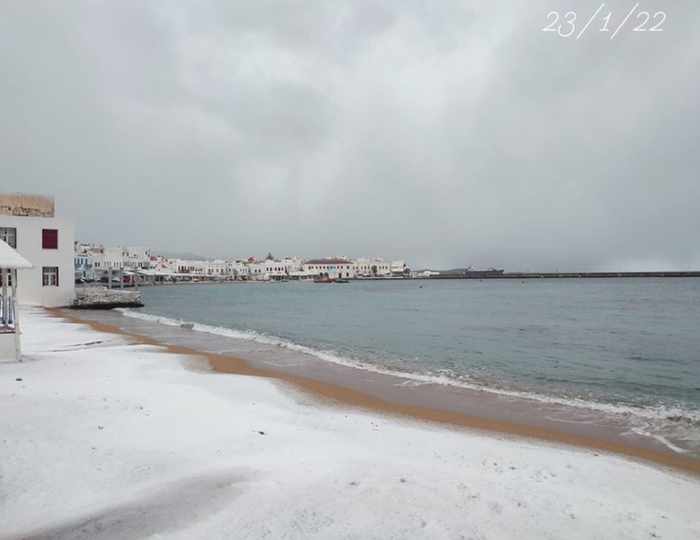 This photo of Agia Anna beach in Mykonos Town was shared on social media by Delos Tours and credited to photographer V Delarosa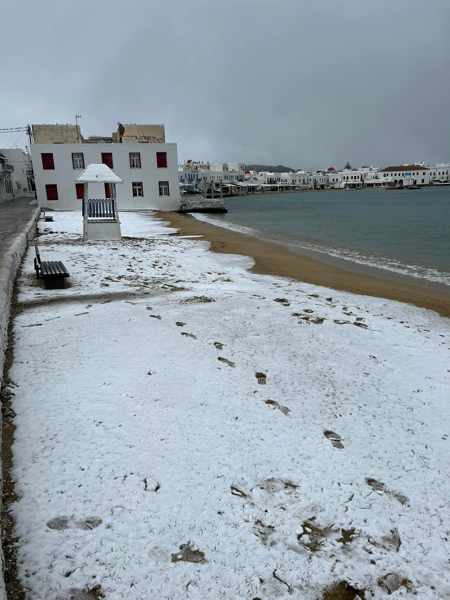 An Agia Anna beach photo shared on the Facebook page for Mykonos Promo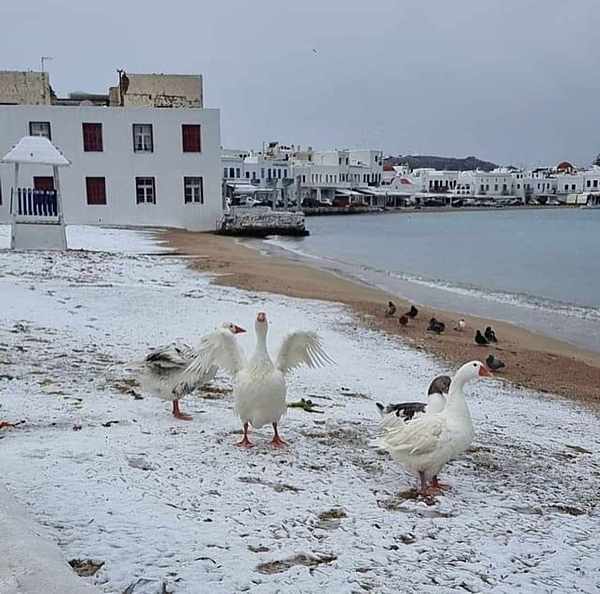 The wing-flapping goose and its companions are joined by a flock of pigeons for this shot, which was shared on social media by Mykonos Animal Welfare.