You can't escape the lure of food even when you turn off the commercial strips to explore the twisting whitewashed lanes and alleys in the town's residential areas, where the enticing aroma of traditional Greek cuisine wafts from countless kitchen windows and drifts down the street. The enticing scents constantly tempt me to knock on doors to ask what's cooking and beg for dinner invite, but I haven't had the courage to try that yet!
When I see and smell so much good food, all I want to do is eat. Which leads to something else that frustrates me about Mykonos. Besides having more restaurants than I could possibly consider visiting on vacation, many of the establishments that get the best reviews and recommendations are simply beyond our budget. Nevertheless, we've had our share of memorable culinary adventures on Mykonos.
This year the Mykonos leg of our holiday was short, so we got to sample even fewer restaurants than usual. Luckily, we made excellent choices, enjoying every meal. In my August 4 2011 post I described our "cheap eats" gyros dinner at Jimmi's souvlaki place, and in my June 25 2011 post I wrote about enjoying a glass of wine while watching a wonderful sunset from the bar terrace at the Rochari Hotel. Below are information and photos about our other restaurant experiences in May.
Oregano Cook & Grill on the Evangelistraki ring road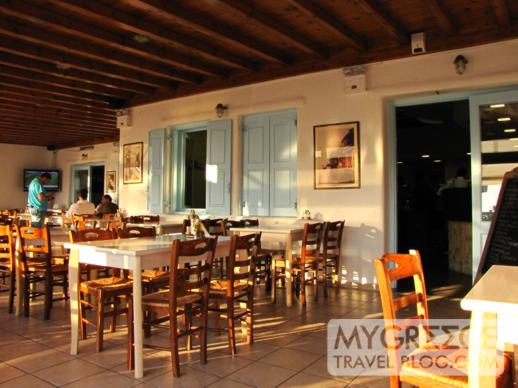 Evening sunshine on the terrace at Oregano Cook & Grill. The blackboard (right) lists daily specials which customers can view at a counter inside the kitchen door.
Head for the hilltop highway: For our first dinner this trip, we chose Oregano Cook & Grill, a taverna on the Evangelistraki ring road (the highway to Tourlos at the top of the hill above Mykonos Town).  We had never been to Oregano before — in fact, we'd never heard of it — until Anna, the manager of Hotel Tagoo, suggested giving it a try. She said guests had been raving about the restaurant, including a group having drinks at the hotel pool bar, so I went over to ask their impressions. "You've gotta go!" they told me. They said the food is delicious, the selection good, the portions big, the service friendly, and the price reasonable. That ticked off all the boxes on our short list of criteria for picking a restaurant, so off to Oregano we went. It's about a 20-minute uphill walk from the hotel, and we headed there shortly before sunset.  Though the restaurant faces west, we couldn't see the actual sunset from our table because the view is partly blocked by some buildings on the opposite side of the highway. Nevertheless, the entire dining terrace was bathed in the golden glow of the evening sun, which was still so brilliant we had to wear our sunglasses.
The restaurant has a printed menu offering a variety of standard Greek dishes and pastas, but the chef also prepares a selection of daily specials which customers are invited to view at a counter next to the kitchen. There were at least eight different specials on offer that night, including meat and vegetable dishes, pastitsio, moussaka, and spaghetti, each costing in the range of €8 to €10. Eeverything looked so yummy, it was difficult deciding what to order. We ultimately decided to get grilled bread, Greek salad and two of the specials: roasted chicken and potatoes, and a veal and vegetable stew. The portions were generous and hearty, and the two entrées were delicious.
The wind picked up while we were waiting for the waiter to bring our food, and we started feeling cold in our shorts and T-shirts (although it had been almost uncomfortably hot sitting in the sun just minutes earlier, areas exposed to the wind on Mykonos can quickly turn cool in the evening once the sun starts going down; we should have worn jeans and brought our windbreakers). But two of the congenial restaurant staff hurried over to slide glass and wood doors across the front of the terrace to shield our table from the wind so we would be comfortable during our meal. During dinner, we watched a steady stream of locals arrive stop in to pick up take-out orders. Oregano also delivers, and appeared to be doing brisk business that evening — their driver was constantly on the move.  We understood why: Oregano's food is not only good, it's reasonably priced. Our very satisfying dinner, with a large Mythos and a bottle of water, cost €28.50. Not bad at all, considering that it's usually a challenge for two adults on Mykonos to find a good, substantial meal with alcoholic beverages for under €30.
In the breakfast room at Hotel Tagoo two days later, I overheard several guests comparing notes about Oregano — it turns out they had all gone there for dinner the night before. Everyone started talking about how much they had enjoyed the restaurant, and some said they would be going back at least once before leaving Mykonos. I wish we could have gone back, too!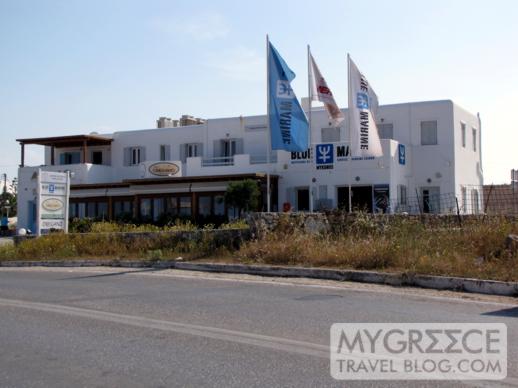 If you're driving toward Tourlos, you'll find Oregano Cook & Grill on the right side of the Mykonos ring road. Just look for the three flags outside Blue Marine; Oregano is right next door, beside the ATEbank branch.
Oregano Cook & Grill taverna viewed early one morning. During operating hours, the dining terrace is visible from the road when the sliding glass doors are opened.
Ithaki restaurant at Ornos beach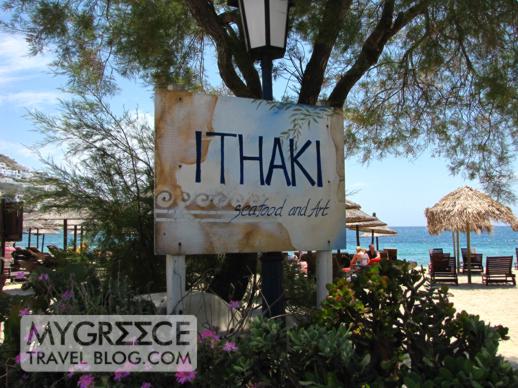 Ithaki sign at the restaurant's beachfront entrance
Variety on the Ornos beachfront: We first heard great things about Ithaki restaurant at Ornos beach during our Mykonos visit in May 2009. It was probably the most popular topic of conversation in the breakfast room at Hotel Tagoo, where guests chatted with each other and the hotel manager, Anna, about how much they had enjoyed Ithaki the previous night. Everyone praised the wonderful food, good-sized portions, friendly service, cheery atmosphere, and especially the prices, which sounded unbelievably reasonable (for Mykonos). Some had even gone there more than once. We thought we might have dinner at Ithaki on the day we rented a car to tour the island, but we never made it over to Ornos and wound up eating somewhere in Mykonos Town instead. For the rest of the summer, and throughout 2010, I continued reading good reviews about Ithaki on TripAdvisor.com, and regretted missing the chance to experience it ourselves.
When we returned to Hotel Tagoo in May, I was happy to hear that Ithaki was continuing to get good word of mouth for the third consecutive year. During our first breakfast at the hotel, we overheard several  guests telling Anna they had thoroughly enjoyed their meal at Ithaki the night before. When Anna told us the restaurant had been a big hit with other guests, too, we vowed that we wouldn't miss out again, and made specific plans to go there that evening.
We went with a good friend who lives on the island, and who has been to Ithaki before. She assured us the restaurant has a well-deserved reputation not only for quality cuisine from its Greek and Myconian menu, but also for tasty Thai and Chinese dishes on its Yin Yang Chinese Food menu (that came as a surprise, since we never expected to find Greek and Asian food offered in the same restaurant). Ithaki serves seafood, meat and pasta dishes, too, and also has an extensive pizza menu.
Like its menus, Ithaki is much bigger than I had imagined. It has a comfortable, colourful indoor dining room (we ate inside because it felt too chilly on the patio after sunset that evening) plus a spacious outdoor dining area right next to the sandy beach (where Ithaki has installed dozens of rental lounge chairs and umbrellas directly in front of the restaurant). Contractors had nearly finished building what appeared to be a big beachside bar next to the restaurant. Obviously, the place must be tremendously popular to offer that much capacity. So how did the food measure up?
The enormous Greek salad and the saganaki (fried cheese appetizer) were easily among the best we've ever tasted. Our friend absolutely loved her Thai ginger chicken stir-fry which looked and smelled scrumptious. My sautéed pork loin in a balsamic, honey and cream sauce was superb, but my partner was disappointed with the moussaka. I tasted some, and both of us agreed that we've had much better moussaka elsewhere on Mykonos and other islands. (It was okay, but certainly didn't "wow" us like the other dishes we ordered. Also, we thought the portion was skimpy compared to the generous servings for everything else). For dessert, the restaurant offered complimentary shots of liqueurs, including a Mastiha from the island of Chios which I enjoyed drinking for the first time. With wine and dessert (a fluffy light slice of cake with a rich chocolate sauce), our dinner for three cost €65. Given the quality and quantity of the food and the good service, we felt like we got a deal — and finally learned for ourselves why so many people say so many good things about Ithaki. It was certainly worth the drive to Ornos that night!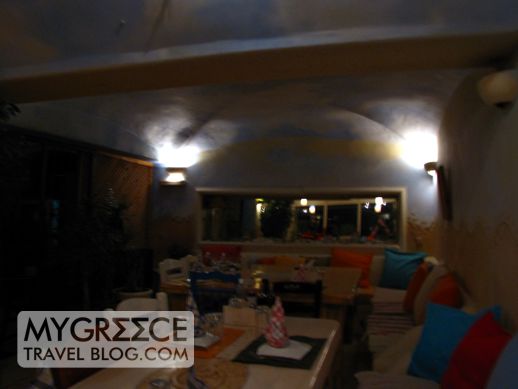 One of several alcoves in Ithaki's colourful interior dining room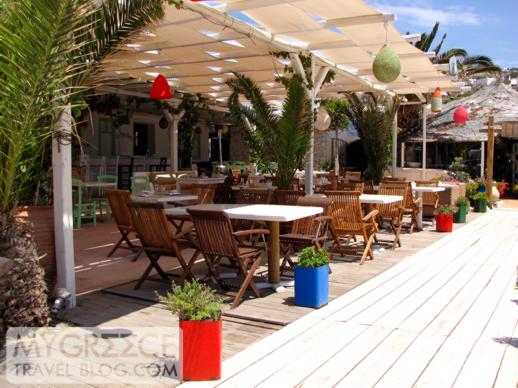 A shaded outdoor dining terrace next to Ithaki's main dining room
 An open-air dining area outside the main restaurant building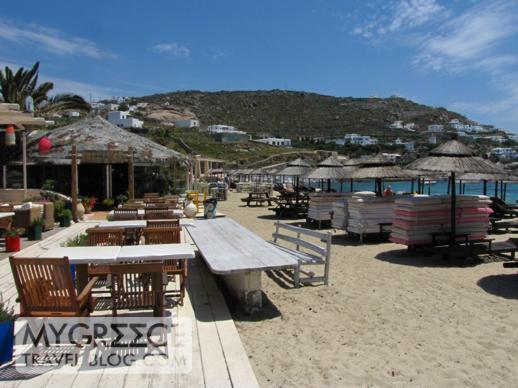 Lounge chairs and umbrellas directly in front of Ithaki on Ornos beach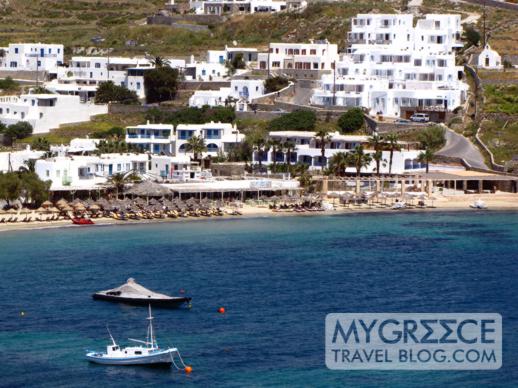 The Ithaki restaurant and bar complex on Ornos beach. The restaurant is the building on the left; the Ithaki beach bar is the structure on the right
Nicolas taverna at Agia Anna/Paraga beach
Approaching Agia Anna beach from the coastal path to Platis Gialos. Nicolas taverna occupies part of the white building on the left side of the beach. The taverna is shaded by the cluster of pine trees along the front of the building

Lunch on the beach: Ithaki wasn't the only restaurant we had been hearing about, but had yet to try. Nicolas taverna at Agia Anna beach (near Paraga) was another. We had passed by the place while walking from Platis Gialos to Paraga on some of our holidays, and always considered the beachside taverna to have a charming appeal. With an outdoor dining terrace shaded by an awning and pine trees, and several tables plunked right on the sandy beach, it looks like an idyllic spot for a laid-back lunch or dinner. Unfortunately, we were never hungry any of the times we happened to be nearby, so we never stopped in to try the food. But after reading more positive reviews about it during the last several years, we added Nicolas to our "must do" list for this year's trip, and made sure we had a strong appetite by the time we got there. [Don't be confused by different spellings of the taverna name. The restaurant's sign reads "Taverna Nikolas," while its business cards and placemats say "Nicolas restaurant." In Greece, it's common to see multiple English spellings for Greek place names, and Nicolas/Nikolas taverna is just one example of this tendency.]
Agia Anna is a small sandy beach on Platis Gialos bay, less than a 20-minute walk from Platis Gialos beach along a scenic coastal path. Paraga (often spelled Paranga) beach is closer, just five minutes' walking distance away. Run by the local Nazos family, Nicolas occupies part of a whitewashed building near one end of the beach (Agia Anna Studios, run by relatives, occupies the rest).
We took the bus from Mykonos Town to Platis Gialos and, after spending some time there, hiked along the path to Agia Anna. When we reached Nicolas in mid-afternoon, we were pleased to see a vacant table exactly where we wanted to sit — on the sand, under the shade of a pine tree. Travellers from Boston, the U.K. and Germany had already claimed the other tables, while a group of eight young Greek men had gathered at one of the tables under an awning next to the restaurant.
The two youngest members of the Nazos family (whose names, I believe, are Katerina and Nikos) were serving customers. Nikos told us about the special of the day (a meal for two consisting of grilled bread, Greek salad, fresh fish with fries, wine and bottled water for €35), gave us menus, and invited us to view other available dishes at the kitchen counter inside the restaurant. Katerina brought us our meal: grilled bread, crisp Greek salad, piping hot zucchini fritters, perfectly cooked green beans in a flavourful tomato sauce, a large ice-cold Mythos beer and a 1.5-liter bottle of water. We thought that would be a nice light lunch, but the delicious meal wound up being far more filling than we had expected. We actually felt stuffed.
Afterwards, we just sat back and relaxed, gazing across the sparkling water in Platis Gialos bay and enjoying the astounding peace and quiet. Amazingly, there were only three people on Agia Anna beach. The Greek fellows were still chatting and drinking beer, but all the other restaurant customers had headed off except for a British couple who looked completely chilled out. They ordered another carafe of red wine (I think it was their third), pulled out some paperback books, and positioned their chairs so they could catch some sun while having a relaxing read. We could have easily spent the rest of the afternoon just sitting there drinking wine, too, but we had plans to see Paraga and Paradise beach. So we settled our bill (€24.50) and hit the trail.
Nicolas taverna will be back on our "must do" list next time we return to Mykonos!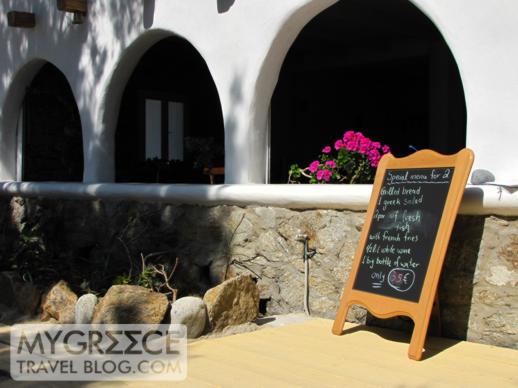 Menu board advertising Nicolas taverna's special of the day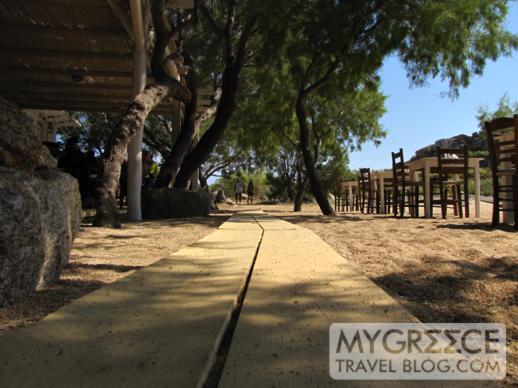 A plank walkway on the sand in front of the taverna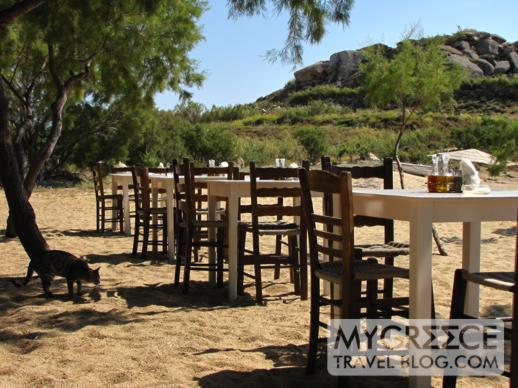 A cat approaches the tables on the beach after customers have left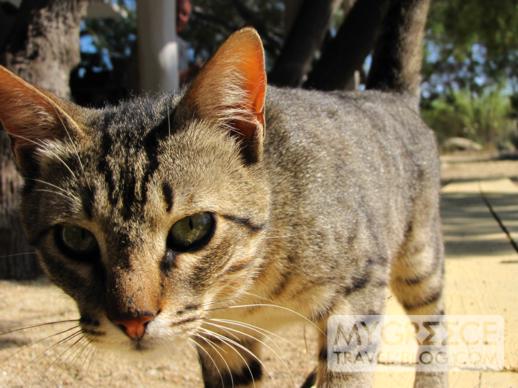 The curious cat comes closer to see the camera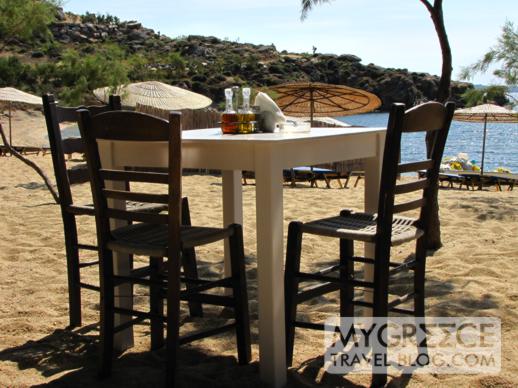 Our table on the soft sand of Agia Anna beach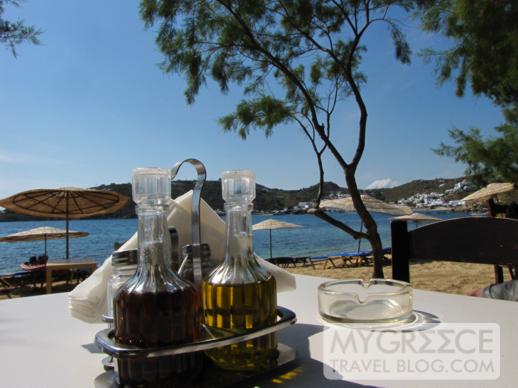 Looking from our table toward Platis Gialos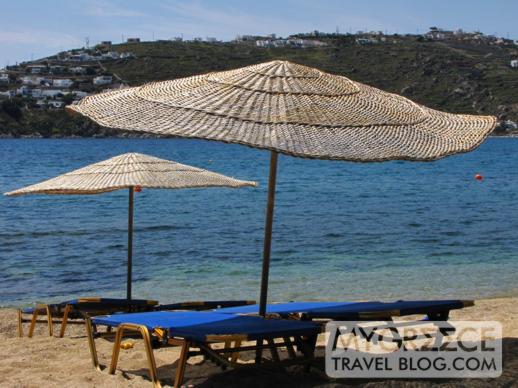 Lounge chairs and umbrellas on Agia Anna beach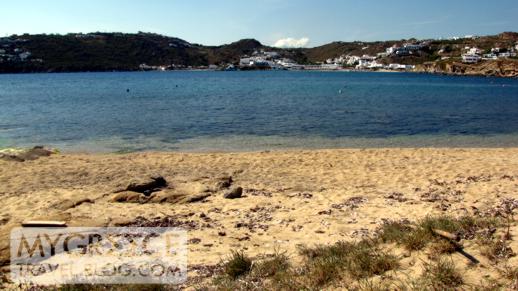 Looking across Platis Gialos Bay from Agia Anna beach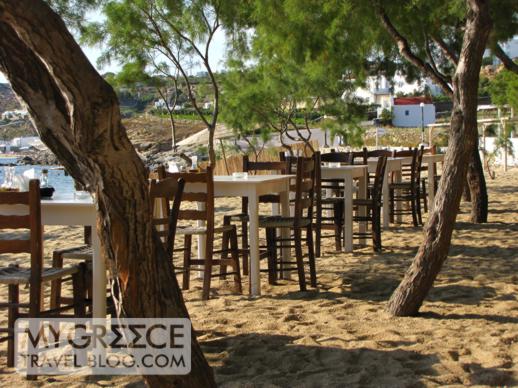 The tables on the sand were waiting for dinner customers when we passed by in late afternoon, on our way back to Platis Gialos. Nicolas is open until 9 p.m.

«»
«»