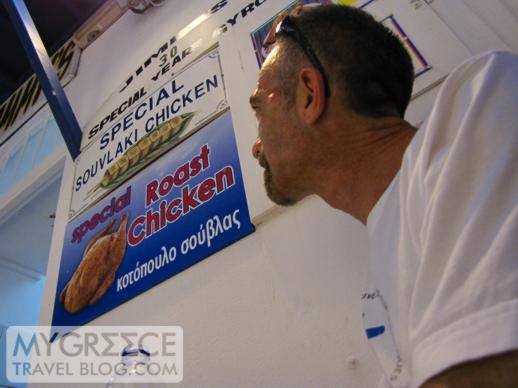 I was craving roast chicken, but Jimmi's was sold out of birds …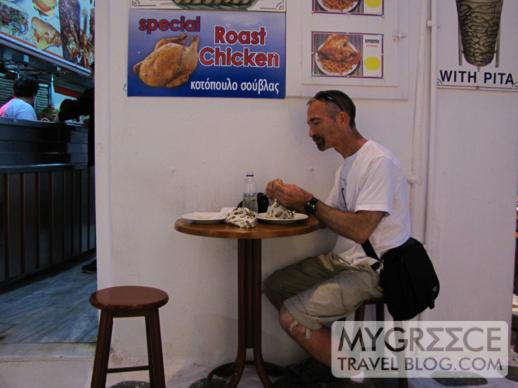 … so I settled for a chicken gyros instead. It hit the spot!
Wallet friendly: It's easy to blow a travel budget to smithereens on Mykonos, where dinner for two at some of the island's chic restaurants can cost as much as a night's accommodation at a five-star hotel. (See my July 20 2011 Mykonos dining post for further details on some of the current hot dining spots frequented by the world's rich and famous.)
But it's just as simple to keep more brass in your pocket by feasting on some cheap eats now and then instead of splurging on costly meals at trendy dining establishments, or even €30 dinners at some of the island's more reasonably priced restaurants.
Case in point: Jimmi's souvlaki place in Mykonos Town. This popular fast food shop in the heart of Mykonos Town is an island institution, having been in business for over 30 years. (They're open 24 hours a day, seven days a week, from May through October.)
Jimmi's has been busy almost every time we've walked past (which I'm sure has been more times than I could count), but until this past May we had never tried their food. The reason? I got my fill of gyros and souvlaki during my university days, and have rarely ordered it since. I think I've eaten only one or two gyros in the past 10 years, and I've ordered souvlaki maybe just half a dozen times in total during our various trips to Greece.
But when we couldn't get an outdoor table at our favourite Mykonos restaurant, Maerion (unless we were willing to wait about an hour, which we weren't), we thought we'd give Jimmi's a try — and save some cash at the same time.
What I really wanted was one of their roast chicken dinners (can't recall the price; it may have been about €7), but the counter staff shook their heads, pointed to an empty rotisserie machine and told me: "no more — all gone." I was set to walk back to Maerion but decided to settle for a chicken gyros instead. We ate outside the restaurant at one of their little tables on a narrow step next to the street, watching a steady stream of customers picking up food to take out or eat in (there's a few tables along the wall and on a small terrace near one of the two entrances, plus a room with more seating on the other side of the narrow road).
My gyros was a little salty, but otherwise tasted great — and satisfied my appetite. The price was even better. Two gyros (mine, plus my partner's vegetarian gyros), a Coke and a bottle of water cost less than €6 — about the same price as one appetizer at Maerion, and less than the cost of a Greek salad there.
I have a strong feeling we'll be going back to Jimmi's next time we're on Mykonos.
Finishing off a satisfying chicken gyros at a table in the street outside Jimmi's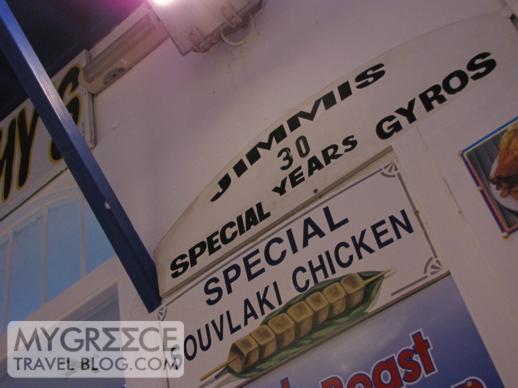 Jimmi's has been serving burgers, chicken, gyros, souvlaki and salads 24 hours a day, seven days a week, six months a year for over 30 years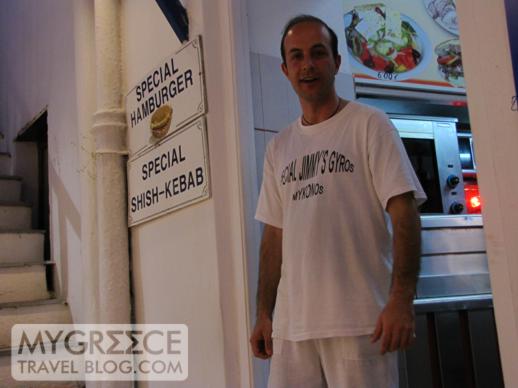 Jimmi's son, Savvas, in the shop entrance