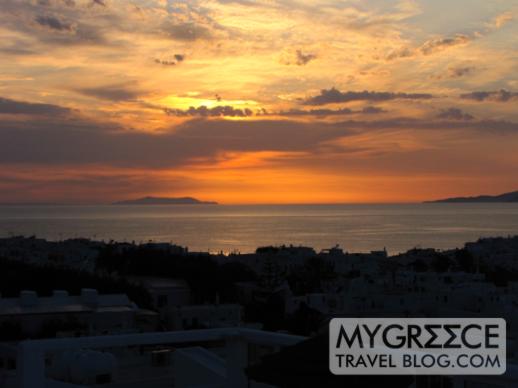 Giaros Island appears beneath a sky of glowing clouds in this spectacular sunset view from the Rochari Hotel's cocktail terrace on May 18 2011.
Scenic overlook: The seaside cocktail bars at Little Venice usually get top mention in travel forums when people ask for advice about good sunset viewing locations in and around Mykonos Town. We've seen some wonderful sunsets from there, from Windmill Hill overlooking Little Venice, and from the rocky seashore just below the Paraportiani Church, too. We've also enjoyed tremendous sunset views the three times we have stayed at Hotel Tagoo, a 15-minute walk north of Town in the island's Tagoo district. Thanks to a tip from an online colleague, this year we experienced a superb new sunset viewing spot for the first time — one that now ranks among our favourites.
In a post on TripAdvisor.com's Mykonos travel forum, fellow Mykonos Destination Expert jon_rwr had suggested my partner and I go for a drink on the terrace at the Rochari Hotel sometime. I remembered his recommendation on May 18 when we arrived at the Fabrika bus depot following a full day of hiking to four different beaches on the island's south coast. We had spent hours on our feet and were looking forward to just sitting and relaxing with a drink before dinner — but where? We wanted to visit some place new, with a view … and since the Rochari was just a short walk up Ag Ioannou Street from the bus depot, we took Jon's advice and headed right there.
Jon's recommendation was excellent! The Rochari's sun-soaked cocktail terrace overlooks much of Mykonos Town, including the iconic windmills, with sweeping panoramic views of the sea and other nearby islands. It proved to be the perfect place for us to relax and unwind with a nice glass of wine at the end of our active afternoon. When the blazing sun dipped closer to the horizon, painting rich, warm hues of amber and gold on the clouds and western sky, a distant island suddenly came into sharper view. We had been chatting with Darren, the Rochari's cheery, affable bartender, while we were shooting photos of the spectacular scene dramatically playing out before us. Darren politely excused himself for a moment so he could grab his camera to take some shots of his own, explaining that we were experiencing a remarkably clear view of Giaros Island. (We realized it must have been a noteworthy sunset if Darren, whose enviable "office" gives him gorgeous views every evening, was compelled to capture it in photos, too).
The sun went down a short while later, but the terrace remained a comfortable and cozy spot to enjoy the evening. Unfortunately, that was our final night on Mykonos this particular holiday, so we couldn't make a return visit. But we'll definitely be going back there for more wine and sunsets on our next trip. With its amazing views of Mykonos Town and those stunning sunsets over the Aegean Sea, the Rochari's terrace will be one of my "must see" Mykonos recommendations. If you happen to drop by for a drink, please give our regards to Darren. And don't forget to bring your sunglasses — the rays of the setting sun get so strong and intense, you'll certainly need to wear them! (By the way: The Rochari is a beautiful hotel in a great location; keep it in mind if you're searching for quality accommodations right in Mykonos Town.)
Below are several photos of the sunset views from the Rochari Hotel cocktail terrace. More photos can be viewed in the Mykonos 2011: Sunset at the Rochari Hotel album on the mygreecetravelblog.com Facebook page.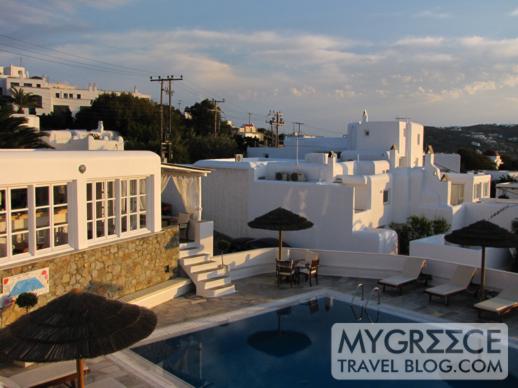 Cocktail terrace view of the Rochari Hotel's swimming pool and deck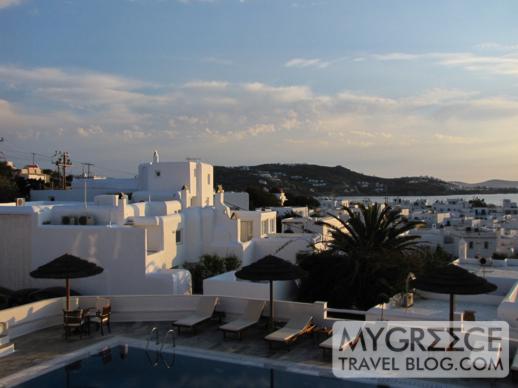 Rochari Hotel terrace view of the swimming pool and part of Mykonos Town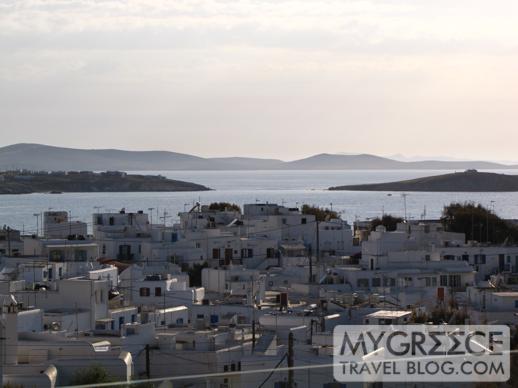 Terrace view of Mykonos Town before sunset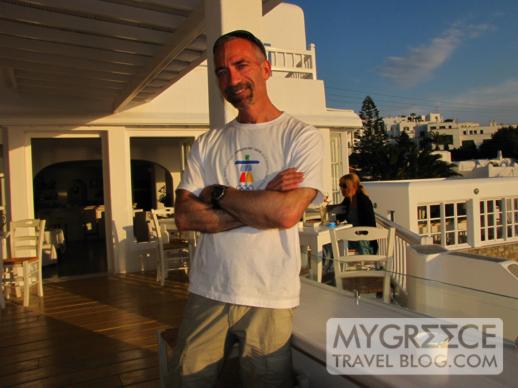 Me on the terrace, enjoying the views under the hot evening sun
Standing on the Rochari terrace at sunset, with the whitewashed buildings of Mykonos Town spread out below the hotel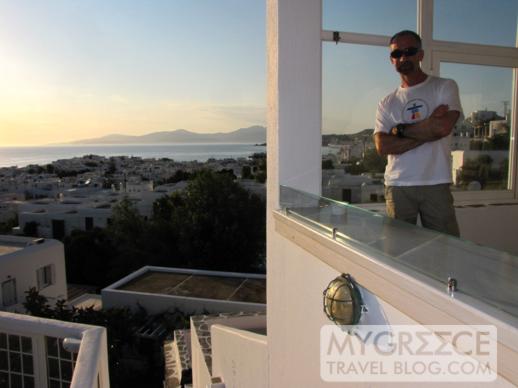 A shot from the other direction, with more of Mykonos Town and part of Tinos island providing a backdrop in the distance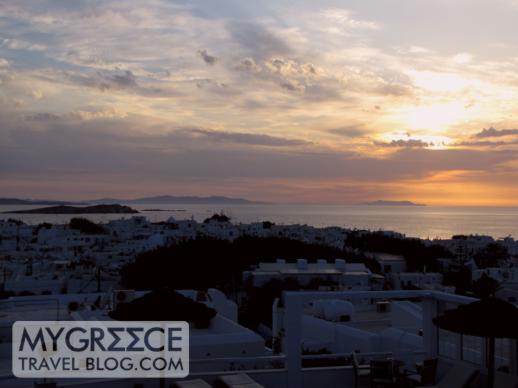 The terrace has amazing views of Mykonos Town and nearby islands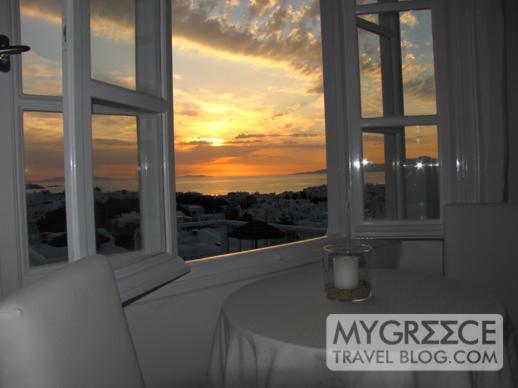 Sunset view from a table inside the Rochari Hotel lounge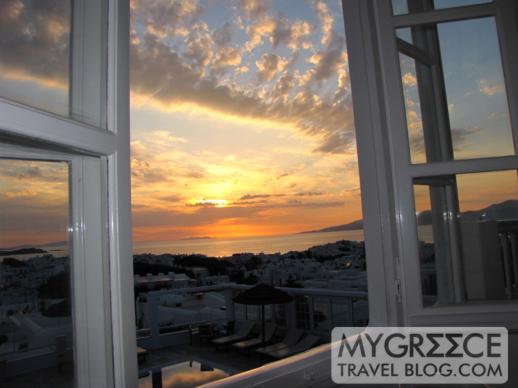 Giaros island starts to become more visible in the amber clouds below the sun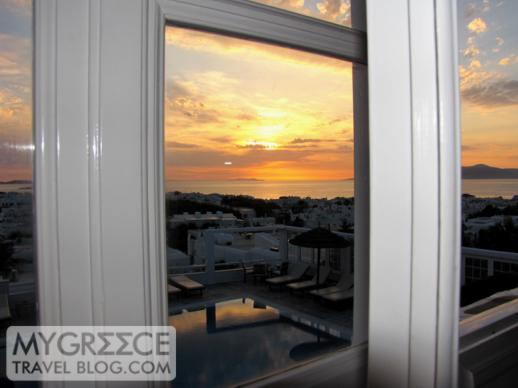 The sunset reflects in the calm water of the hotel swimming pool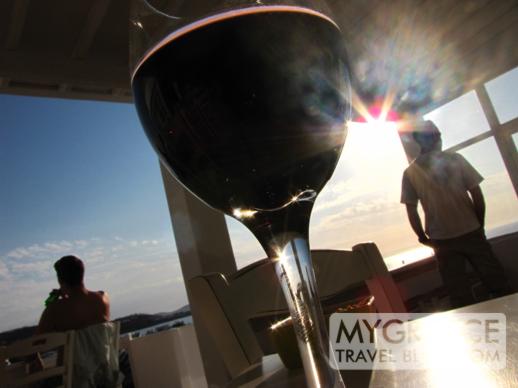 The terrace is a perfect place to enjoy a nice glass of wine or an ice cold drink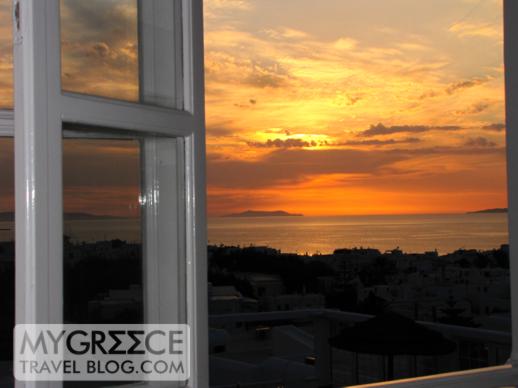 Giaros Island starts to take center stage directly below the setting sun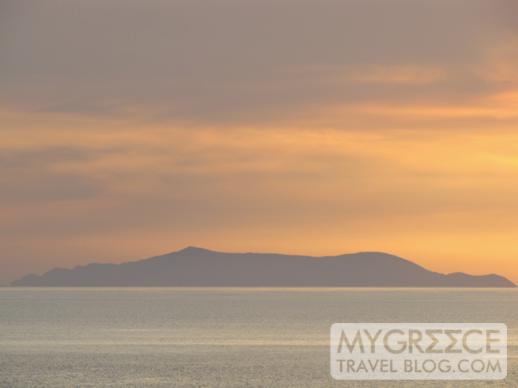 Clouds in the sky above Giaros Island take on an amber glow in the sunset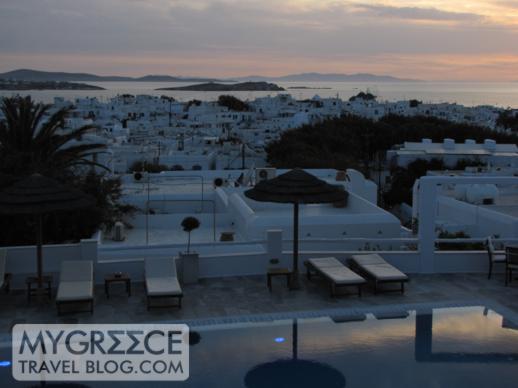 A great view overlooking Mykonos Town and islands across the horizon
Hotel terrace view of the famous windmills on the hillside above Little Venice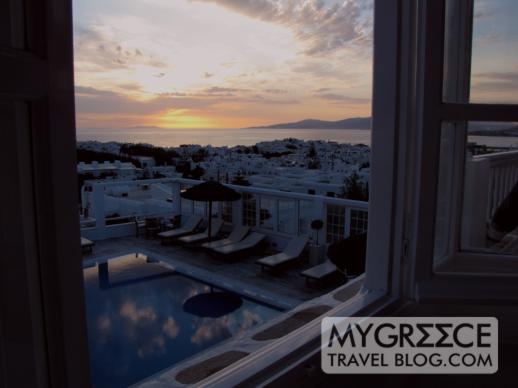 Another peek at the Rochari pool as the sun prepares to dip below the horizon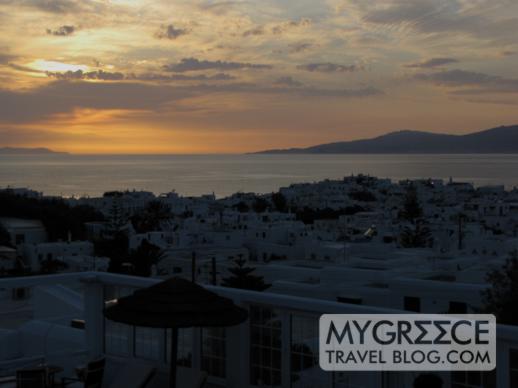 Mykonos Town spreads out below the hotel; Tinos island is visible to the right