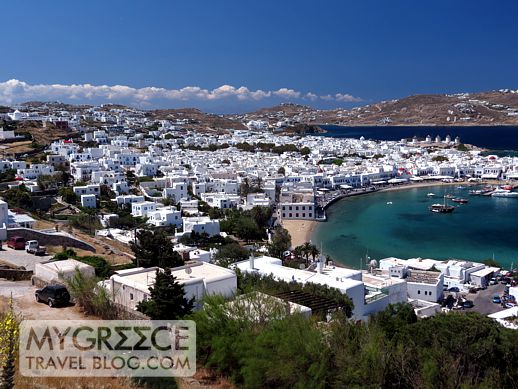 A hillside view overlooking Mykonos Town and its harbour area
Lots to see: Unlike a lot of visitors, I never get bored of Mykonos Town. Many people think they've seen all that's worth seeing after they walk along the harbourside, visit Little Venice, and stroll some of the narrow, twisting streets.
But those people see only the highly commercial, touristy side of Mykonos Town — the lanes lined with jewellery stores, T-shirt shops and tavernas. They don't wander far enough away from the main tourist zone to walk the quiet residential streets or climb to hillside lookout points that offer amazing views over the town, harbour and beyond.
Even after 7 separate visits to Mykonos, each of which has included a lot of walking around town, I still keep discovering streets and vantage points I've never seen in my favourite Greek Island town.
CONTINUED ON PAGE 2