A pelican on Agia Anna beach next to the harbour at Mykonos Town
Famous feathers: Mention Mykonos, and most people instantly think of windmills, sandy beaches and white cube-shaped houses with blue shutters and doors. Yet one of the most popular tourist attractions on the island is a bird — a 53-year-old pelican named Petros. Actually, there's not just one pelican on Mykonos — there's a pod of three. And even though they all seem to be called Petros, they aren't in their 50s.Yet.
According to local legend, the original Petros apparently flew from mainland Greece to Mykonos during a fierce storm. He was found, half-dead, by a fisherman who nursed him back to health. Island residents named him Petros and took turns feeding him. Petros became such a hit with tourists that he was designated as the official mascot of Mykonos. But he met an untimely, scandalous demise around 1986 when he was either run over by a car (some locals blame a drunk taxi driver) or sexually assaulted (some blame a drunk tourist).
Another legend maintains that jet setter and regular Mykonos socialite Jackie Onassis gave the island a new pelican to replace its maimed mascot, while another says a German zoo donated a bird as well. Yet another story says a third pelican wound up on Mykonos when he was discovered on a beach, injured like the original Petros, and brought back to good health by the locals.
Whatever one or all of the stories is true, it's a fact there's at least three pelicans entertaining tourists on Mykonos these days. They can often be spotted as a group, in a pair, or sleeping or strolling around solo. Their favourite places to hang out are at Niko's Taverna (where they pose for photos with diners and then collect fresh fish treats from the kitchen), Paraportiani Square, Little Venice, the windmills on the hillside above Little Venice, and along the Mykonos Town harbourfront.
The last two times we've been to Mykonos, we've encountered pelicans in cocktail bars at Little Venice and on the harbourfront. Which makes me wonder … haven't they been warned that it's dangerous for them to hang around people drinking booze?
Below are photos of some of the pelicans we've met during some of our visits to Mykonos.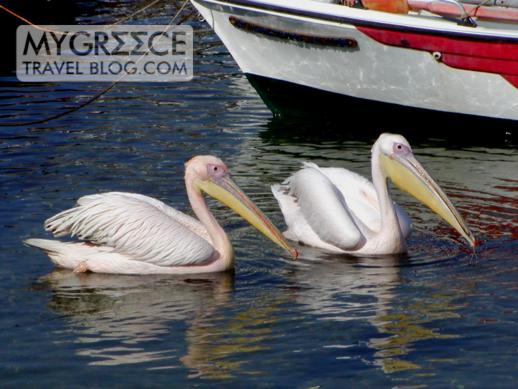 Two pelicans swimming in the harbour at Mykonos Town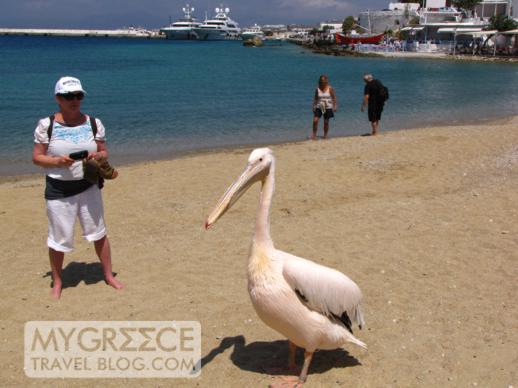 A pelican entertains tourists on Agia Anna beach at the harbour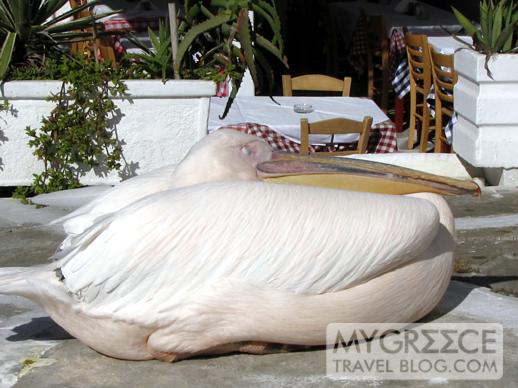 A pelican catches a snooze in the square next to Niko's Tavernan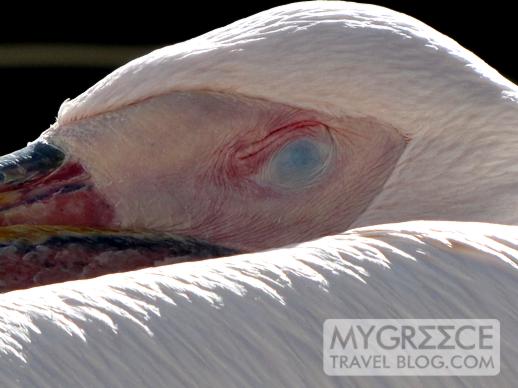 The pelican appears to be sound asleep …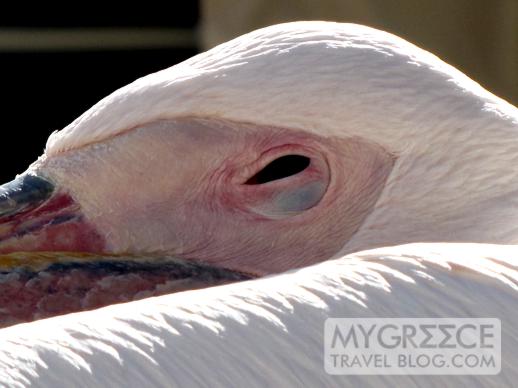 … but he's fully aware of all the tourists and cameras close by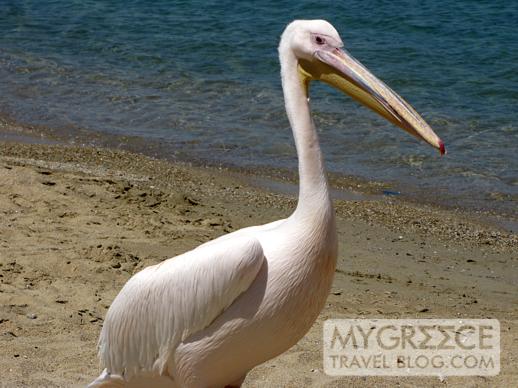 A pelican on Agia Anna beach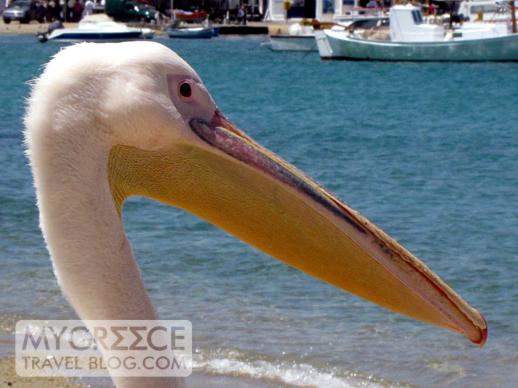 Watching the boats in Mykonos Town harbour
Taking a long slow stretch on the beach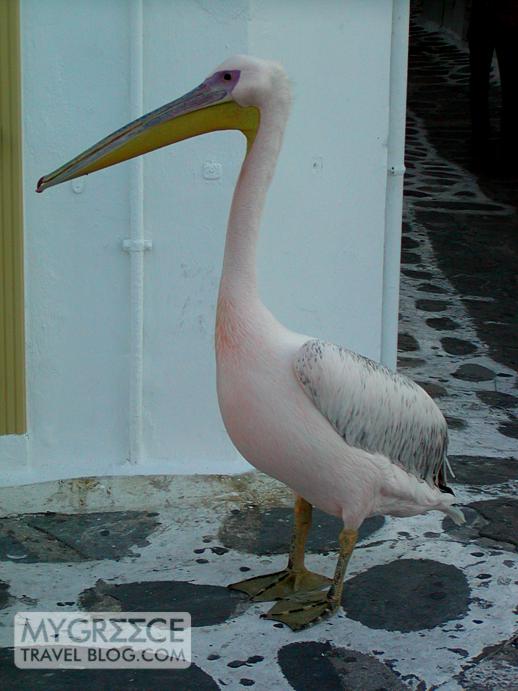 A pelican pauses while walking down a street in Mykonos Town …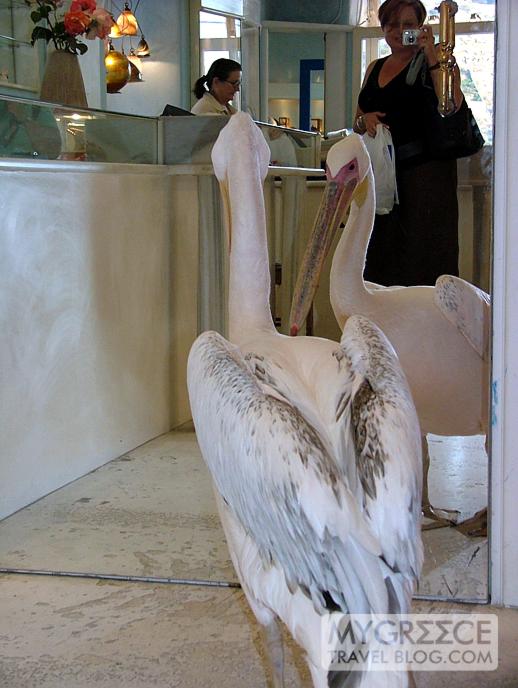 … en route to a jewellery store near the waterfront, where he checks himself out in a mirror before being shooed back outside by the shopkeeper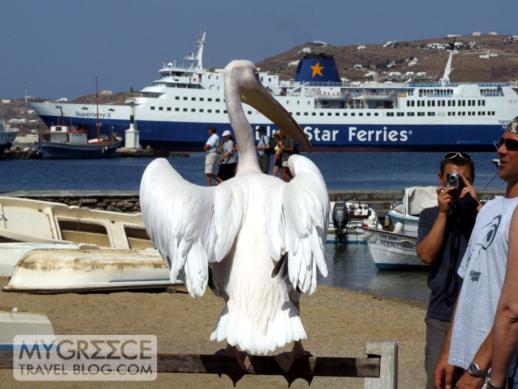 A pelican poses for pictures at the Mykonos Town harbour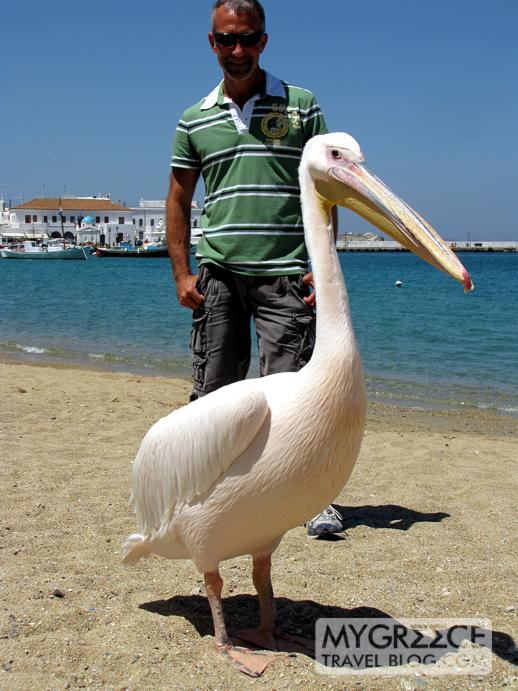 A pelican poses for a picture with me on Agia Anna beach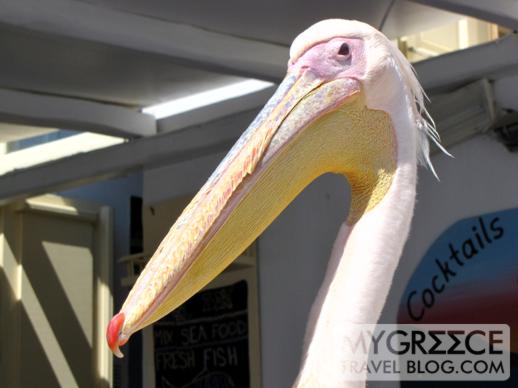 A pelican at the Sunset Bar in Little Venice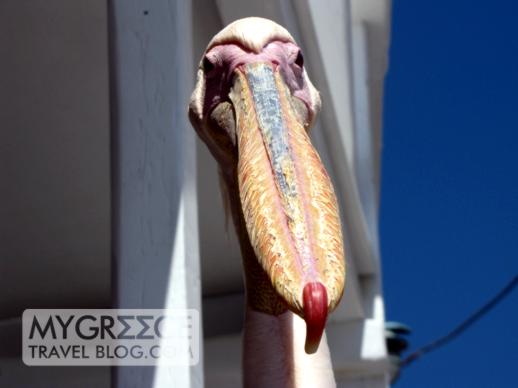 Petros gives us a full frontal face view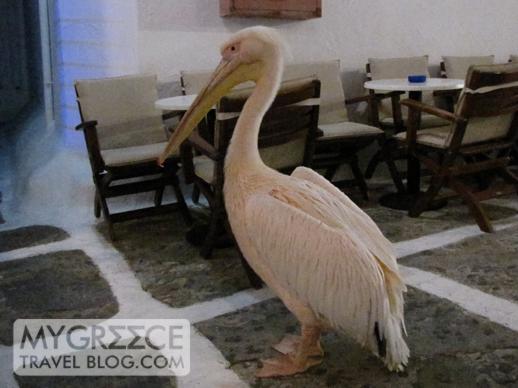 A pelican in the courtyard at Skandinavian Bar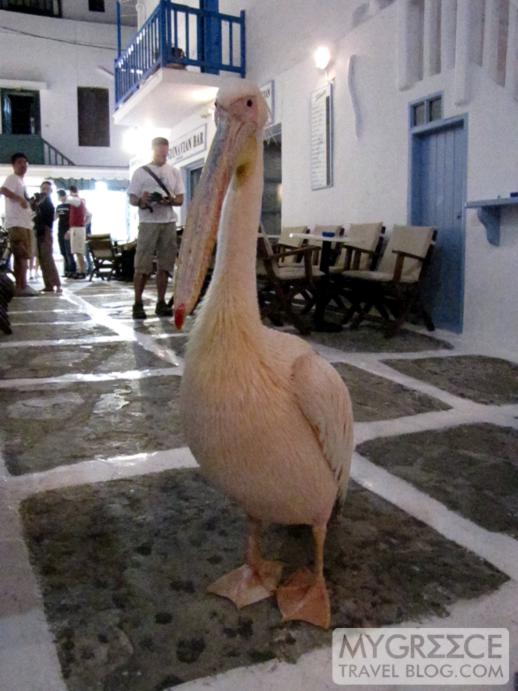 Waiting for someone to buy him a beer, perhaps?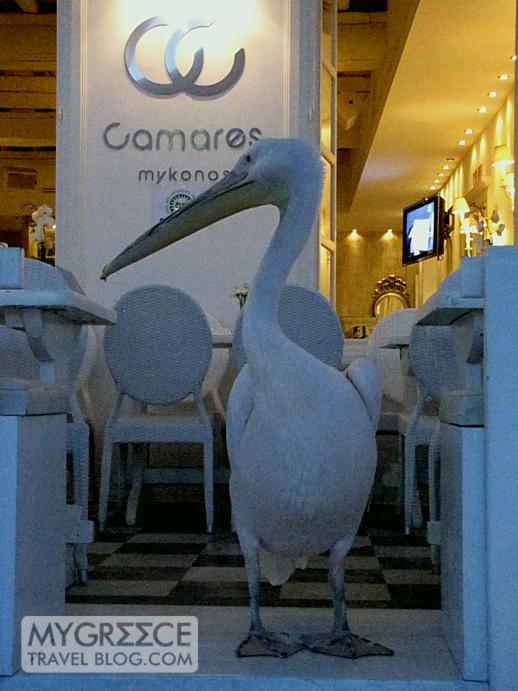 Enjoying evening cocktail hour at Camares bar near the harbour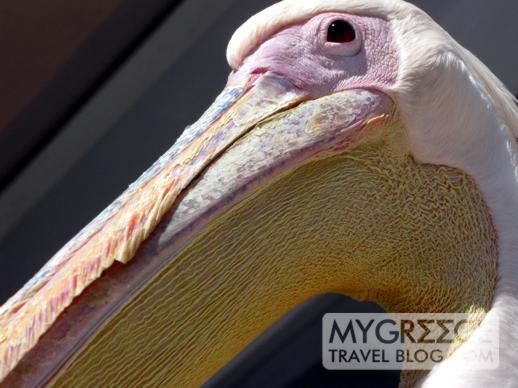 A close-up look at the pelican's neck pouch, which apparently can expand to hold nearly three gallons of water or fish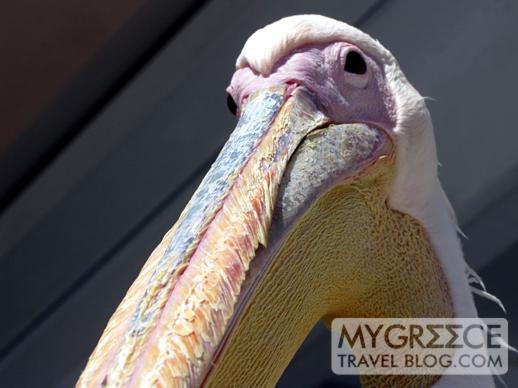 Another close look at the pelican's colourful beak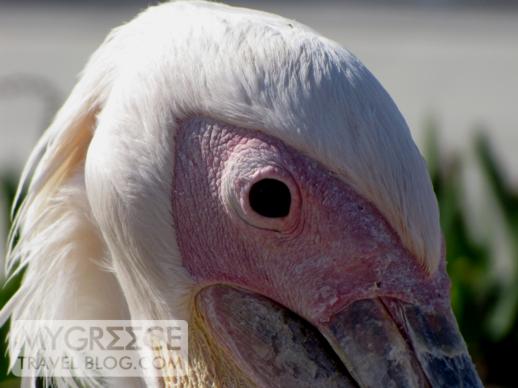 This pic reminds me of an old Hollywood entertainer wearing a fake hairpiece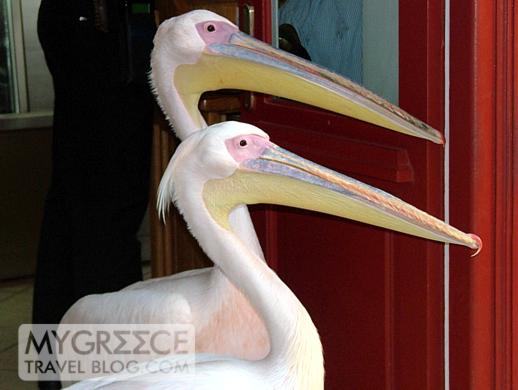 A pair of pelicans waiting for fish at Niko's Taverna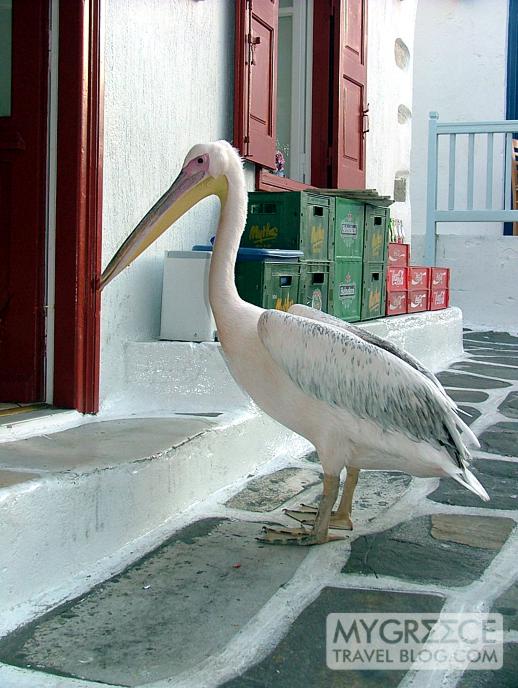 A pelican waits outside the kitchen door at Niko's Taverna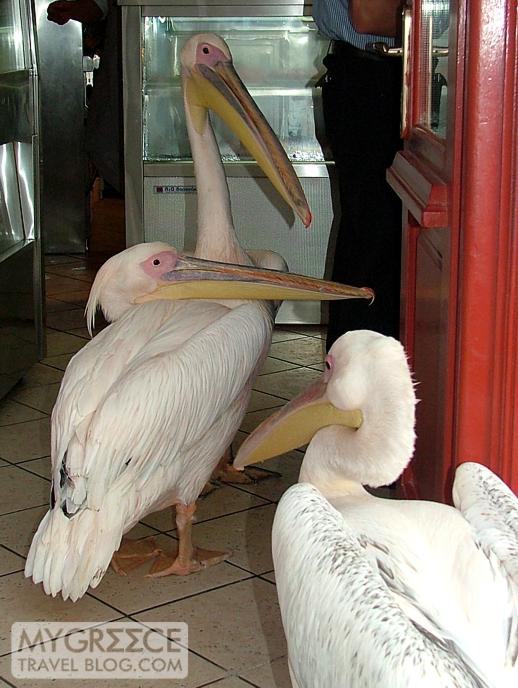 Three pelicans line up for fish treats at Niko's Taverna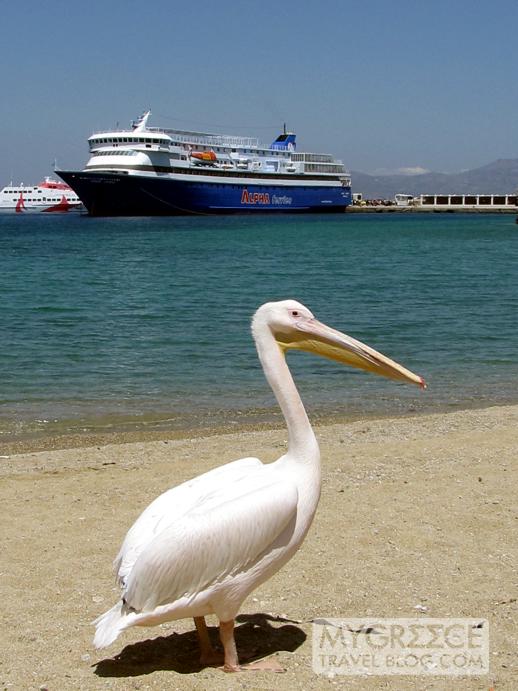 A pelican stands proud on Agia Anna beach at the harbour