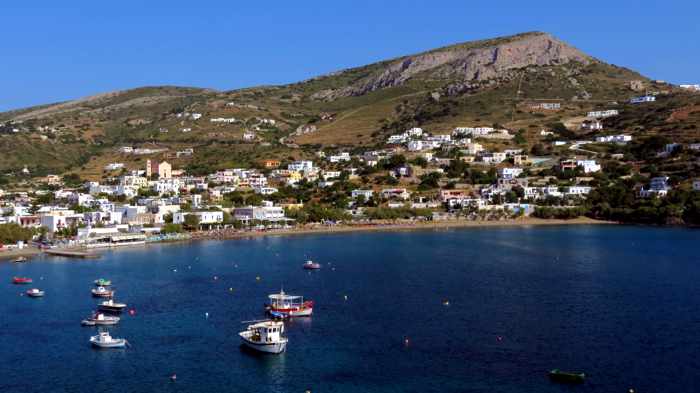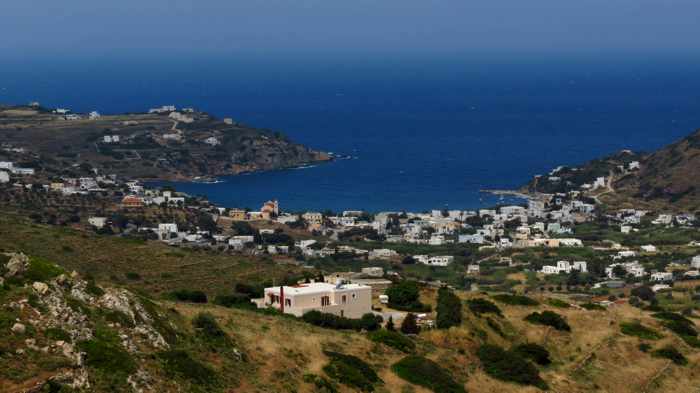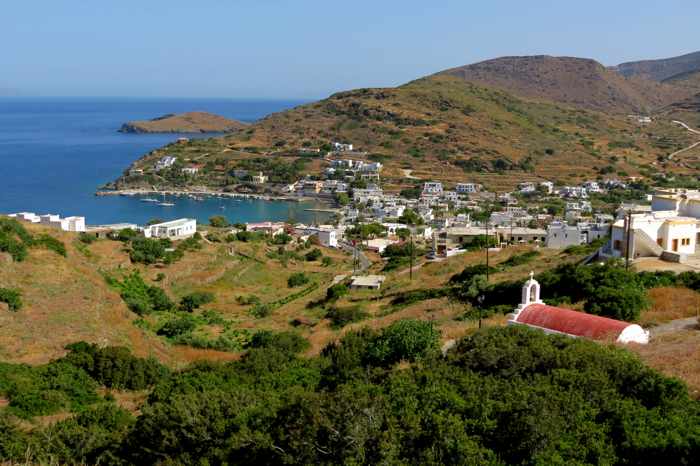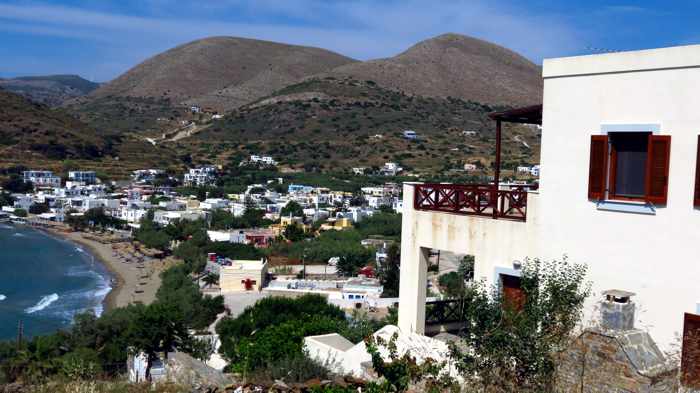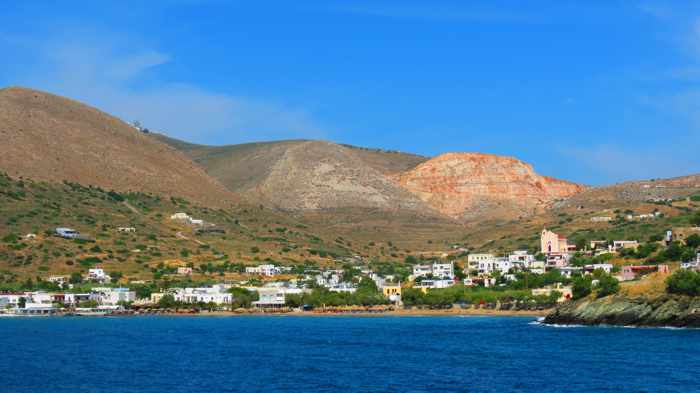 Above: Views of the Kini area from five different vantage points
What's there:  My earlier post, Colourful Kini Bay on Syros island, was essentially a photo tour of the beautiful beach village area where we have stayed during two holidays on Syros. In this companion piece, I have compiled a mini-guide to Kini, highlighting accommodation and dining options as well as attractions and things to see and do in the immediate vicinity, based primarily upon personal experience.
I actually started preparing this article several years ago, following our second trip to Syros, but I never managed to finish the project. It languished in a folder of draft articles until this winter, when a Travel + Leisure magazine profile of Syros caught my attention and reminded me of the post I had never completed. Comments and inquiries about Syros from readers  of my blog gave me further impetus to have another go at writing the guide. Besides, it presented an opportunity to see what, if anything, may have changed and keep us up to date on what's happening in Kini, since we do plan to go back.
Kini is best known for beaches, food and  scenery, but it's also home to two attractions that tourists can visit: the Agia Varvara Monastery (above) and a small aquarium and boat museum
While checking to see if familiar tavernas and accommodations were still around, I was pleased to discover that two new restaurants and a hotel have opened during the past couple of years — Aphrodite Boutique Hotel, Thalassa Beach Bar, and Aeriko Mezedopoleio.  Aphrodite and Thalassa have opened in centrally-located buildings that had been vacant and somewhat shabby-looking during both of our Kini holidays, so their reincarnations have spruced up the area and greatly improved the look of the village landscape. Aeriko opened two years ago in the premises previously occupied by Ammos Beach and Kitchen Bar.  (There's more information on all three new places later in this post.)
I also noticed several hotels and studio rental properties have undertaken significant upgrades in the past two years, while others have been renovating this winter in preparation for the 2019 season.  The good news for travellers is more (and improved) choices for lodging, along with additional places to drink and dine. Happily, the changes have been for the better, and haven't had a negative impact on Kini's comfortable atmosphere and charm.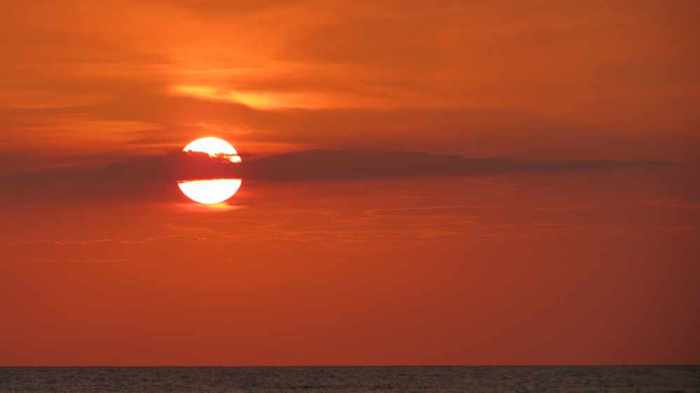 We have seen many remarkable sunsets from Kini (this one was from our holiday in 2015), with vivid sky colours that were more stunning than any we've seen on Santorini, the island that's famous for sunset views.
The low-key, laid-back ambiance is what we personally enjoy about Kini, along with its scenic location, marvellous sunset views, sandy beaches, interesting walks and excellent restaurants. (Its close proximity to the island's vibrant capital, Ermoupoli, is another appealing feature.) On both of our visits, Kini won our hearts as one of the most chill and relaxing places we've stayed anywhere in Greece.  In fact, we often muse about going there for an extended period — a couple of months in spring or fall, for instance — since we find it particularly inspiring for our creative pursuits of writing, painting and photography.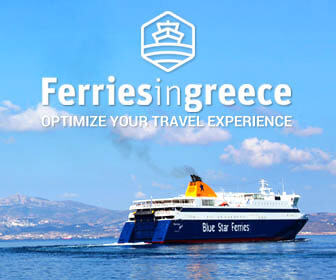 Planning to do some Greek island hopping this summer? July and August are the peak travel months in Greece, and seats on inter-island ferries are filling up fast.  If you haven't already booked your ferry tickets, click on the image above to arrange your transportation now!
I know others share our appreciation for Kini just as strongly; online, I have chatted with a number of people who have made repeat visits and are planning to return this year because they love Kini for the same reasons. And when we have spoken to other tourists while we have been in Kini, everyone has commented about how much they were enjoying the place. We never heard anything negative.
Kini might not be your cup of tea if your ideal island getaway is a crowded and glitzy tourist magnet, like Mykonos, where you can spend all your time and money shopping in designer boutiques, dining at gourmet international restaurants, and partying at exclusive nightclubs and trendy beach clubs.  But if your goal is to rest and recharge in a peaceful, picturesque village with good Greek restaurants and nice sandy beaches, Kini could well be paradise. It's my hope that the photographs, descriptions and personal anecdotes in this guide will give you a solid sense of what Kini has to offer, and will inspire you to consider including Kini in your future holiday plans if it does look like a place you would enjoy.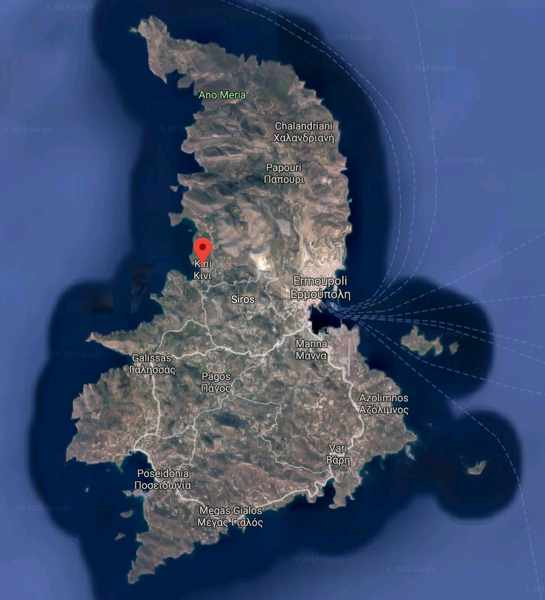 Kini is situated on the west coast of Syros, approximately 9 km from the island's port town and capital, Ermoupoli
Please click on the links below below to continue reading and see dozens of Kini photos.
Page 2 highlights Kini sights, attractions and things to do, with descriptions of local beaches, boat trips to remote beach areas, and scenic walks.
Page 3 spotlights places to eat and drink in the village.
Page 4 profiles hotels and many of the room and studio accommodations available at Kini.  
CONTINUED ON PAGE 2