~ continued from page 1 ~
YouTube member Explorer Jack posted this video In September 2015. It shows Red Beach from a variety of vantage points, including from the sand as well as from a boat.
Located near Akrotiri, Red Beach is supposed to be off-limits to visitors because of the persistent rockfall danger. The beaches page on the Santorini.net travel and information website includes a "special information" alert stating that Red Beach "is temporarily closed to the public (as per August 2013) due to fears of landslides." Since tourists have continued to flock to the beach all the same, the Institute for the Study and Monitoring of the Santorini Volcano (ISMOSAV) has urged island hotels to warn guests not to go there.
The Institute's action was reported in a July 3 2015 post on the TripAdvisor Santorini travel forum, where regular contributor Ingela A noted that the organization had written a letter asking members of the Hotel Association of Santorini to advise travellers against visiting Red Beach. According to Ingela, the letter said: "We would like to inform you and ask you to inform clients of this situation, and that access to the beach is extremely dangerous due to landslides, to avoid any accident with incalculable consequences for the island." Island authorities installed "no entry" signs along the path leading to Red Beach, warning of the rockfall risk, but the signs haven't dissuaded scores of tourists from going to check it out.
It's no wonder people feel so compelled to see Red Beach — it has been widely described as a "spectacular," "one of a kind," "unique" and "don't-miss" destination in regular and social media alike. A Santorini travel article published on the Mysterious Greece insider's travel guide website in June 2015, for example, says the beach's "reddish grandeur … will capture your attention instantly. This natural monument will make you want to stay there forever." 
In Janauary of this year, the online edition of Conde Nast Traveler magazine included Red Beach in its photo feature Where to find every color of sand. In text accompanying a photo of the beach, the article said Santorini "has several pockets of eye-popping geology, but perhaps none more so than the blood-colored cliffs near the town of Akrotiri, which disintegrate to scarlet sands at the bottom."
The "most spectacular getaway on Earth" — the Travel Channel
And in its Best Beach Awards for 2015, the Travel Channel honoured Red Beach as "Best Unusual Beach." That was Travel Channel's second big accolade for Red Beach — it had previously heralded the "striking crimson and black volcanic sands" as the "No. 1 most spectacular getaway on Earth" in its 101 Sand n' Surf Hotspots feature.
Although Red Beach may be breathtaking to behold, most visitors seem either blissfully unaware of or willfully blind to the rockfall danger. In a January 2016 post on a website called Themaone, Singapore-based travel blogger Michelle recounted her visit to Red Beach. She included a picture  of people walking past rockfall warning signs on the beach access trail, and noted in the photo caption: "but this was the only way through to the beach."
The danger signs were mentioned in only a few of the hundreds of Red Beach reviews on TripAdvisor, yet most of those writers acknowledged that they and many others still made the trek all the way down to the beach.
A February 2016 review posted by TripAdvisor contributors Robandkatherine noted:  "The track to the beach was "closed" when we were there, because of the danger of falling cliff. Easy to see how this could happen — however didn't stop quite a number of people from sunning themselves on the beach below the cliff. Spectacular place to photograph, anyway." And in a review entitled "Dangerous!," contributor Vera1610 observed: "The rocky cliff looks like it has regular landslides. We were surprised to see people sunbathing right next to the flimsy "safety" barrier. There isn't anywhere to escape to should the cliff start to fall other than into the water. So dangerous!" Yet like countless others, she still ventured onto the beach, though she left after about 10 minutes because she personally found it to be "nothing special."
Despite the potential for serious physical injury or even death, is Red Beach worth visiting? Is it truly a must-see sight?
Many of the 2,300+ people who have reviewed the beach on TripAdvisor would agree that Red Beach lives up to its hype. In fact, 268 reviewers rated it "excellent," while 356 described it as "very good."
But there are many detractors. 276 of the reviewers rated Red Beach as "average," 106 described it as "poor," and 50 called it "terrible." You can read the comments posted on TripAdvisor and other online travel sites to find out exactly what people liked and didn't like about Red Beach, and decide if you're willing to risk your life and limbs to experience it yourself. Or you can search Google for Red Beach photos and videos to see what all the fuss is about from the safety of your desktop computer, tablet or smartphone.
Although I have been to Santorini three times, I have never seen Red Beach in person. But I have seen thousands of photos of it. While the vast majority of pictures are basically "lookalikes," having been shot from similar vantage points, I have come across dozens that show Red Beach from less common sightlines and more interesting perspectives. Below are some of those images, along with some of my personal favourite pictures of Red Beach. The pictures were shot at various times of year, so some show the beach packed with people and sunbeds, while others capture it when no-one's around.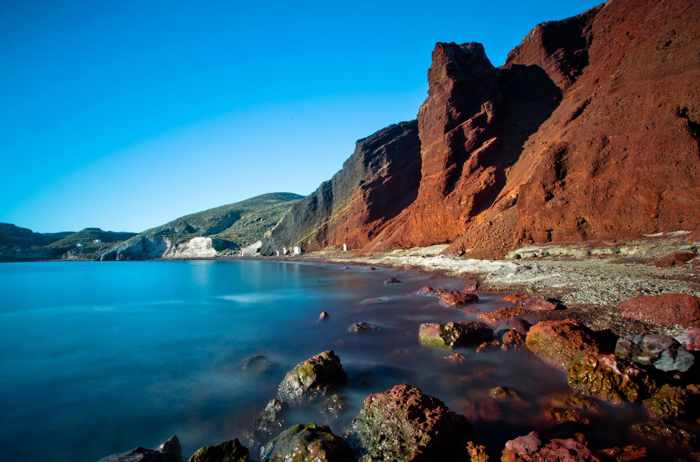 Photo from the Facebook page for Adamastos Hotel at Akrotiri, which is located approximately 700 meters from Red Beach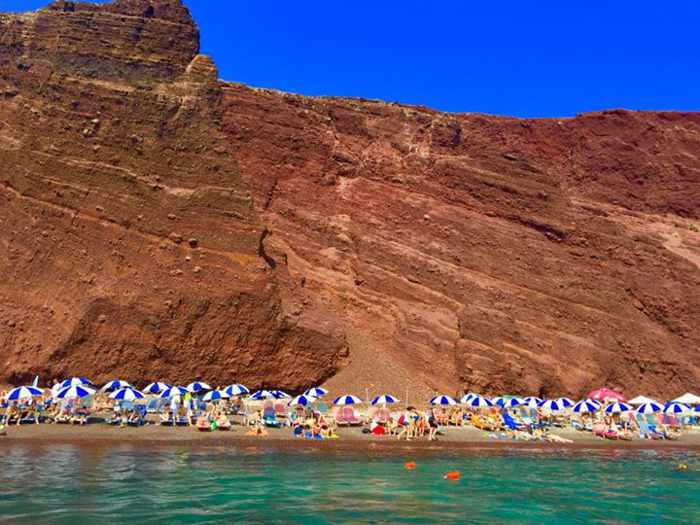 Image from the Fine & Home Facebook page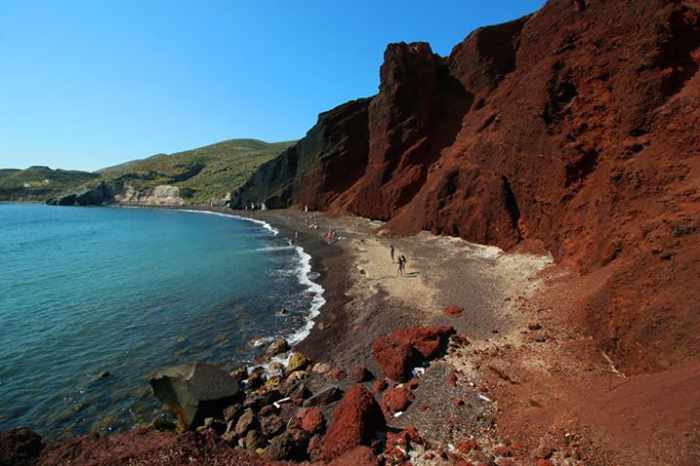 Image shared on Facebook by Photo WW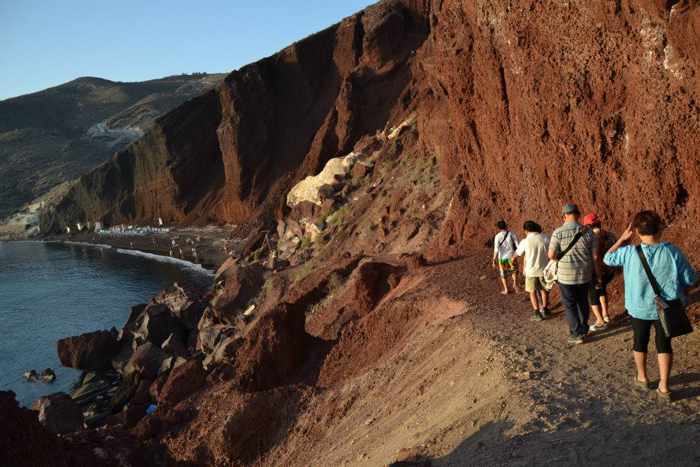 Part of the beach access trail is shown in this Facebook photo by Fion Ong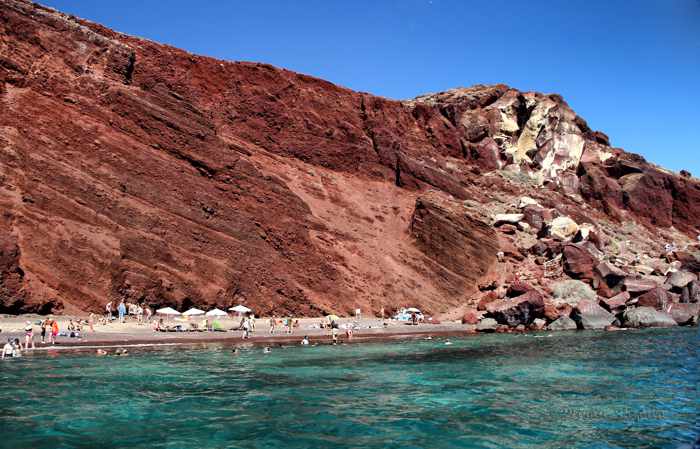 An image from The Red beach near Akrotiri, a July 2013 post from the personal blog of artist and photographer Roman Shymko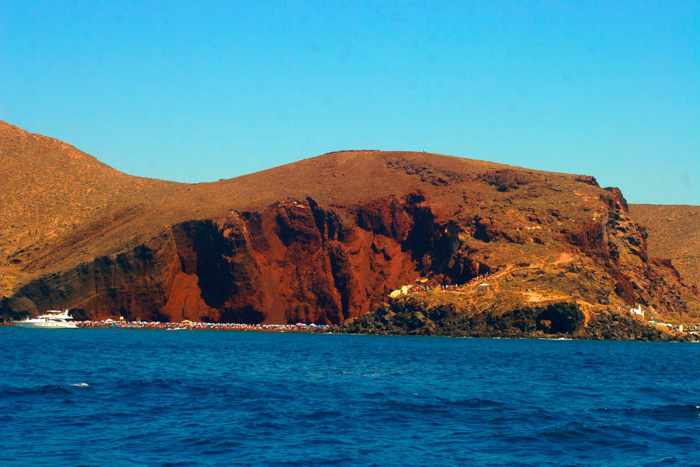 Photo from the Facebook page for the YesSail travel agency, which offers sailing excursions at Santorini, Mykonos and other islands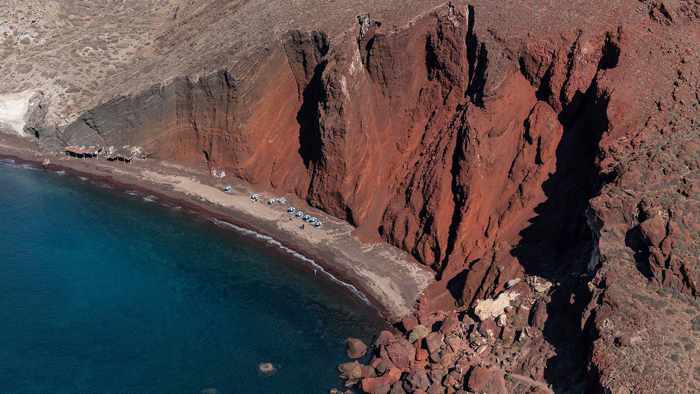 Aerial photo from the Facebook page for Aigialos Hotel on Santorini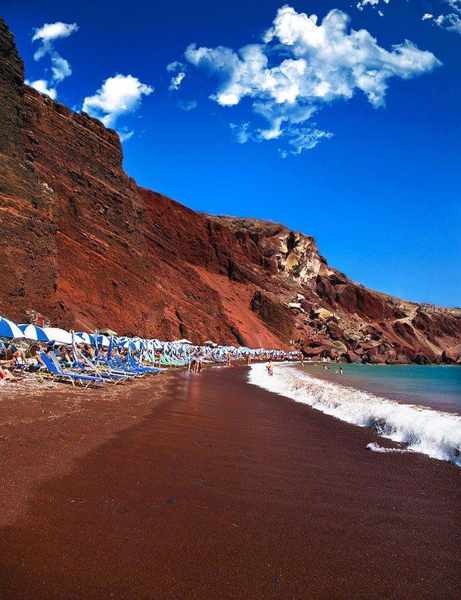 Image from the Red Beach Santorini public Facebook page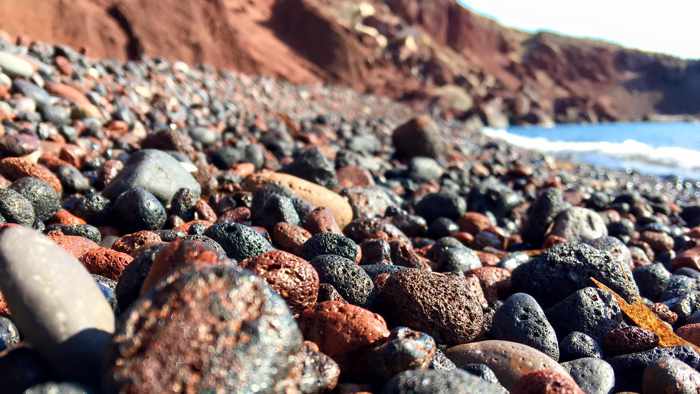 Image shared on Facebook by Alex Lim HS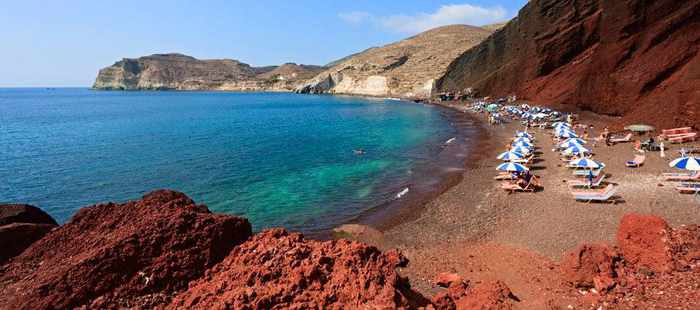 Image from the Amigo Tours Travel Agency page on Facebook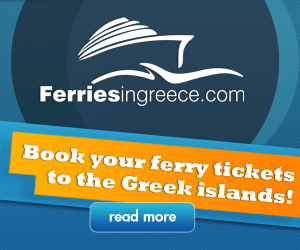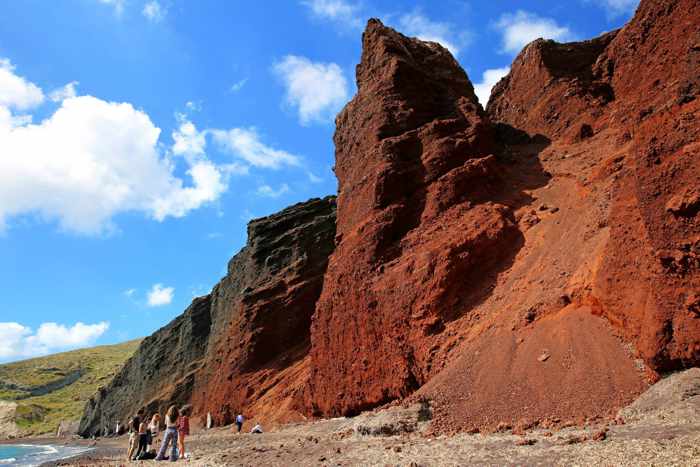 Image shared on Facebook by Filip Shobot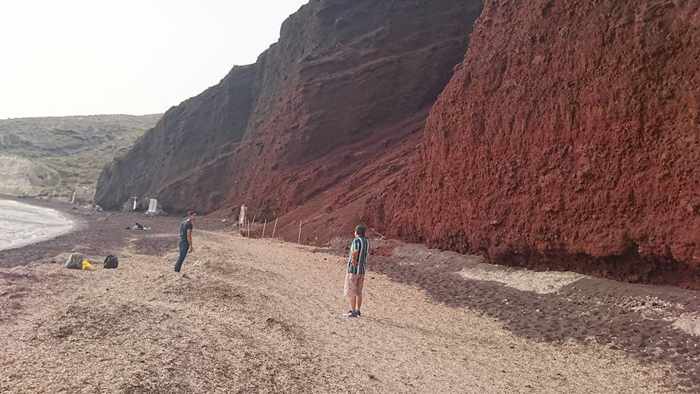 Image shared on Facebook this past April by 余美華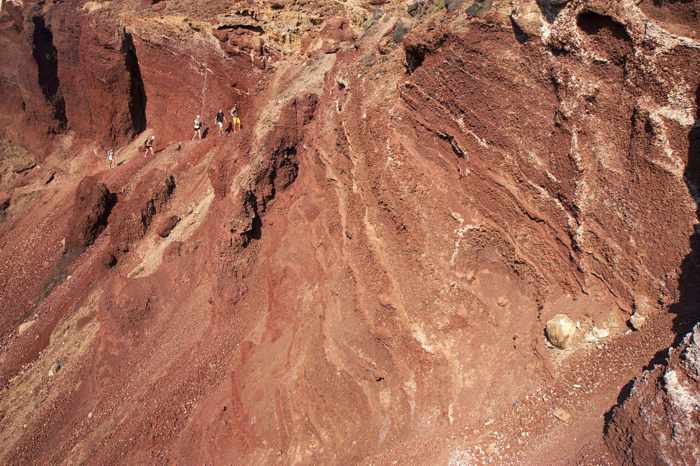 Several people (top left corner) can be seen walking along the beach access trail in this photo posted on Facebook by Dmitry Kirin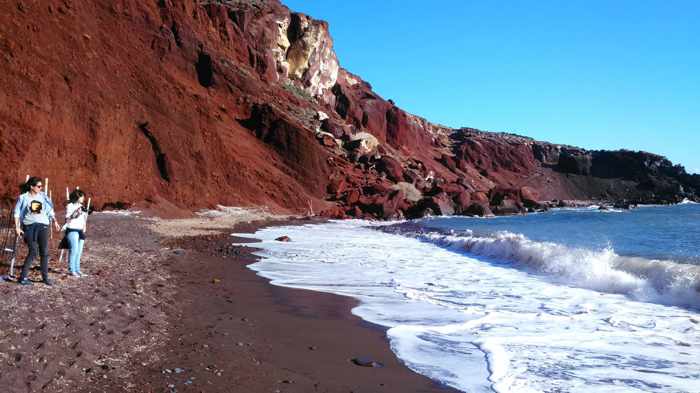 Image shared on Facebook by Wallace de Paula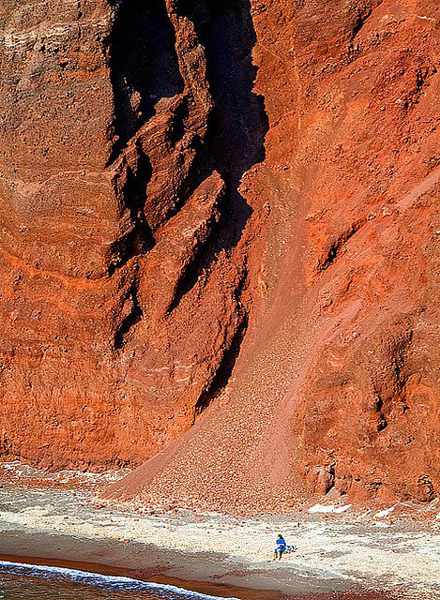 This December scene accompanied a post entitled Blue Woman, Red Beach on the travel blog pfong.  Click on the link to read an interesting short anecdote about something the photographer saw on the beach and captured in another picture which is shown (in thumbnail size) in the blog post.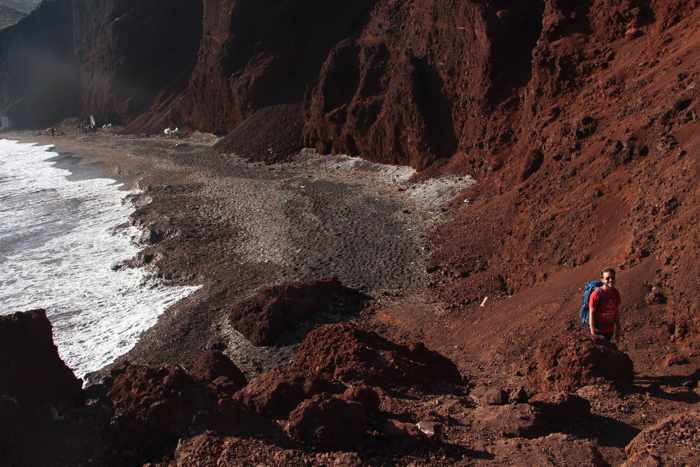 The beach and the bottom section of the access trail are shown in this photo shared by Shannon Sullivan on Facebook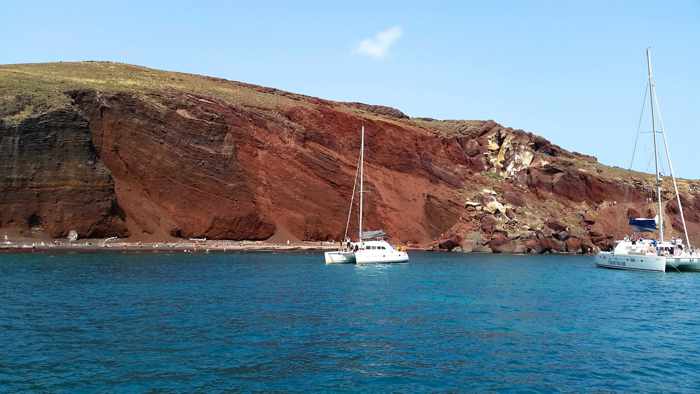 Image shared on Facebook by Michaela Christman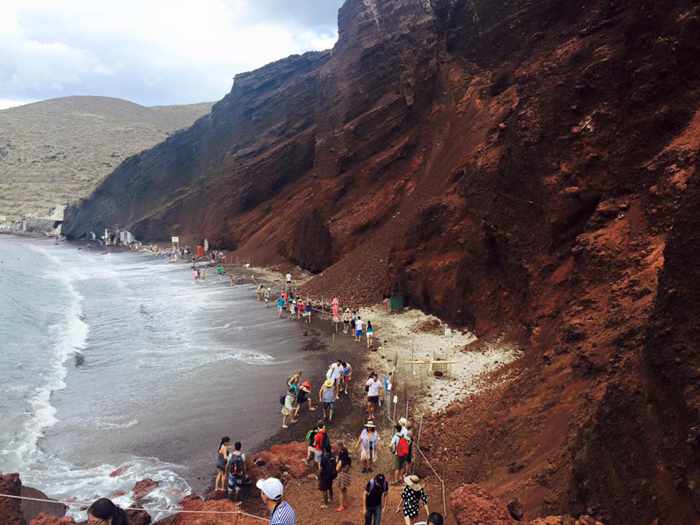 Image shared on Facebook by Emily Zuccarini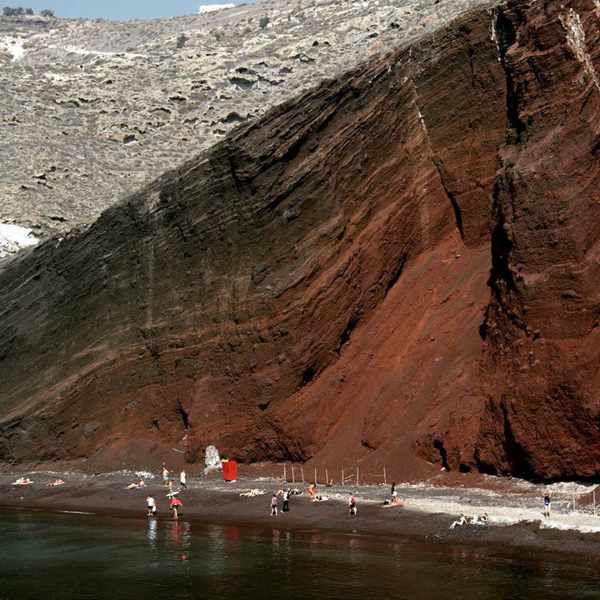 A quiet day at the beach is seen in an image from the Pictures-Encouraging the Desire to be Happy community page on Facebook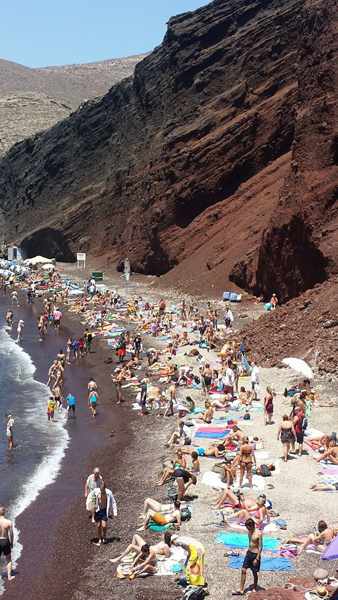 A busy day at the beach, seen in a Facebook photo by Xristos Mk 

Geeta Patel shared this image on Facebook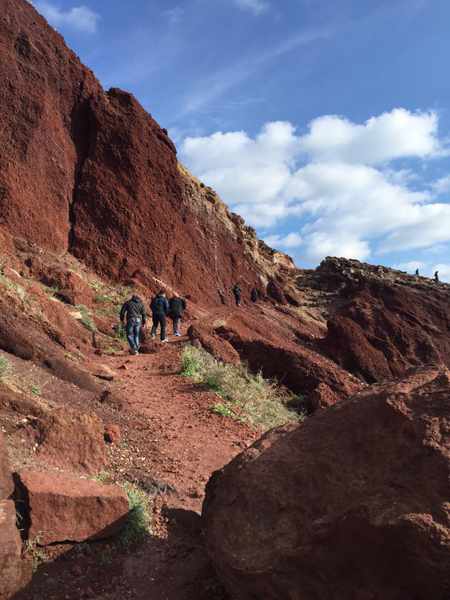 People climb the access trail after visiting Red Beach. The photo was posted to Facebook by Mashitah Ahmad.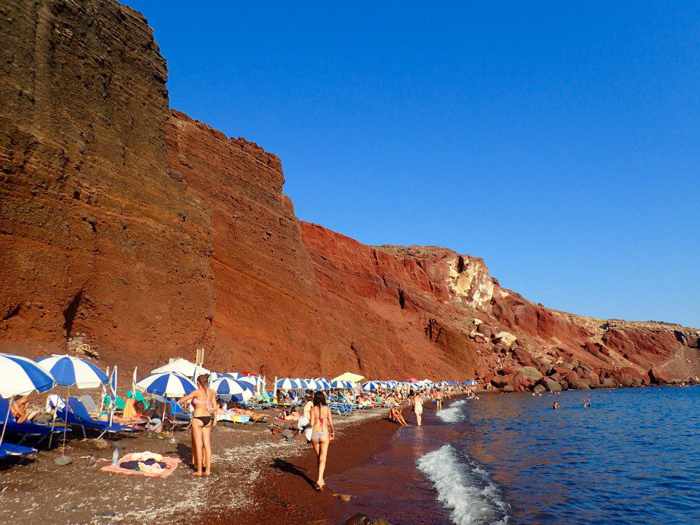 Image shared on Facebook by Aaron Coad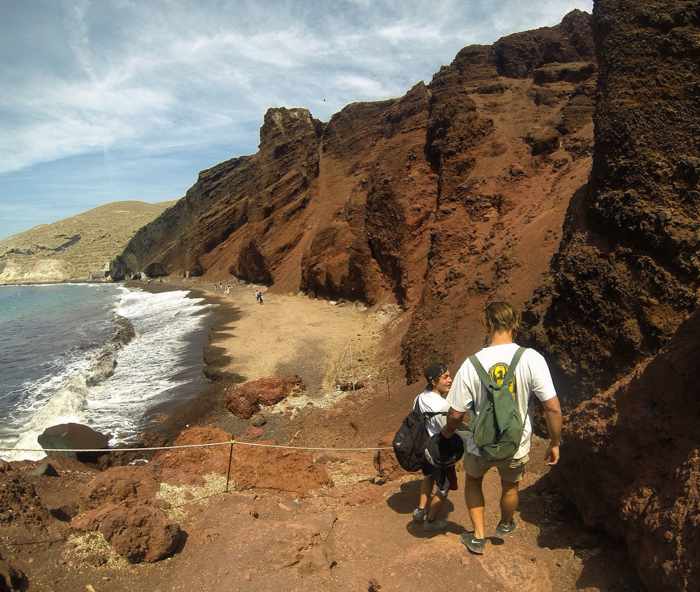 A Jaden Briggs Facebook photo of people descending the trail to the beach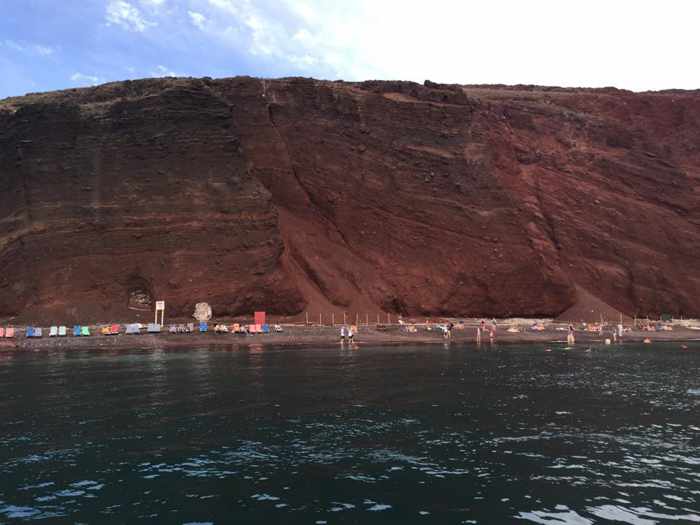 Image posted on Facebook by Kim Conway Triggs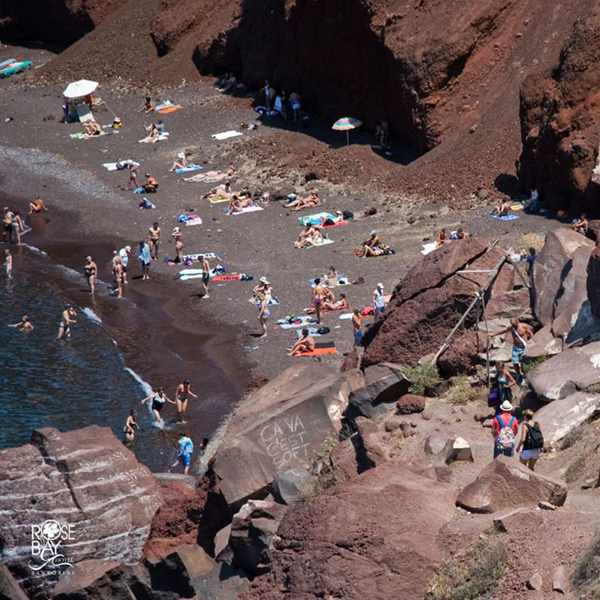 This image has been shared on numerous Facebook pages, including the one for Rosebay Hotel on Santorini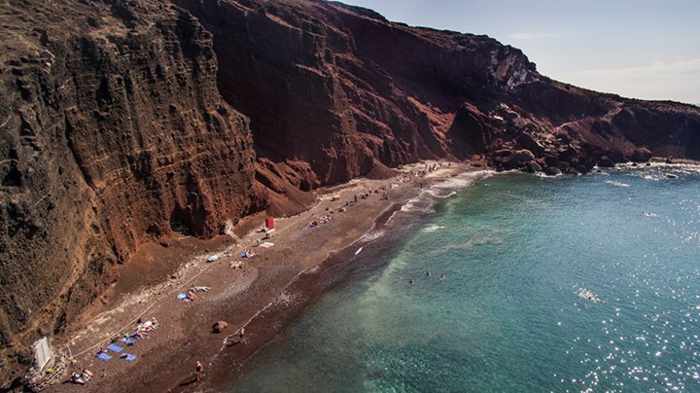 An excellent aerial view of Red Beach is shown in this image shared on the Facebook page for Sunset Oia Sailing Cruises Santorini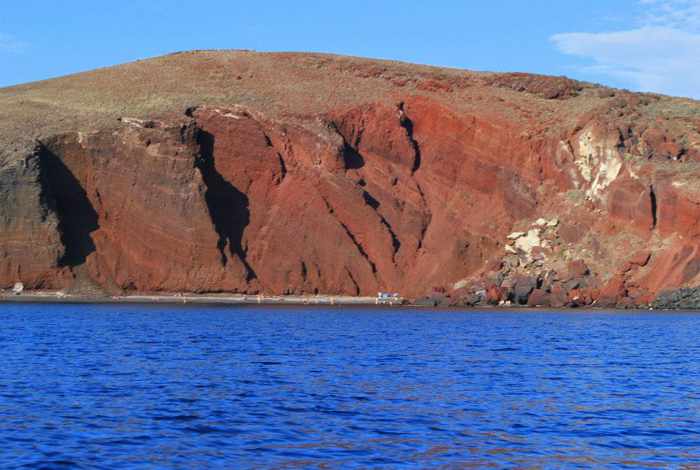 Image shared on Facebook by Darya Taranenko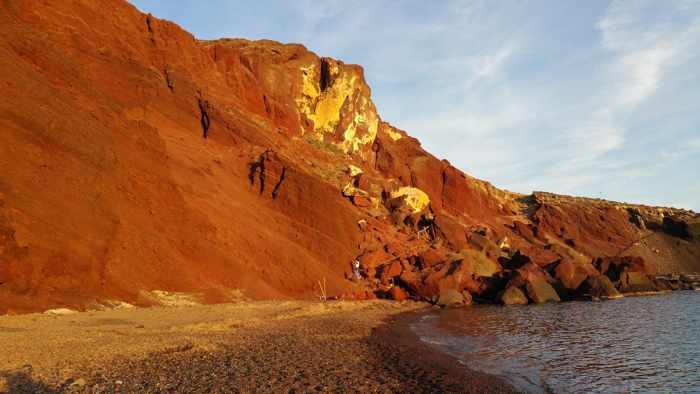 Image posted to Facebook in April 2016 by Katarzyna Anna Rakowska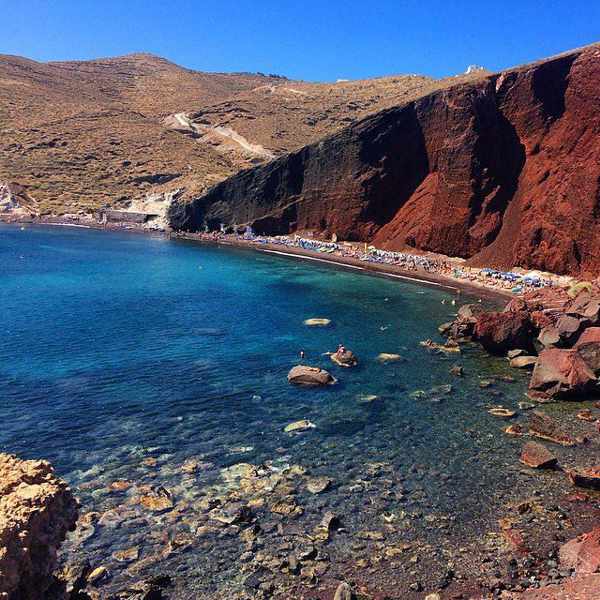 Image shared on Facebook by Anna Marie Lanzanas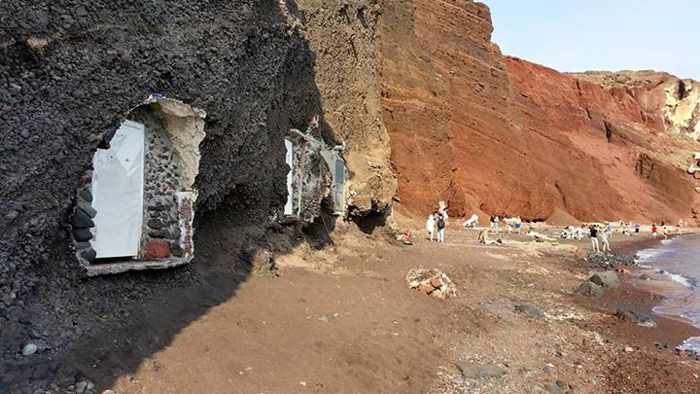 Chris Scarinci shared this Facebook photo of doors mounted into the face of the cliffs at one end of the beach. These are for small storage rooms where rental lounge chairs and umbrellas are stored.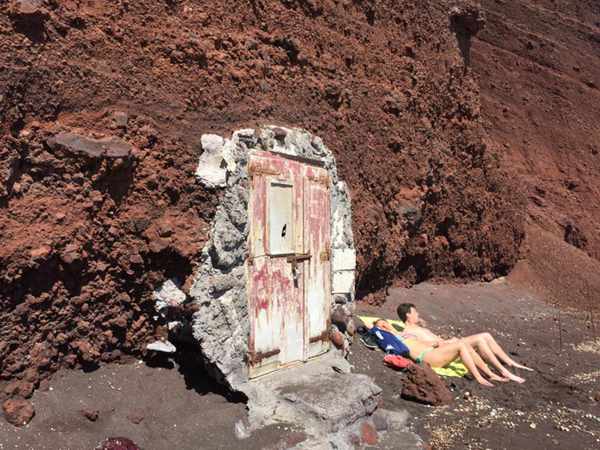 Sunbathers relax near one of the sets of doors built against the cliff face. This photo was shared on Facebook by 李秋瑤.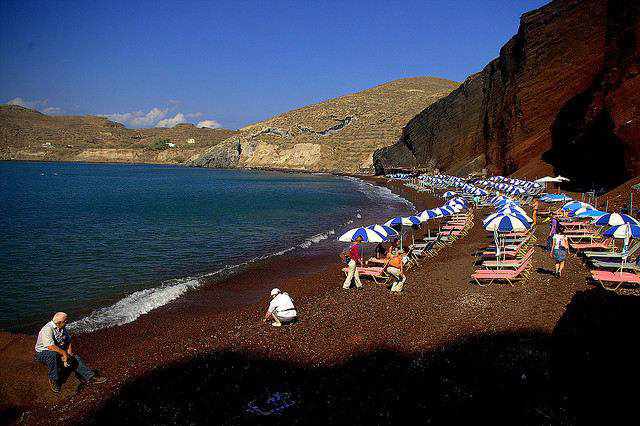 Absolute Yachting shared this image on Facebook in June 2014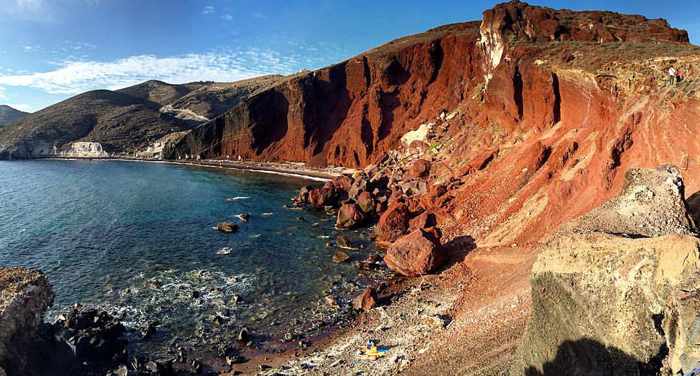 Image shared on Facebook by Biana Michelle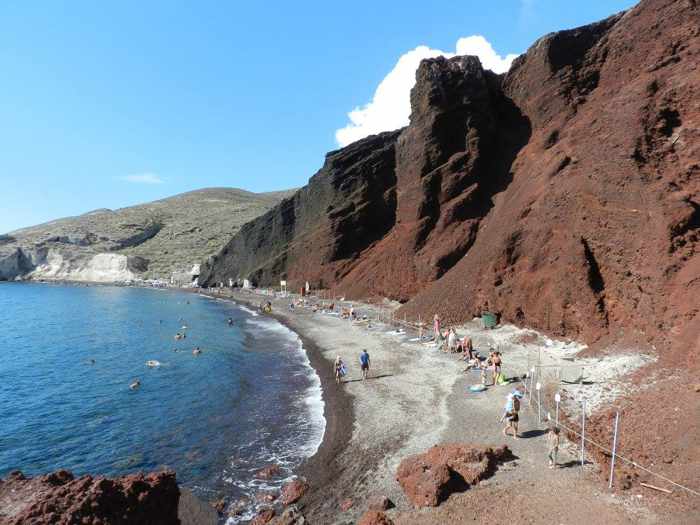 Image shared on Facebook in October 2015 by Antonietta Cucca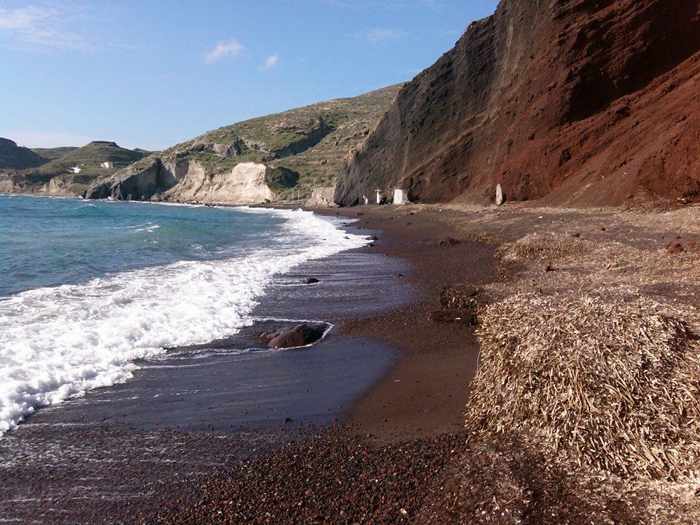 Image shared on Facebook by Burt Wise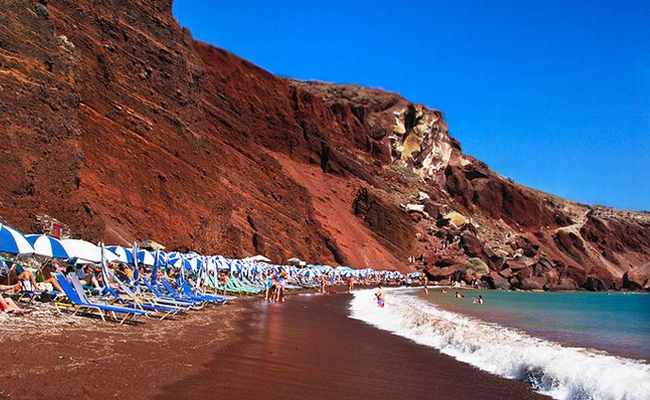 An image from the Greek Islands page on Facebook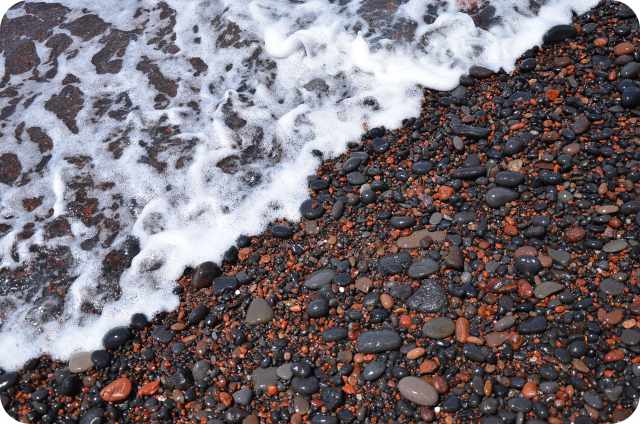 The surf meets red and black pebbles on Red Beach. This photo accompanied the article Greek-island hopping: Santorini Part II, published in June 2014 on the blog Jo the tart queen.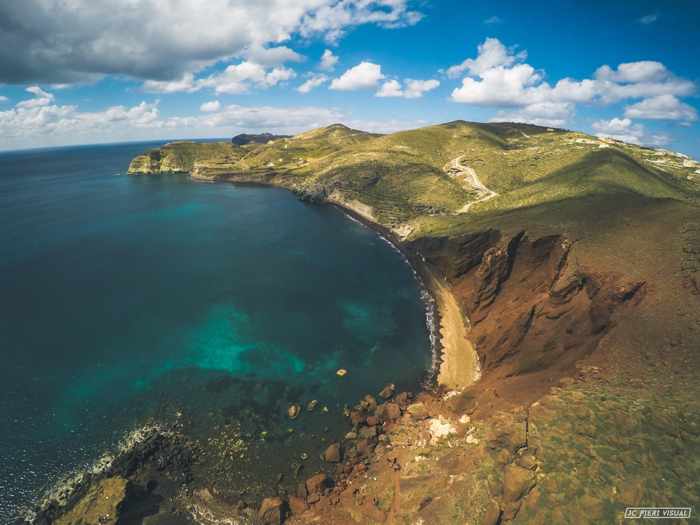 A drone view of Red Beach is seen this photo shared on the Facebook page for JC Pieri Visual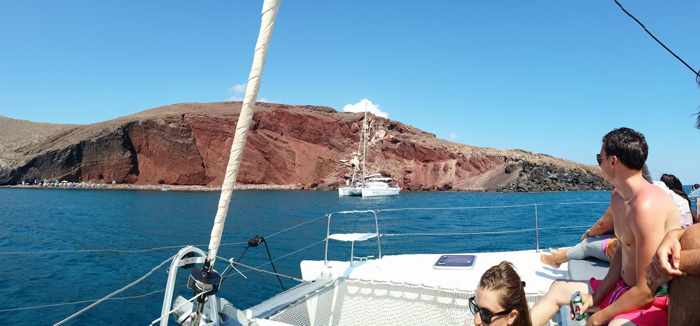 Image shared on Facebook by Joseph Bernstein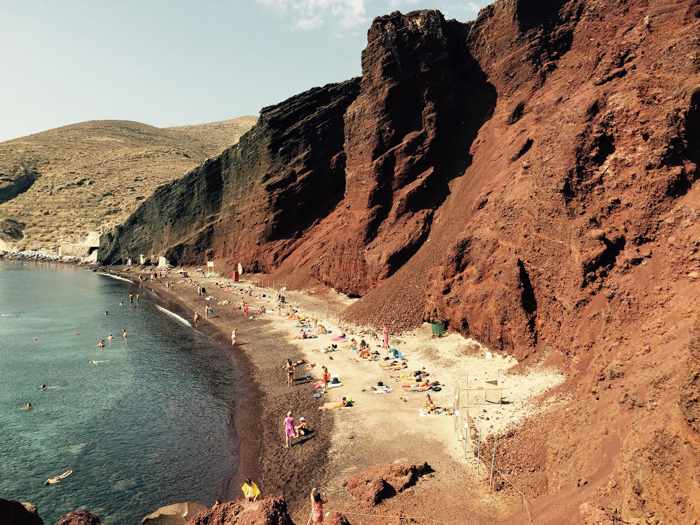 Image shared on Facebook by Juliana Motta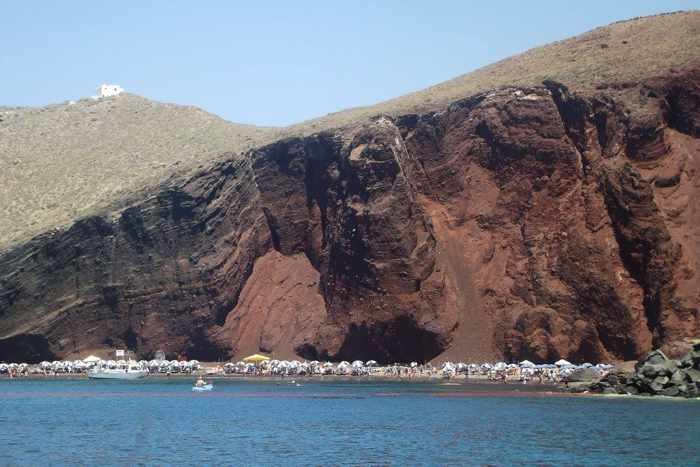 Image shared on Facebook by Gabriela Varga Matea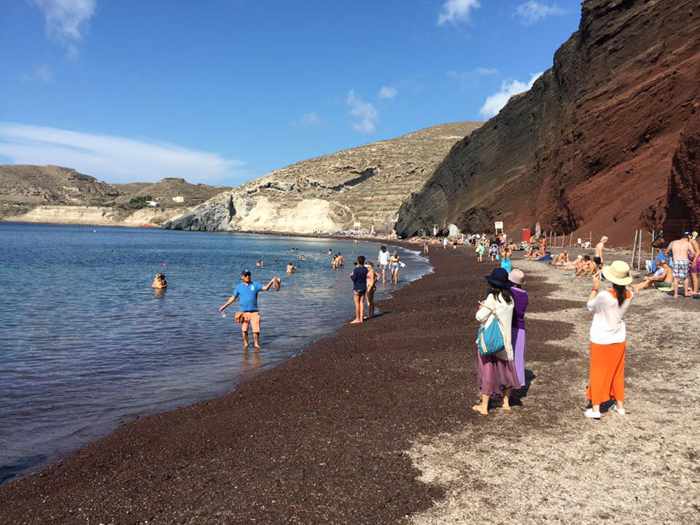 A Discover Santorini Facebook post from late September 2015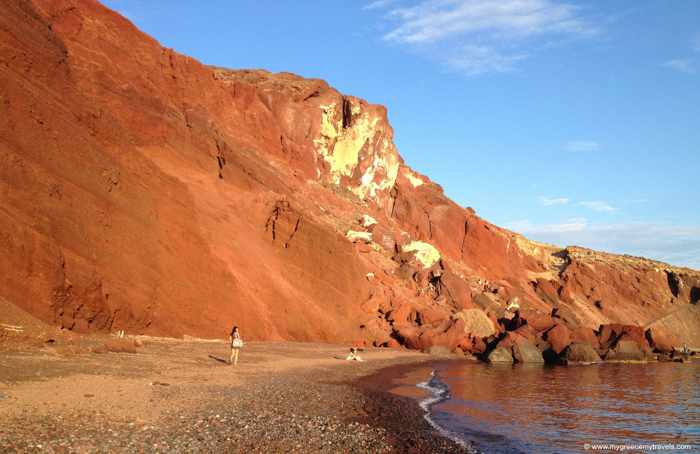 This photo accompanied the article Unique Santorini beaches on the excellent blog  My Greece My Travels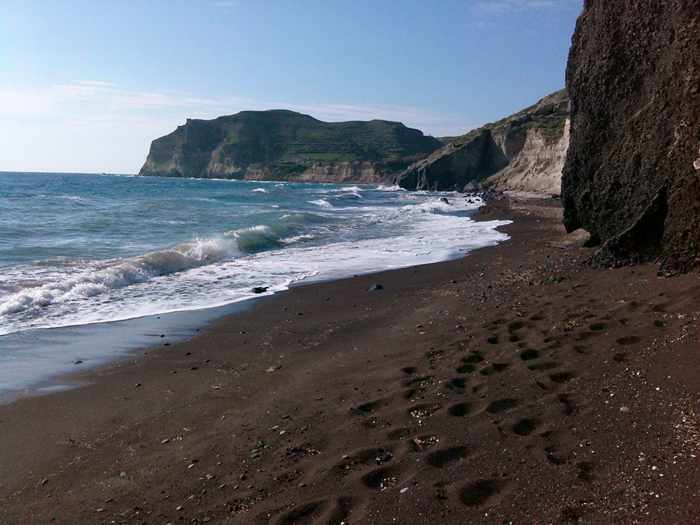 Image shared on Facebook by Burt Wise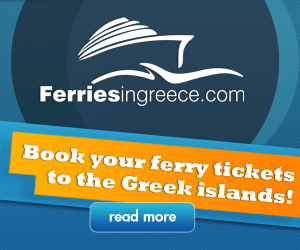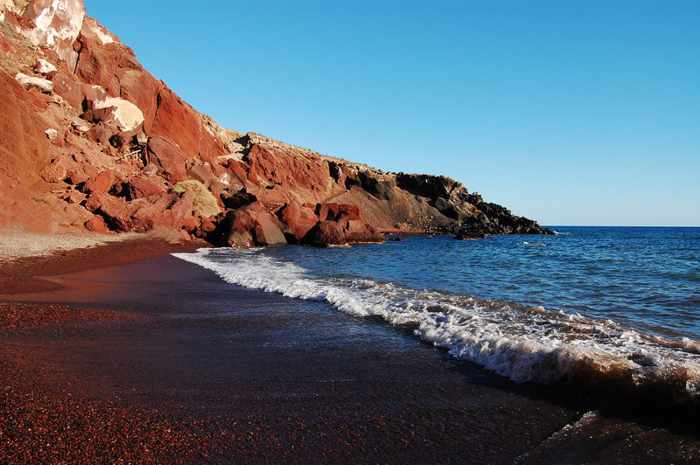 Image shared on Facebook by Onar Villas in Santorini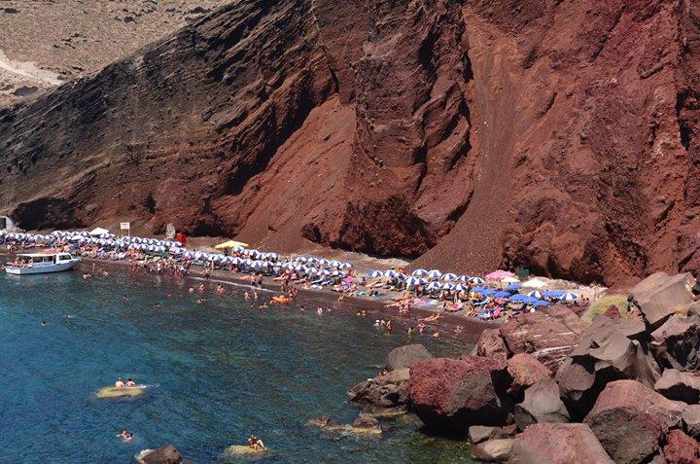 Image shared on Facebook by Nergiz Yilinm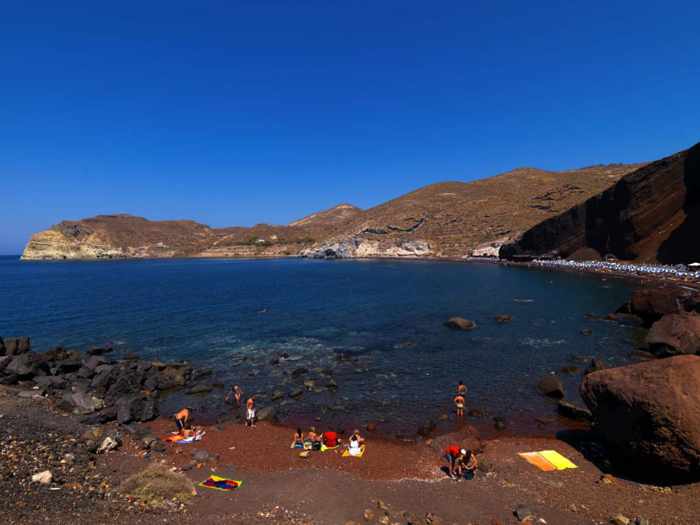 View toward Red Beach from a smaller strand farther along the coast. The image is from the Escape Greece travel website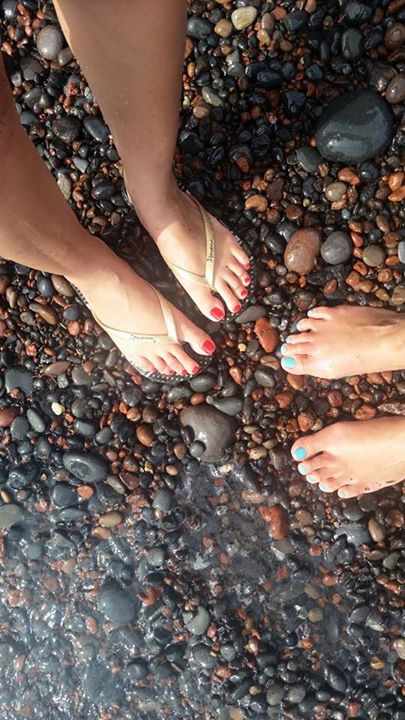 Image shared on Facebook by Katherine Victorino Sta Ana in May 2015.
Image shared on Facebook by Coke Infy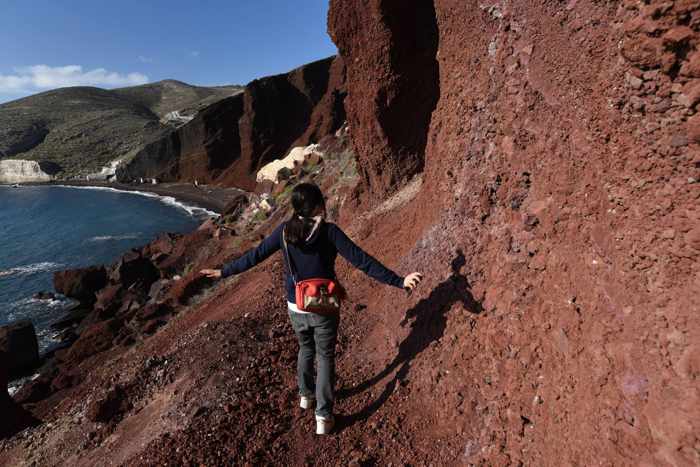 Image shared on Facebook by Oscar Or in March 2016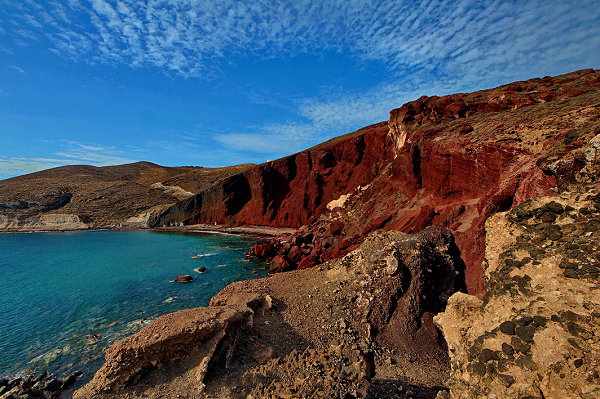 A colourful image from the website Geo Reisecommunity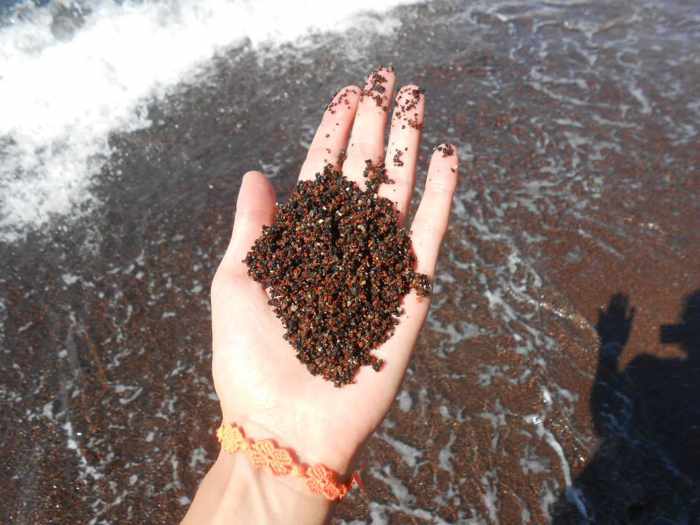 Image shared on Facebook by Sabrina Grilli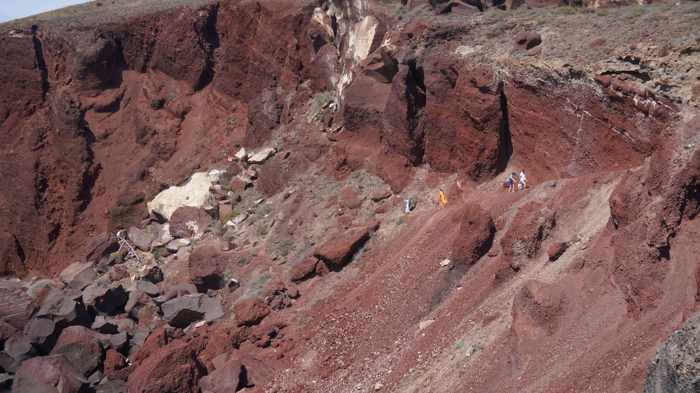 People walking the beach access trail can be seen in the center-right part of this photo shared on Facebook by Jane Costanzo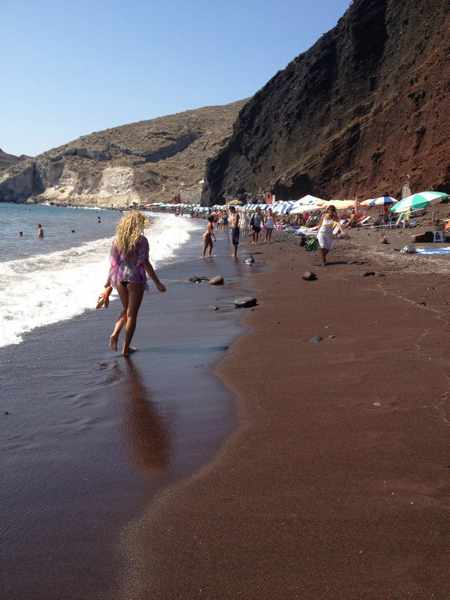 Image posted to Facebook by Milena Abramovic Mili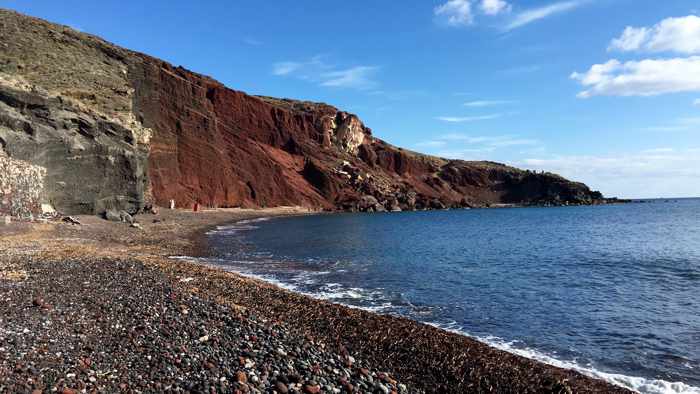 An image shared on Facebook by Alex Lim HS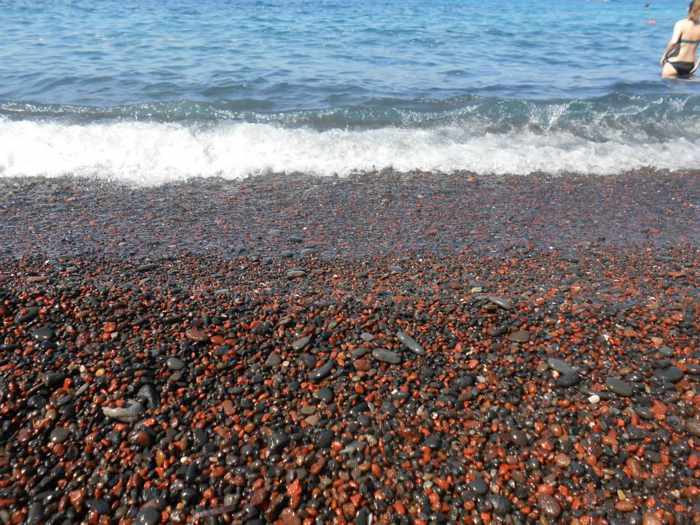 Image shared on Facebook by Sabrina Grilli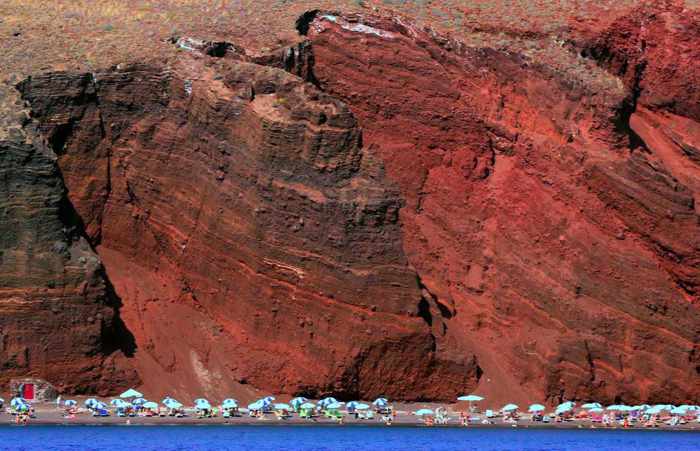 Image from the Travel to Santorini Facebook page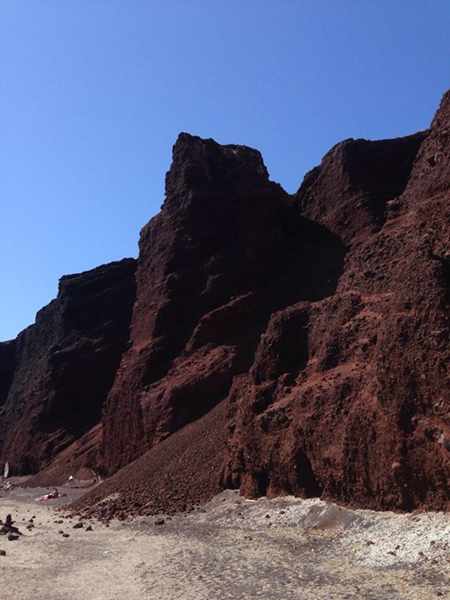 Image shared on Facebook by Jim Beaver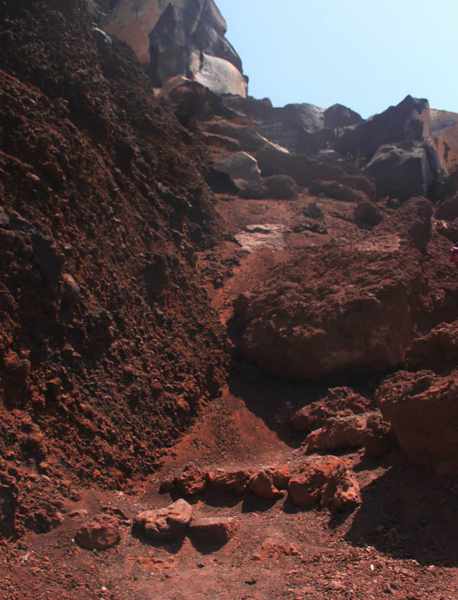 Image shared on Facebook by Giula Foroni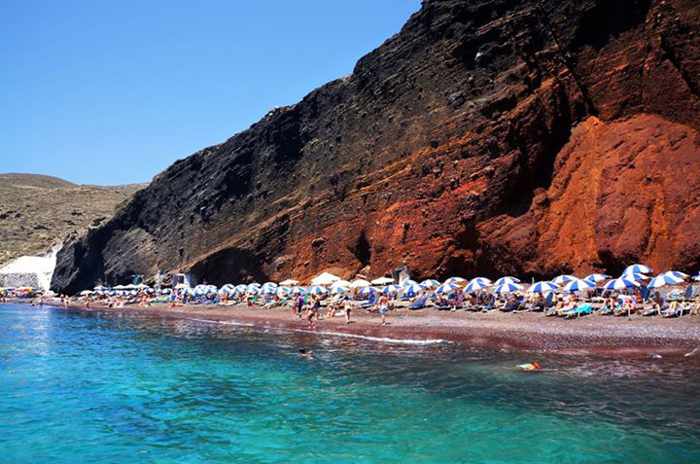 Image shared on Facebook by Travelmyth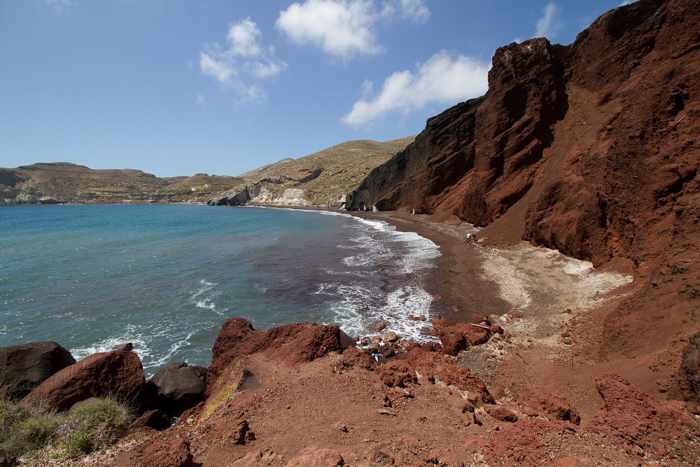 Image shared on Facebook by Tom Blackwell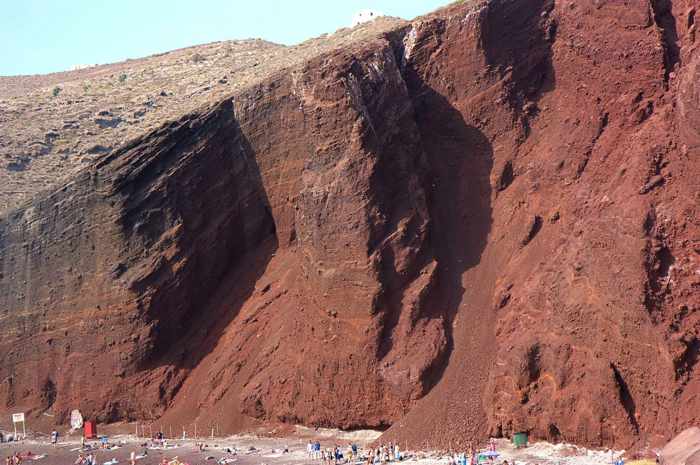 Image shared on Facebook by Dmitry Kirin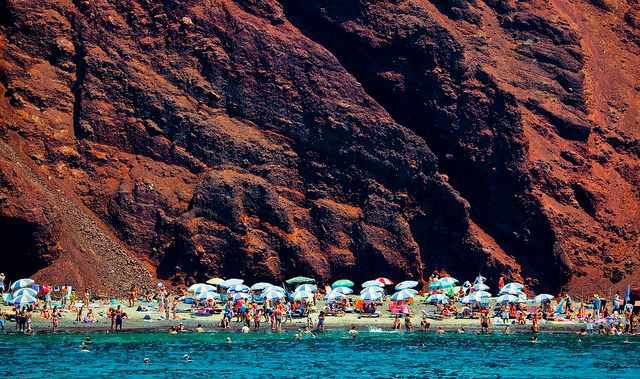 Image shared on Facebook by the Caldera Yachting sightseeing and luxury cruise tour company in Santorini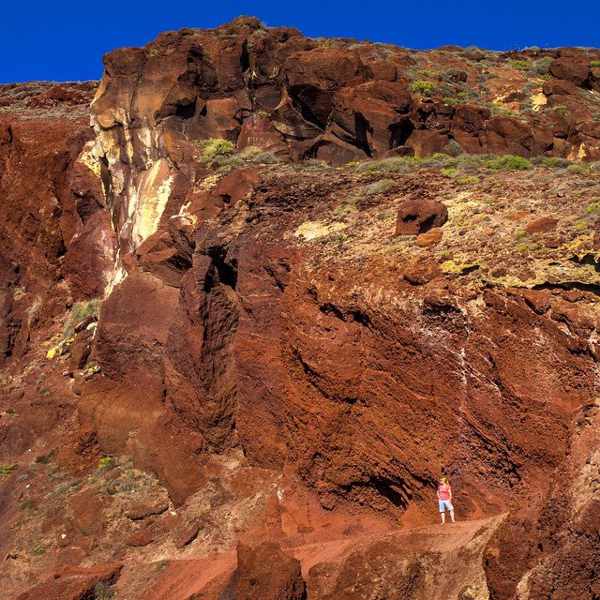 A woman stands on the Red Beach access path in an image shared on Facebook by The Planet D
Videos of Red Beach
This 7-minute video by YouTube contributor Alcides Scritor shows aerial drone views of Red Beach and the surrounding area
This is a 4-minute film by YouTube contributor Vic Stefanu
This clip by YouTube contribute light2tube actually is a photo slideshow featuring dozens of images of Red Beach