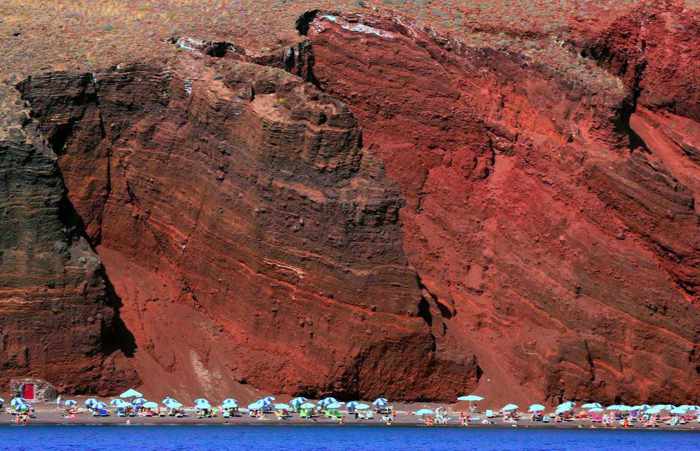 With its breathtaking backdrop of soaring crimson cliffs, many tourists regard Santorini's Red Beach as one of the top "must-see" attractions on the island. This image appeared on the Travel to Santorini page on Facebook.
Red Beach has officially been closed to the public since 2013 because of rockfall risks, but thousands of tourists ignore warning signs and visit regardless.  This photo, posted to Facebook by Hui Lin, shows a newlywed couple walking in the water at Red Beach on February 25 2018.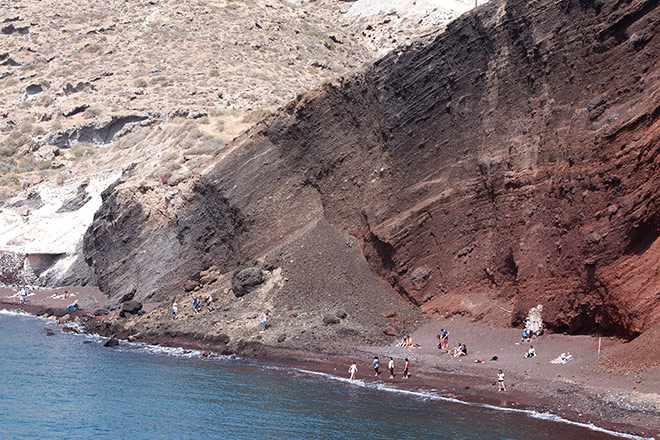 Luckily, no-one was injured when a landslide struck Red Beach on April 13 2018. This photo by Costas Konstantinidis shows the huge pile of sand and rock debris that slid onto the southern end of the beach.  The photo appeared in Greek news stories reporting on the latest rockfall.
Beautiful but dangerous:  "Attention! Danger of landslides. No entry."
That's the warning on signs posted along the access path to Santorini's world-famous Red Beach, but each year thousands of tourists have ventured down to the beach regardless, to sunbathe, swim and shoot those all-important "I was here" selfies.
Scores of people will probably visit Red Beach again this year, even though a landslide in mid-April confirmed there's an ever-present danger that sections of the tall crimson cliffs that tower above the beach could collapse on them at any time.
Widely considered to be one of the most beautiful and unusual beaches in the world, Red Beach resulted from the natural erosion of the cone of a small volcano. Comprised of loose layers of slag (volcanic cinder), the cone's steep southern slope developed large cracks and fissures during seismic and volcanic activity; eventually, sections of the slope crumbled and slid seaward, creating the dramatic cliffs that rise above the stone and pebble shore today.
The cliffs have been studied extensively by geologists and volcanologists from Greek universities and the Institute for the Study and Monitoring of the Santorini volcano, who concluded that further erosion cannot be stopped or prevented.  Since landslides are unpredictable and instantaneous, they urged island authorities to take steps to keep people from visiting Red Beach and potentially putting themselves in harm's way.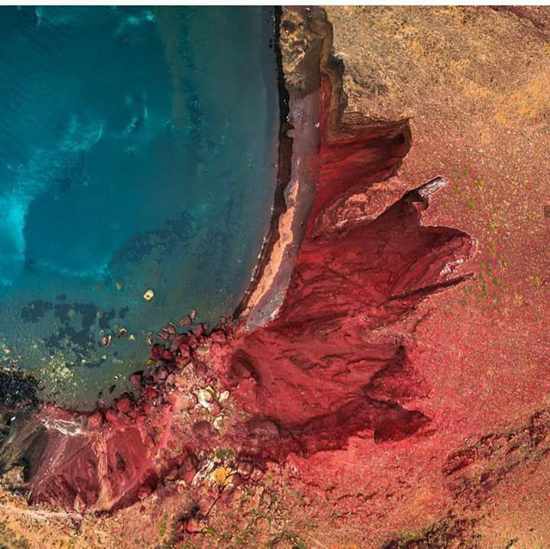 This aerial image shows how the slopes of a former volcano cone have caved in and crumbled onto Red Beach over time. The photograph has appeared on many social media sites, including the Akrotiri and Knossos community page on Facebook, but I haven't been able to find the original source to give proper credit for the image.
The island municipality did close Red Beach to the public after a major landslide occurred in August of 2013, but most tourists have simply walked past the "no entry" signs that were put up. It's possible many of the travellers weren't aware there have in fact been major rockfalls, or perhaps they have thought the risk of one occurring during their visit was so infinitesimal it wasn't worth worrying about. After all, if it was so dangerous, why would local and national travel and tourism businesses continue to recommend that people go there?
Valid point indeed, since some Santorini tour agencies offer boat trips to the beach, while a variety of island hotels and travel businesses regularly encourage visits to Red Beach in photos and comments posted on their social media accounts. Enterprising local residents also have set up rental lounge chairs and umbrellas on the beach, along with a snack canteen — apparently in blatant violation of local regulations. And Aegean Airlines recently raised some eyebrows when it featured Red Beach on the cover of its in-flight magazine for March & April 2018, and in several photographs accompanying its feature story "The hidden treasures of Santorini" (one of the pics showed a female fashion model posing in front of a debris pile from a small landslide).
Will anything change as a result of the most recent rockfall, which occurred on April 13?
According to reports posted on the Greek news and information websites Atlantea and LIFO,  among others, the latest landslide prompted island authorities to issue a press release reminding people that "access to the Red Beach is forbidden" — as it has been since 2013 — so the beach remains off-limits for sunbathing, swimming, walking and other activities.
"The area has been marked with warning signs, and it is urged by all those involved with tourism to respect these prohibitions in order to avoid accidents," the municipal press release is quoted as saying.
But since the "no entry" signs have been ignored for several years already, the municipality ultimately may have to consider installing physical barriers to ensure that people keep off the beach. As of this writing (on April 30 2018), tourists were still live-posting photos and reviews of Red Beach on their various social media pages, with some commenting that they noticed the hazard signs but went onto the beach anyway because they saw other people there.
If you're planning to visit Santorini but don't wish to risk a visit to Red Beach, you can instead view dozens of photos of it in my May 2016 blog post The bewitching but dangerous beauty of Santorini's Red Beach.
The cover photo for the March/April 2018 Aegean Airlines in-flight magazine shows a fashion model posing near rocks  at one end of Red Beach.  There are more shots of models on the beach in the magazine's photo feature on Santorini's natural "hidden miracles."