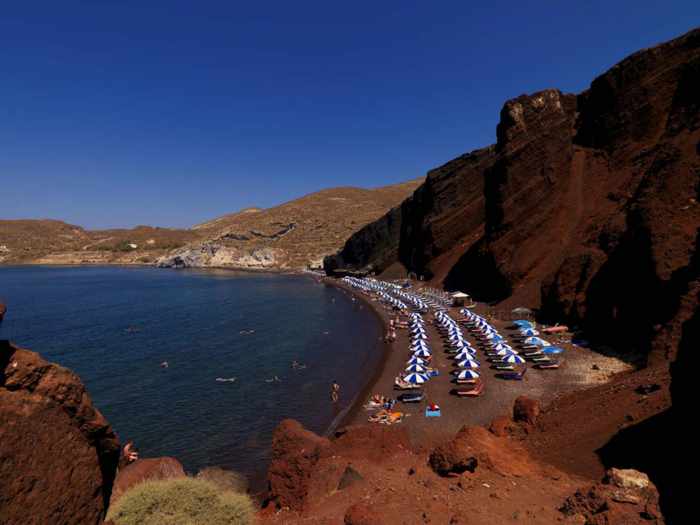 Santorini's Red Beach is seen in an image from EscapeGreece.com 
[Editor's Update: If you plan to visit Santorini in 2018, please beware that Red Beach is officially closed to the public. Click here to read about a landslide that occurred on Red Beach in April 2018 and led island authorities to re-issue warnings that the beach is off limits because it's too dangerous to visit.] 
Rockfall risk: Since Santorini enjoys a worldwide reputation for superlative natural scenery, it's not surprising that the island's remarkable Red Beach regularly garners glowing accolades from international travel publications and leading lifestyle websites — along with ample attention on social media, where thousands of people have posted selfies that they shot on and near the colourful coastal attraction.
During my routine online work and research, I frequently find articles in which travel magazines and websites declare Red Beach to be one of the world's "best," "most beautiful," "most unusual" or "most colourful" beaches, and recommend it as a "must-see" for anyone visiting Santorini.  Photos of the distinctive strand, which is also known as Red Sand Beach, appear even more often on websites and social media pages dedicated to travel in Greece, and in particular for hotels and tour companies operating on Santorini.
What the articles, posts and photo captions rarely mention, however, is that Red Beach is a veritably perilous place to sunbathe, swim or stroll. In recent years, there have been several significant rockfalls and landslides from the crimson-coloured bluffs that rise behind the narrow strip of scarlet-tinged pebbles and stones, and geological experts believe it's possible that more cliff sections could collapse onto the beach at any time. (There are anecdotal claims that two beachgoers were killed by a landslide a few years ago, but I couldn't find any news reports confirming the fatalities or date of the accident.)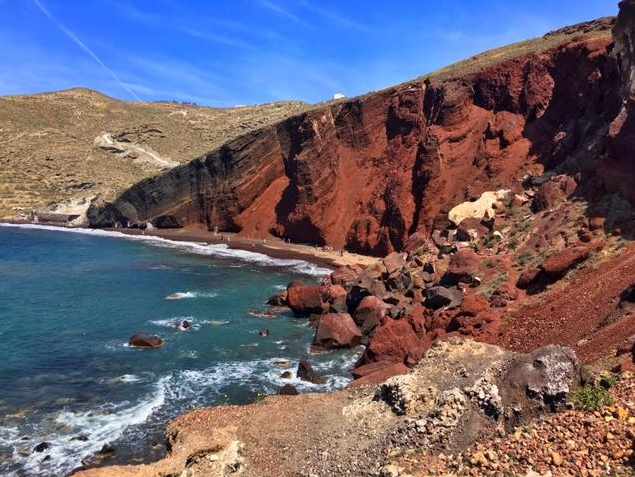 Red Beach is seen on a sunny April afternoon in a photo by TripAdvisor review contributor Chris B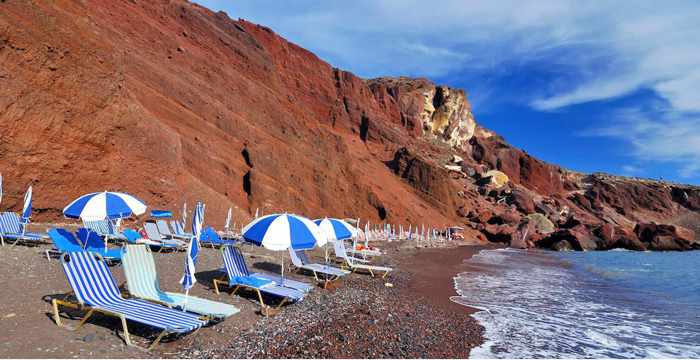 During peak season in past years, sunbeds have been available for rent, as seen in this photo from the Santorini Hotels Facebook page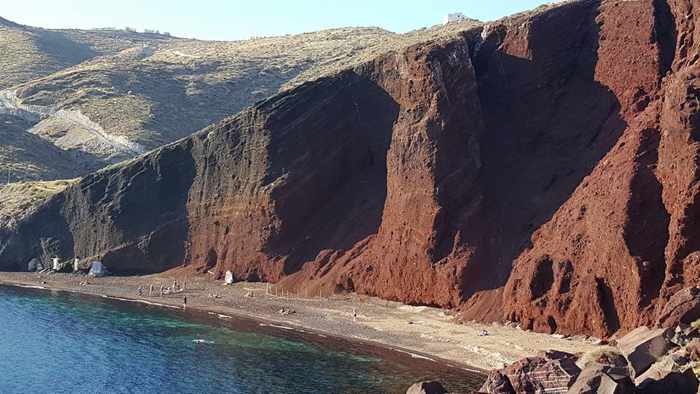 In April, Facebook member Cecil Ramirez captured this photo of the imposing red stone cliffs that tower above Red Beach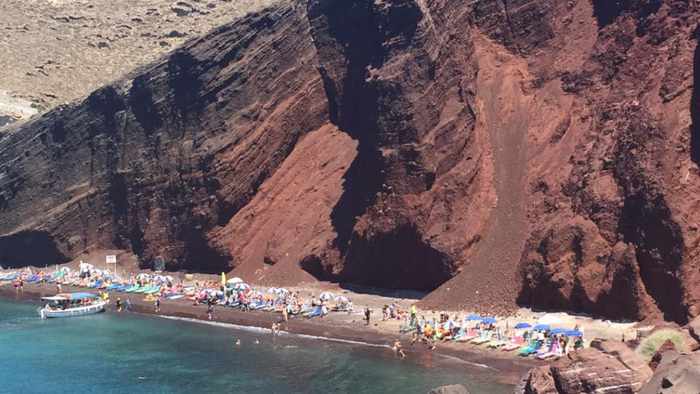 Major rockfalls have occurred at Red Beach several times in the past decade. Two of the larger landslides are clearly visible in this photo shared on Facebook by Daena K Nicholas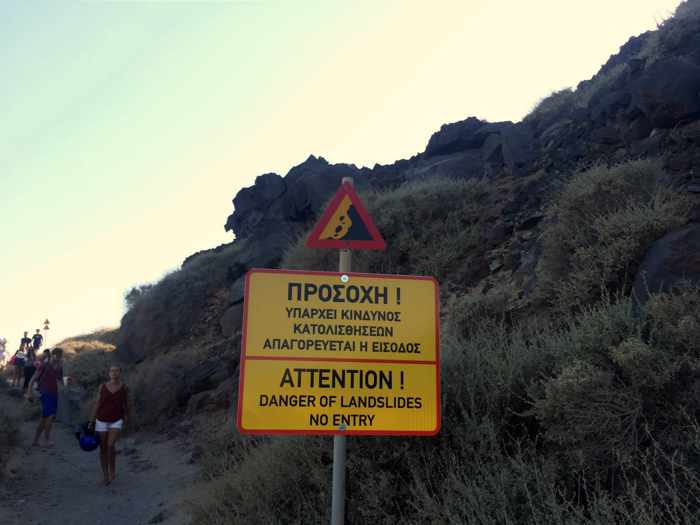 Red Beach has been "closed" since August 2013 because of fears more landslides could occur, and since stones and boulders loosen and plunge from the cliffs on occasion. But warning signs like this one, shown in a Facebook photo by Jc Male, have not deterred thousands of people from going to the beach.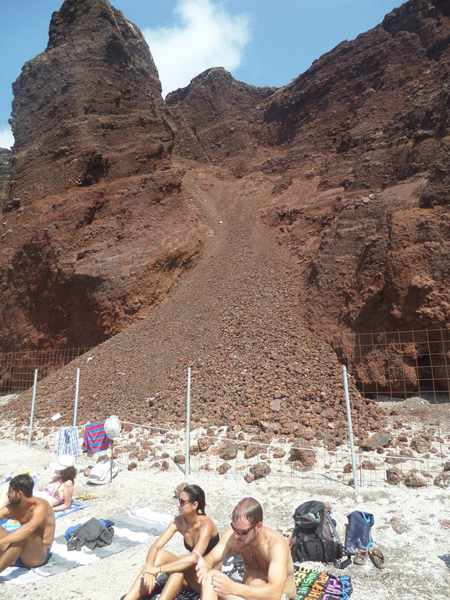 Sunbathers sit near the foot of one of the larger landslides, seen in a Facebook photo by Daniel Dias da Silva. Fences were installed to keep people from climbing the cliffs and landslip rubble because that could trigger further collapses of the rock face.

The safest way to see Red Beach is from the sea or from a distance on a hilltop vantage point like this one captured in a Facebook photo by Nikky Dudek
Please click on the link below to continue reading about Red Beach on page 2 of this post, where you can view videos and dozens more photos of this singular Santorini beach.
CONTINUED ON PAGE 2