~ continued from page 1~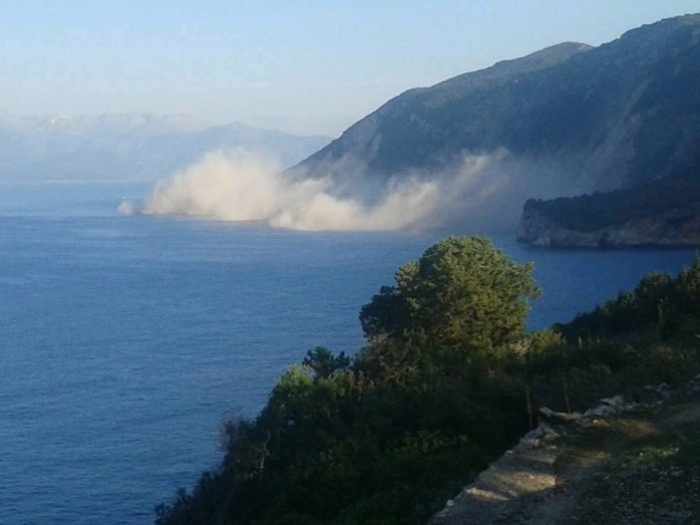 This image, which was widely reposted on the Internet following the November earthquake on Lefkada, apparently was shot by a photographer for MeteoNews. It shows dust clouds rising from landslides triggered by the tremors. The quake caused dozens of similar rockfalls along the island's cliff-lined coast.
This dramatic videoclip, posted to YouTube by My Lefkada, was filmed by fishermen at sea when the earthquake struck, setting off scores of landslides along Lefkada's coast
This clip, posted on YouTube by newsittv,  shows more than 3 minutes of landslide activity at Porto Katsiki beach during the earthquake
Egremni beach
Located on the west side of Lefkada approximately 30 km from the island's capital, Lefkada Town, Egremni is one of the most popular beach destinations in Greece — not surprisingly, since lifestyle websites and travel publications from around the globe frequently include Egremni in their profiles of the world's most beautiful beaches. 
Egremni is also one of the longest beaches on Lefkada — its whitish-brown strand of sand, pebble and shingle stretches for more than 2.5 km beneath rocky cliffs rising as high as 150 meters above the sea, which is itself remarkable for its striking cerulean hues.
Broad sections of those spectacular cliffs shook loose during the earthquake and crumbled into large heaps, dividing what was once a long ribbon of beach into several shorter and narrower segments. Thank goodness the quake struck in off season — I can only imagine how catastrophic the tremor would have been during summer with hundreds of people on the beach.
Photos and videos of Egremni before the earthquake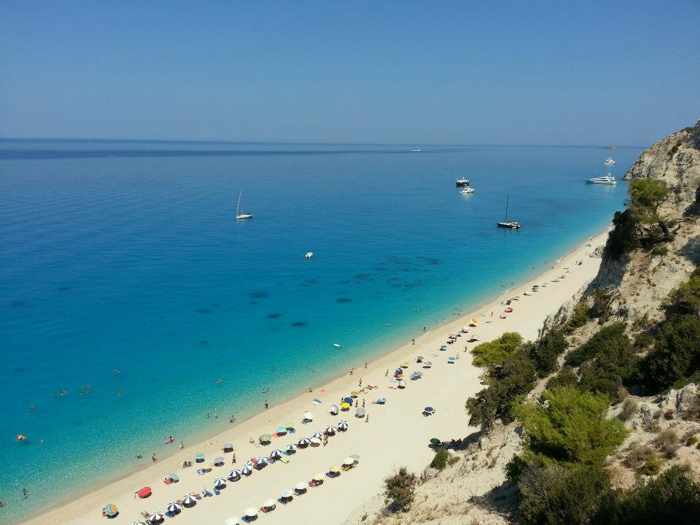 A clifftop view of Egremni (photo from the Lefkada-Travel Facebook page)

Colourful umbrellas on Egremni  (photo from the Lefkada Travel website)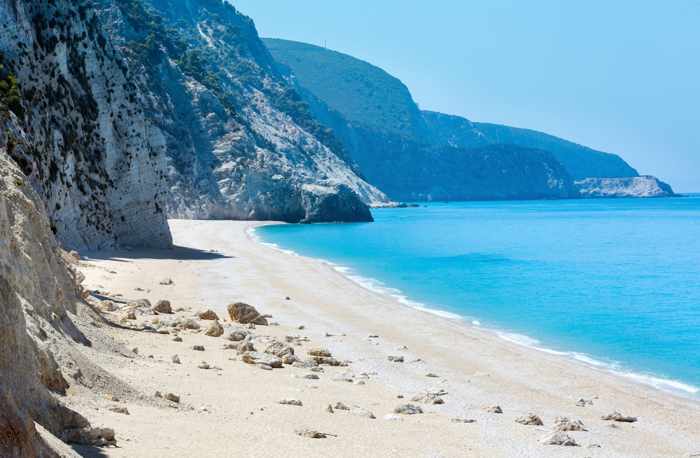 View to the left end of Egemni beach (photo  from the Fantasy Travel of Greece vacation planning website) 
 Jan Ryšavý shot this clip of Egremni in September 2011
Photo and video views of landslide damage to Egremni beach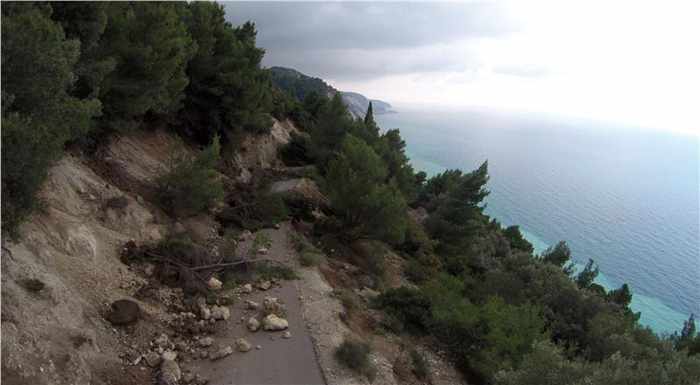 Aerial view of landslide debris on a mountain road near Egremni beach. The image was shot by Antonis Nikolopoulos for the Eurokinissi news agency. Additional pictures of the damage to the mountainside and beach can be viewed in a photo report on the Greek news website in.gr. All of the aerial photos below were taken by Antonis Nikolopoulos for Eurokinissi.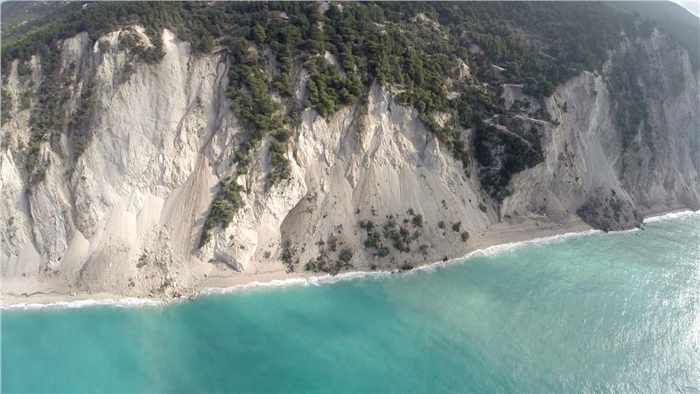 Enormous heaps of sand and soil  buried long sections of Egremni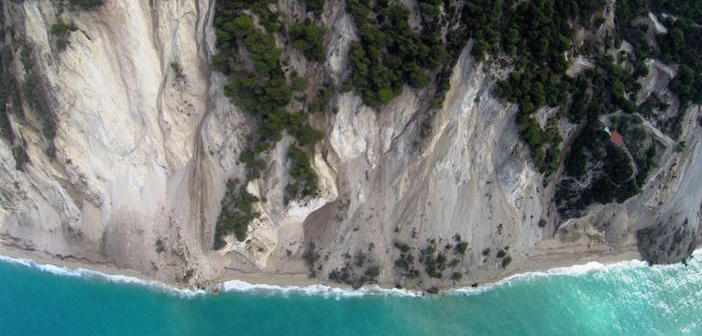 From this perspective directly overhead, only small slivers of Egremni beach appear unravaged by the landslides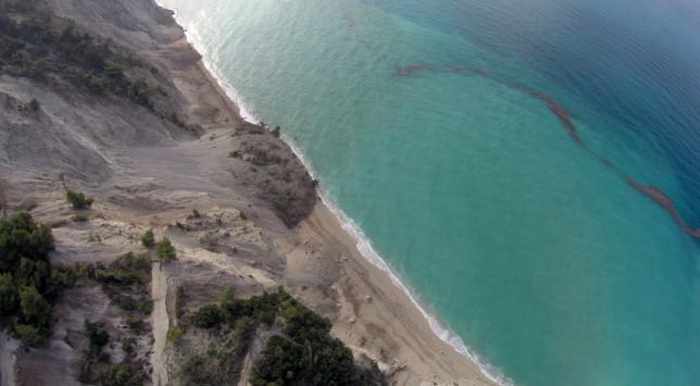 Overhead view of one large landslip zone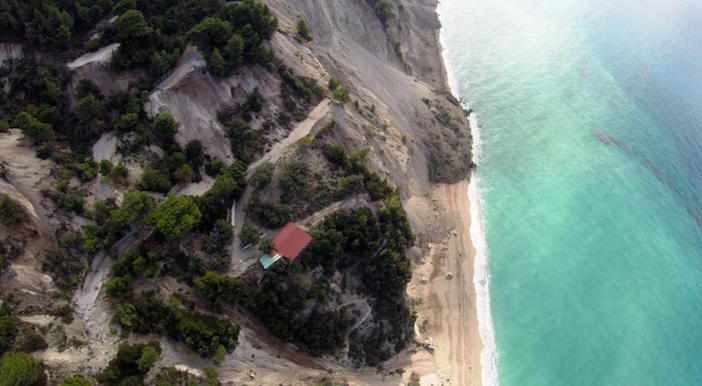 One lengthy stretch of beach appears to have escaped rockfall damage
This 3-minute YouTube video by My Lefkada shows landslide damage to the beach, as viewed from a boat off the coast
This clip, posted to YouTube by n.p. photography, shows aerial views of the landslide damage to the beach and surrounding cliffs.
Porto Katsiki beach
Situated about 40 km southwest of Lefkada Town, Porto Katsiki is a crescent-shaped golden sand beach nestled against imposing tall cliffs. Like Egremni, Porto Katsiki is frequently named as one of the most attractive beaches in Europe.
Although landslides left several sections of the beach covered with tons of sand and rock, and destroyed parts of an access walkway to the strand, a November 23 report on the LiFO news site quoted a geological engineering expert, George Papathanasiou,  as saying that nature should help restore the beach over the course of the next several months.
"The sea will do its job in winter and restore the landscape, as it has done for thousands of years. These processes are made continuously. The next summer the beaches are as we know them, perhaps with some rocks," he told Greek media.
And a November 24 report on the My Lefkada website quotes University of Athens professor Efthimios Lekkas as saying "With the passage of the first bad weather, the waves and the rain will start to build up the scenery and the beach will regain its previous form."
Good news indeed, but I can't help but wonder if the quake loosened more cliff areas that could pose rockfall hazards to beachgoers during next year's travel season.  But I'm sure the Lefkada authorities won't re-open the beach to tourists until it has been inspected and assessed for this risk.
Photos and video of Porto Katsiki before the earthquake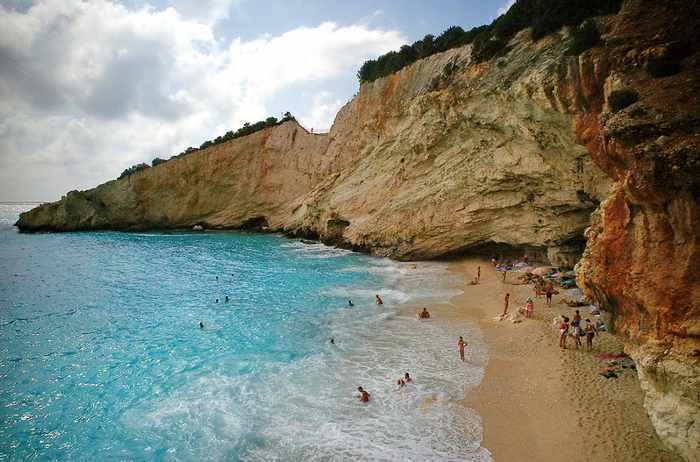 Flickr member Out to Lunch captured this striking view of the far right-hand side of Porto Katsiki beach in the summer of 2014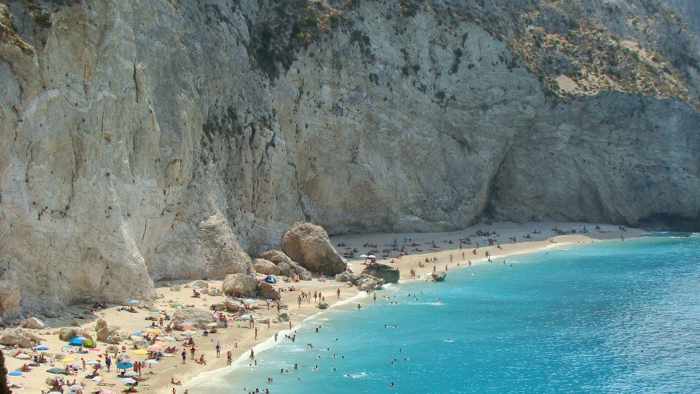 A great shot of the Porto Katsiki cliffs, sand and sea from the Lefkada-Travel Facebook page
From the Romanian travel website Blog de Calatorii, a view of Porto Katsiki beach from a breathtaking clifftop vantage point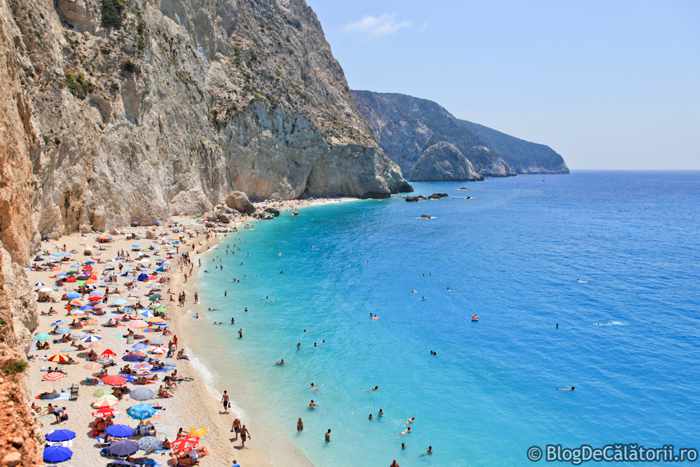 Another Porto Katsiki photo from Blog de Calatorii
This video by Peter Petrov, posted to YouTube in July, shows aerial views of the incredible coast and seascape at Porto Katsiki and
Photos of landslide damage to Porto Katsiki beach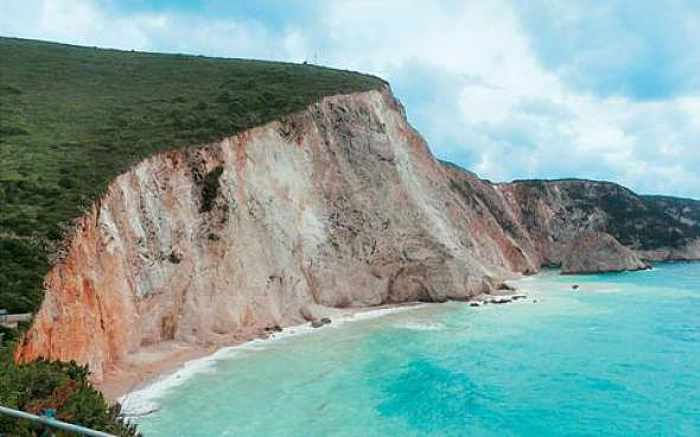 This photograph, from a news story on the Greek website LiFO, shows Porto Katsiki after the November 2015 earthquake. Landslides loosened tons of sand and soil which have covered large swaths of the popular beach.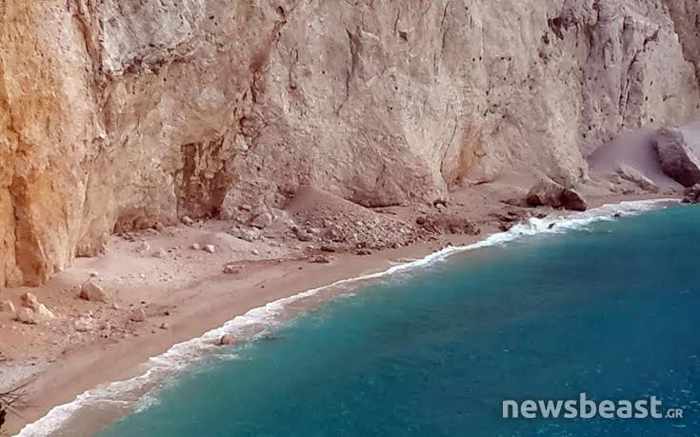 Rockfall debris on Porto Katsiki beach is seen in this photo provided to newsbeast.gr by University of Athens professor Efthimios Lekkas, who also is President of the Earthquake Planning and Protection Organisation (EPPO)
Videos of beautiful sights and scenery on Lefkada island
Don't let the reports and images of damage to the two beaches discourage you from planning a trip to Lefkada. If the experts are correct, tourists might be able to enjoy parts of Porto Katsiki and perhaps even Egremni next summer. But even if their predictions are off, and the two strands remain off-limits for some time, there are still many more beautiful beaches for visitors to see. Plus there's a wealth of other places, and equally stunning scenery, to be found throughout the island, as the videos below demonstrate.
This video by Dragan Trifunovic Helivideo was shared on YouTube in July. It includes splendid overhead views of Porto Katsiki and Egremni, as well as Kathismas beach and Vasiliki beach, and other parts of Lefkada.
Rafal Mirocha posted this clip on Vimeo earlier this year, showing landscape, seaside and village scenes he encountered during a 2-week trip to Lefkada
This excellent 8-minute clip from the Robert Polasek video channel on YouTube shows an extensive variety of scenes from more than three dozen different locations on Lefkada.