From high above, Lefkada's Gialos beach looks just as beautiful as it did before a 6.1-strength earthquake struck the island last November …
… and it appears essentially unscathed when viewed from sea level right on its long  stretch of coarse brown sand and pebbles …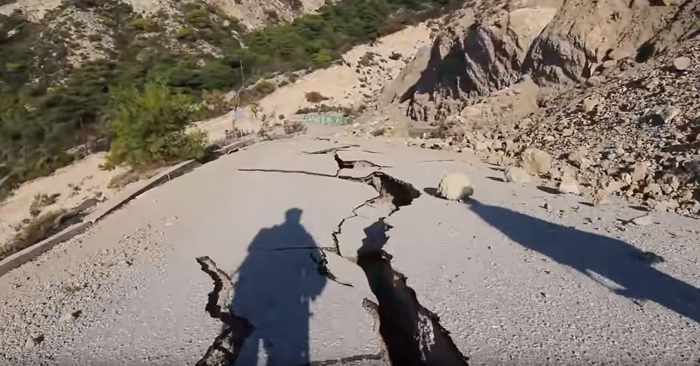 … but it's a different story for the 3 km road that leads to the beach from Athani village. The earthquake shifted the ground and cut jagged deep fissures along many stretches of asphalt …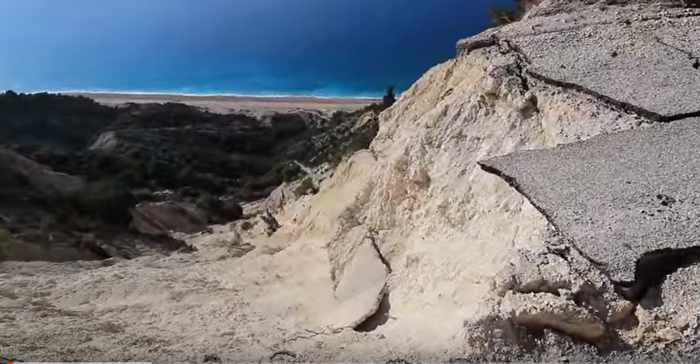 … while landslides triggered by the tremors caused hills on both sides of the road to collapse, carrying away entire sections of pavement ….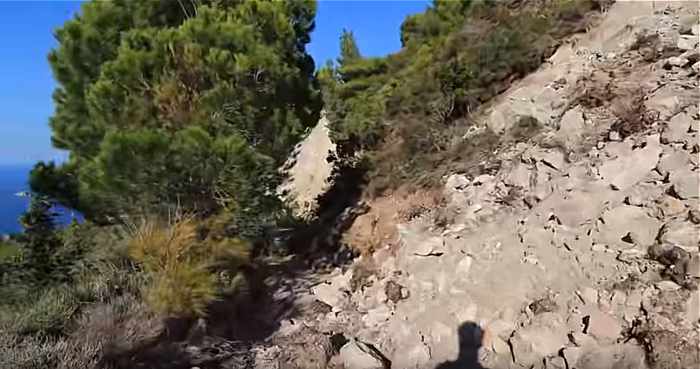 … and completely burying parts of the route under thick heaps of earth, rock, trees, shrubs and other debris. (All of the above photos are screen captures from a video by YouTube member TeaTimeCreations, who recently filmed the quake and landslide damage while walking down the road to see the beach. ) 
Road wreck: If you hope to visit Gialos beach during your holiday on Lefkada this summer, don't expect to get there by driving — much of the access road from Athani village has been extensively damaged and some parts completely destroyed by the earthquake that triggered massive landslides on the island last November. Unfortunately, repairs and reconstruction will be an enormously expensive and time-consuming project that can't possibly be completed in time for this year's tourist season.
The good news is that the beautiful beach itself — apparently the longest strand on Lefkada — was unscathed by rockfalls and tremors, and is still accessible by boat.
As I reported in my November 28 2015 post Two of Lefkada's top beaches buried by landslides during November 17 earthquake,  the island's world-famous Egremni and Porto Katsiki beaches were devastated by the November quake and landslides, which left large swaths of both strands buried under tonnes of earth, rocks, trees and other debris. At the time I prepared that post, I didn't see any reports about damage to Gialos which, while beautiful, is not as popular and heavily-visited as Egemni and Porto Katsiki.
This week, the fate of Gialos and other beaches (and their respective access roads) has been the subject of discussion in Lefkada beaches after the earthquake, a question-and-answer thread in the Lefkada forum on TripAdvisor.com.
Please click on the link below to continue reading on page 2 of this post, where you can see additional photos and view the TeaTimeCreations video showing the extensive damage to the Gialos beach access road.
CONTINUED ON PAGE 2