~ continued from page 1 ~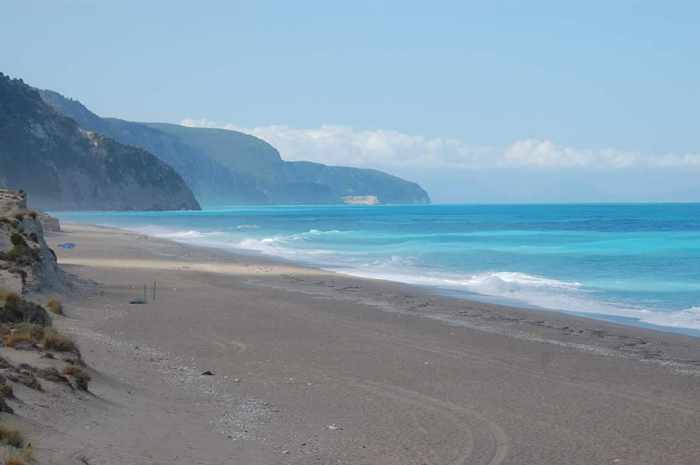 Gialos beach is seen in a photo Visit Lefkada shared on Facebook last November, less than 2 weeks before a major earthquake rattled the island …
… and this is how Gialos beach looks this winter. The image is a screen capture from the video Lefkada: a day on Gialos Βeach after the November earthquake, which was published February 8 on YouTube. You can watch the film below.
In an information update gathered from local sources, TripAdvisor's Lefkada destination expert Kyklamina said: "The road to Porto Katsiki is expected to be open by the spring. But the roads to Gialos and Egremni have major problems and it is very unlikely that they will be open this year. The beaches are still there, but can only be accessed by sea."
Kyklamina provided a link to the TeaTimeCreations video Lefkada: a day on Gialos Βeach after the November earthquake, which I have posted below. It is the video from which I obtained the screen captures that I posted above and on page 1 of this article.
Referring to the video, Kyklamina noted: "As you'll see, it's not a question of repairing the road, it's more like building a completely new road on extremely unstable ground. This will be very expensive, and even if they can find the money, it will take a long time. So I think we can forget about Gialos beach for this summer."
It's still too risky to walk the road to the beach
Although the video of the access road damage was filmed by two people who walked down it all the way to the beach, Kyklamina cautioned that other visitors should not attempt to make the same trek themselves — it's simply too dangerous.
"I would not advise anyone to try it at the moment. As you can see from the video, the hillside is very unstable and loose in places. Minor earth tremors are still happening quite frequently, and every time this happens, some more stones and sandy soil will fall onto the road, and possibly larger rocks and trees. After heavy rain, further landslips are even more likely. So if anyone does decide to walk down, it is at their own risk, and they should be aware that the risk is very real. Even if nothing serious happened, you'd be walking on loose and uneven ground so there's always a risk of injury. And if you did get stuck, you'd be on your own, there wouldn't be a lot of cars or hikers passing by who could help you!" Kyklamina pointed out.
Instead of exposing themselves to that kind of danger, visitors should consider travelling to Gialos by boat or going to one of the many other amazing Lefkada beaches instead. (See the TripAdvisor forum thread for Kyklamina's recommendations about other beach options.)
Below is a 5.5-minute video showing what the Gialos beach road used to look like. Right after that is the 4.5-minute TeaTimeCreations video revealing the massive damage caused by the quake and rockslides. The final 50 seconds of that clip was filmed on the beach, and offers some stunning views across the sand and sea, culminating with a spectacular sunset.
This video, posted on YouTube by Claus Krogsgaard in June 2014, shows what the Gialos beach road used to look like. 
This video, published February 8 2016 by TeaTimeCreations, shows the extensive earthquake and landslide damage to the Gialos beach access road.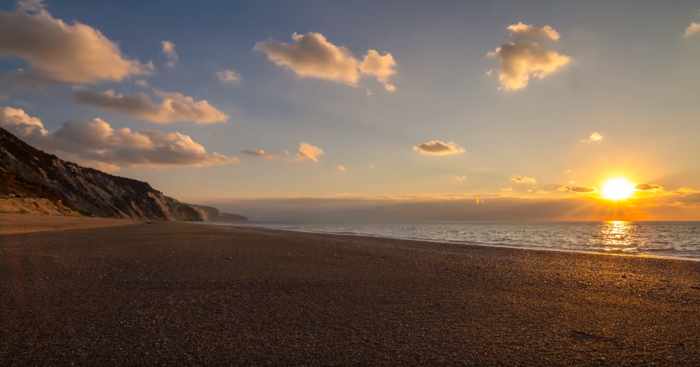 Another screen capture from the TeaTimeCreations video, this one showing the gorgeous winter sunset view from Gialos beach