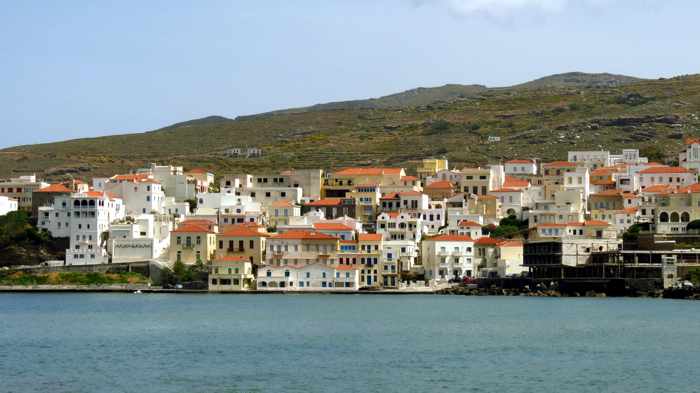 Red-roofed buildings on the northeast side of Andros Town
Eye & camera candy:  If you enjoy exploring Greek island towns, either simply to stroll around and just see what's there, to learn more about the destination's history, or to discover interesting subjects for photography, painting or other artistic hobbies, you won't be disappointed with Andros Town. 
During our Andros visit this spring, we spent three days at Chora (the Greek name for the island's main town) and wandered its streets, lanes, and seaside areas several times. The town has many familiar features and amenities we enjoy seeing and photographing on other Greek islands — outdoor bars and cafes, public squares, picturesque churches and chapels,  impressive local architecture, and cats aplenty — but it also boasts its own special landmarks and historic sites, plus distinctive natural surroundings of seasides, beaches, bays and mountains.
Unfortunately, jet lag kept us from exploring Andros Town as thoroughly as we would have liked. Though we did view a lot of interesting sights and scenery, when it came time to move to a beach resort area on the south side of the island, we realized there had been much, much more we didn't get to see. But that just means there will be plenty of new things to experience the next time we visit Chora. 
Page 2 of this post features photo slideshows of some of the sights we saw during our various walkabouts. Click here or on the link below to access the photos.
You can view full-size versions of all of the pictures, along with hundreds more, in our Andros Town album on the mygreecetravelblog Flickr page.
CONTINUED ON PAGE 2