Enjoy aerial views of the island's wonderful coastal, mountain, valley and village scenery in the film Skyros 2018 by Skylens (above),  in Skyros – Cinematic Travel Video in 4K by Andre Eckhardt Films (center), and in Skyros – Greece by TreeZone (below) 
~ Editor's note: This article was updated on September 27 2018 with the addition of the Skyros 2018 video, and on October 2 2019 with the addition of the Skyros Cinematic Travel Video posted above ~
Real deal: Want to visit an authentic Greek island that isn't a mainstream tourist magnet like Mykonos, Rhodes, Santorini, or even its nearby neighbour, Skiathos? Then have a look at Skyros, the southernmost and largest island in the Sporades archipelago. Skyros has everything you would want and expect from a great Greek island holiday destination — impressive landscapes and coastal scenery, inviting beaches, picturesque villages, historic sites, good food, and age-old local traditions — without the massive crowds and commerciality of other islands that have become household names around the world.
Though it is becoming increasingly popular with visitors from around the world, and has an international airport that receives direct charter flights from several European cities during July and August, Skyros is a relatively low-profile destination that isn't even on the radar for most tourists planning vacations in the Greek islands.
In fact, there were only 3 question-and-answer threads posted on TripAdvisor's Skyros travel forum in all of 2015, and just 10 in total since 2010. The Skiathos forum, by comparison, had  more than 6,100 conversation threads as of mid-May 2016.
With so much going for the island, It's rather surprising that Skyros doesn't get more attention from travellers — especially considering that it gets good press whenever it's mentioned in social and regular media.
For instance, Skyros was cited as the best destination for alternative travel and holistic holidays in The Telegraph's January 2016 feature The 19 best Greek islands, and was included in a piece the Independent published about Holidays for single travellers. Also in January, The Irish Examiner published A letter from paradise on the Greek island of Skyros, a journalist's account of her writing holiday. And in 2015, Thomas Cook Airlines named Skyros as best destination for "healthy lifestyle holidays" in its profile of Greece's top 10 islands.
Perhaps it's a good thing Skyros hasn't become hugely popular — that means it will remain a unique and special place to charm and delight those travellers who do venture off the main tourist paths to pay it a visit. (And that's one of the chief reasons why Skyros is on my bucket list of islands to see.)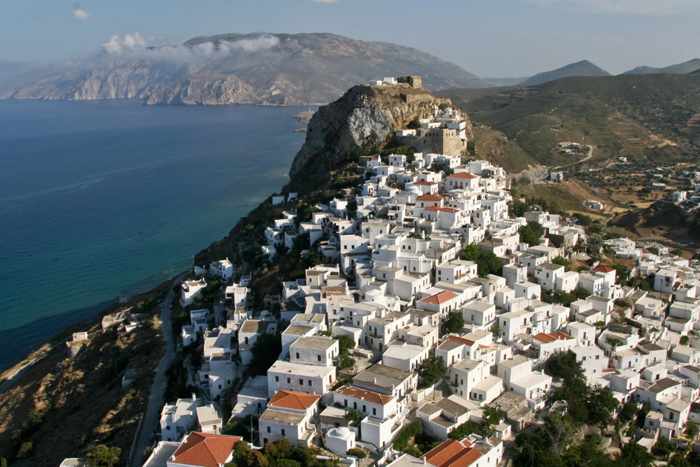 Built on the steep slopes of a craggy peak topped by a Byzantine fortress and a  monastery, Chora village is a striking sight on Skyros (Photo from the Municipality of Skyros travel guide)
Please continue reading on page 2, where you'll find more pictures and videos along with links to more than a dozen different websites with Skyros travel information and photos.
CONTINUED ON PAGE 2