~ continued from page 1~
Lampros Del Rouki created this timelapse video from 6,831 images of beautiful scenes on Skyros
Where is Skyros?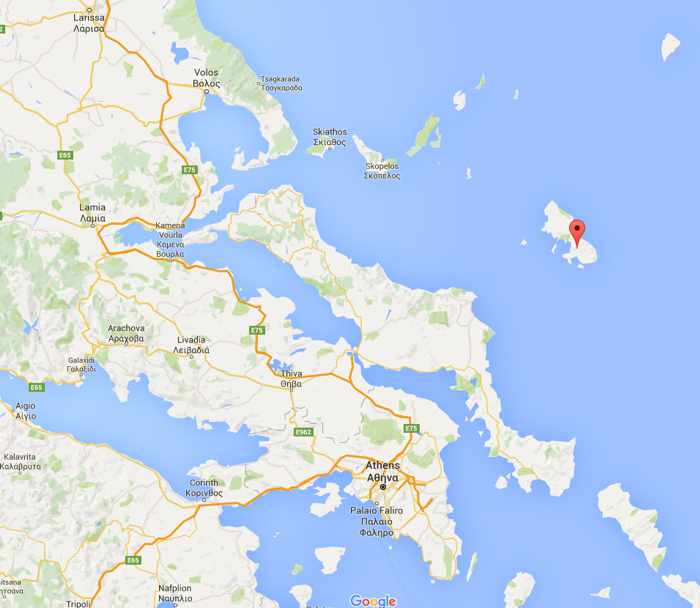 The red marker on this map shows Skyros's location southeast of Skiathos and Skopelos (top), the two better-known islands in the Sporades
What's special about Skyros?
Some noteworthy features that distinguish Skyros from other Greek islands include:
♦  Its geography and natural attractions
Skyros is almost like two completely different islands joined at the hip — its northern half, where most residents live, is characterized by its abundant greenery, pine forests and farmlands, while the southern section is predominantly rugged, barren, and dry, apart from wetlands on its Aris Plateau and Artemisi Plateau. The south also is home to the island's tallest mountain, Kochylas, which rises 792 meters.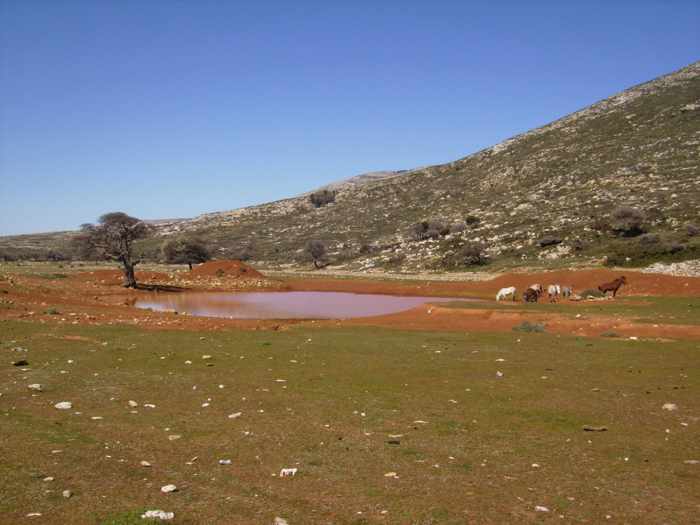 A wetland on the Aris Plateau, seen in an image from the website for Skyros Life, a conservation project for the island's biodiversity
Much of the southern half of Skyros, including Mount Kochylas, is blessed with rich biodiversity and has been been designated as part of the European Union's Natura 2000 network of protected nature areas. Kochylas is a nesting area for Eleonora falcons, while a variety of protected sea birds, lizards and endemic plants thrive in the zone. Several wetlands on Skyros are stopover resting points for numerous migratory birds. Skyros is a finalist for the 2016 European Natura 2000 Citizens' Award, the winner of which will be announced on May 23 in Brussels.
A popular attraction along the scenic eastern coast of Skyros is a series of sea caves, a few of which are large enough for small boats to enter and some of which have stalactities that sparkles in light reflected off the water. In October 2015, the website Cultour — Cultural Tour in Greece ranked  two of the spectacular caverns — Pentekali and Diatripti — in its list of The Top 10 sea caves in Greece.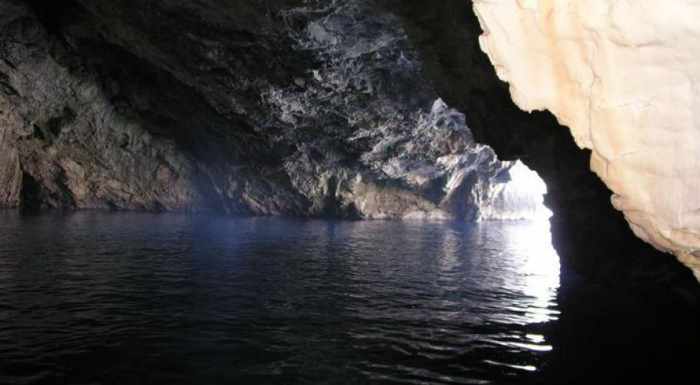 One of the famous sea caves, seen in a photo from the Municipality of Skyros website. Entrances to some of the caves, such as Diatripti, are large enough for small boats to enter …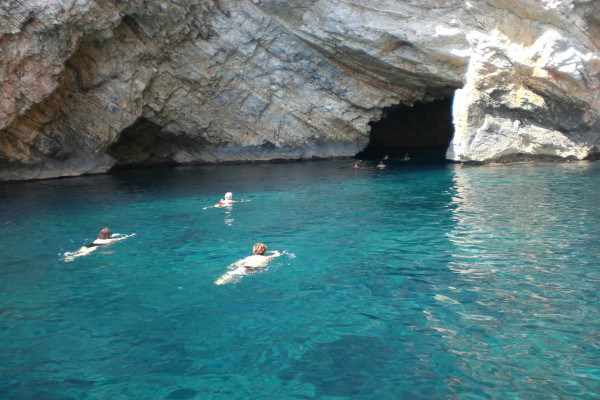 …. while others, like Pentekali, have smaller entrances accessible only to swimmers, as this photo from cultour.gr shows
And what really sets Skyros apart from anywhere else in Greece, or anywhere else in the world, for that matter, is the island's most famous natural attraction — the Skyrian horse, a rare breed found nowhere else on the planet. The unique pony-sized horses grow to a height of around 90 to 110 centimeters (35 to 43 inches), and roam wild on the Aris plateau. A number of conservation programs, including the Skyros Island Horse Trust and the  Mouries Farm, are working to protect the species.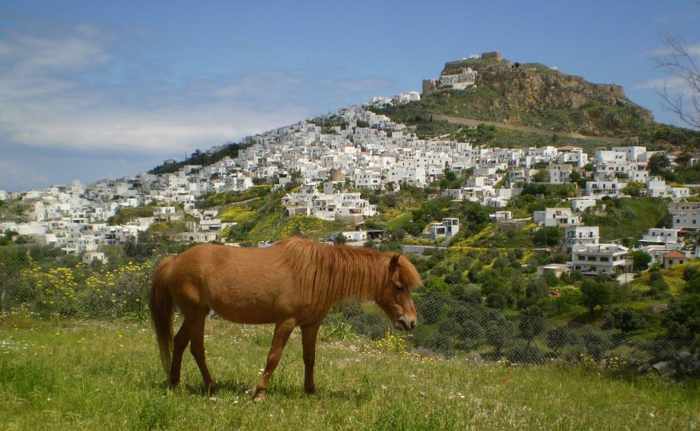 This image of one of the rare Skyrian ponies is from an online visitor guide published by the Municipality of Skyros
Of Gods and Kings: The Skyrian Horse is a short documentary film about the Skyrian horses. It was shot and directed by Sophie Dia Pegrum.
♦ Traditions, cultural institutions and historic sites
Each winter, carnival festivities take place on islands and in communities across Greece, but the one that takes place on Skyros is perhaps the most unusual — and undoubtedly the "wildest" (that's actually how it is most often described in travel guides and the numerous articles that have been written about it). It's often referred to as the "Goat Festival," since one of its signature events is a colourful and very loud Dionysian  "goat dance" ritual that is several centuries old.  You can see photos and read descriptions of the fascinating festival in the Carnival on Skyros article from the Wondergreece travel website, as well as in the feature article Skyros Island, Greece — Mischief and Masquerade of Carnival, from the Borders of Adventure blog. 
The goat festival has been the subject of an intriguing multimedia publishing project, Skyros Carnival, which features 60 colour and black and white images by photographer Dick Blau, along with an ethnographic essay by Agapi Amanatidis and Panayotis Panopoulos, plus a CD and DVD by Steven Feld. (You can read a description of the publication in the Greek Reporter article Experiencing Greece's Wildest Carnival.)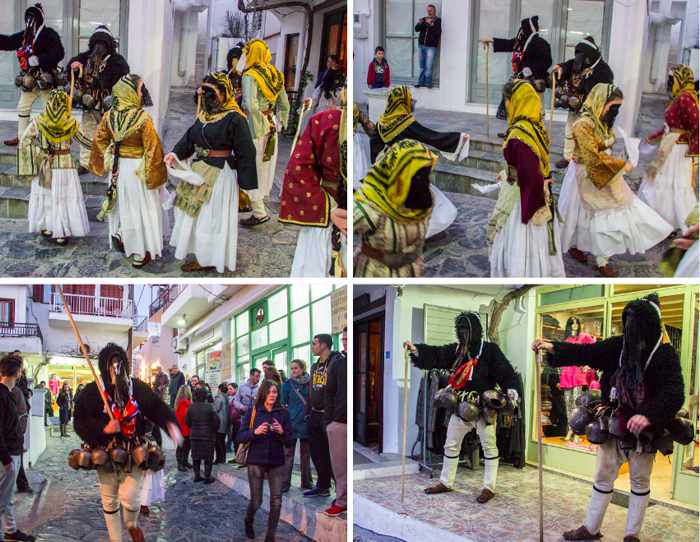 These photos of the Skyros Carnival accompanied an article about the island in the Borders of Adventure travel blog
Besides the Carnival, Skyros hosts an annual summer arts festival that features dance, music, painting, theater and photography events, and over the course of each year dozens of special feast days and religious celebrations take place at many of the island's more than 350 churches and chapels.
Skyros also is renowned for the work of its talented folk art craftsmen and women, who specialize in wood and furniture carving, pottery, embroidery and other crafts.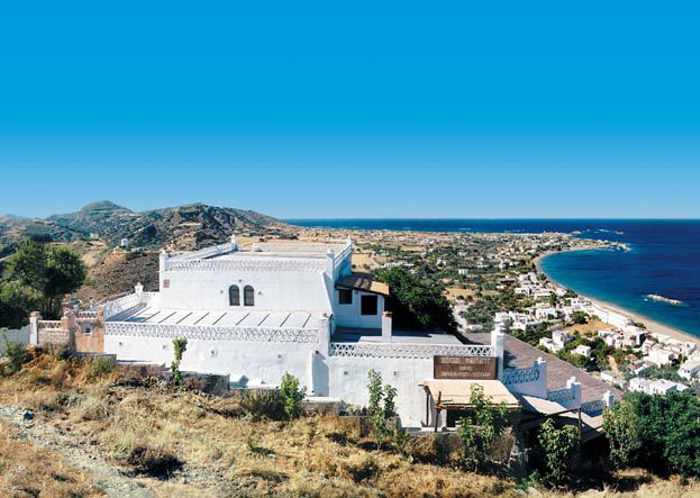 The Manos Faltaits Museum is seen in a photo from its Facebook page
One of the island's top cultural institutions, the Manos Faltaits Museum, displays folk art collections that illustrate the history and culture of Skyros from the post-Byzantine era to the present. There's also an Archaeological Museum of Skyros, which exhibits a variety of relics and antiquities discovered at a number of archaeological sites on the island. The finds date "from the Early Helladic period (2.800-1.900 BC) to Roman times (1st c. AD)," according to a museum description on the Greek Ministry of Culture website. 
Top monuments and historic sites include the Byzantine castle at Chora, archaeological excavations at Palamaris, the Palaiopyrgos ("old tower"), which was the biggest tower in an ancient wall on the island, an an outdoor stone theatre where summer festival events are held.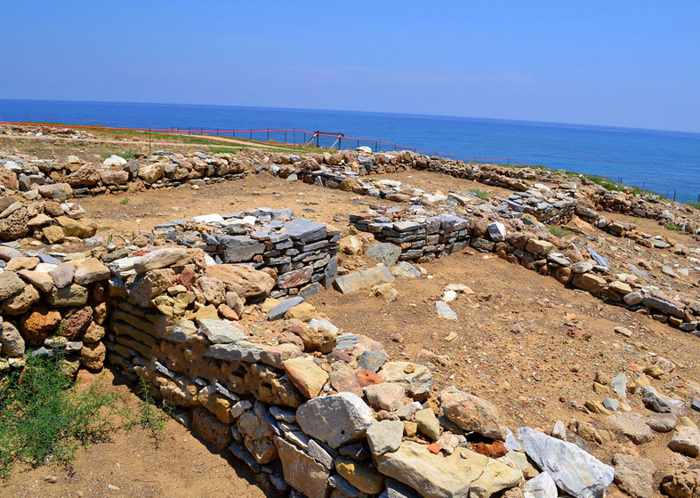 The Palamaris archaeological site, seen in a photo from the Mysterious Greece Insider Guide to Skyros
♦ Local food specialties
Just as they would at virtually any place in Greece,  visitors will enjoy excellent traditional Greek cuisine on Skyros.  But the island is particularly famous for lobster, which are abundant in the surrounding seas, and lobster pasta is a signature dish on Skyros. Other local specialties include oven-roasted local goat, and pies stuffed with trahana and myzithra cheese.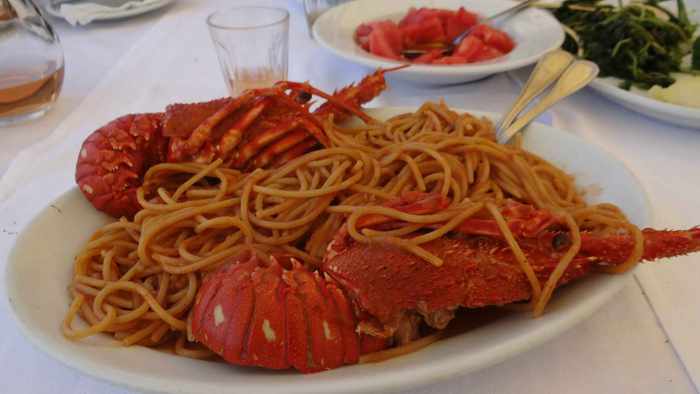 Lobster with pasta astakomakaronada from Skyros, seen in this photo from VirtualTourist
♦ Alternative and holistic holidays
Like any other Greek island, Skyros is an ideal vacation spot for couples and families. But it also has a wide reputation as a great place for singles to holiday, most especially because of popular creative and holistic vacation retreats offered by the Skyros Centre at its two locations on the island.  The Centre's various community-based courses and programs attract solo travellers of all ages from throughout the world; however, nearly three-quarters of the participants are aged 40 to 60.
The Centre's facility near Chora offers an Art Studio, Writer's Lab, and a health & well-being program, while its seaside property at Atsitsa Bay hosts courses with yoga, meditation & mindfulness, Qi gong, dance, pilates, windsurfing and swimming, and offers other activities.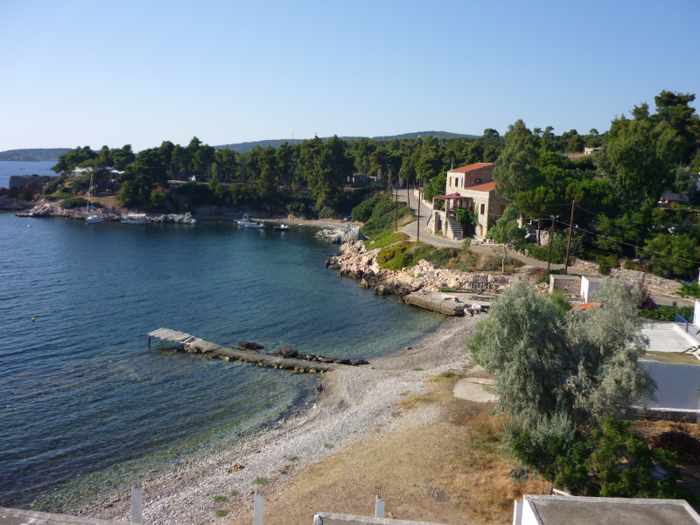 Atsitsa Bay, one of two places on the island where the Skyros Centre has retreats for alternative and holistic holiday experiences (Photo from the Skyros Centre website.)
Agrotourism holidays (including accommodations) are available at the Skyros Refuge,  a traditional working farm on a forested mountainside.  Participants get the opportunity to learn bee keeping, goat and sheep milking, cheese and yogurt making, and feeding the farm animals.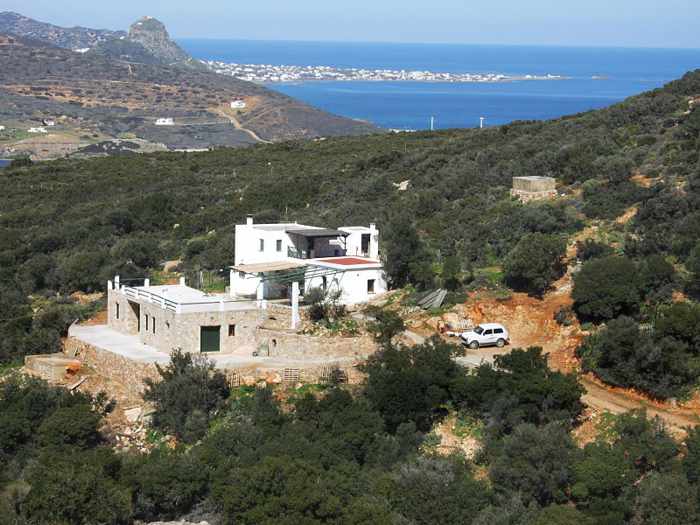 The Skyros Refuge, seen in a photo from its website, offers agrotourism holiday experiences at its scenic mountainside farming estate
And for those travellers interested in "ecotourism," some volunteering opportunities are available through the Skyros Life project that monitors and protects the island's biodiversity. 
♦ Sports and outdoor activities
Skyros is an ideal destination for hikers & trekkers, with eight mapped and marked trails including some that wind through the island's Natura 2000 zone. Details about the routes are provided on the Walking in Skyros page of the Skyros Life website.  Horseback riding tours also are offered on the island. For bird watching enthusiasts, the walking paths in the environmentally-protected zone, and the areas around the Skyros wetlands, are prime places to observe falcons, sea birds and migratory birds.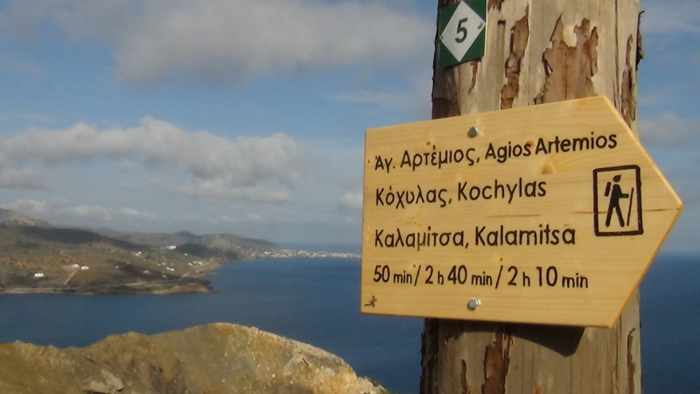 A signpost for one of the island's walking routes, seen in a photo from the Skyros Life website

Pefkos beach, seen in a photo from the Cycladia website guide to Skyros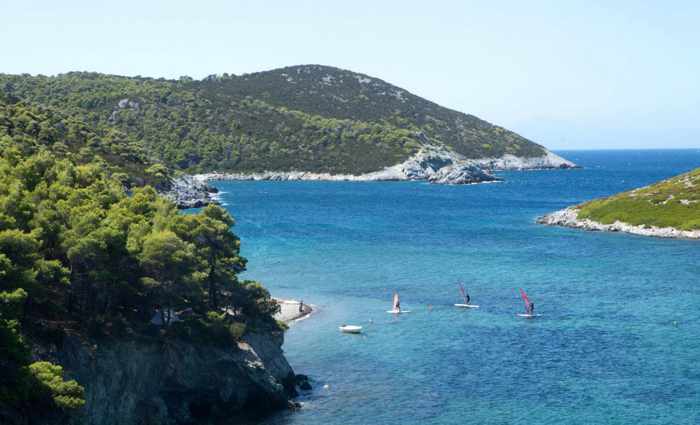 Windsurfing is one of the island's popular water sports activities. This image is from the Municipality of Skyros website.
The130-kilometer-long  Skyros coast is dotted with numerous secluded coves and more than two dozen scenic beaches.  Several of the beaches are organized with umbrellas, lounge chairs, tavernas and bars, but most are unorganized, providing a quiet escape for sunbathing and swimming. 
Among the popular water sports activities available on Skyros are windsurfing, snorkeling, scuba diving (the Gorgonia Diving Center provides equipment and instruction), fishing, and sailing tours and excursions (Sail in Aegean is one of the top tour providers on the island.) 
Mountain biking offers a great way to experience and see Skyros — though the island can be challenging to cycle. That's why Skyros has been chosen as a host location for one of the annual competitions on the UCI World Cycling Tour. This year, the Skyros Cycling Challenge has three races are scheduled for May 22 and 24.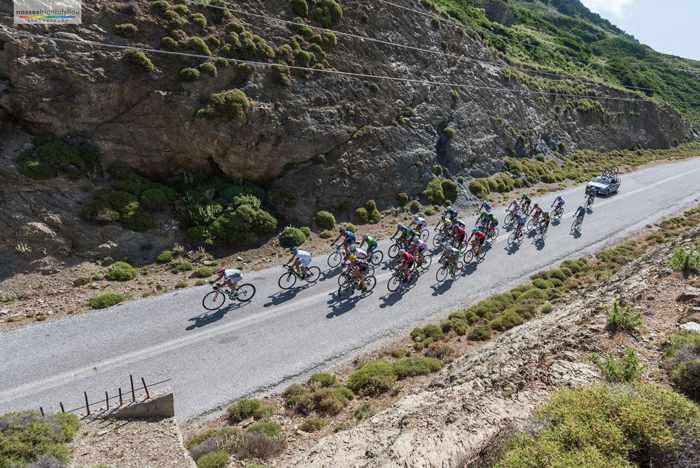 Competitors in the Skyros Cycling Challenge are seen in an image from the Visit Skyros page on Facebook
General Skyros information websites
Below are links to two websites with brief, easy-to-read descriptions of Skyros that will give you quick overviews of the island and its key attractions and tourist activities:
♦  On its page Skyros: An island with its soul still intact, the Discover Greece website highlights things to see and do on Skyros, and mentions some "hidden gems" worth seeking out. The page also has several photos and an accommodation booking form.
♦ The Skyros information page from the Visit Greece website describes the island's top sights and attractions, including villages, monuments and beaches.
♦ The Skyros Island page on Hip Greece  includes several photos and an overview of the island's top attractions and activities, and has links to boutique hotel and upscale villa accommodations.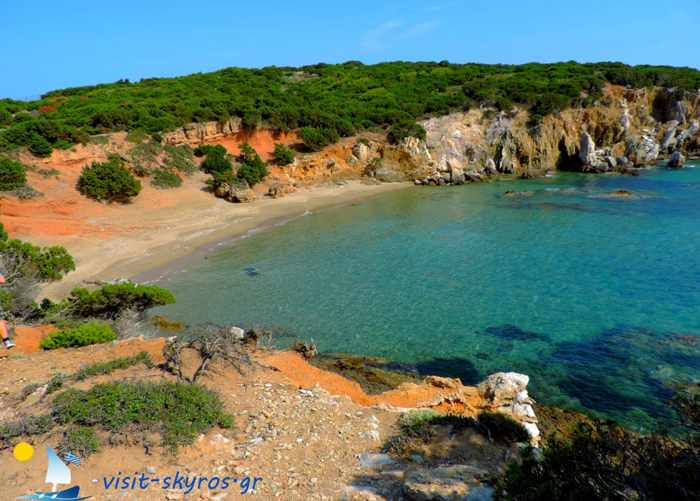 Theotokos beach (also called Limanaki) is seen in an image from the beach directory on the Visit Skyros travel website
Detailed Skyros travel and information websites
Here are links to websites with extensive information about the island, as well as about specific tours or holiday packages on offer:
♦ The Visit Skyros website and Visit Skyros Facebook page both offer scores of photos and information about beaches, restaurants, activities, attractions and events.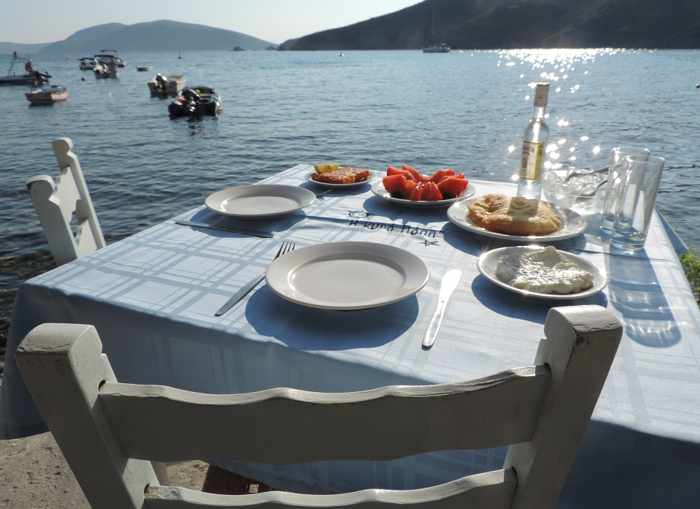 This is where I plan to go for a meal if I get to visit Skyros! It's a seaview table at Kyra Popi, a beach taverna that has been serving tasty home-cooked Greek cuisine at Acherounes for the past 39 years. The photo is from a restaurant directory on the Visit Skyros travel information website.
♦ The Skyros page on the Greek Islands Portal contains directories listing the names, telephone numbers and websites (where available) for accommodations; restaurants, cafes and snack bars; beach bars; shops and services; car rentals. It also includes sections with information about the island's history, geography, villages, beaches, traditions, events and cuisine.
♦ Cycladia's Skyros Travel Guide is organized into chapters for topics that include practical information about the island; history and myths; hotels; restaurants; beaches; sightseeing; events; local specialties, and more. A printable version of the guide is available simply by clicking a link on the lead page. 
♦ On its Skyros page entitled The island of the water nymphs, the Mysterious Greece Insider's Travel Guide provides a wealth of excellent information and advice, including descriptions of the island "best" features; sights and attractions to discover; and great tips for things to see and do.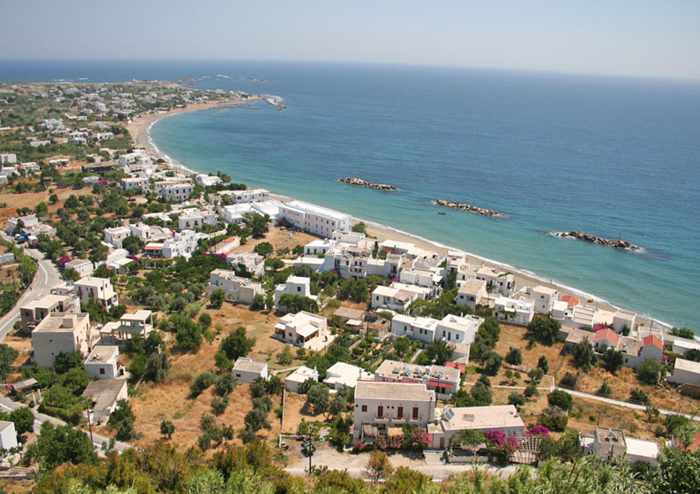 Molos and Magazia beaches, seen in a photo from the Mysterious Greece Insider's Travel Guide to Skyros
♦ The Greeka.com Travel Guide to Skyros features information and photos about highlight attractions and things to see and do. It also contains a free downloadable Skyros guide in PDF format.
♦ The Skyros destination page on the Ecotourism Greece website includes a directory of activities and attractions; hotel listings; and an album with 45 photos.
♦  Come to Skyros is a website for special tour services offered by Lefteris and Marleen, including hiking excursions, horseback riding and Greek cooking classes. Their website has full details and prices for their activities, along with information about select hotels and car rentals. Their Come to Skyros Facebook page is chock full of island photos.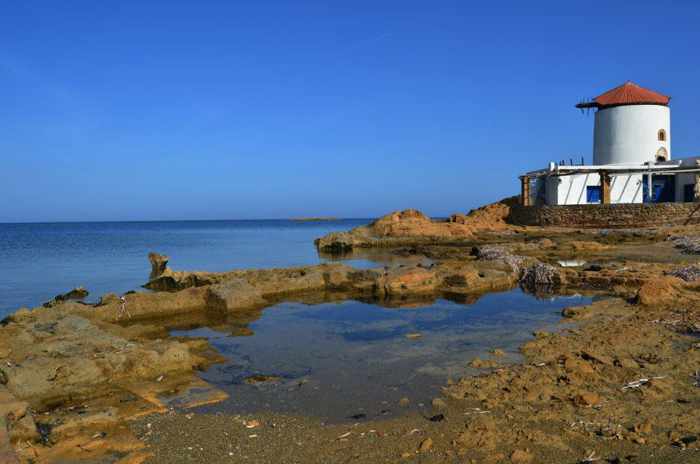 A red-roofed windmill on the coast near Girismata beach, seen in a photo from the Come to Skyros Facebook page
♦  The Municipality of Skyros website includes a special tourist guide with photos and travel information; however, since it's written in Greek, you will have to use Google Translate or another program to read the content if you don't understand the language.
♦ The Skyros Holidays website provides extensive information about the community-based alternative and holistic holiday experiences offered at the world-famous Skyros Centre. Three main programs are available — The Writer's Lab; Health & Wellbeing; and The Art Studio — and the website has complete details on pricing, accommodations, activities and transportation to Skyros.
♦  Around Skyros has photos and descriptions of villages and beaches, things to see and do, and information on how to get to the island.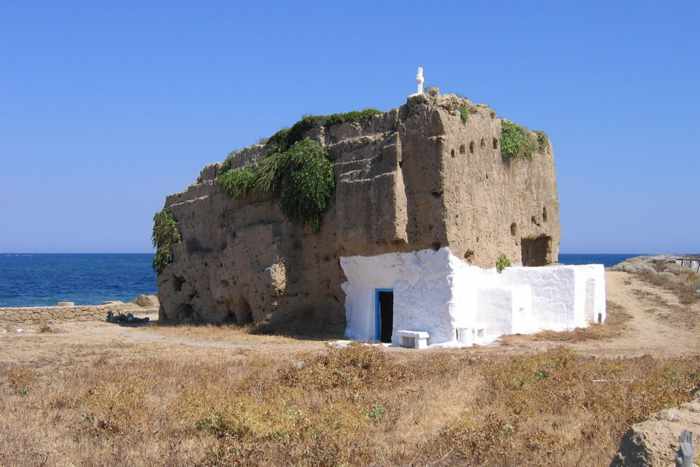 Agios Nikolaos chapel near Molos, seen in a photo from the Skyros page on ecotourism-greece
Interesting reads about Skyros
Below are links to several excellent online articles and blog posts about Skyros and some specific traveller experiences available on the island:
♦  Skyros Island, Greece — Mischief and Masquerade of Carnival is a fascinating article that travel writer Becki posted on her Borders of Adventure blog. Becki describes her visit to Skyros during its annual Carnival festivities, and illustrates her account with dozens of photos.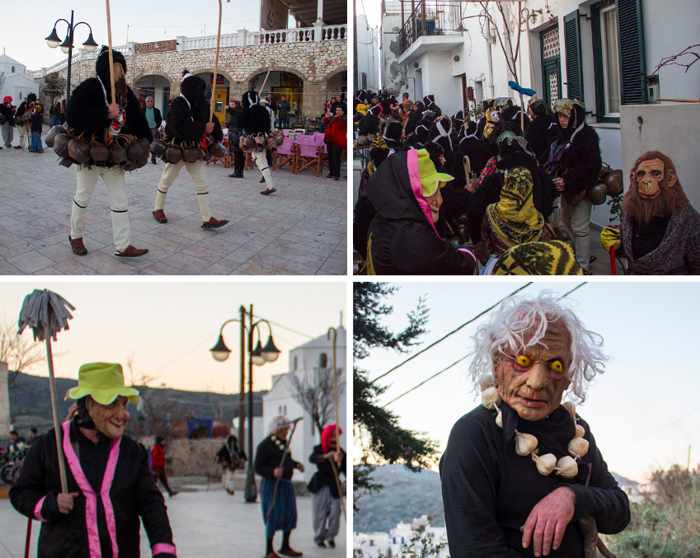 The annual Carnival celebrations feature costumed revellers like these seen in photos from a Borders of Adventures feature story about Skyros
♦  Local efforts to conserve the Skyrian ponies are profiled in the October 16 2015 article Giving Skyros' endangered ponies a future, which was published by the culture, gastronomy and news website Greece Is.
♦  There are two websites with information, photos and videos about the Skyrian ponies at the Mouries Farm. Conservation programs are outlined on the Mouries Farm website, while its Skyrian Horses website features news, photos and videos along with detailed information about the history of the horses, activities available at the farm, volunteering opportunities, and more. You can view hundreds of additional photos on the Mouries Farm — Skyrian Horse Conservation Centre page on Facebook.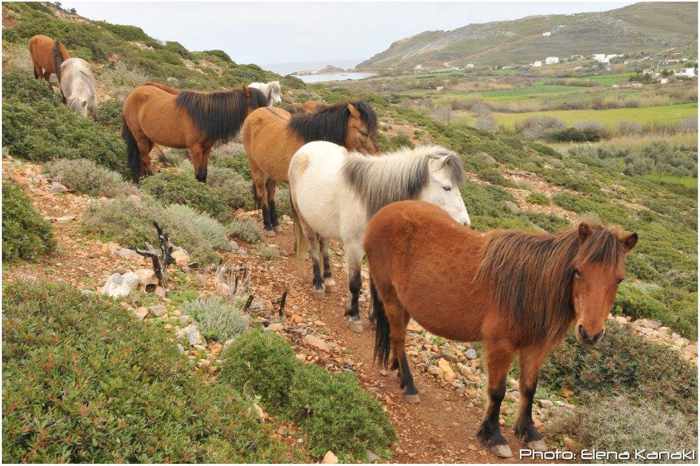 Elena Kanaki photographed these ponies on a Skyros hillside. The photo was shared on the Mouries Farm Facebook page.
♦ Several newspaper and blog articles describe personal experiences with the writing and holistic holiday programs offered at the Skyros Centre. They include Inspired by the View, published in Canada's national newspaper The Globe and Mail;  A letter from Paradise on the Greek island of Skyros, published in the Irish Examiner;  Writing and reconnecting on a Skyros holiday, Greece, from the Queen of Retreats independent travel website; Skyros  — a community based holistic retreat where singles are not alone, from The Travel Magazine; and How a Skyros writing retreat changed my life (and why you should also consider a retreat holiday), from the blog Scribble, Snap, Travel.
♦  In  Letter from Greece,  a lengthy literary article from the Hudson Review, A.E. Stallings examines the lasting deep connection between Skyros and English poet Rupert Brooke, who died on the island 101 years ago.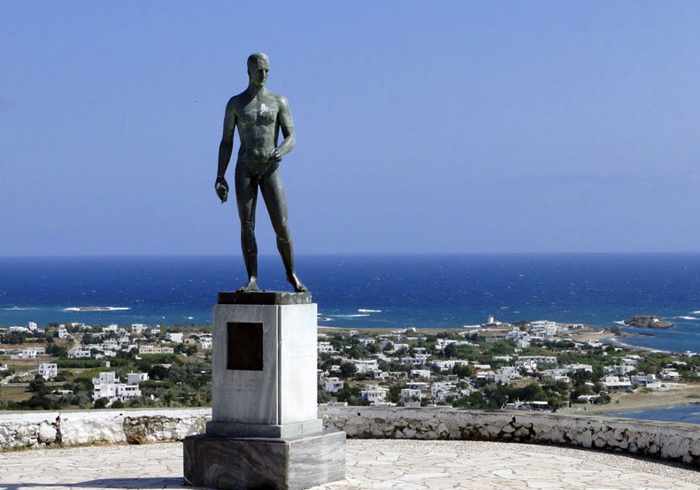 The statue of poet Rupert Brooke, seen in an image from the Mysterious Greece Insider's Travel Guide to Skyros
This video from AtlasVisual shows scenes from in and around Skyros Town (Chora), the island's capital and port town. Click here to see several more AtlasVisual videos of Skyros.
This  video by Vic Stefanu shows a variety of scenic views from points all over Skyros. It's one of 15 films in his Skyros video collection on YouTube.