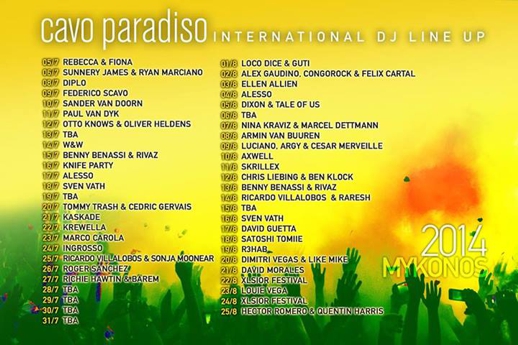 The Cavo Paradiso DJ lineup for July and August 2014
Party planning: In my Beach parties on Mykonos post last month, I promised to update information about upcoming events as news became available. I can now report that the two biggest beach clubs on Mykonos have released the DJ entertainment lineups for their 2014 summer events.
Cavo Paradiso posted a list of its July and August events on its Facebook page today. The schedule shows that events will be held every night in July and each night in August until the 25th of that month. Headlining acts for several parties at the end of July and two in  August have not yet been named, but the club says it expects to confirm the "to be announced" DJs shortly. The schedule does not yet include events for September, and does not indicate when Cavo will hold its season-closing party.
Paradise Club has posted a more extensive event listing on its website, showing the DJ lineup for more than 50 events taking place between now and its closing party on September 20.  It, too, has several "to be announced" gigs for which the entertainment has yet to be confirmed.
Tickets for Paradise Club events can be purchased in advance through an online order form on the club's website. VIP tables also can be booked in advance through a separate section of the website; click here for a direct link to that page.
Tables reservations for Cavo Paradiso events can be booked in advance but full prepayment is required. Further details and contact information are available on the newly-redesigned Cavo Paradiso website.
Both clubs are located at Paradise beach.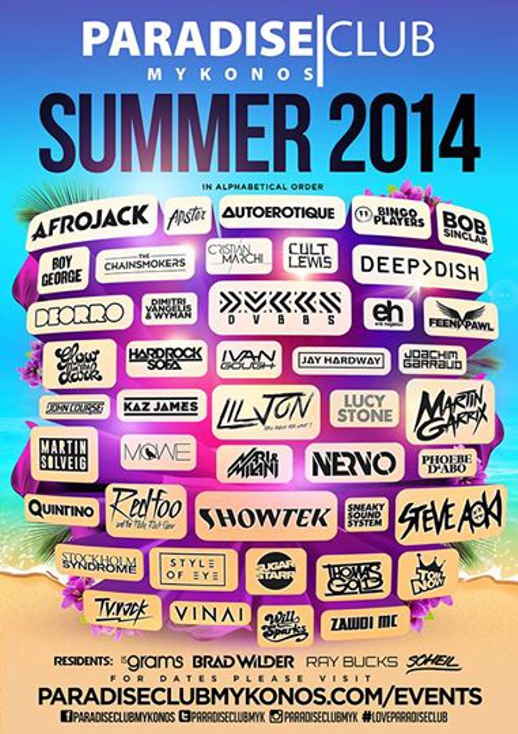 A promotional flyer listing the names of acts that will appear at Paradise Club this summer was posted on the venue's Facebook page