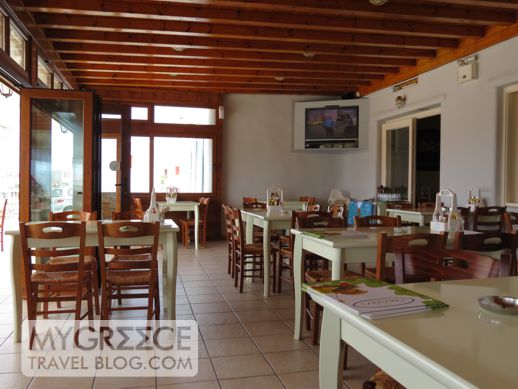 Oregano Cook & Grill dining terrace
Oregano Cook & Grill can't boast the same boffo views as Blue Ginger, unfortunately; it's situated between the ATE Bank and Blue Marine on the way to Tourlos, and buildings under construction on the opposite side of the highway block its terrace views of the scenery and sunset. Nevertheless, it's one of my favourite restaurants simply because it serves very generously-sized portions of delicious Greek food at very reasonable prices. Last year my partner and I had an excellent dinner there; this year, on my last day on Mykonos, a group of four of us went there for lunch and couldn't finish all the food. For starters, we shared a basket of grilled bread, a Greek salad and a tasty tiropita that were nearly filling on their own. I couldn't finish my main course: an oven-roasted tomato and a green pepper, both enormous, that had been stuffed with mincemeat, rice and spices. Oregano has take-out and delivery, by the way, and is extremely popular with the locals. Both times I've been there, I have seen a steady stream of Mykonos residents arrive to pick up take-out orders that they had phoned in. And like the busy kitchen staff, the delivery man is constantly on the go, too. If you've got a big appetite, but don't want to spend big bucks on a meal, I'm sure you'll be more than satisfied when you leave Oregano.
New Port area at Tourlos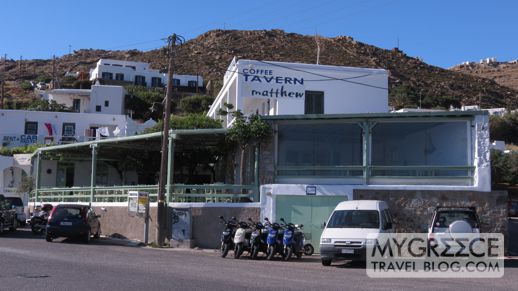 Matthew Taverna at Tourlos
Matthew taverna opened for the season shortly before I left Mykonos, so I finally got to check it out after hearing rave reviews the past two years from other people who had enjoyed it so much, they returned two and sometimes three times during their own visits (Matthew usually doesn't open until the third weekend in May, and we were always on our way to another island by that time). In fact, two Australian visitors told me that Matthew Taverna is the first place they go for dinner when they come to Mykonos each year, and also usually the last place they dine before departing the island at the end of their vacation.
Matthew Taverna has a long menu of Greek dishes, but be sure to go into the kitchen to view the daily specials in the refrigerated glass display case. Staff will explain what each item is, as well as how it is prepared. Everything looks absolutely yummy, so don't be surprised if you have trouble deciding what to order. I certainly did. The service is good and the wide tree-shaded outdoor terrace overlooks the New Port and has views towards Mykonos Town. I had dinner there with a large group from the hotel, and thoroughly enjoyed my fava appetizer and grilled swordfish steak (when I learned it was fresh, not frozen, as swordfish served in Greece usually is, I just had to order it). The fellow sitting across the table from me was eating a fish soup that looked and smelled divine; he said it was terrific and I wished I had ordered it instead of the fava. Our server, Dimitri, was remarkably patient while members of our group struggled with their decisions of what to order, and he wasn't fazed by a request to write separate checks for each couple or individual diner.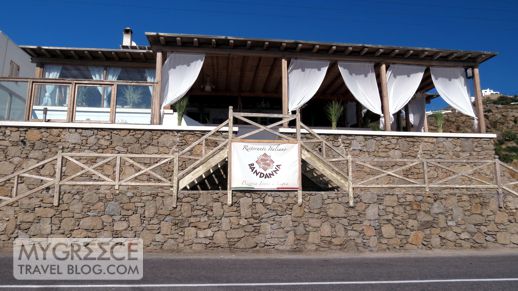 Bandanna restaurant at Tourlos
An Italian restaurant called Bandanna opened last year in the former El Greco restaurant location which, like Matthew Taverna, has a big outdoor terrace overlooking the Mykonos New Port area. Several people told me they went to Bandanna last year and thought the food was good, but complained about bad attitude and bad service from the staff and said they wouldn't recommend it. The two times I walked past, it looked like workers were painting and cleaning to get the restaurant ready to open for the season, so I didn't go in. I haven't heard reports from anyone who may have eaten there so far this season.
Megali Ammos beach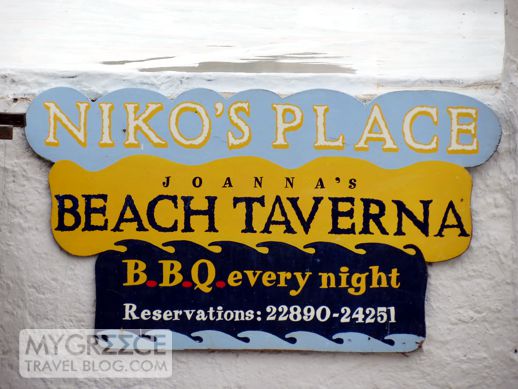 Sign on the exterior of Joanna's Niko's Place at Megali Ammos beach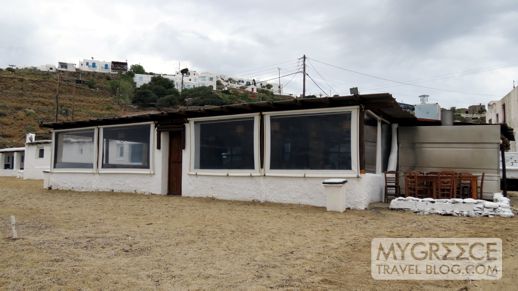 Joanna's has tables on a sunset-view, open-air terrace right beside the sandy beach; however, on the cloudy afternoon I took this photo, the plastic windscreens were pulled down to protect lunch diners from the intermittent rain and light wind.
Last year, Joanna's Niko's beach taverna got stellar reviews throughout the season in TripAdvisor's Mykonos forum. I didn't get the chance to eat there in 2011, but made sure I dropped by this time. I'm glad I did. Though Joanna and her staff were kept running all night by a Greek wedding reception that had booked the restaurant's entire outdoor dining terrace, they didn't neglect those of us who were dining indoors; in fact, our service was excellent . (The waitresses never stopped smiling and never lost their cool even though they were almost rushed off their feet handling orders for both the wedding party as well as the other customers inside.)
The food was terrific, too. I loved the fennel balls, the gigantes in a tasty onion and tomato sauce, and the grilled lamb chops, which were served with a tangy mustard dipping sauce. The food is reasonably priced, and though the restaurant is open during the day, they don't fire up the barbecue until 19:00, so keep that in mind if you're craving grilled meat. Joanna's had a LOT of repeat visitors while I was there — the customers at the four tables closest to me had all been there at least once that week already, while one couple said it was their third visit to Joanna's this holiday and they had plans to return at least once more. Other regulars kept dropping in to say hello to Joanna and make reservations for the following night. Looks like Joanna's is on track to be a big hit again this season. Since the place is so popular, I recommend calling to make a reservation; I managed to get the last available table when I arrived, but people arriving minutes later had a short wait.
Ornos beach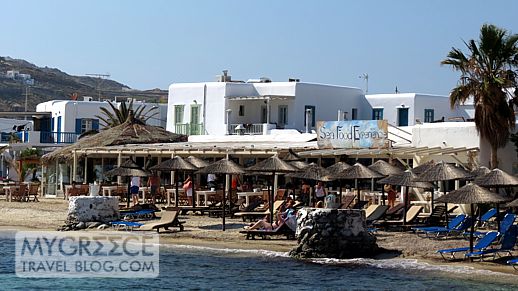 Ithaki Sea Food Experience at Ornos beach
Last year we had a wonderful meal at Ithaki, a highly popular beachside restaurant that served delicious Greek and Thai cuisine. Although signs and menus at the restaurant still bear the Ithaki name, and the interior and exterior look the same, locals told me that Ithaki has new operators. The former owners, they said, have opened a restaurant in the new building next door (at the left end of the beach), which has a huge beachview terrace with a bar and swimming pool. Someone said the new place is called Nostimon, but I didn't see any signs to that effect; also, since only the bar was open on the afternoon I went to Ornos, I didn't get to check out the menu for the new place. I later discovered a sculpture school website that said local Mykonos artist Christos did in fact open Christos Taverna Nostimon right "next to his old place, Ithaki." Meanwhile, the arched entranceway to Ithaki from the street bears a sign for an Italian restaurant, La Vita e Bella, which I hadn't heard about before. It's right beside Ithaki and in fact appears to share part of the same restaurant space, including beachfront.  However, I didn't speak to anyone who had dined at either Ithaki or La Vita e Bella this so far this season. Frankly, I was very surprised that there was no buzz about Ithaki this year, since in 2011 it was one of the "hot" restaurants that people were constantly talking about and recommending. I also found it curious that no-one was talking about Nostimon, either, since I figured that Ithaki's regular customers, at least, would have followed Christos to his new taverna.
O Lefteris Grillhouse remains a popular Ornos beach choice for Greek appetizers and roasted and grilled meats, especially with people who live on Mykonos. However, while I was on the island the restaurant was open for business only in the evening. O Lefteris has delivery service, so if you're staying in a studio or villa and don't feel like going out for dinner, you can order in. Locals told me I would love the Lefteris grilled lamb chops, but I didn't get the chance to sample them this time around and will have to leave that for a future visit.
For an upscale dining experience, Ornos visitors can check out Kuzina Mykonos, which is situated right on the beach at the Mykonos Ammos Hotel. It features a fusion menu of Mediterranean and Asian culinary creations and sushi by noted Greek chef Aris Tsanaklidis. Kuzina also has a beach bar, with seating right on the sand in front of the restaurant. You can't miss the place if you're walking along the beach — just look for the taverna with the long white banners billowing in the breeze and dangling from the dining room ceiling. (If the Kuzina name sounds familiar, it could well be because the Ornos dining room is a sister to the highly-popular Kuzina restaurant in Thisseio area of downtown Athens. )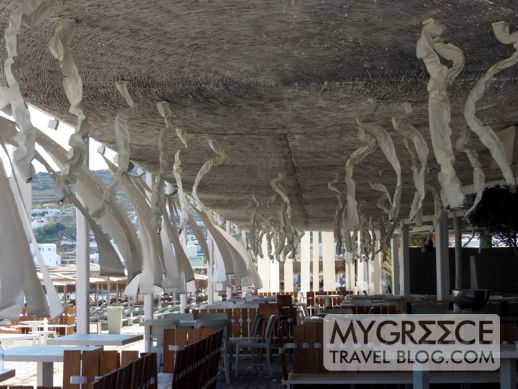 The dining room of Kuzina Mykonos at Ornos beach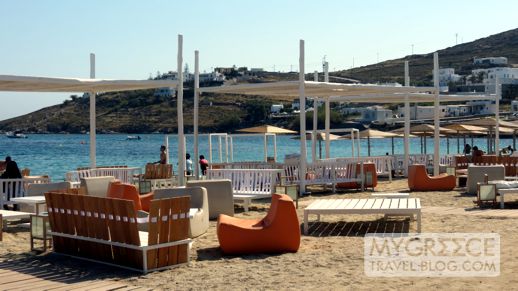 Kuzina Mykonos beach bar seating right on the sand at Ornos beach
Ag Ioannis beach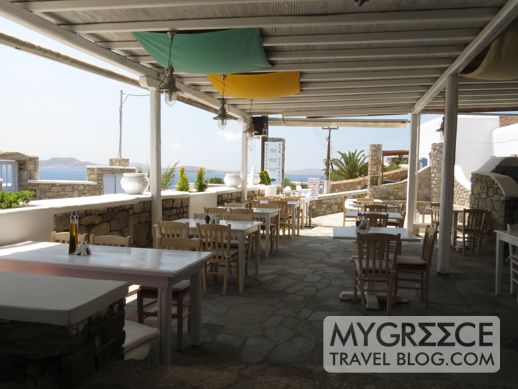 Bellissimo restaurant and bar at Agios Ioannis
We got a lot of attitude last year when we stopped into Hippie Fish (the taverna that starred in the "Shirley Valentine" movie) only for drinks. The staff were obvously miffed that we didn't want to order food, and gave us poor, slow service, even though they had only a few tables of customers and were far from busy. Though the staff didn't seem to have bad attitude when I walked past this time around (I saw a waitress cheerfully serving two tables of customers who were ordering beverages only), I decided to check out the restaurant in the Bellissimo Resort on the main road instead. It may not directly overlook the beach, like Hippie Fish does, but the Bellissimo restaurant and bar has a bright, cheery and casual ambience, and Thodori and his staff are friendly, sociable hosts. The food (Greek and Italian dishes) is good and reasonably priced, too.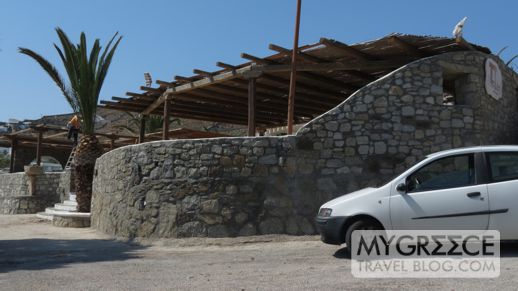 Pyli restaurant and beach bar at Agios Ioannis
Down at the beach Pyli, the restaurant/bar in the space formerly occupied by Christos, was undergoing extensive renovations when I walked past, so of course no menu was available for viewing. Pyli did open by the beginning of June, however, and one happy customer told me the food is good there.
Psarou beach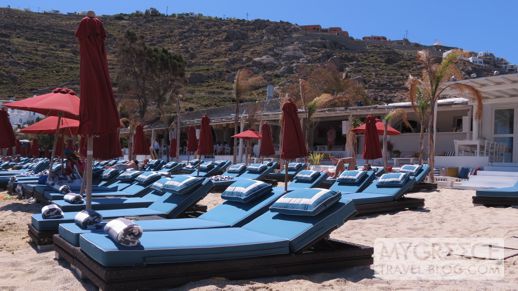 You'll find the most luxurious sunbeds on Mykonos at Nammos on Psarou beach
Nammos continues to draw the world's rich and famous to its posh premises at Psarou beach. The beachside restaurant, bar and nightclub is renowned for its international cuisine and top-notch service (they will even send their sleek wooden speedboat to collect visitors arriving in Psarou Bay by private yacht, and will deliver meals to travellers who can't be bothered leaving the comfort and privacy of their multimillion-dollar ships). Nammos' Coo restaurant is popular with sushi lovers. The comfy padded sunbeds on the sand in front of the restaurant building are the most expensive to rent on Mykonos: they cost €20 apiece for the day, but look like they might be worth it. Plenty of attentive staff are always standing by to bring food and beverages to sunbathers who don't want to leave their plush loungers to sit in the open-air restaurant. During the summer, the restaurant turns into a bustling nightclub with DJs and dancing.
Platis Gialos beach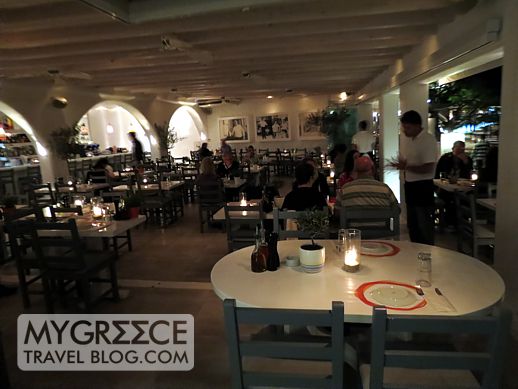 Avli tou Thodori at Platis Gialos
I have been hearing and reading rave reviews about Avli tou Thodori ever since Argo Hotel owner Thanasis Kousathanas opened it three years ago in a beachside building his family has owned for decades (someone else had previously rented the location for their own restaurant business). Avli tou Thodori serves traditional Greek fare — appetizers, salads, fish, meat, pastas and pizzas — prepared with a contemporary twist. The restaurant itself is a large seaview terrace with a stylish white minimalist decor.
Some people who had lunch at Avli tou Thodori during a beach day at Platis Gialos returned to the hotel gushing about how much they had enjoyed the food and service, so a group of us went there for dinner one evening. Service was first-rate and the food was exceptional; we all enjoyed the zucchini and tomato balls, the meat balls in tomato sauce, spicy patties (which look like Asian spring rolls), and grilled vegetables that we shared. I ordered the kleftiko (lamb) which most restaurants serve as a lamb chop roasted with vegetables in a foil pouch; Avli tou Thodori's contemporary take on this classic dish is cubes of lamb and vegetables baked in a square phyllo pastry pocket. Absolutely delicious! Thanasis dropped by our table several times to chat and see how much we were enjoying our meal. The other members of our group returned for lunch the next day, and said the food and service once again was remarkable. (I couldn't join them, unfortunately, because I had to leave for Paros.) Make plans to visit Avli tou Thodori for lunch or dinner even if you're not staying at Platis Gialos; it's absolutely worth the short bus or taxi ride to the beach!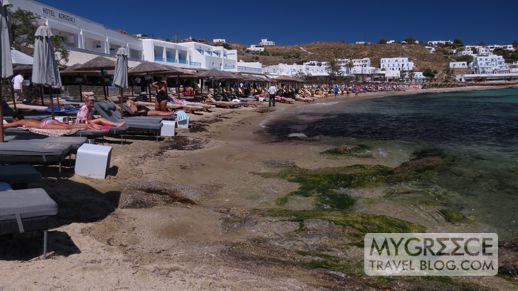 Atlantida is the beachview restaurant in Hotel Acrogiali (left)
Next door is Atlantida, the beachside restaurant of the Hotel Acrogiali. We enjoyed a dinner on Atlantida's beachview terrace when we stayed at Platis Gialos back in 2006, though we did find some dishes were overly salted. We haven't been back since, probably because we have been staying in Mykonos Town since then. Other hotel guests told me they enjoyed meals at Atlantida, but not even half as much as they enjoyed their lunches or dinners at Avli tou Thodori. When I walked past, one of the Atlantida staff told me I could use one of their lounge chairs and umbrellas out front for free, without any obligation to purchase food or beverages from the restaurant. I was on my way to Agia Anna beach, so I didn't take him up on the offer. But if you happen to be heading to Platis Gialos for a beach day, keep that in mind and ask if you can get a free sunbed, too. Otherwise, you will have to pay to rent loungers and umbrellas elsewhere on the beach.
Note: staff for Atlantida and other beachside restaurants (except Avli tou Thodori) can often be extremely aggressive in their efforts to lure you into their establishments. Waiters at most of the restaurants will approach as you walk past on the beach, and can be annoying to the point of obnoxiousness as they try to coax you to take a seat on their terraces. I simply ignore them, but several people at my hotel said they found the touts very off-putting and wouldn't return to Platis Gialos beach as a result. (Touts outside some of the cocktail bars at Little Venice can be equally annoying but, again, simply ignore them if you have no intention of dropping in for a drink. )
Agia Anna beach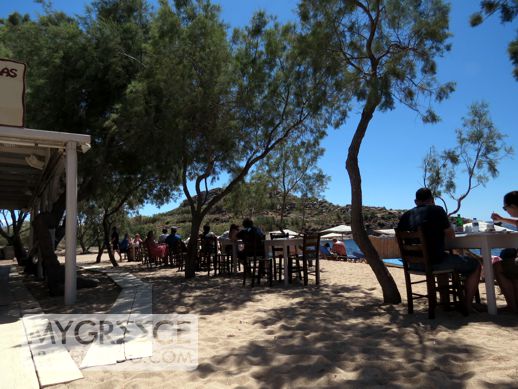 Nikolas Taverna at Agia Anna beach
This small sandy beach is a 15-minute scenic walk down the coast from Platis Gialos, and it's a walk I strongly recommend that every hungry Mykonos visitor take. Family-run Nikolas Taverna faces the beach and actually has tables right on the sand, under a row of trees. I had my first meal there last year and loved the food so much I made a specific point of returning in May.  The restaurant has a menu, but it's best to go inside to view the mouthwatering daily specials in the display case. I ordered the spinach pie, which came in a thick chunk packed full of fresh spinach — undoubtedly one of the two best spanakopitas I've ever tasted (the other was at the Hotel Delfini on Sifnos in 2007). The Nikolas moussaka was delicious, light and fluffy — it didn't leave me feeling uncomfortably full like the heavy versions of the dish served by so many other restaurants in Greece.
All of the vegetables served by the restaurant are grown on an organic farm the family owns near the Mykonos airport, while the fish is freshly caught by family members (you can usually see their white fishing boat, Nikolas, anchored near the end of the beach.) A couple who came walking past asked if I was enjoying my meal; when I said yes, they told me they might return another time. They actually came back and sat at one of the tables on the beach a short time afterwards, just as I was leaving. I ran into them in Mykonos Town two days later, and they thanked me for recommending the restaurant – they had loved the food, too. I can honestly say Nikolas Taverna is my favourite beach restaurant on Mykonos, and you can bet I'll be recommending it again this year. (Note: The restaurant name is often spelled Nicolas, including on its placemats, so some people easily get confused and wonder if they're heading to the right place. But don't worry: as long as you can find your way to little Agia Anna beach, you'll have no trouble finding the taverna.)
Paraga beach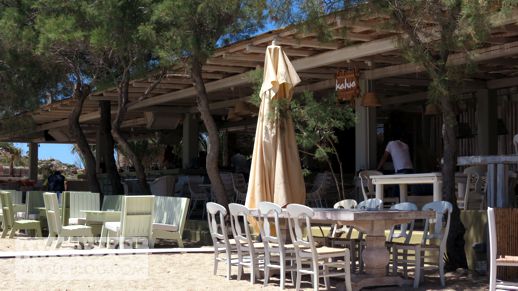 Kalua bar & restaurant at Paraga beach
Kalua is a hip beach bar that one of my Athens friends highly recommends for its great music and summer beach parties, plus its sophisticated cocktail menu. I didn't realize Kalua is a restaurant, too, but my friend insists their international cuisine, Greek dishes, seafood and pasta is quite good.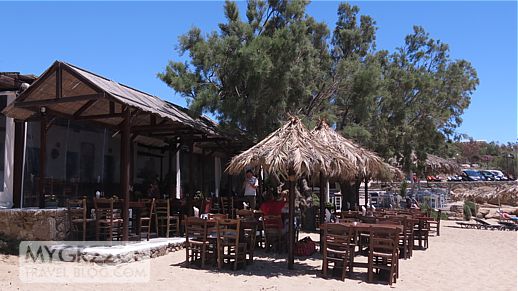 Tasos Taverna at Paraga beach
Next door to Kalua is Tasos, a popular beach taverna with an extensive menu of salads, hot and cold Greek appetizers, grilled meats, seafood, pasta and risotto. In past years,  Tasos has been packed with customers whenever I have walked past. Last month, only a few tables were occupied, but then the entire beach area was unusually quiet. Unfortunately, I haven't heard any feedback about the food quality at Tasos for some time.
Kalafatis beach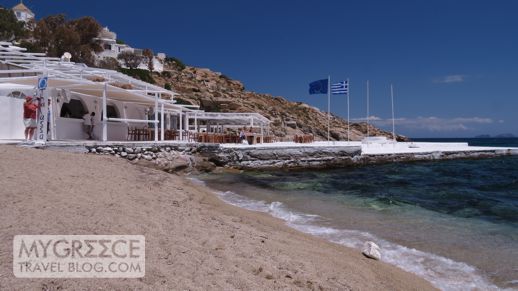 A view of the Thalassa beach bar & restaurant from the left end of Kalafatis beach …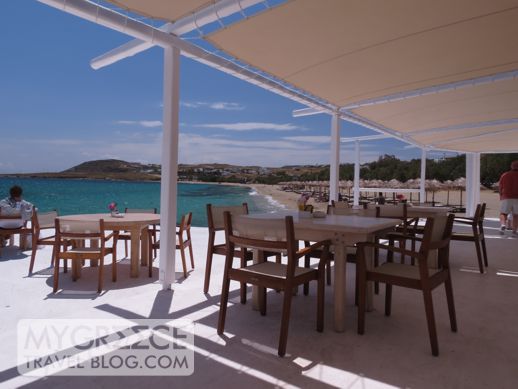 … and a view of Kalafatis beach from the restaurant's spacious seaview terrace
Some Mykonos locals told me that the Greek dishes and seafood at Aneplora, on the right-hand side of the highway leading down the hill to Kalafatis, are simply outstanding, and among the best on the island. From the road, the restaurant's windowless exterior resembles a bus depot, but the opposite side of the building boasts large windows and a pleasant terrace with panoramic views toward nearby Agia Anna beach, the sea, and the Tarsanas area of Mykonos island.
Down on Kalafatis beach itself, the Thalassa beach bar and restaurant at the Aphrodite Beach Hotel Mykonos has great views, too, and offers an extensive menu of Greek dishes. People from the hotel who dined there during a beach day said they thought the food was good and reasonably-priced. I saw waiters carrying trays of food to several tables, and everything looked appealing, with decent-sized portions.
The rustic fishing village a short walk from the far right-hand end of Kalafatis beach is where you'll find Marko's fish taverna. Mykonos locals had recommended Marko's to me in past years, and this month several people came back to the hotel enthusing about how much they had enjoyed their seafood lunches there. It's on my "must try" list for my next trip to Mykonos.
Agios Sostis beach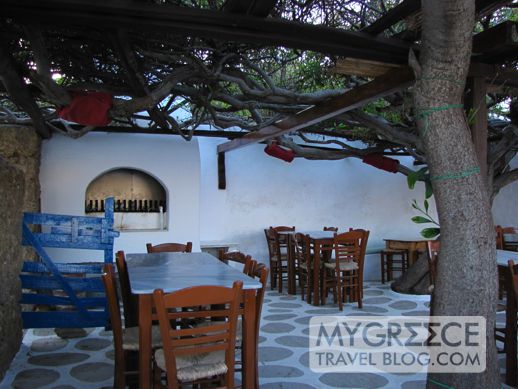 A photo I took of Kiki's taverna at Agios Sostis beach in 2011
Partway up the hillside above Agios Sostis beach is the restaurant that was getting the most buzz while I was on Mykonos: Kiki's taverna. From the road, it looks like a shack, but this small taverna has an open-air, tree-shaded terrace overlooking a small and scenic sandy cove off Agios Sostis Bay. Kiki's doesn't have electricity, so it serves a variety of prepared salads kept on ice, and specializes in grilled meats. Most of the other people staying at my hotel went there at least once, and couldn't stop talking about how much they enjoyed their meals. The grilled pork chops, in particular, were the talk of the town; one fellow described them as "Bam Bam-sized" — extraordinarily thick and meaty enough to satisfy two (or more) hungry diners.
Agios Sostis is not served by Mykonos buses, so the only way to get there is by rental car, scooter or ATV. I didn't rent a vehicle last month, so that's why I never made it to Kiki's myself. It's at the top of my list for my next Mykonos holiday, however. Keep in mind that Kiki's closes early — we got there one evening last year just as they were shutting down for the day, so we were too late to experience their renowned cuisine and incredibly picturesque location. At this time of year Kiki's is open until about 18:00, but during peak summer season it stays open until 19:00. Best bet is to go there for lunch during a beach day at Ag. Sostis. Don't be surprised if you have to wait for a table; given all the positive reviews Kiki's has been getting online, there often can be a lineup outside the taverna. And don't forget to bring a big appetite!
 Agios Stefanos beach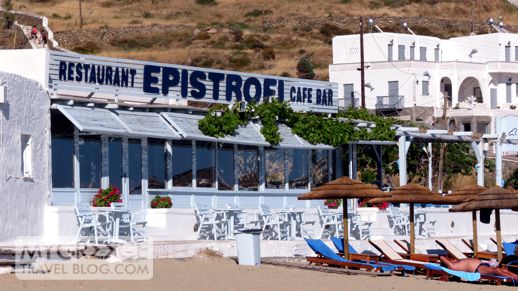 Epistrofi fish taverna at Agios Stefanos beach
The only beach restaurant open on the day I visited Agios Stefanos was Epistrofi, a fish taverna that serves Greek and international cuisine. A Mykonos local told me Epistrofi's food is fine, but said there are better restaurants nearby, including one that she said wasn't yet open for the season. Unfortunately, she wouldn't even tell me the name of the place, because she said locals want to keep it "secret" so it doesn't get overrun with tourists (which could easily happen, given the beach's close proximity to the cruise ship dock at the Tourlos port). If you happen to go to Agios Stefanos during the summer, and find this little gem of a local taverna, please let me know what it's called!