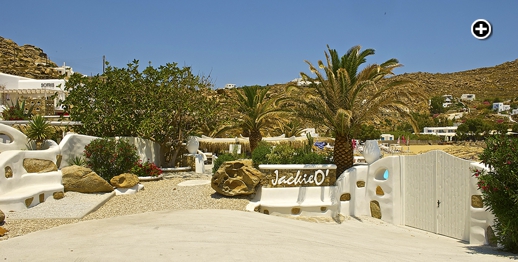 Palm tree and sign at the entrance to Jackie O' Beach
The chic new beach bar and dining venue is the creation of Michalis Sigounas and Carsten Stehr, owners of the popular Jackie O' Bar on the waterfront in Mykonos Town. That club has been one of the island's busiest gay bars since it opened five years ago. It's also popular with straight visitors, who enjoy the club's seaside location, no-attitude ambience and entertaining late-night drag shows.
Sigounas and Stehr spent more than eight months renovating the Coco Club premises into its impressive new incarnation. The restaurant features a menu designed by Chef Athinagoras Kostakos, a wine list developed by sommelier Christos Psomas, and cocktails created by mixologist Spyros Markadakis. I had been hoping to check out the club when I visited Mykonos in May; however, Jackie O' Beach was still being readied for its summer opening so I didn't get the opportunity to see the place during my trip.
Club will offer a classier beach party scene
Jackie O' Beach is expected to attract more visitors to Super Paradise and revive the beach's popularity with gay travellers. Super Paradise had been one of the most famous gay beach destinations in the Mediterranean during the 1980s and 90s, but lost a little of its lustre in the mid-2000s when Elia beach became the prime go-to beach destination for gay tourists. (Both beaches now draw attract a mixed crowd of easy-going straight and gay tourists, and both have clothing-optional areas.)
The new venue also will make Super Paradise more appealing to tourists seeking a classier beach party experience than they will find at Paradise Beach, the island's most notorious party strand, which looks rather cheap and tacky in comparison.
Jackie O' Beach is the second new restaurant/bar facility to open at Super Paradise in as many years. Pinky Beach Mykonos opened in 2012, offering champagne and cocktails along with Greek and Italian cuisine and VIP services aimed at an upscale clientele. Pinky Beach is just a short walk down the sand from Jackie O' Beach as well as the big Super Paradise Beach Bar & Club at the east side of the bay.
(In case you were wondering, the Jackie O' name for the beach club and town bar was inspired by Jacqueline Kennedy Onassis whose visits to Mykonos, in large part, led to the island becoming a world-famous destination for the jet set. Photos of Jackie O arriving at Mykonos for the first time in 1961 can be viewed on the Piano Bar Blog, a website operated by the Montparnasse Piano Bar in the Little Venice area of Mykonos Town.)
'Take a huge shed load of cash with you'
Editor's Update: I contacted Jackie O' seeking information about the cuisine and menu for their restaurant, but never received a reply. Some of my friends and acquaintances on Mykonos have posted on Facebook that the cocktails, food, location and views are fabulous (one said she was "totally blown away by the quality of the food and the wonderful setting.") However, no-one mentioned what type of food is served — or how much it costs. Those questions have now been answered on TripAdvisor. In a July 30 post in the Mykonos travel forum, a visitor from Melbourne Australia made these observations:
"It's a great looking place. The retaurant has good modern Greek food – very fresh flavours and great service – and views to die for. The restaurant got busy around 15:30. Prices range from 12 to 90 with most around low 20s. There is a 7 euro charge for bread and an interesting range of about seven dips – beetroot, eggplant. Water is 6. God selection of wine. Nice desert selection around 10. Average lunch would be at least 50 but likely closer to 100 with wine and desert added. Well worth it though.  The pool area was busy with loungers and cabanas. There is also a small area with loungers at the beach with all taken. Didn't get a price but it seems that you need to reserve.  The pool bar is great and was busy with a mixed 20s/30s/40s crowd. Lots to look at behind the bar and they make a mean drink… Cocktails are 15 – never got round to having a soda ;-)"
That confirms comments made by a traveller from London England, who called the food "superb" but recommended to anyone planning a visit to Jackie O' Beach to "take a huge shed load of cash with you." Jackie O' Beach, he said, "is now the place to be for the gay glitterati."
Below are more photos of Jackie O' Beach that were posted on the Jackie O' Bar Facebook group page recently with media announcements about the club's grand opening.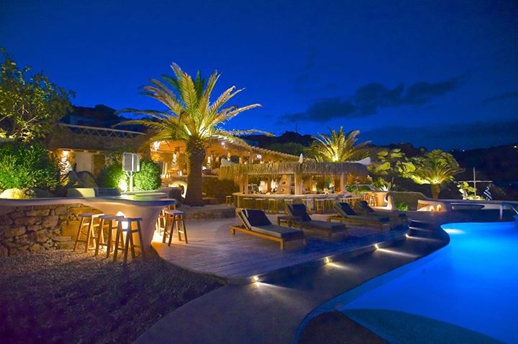 This photo, by Carsten Stehr, shows the club's swimming pool area at night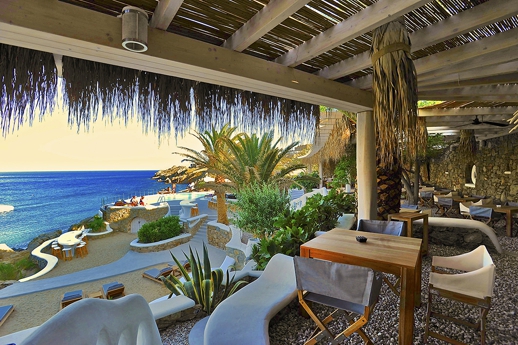 Formerly occupied by the Coco Beach Club, the multi-level complex underwent 8 months of extensive renovations before opening in June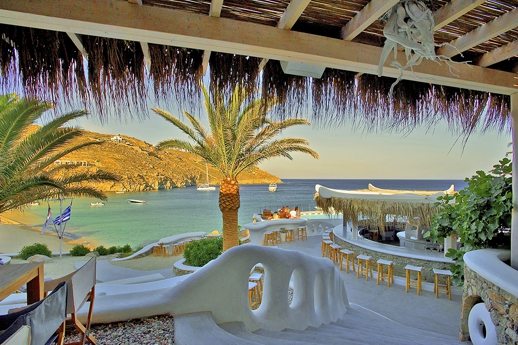 The various club levels offer excellent views of the scenic bay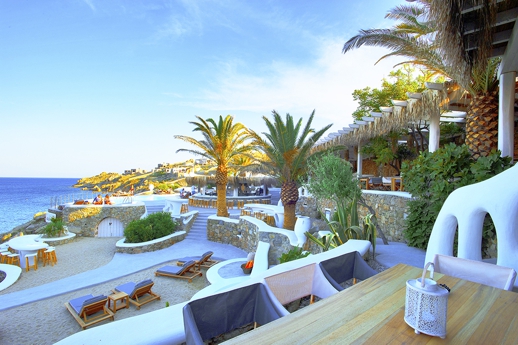 Bar terraces overlook lounge chairs on a stretch of sand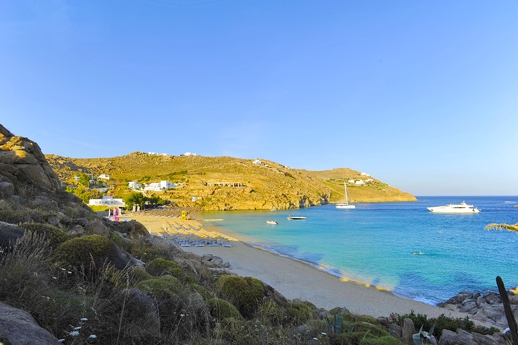 Jackie O' Beach Club view of Super Paradise beach and bay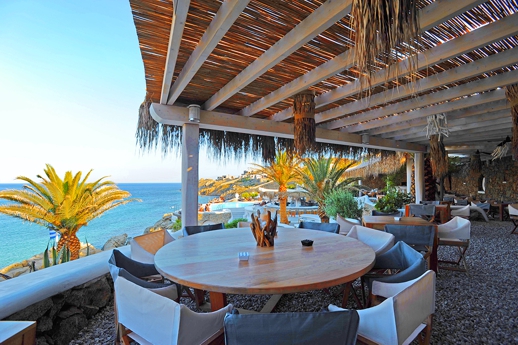 Shaded terrace has great views across Super Paradise Bay
A staircase with sculptural Cycladic design elements
Night view of the staircase and a bar terrace below it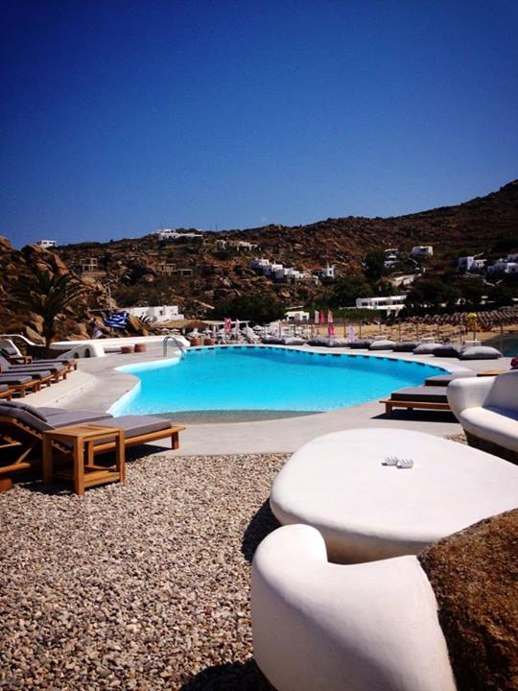 This photo of the pool was posted on Facebook by Angie Ioannou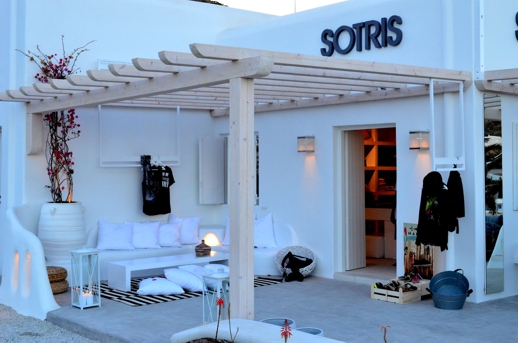 A photo of the new Sotris clothing and fashion accessories shop at the Jackie O' Beach complex. More photos of the shop's interior and exterior can be viewed in an album on the Sotris Facebook page.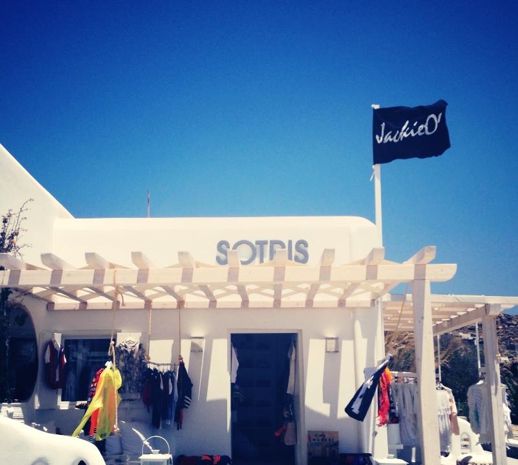 This photo of the Sotris clothing shop at Jackie O' Beach was posted on Facebook by Ioannis Tsirigotis.  Sotris has another location at 12 Matogianni Street in the heart of Mykonos Town.