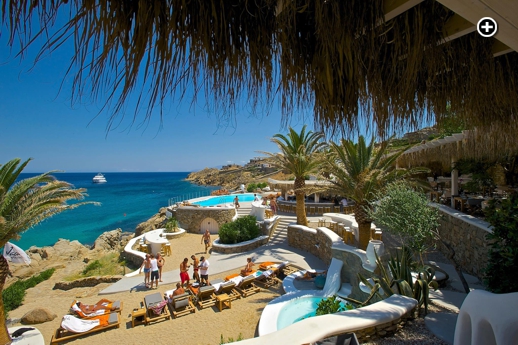 The Jackie O' Beach Club & Restaurant opened July 1 at Super Paradise beach on Mykonos. The aerial photo below shows the new club's location on the hillside overlooking the west end of picturesque Super Paradise beach. The pictures were posted on Facebook by club co-owner Carsten Stehr, who created the stylish new beach venue with business partner Michalis Sigounas. Click on the images to view them in full-size format.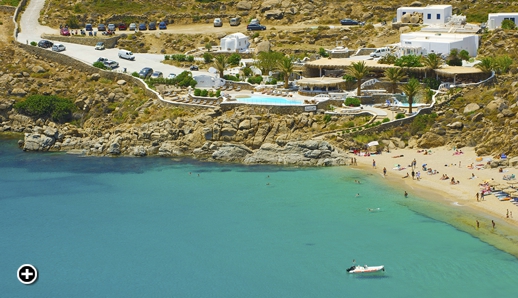 Club class: A stylish new restaurant and bar has opened at Super Paradise, one of the legendary party beaches on Mykonos.
Featuring Cycladic sculptural design elements in an amphitheatrical hillside setting at the west end of Super Paradise beach, Jackie O' Beach boasts a large open-air bar, a 150-seat restaurant, private lounge areas, its own beachfront, swimming pool, jacuzzi and even a church.  A Sotris clothing and fashion accessories shop is also part of the complex, which opened on the site of the former Coco Beach Club (see my August 16 2011 post for a description of the old club, as well as photos of the location's terrific views of Super Paradise beach and bay).
CONTINUED ON PAGE 2