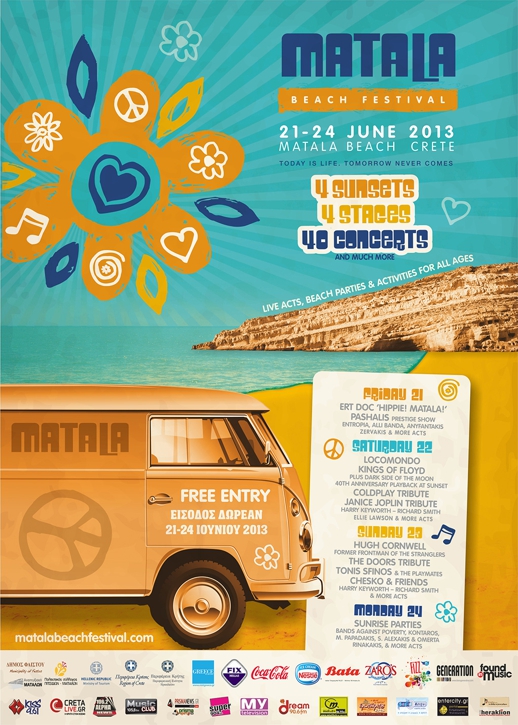 The official promotional poster for the 2013 Matala Beach Festival
Beach was made famous by Joni Mitchell
Matala Beach is situated 71 kilometers south of Heraklion. The beach became known around the world in the early 1970s, the festival website says, when singer-songwriter Joni Mitchell "released her critically acclaimed album 'Blue' which detailed her experiences whilst living in the caves with the young hippie travellers enjoying the tranquility of Matala Beach."
"Matala's culturally unique heritage continues to attract visitors of all ages," the festival website says.
Coincidentally, this has been a big week for the singer who put Matala beach on the international map. Joni Mitchell, now 70, gave her first live performance in years Tuesday night in Toronto, where she appeared during the Joni: A Portrait in Song tribute held as part of the city's annual Luminato Festival. (Those of you who are Joni Mitchell fans might be interested in a review of the event that appeared in the Toronto Star newspaper.)
The Stranglers' Hugh Cornwell is headline act
This weekend's Matala Beach Festival will present a variety of music from the 1960s to the present day, and will feature Hugh Cornwell as the headline act. The former frontman for The Stranglers, Cornwell is the first international artist to headline the festival. Other performers will include Kings of Floyd, Professor Richard Smith, The Doors tribute, Janis Joplin tribute, and Locomondo.
Full event details are available on the Matala Beach Festival website as well as the Matala Beach Festival Facebook page.