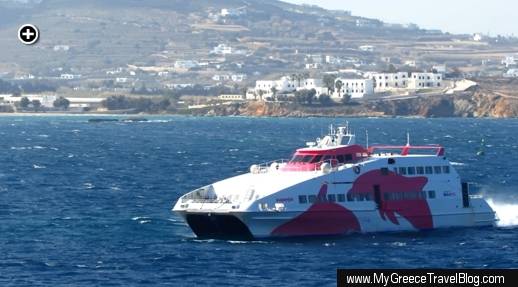 The Seajets passenger ferry Superjet enters Parikia Bay as it heads to port at Paros island on October 13 2013
The town of Parikia looms larger as Superjet approaches the ferry quay. I shot the photos above, as well as two of the videos below, from the Blue Star Ferries ship Paros as it departed Parikia en route to Athens.
 This is a short clip of Superjet that I shot from the Blue Star Paros.
 This video (Part 1 of 2) shows views of Parikia and some of its waterfront on the south side of the port. I shot this clip from a deck of the Blue Star Paros as it approached and prepared to dock at Parikia en route from Naxos to Piraeus.
This is the second clip I shot from the Blue Star ferry. It shows parts of Parikia and the bay on the north side of the port.
For a completely different perspective, here's a video shot from land, showing the Paros docking at Parikia. It was filmed by YouTube member Steffen Mork.