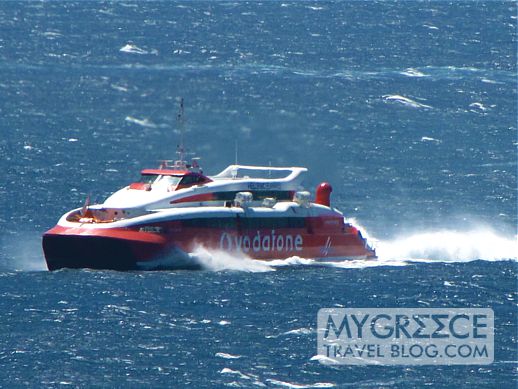 The Flyingcat 4 highspeed ferry powers its way through wavy rough seas as it approaches the Old Port of Mykonos on a very windy May day
Fast ferry favourite: It's a familiar sight in the Cyclades, and a favourite mode of transport for tourists travelling the popular corridor between Mykonos, Naxos, Paros, Ios, Santorini and Crete. It's the Flyingcat 4, a highspeed passenger ferry operated by Hellenic Seaways. Built in England in 1999, the catamaran ferry carries up to 440 passengers in airline-style seats, and can travel at a top speed of 40 knots. It plies the Aegean Sea between Crete and Mykonos between April and late October each year, offering daily trips from May through September (except for two Wednesdays per month when the ship stays at its home base at the port of Heraklion, Crete for maintenance.) It leaves  Heraklion in the morning, reaches Mykonos around 2.30 in the afternoon, and then heads back home.
We've had a grand total of four one-way trips on Flyingcat 4 so far, though it feels like we've been on it more times than that (perhaps because we took its smaller sister, Flyingcat 3, from Paros to Pireaus one holiday).
CONTINUED ON PAGE 2