2004 was our first trip on Flyingcat 4
We rode Flyingcat 4 for the first time back in 2004 when we travelled from Crete to Santorini. The ferry left Heraklion just past 9 in the morning and arrived at Santorini a little over two hours later. I still have the ticket stub; the economy class fare cost €27.80.
We rode Flyingcat 4 twice in 2005. She took us from Mykonos to Santorini for a fee of €28 (that's per person, by the way) and, several days later, carried us from Santorini to Naxos, at a price of €23.60.
And last year Flyingcat 4 took us from Mykonos to Ios. Oddly enough, there was a huge demand for the ferry even though it was only the middle of May. When I stopped by a Mykonos ferry agent office to purchase our tickets the day before departure, I was surprised to learn only two seats were available — both in business class, for a whopping €46 per person.  In May, there's usually plenty of space on ferries, and no need to book tickets in advance. But last year, for some reason, a lot of people were travelling, and we lucked out by getting the last two seats on the Cat. The business cabin was on the Cat's upper deck, and the seats were comfortable enough (just two side-by-side, compared to rows of 3 adjacent seats down below in in economy). But since the trip between the islands takes only two hours,  I would have preferred to save some money by travelling economy class. Next trip I'll make sure we book our tickets early so we don't get stuck in the more expensive seats again.
Below are some of our photos of Flyingcat 4. If you're curious to see what the catamaran's interior looks like, you can view a virtual tour of its cabins on the Flyingcat 4 webpage.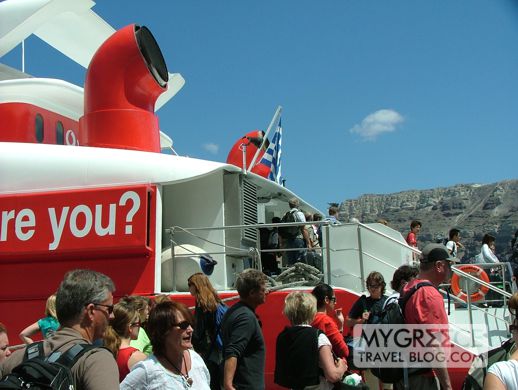 Passengers disembark the Flyingcat 4 at Santorini's Athinios port south of Fira. We were waiting to board for our trip to Naxos.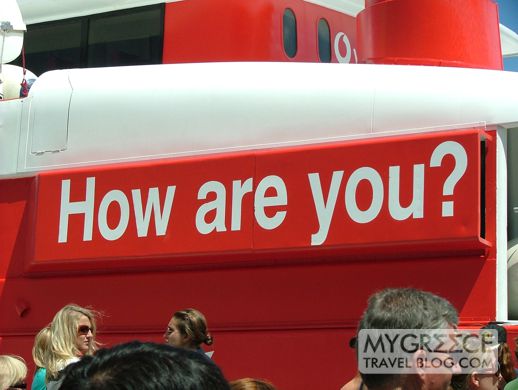 The Flyingcat 4 is decked out in the trademark red and white colour scheme of its advertising sponsor, Vodafone, and offers a cheery "How are you?" welcome. Unfortunately, most members of its crew aren't nearly as friendly!
The Flyingcat 4 makes its way from Paros to Naxos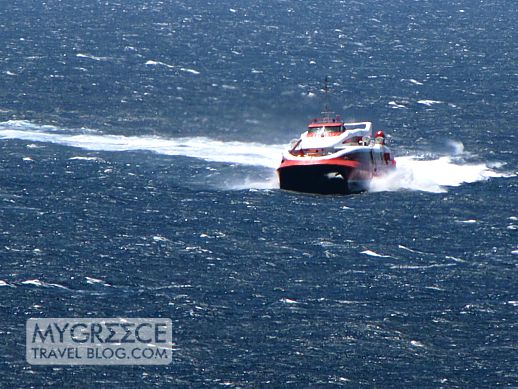 Flyingcat4 approaches the entrance to the Old Port at Mykonos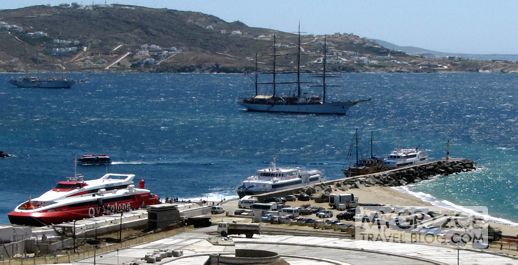 Flyingcat4 at the ferry and excursion boat pier in the Mykonos Old Port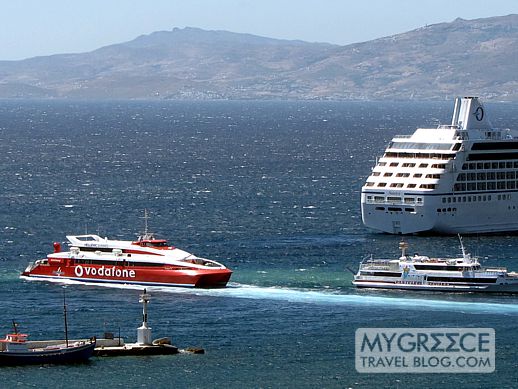 Flyingcat 4 backs out of the Mykonos Old Port as it begins its return trip to Heraklion with stops at Naxos, Paros, Ios and Santorini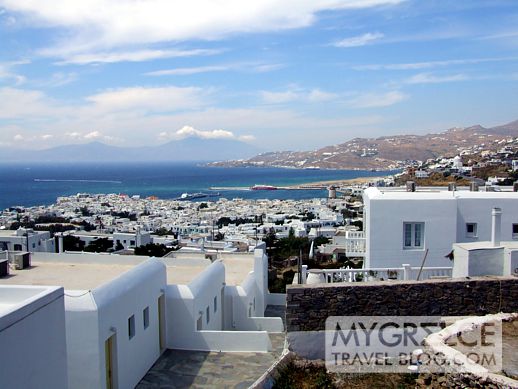 Mykonos Fine Arts District view of FlyingCat 4 docked at the Old Port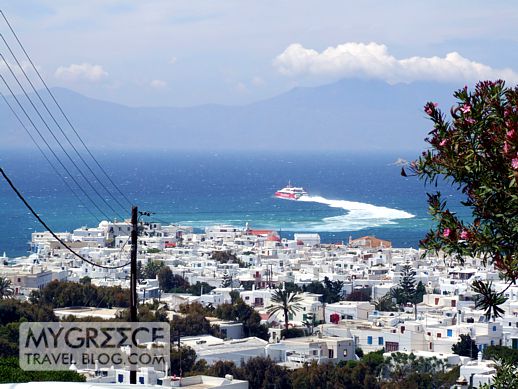 Fine Arts District view of FlyingCat 4 churning up a wide wake as it departs Mykonos. The mountainous island in the distance is Tinos.