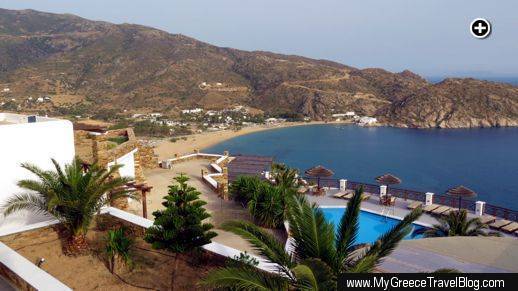 This was the marvellous view of Mylopotas beach and bay that we enjoyed from our terrace at Hotel Katerina on Ios in May
180 degrees of scenery: We really lucked out with our hotel choice on Ios during our trip to Greece last month.
After spending five days on Mykonos in a hotel room that didn't have any view at all (the room had no balcony or terrace, and its window only looked onto the private terrace for a nearby suite), we got to enjoy four days of spectacular scenery at Hotel Katerina on Ios.
We realized we were really in for a treat when we arrived at Hotel Katerina and caught a few glimpses of beautiful Mylopotas beach as we walked across the swimming pool terrace next to the reception area. And when the hotel manager, Maria, led us to our room (#7) on the second-highest level of the property — 56 steps above the pool deck — we were blown away. The private terrace for Room 7 offered an incredible 180 degrees of marvellous views of the Mylopotas and Agios Ioannis areas of Ios, as well as nearby Sikinos island and even Santorini in the distance.
CONTINUED ON PAGE 2