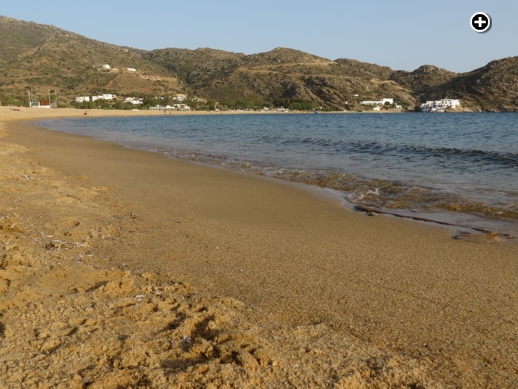 An early evening view of Mylopotas beach on Ios
Warmer times: It's bitterly cold outside right now and I'm huddling indoors, fighting a stubborn head cold and trying to keep myself warm.
But instead of wrapping myself in a thick woolly blanket, I'm making myself feel warmer by looking through photos and videos from our Greek Island holidays in May and October of this year.
And some images that really gave me a boost today were from Mylopotas beach on Ios back on May 19.
It had been a sunny and hot day, and we had already done a lot of walking around the island. But in early evening we were doing even more, taking a stroll on the golden sands of gorgeous Mylopotas beach, which was almost empty of people at the time. The sound of waves washing against the shore was incredibly soothing and relaxing.
Below is a brief videoclip I shot while I walked on the sand around 7 p.m. Remembering how warm it was at the time helped me forget about my cold for awhile. I hope it helps you warm up a bit if you're in a cold part of the world right now, too.