I got partying out of my system during my university days, so bars, nightclubs, beach parties and boozing it up don't interest me much anymore. And since I can't stand being in tightly crowded places, you won't catch me cramming into Cavo Paradiso or the Space club on Mykonos to join thousands of other people listening and dancing while top DJs from around the world spin music all night long.  So why, then, do I even bother going to a so-called "party island" like Mykonos, Ios or Kos in the first place?
Ios is more than just a "party island"
That's a question I get asked all the time, and my answer is simple: those islands have a lot more to offer besides a thriving social scene. In fact, there isn't much partying on any of those islands in the spring, which is when we usually visit Greece. If partying is your prime reason for travelling to the Greek Islands, you've got to go during July and August, which also happens to be high travel season — the busiest and most expensive time of year to travel in Europe. Many island bars and clubs aren't even open in May, and the wild beach and club parties you may have heard about generally don't start before mid- to late June. Until then, the bar scene is rather tame. And come September, once younger travellers have returned to college or university, the party atmosphere quickly dissipates, giving way to a relaxed, mellow vibe that lingers until the tourist season draws to a close in early autumn.
Spring and September are perfect for non-party activities, and sightseeing and hiking are two of our favourites. Actually, hiking is the only way to take in some of the spectacular scenery on islands like Ios because many of the best viewpoints are situated at the tops of hills and mountains that are accessible only on foot (or by donkey, if that's what you happen to be driving).
Great vantage points abound
At Chora, the main village on Ios, two of the top places to check out the views are from the peaks on the south and north sides of town. The south hill is a short, easy hike above the village, while the peak to the north — the steep rocky mountain crowned by four picturesque churches — is a tougher climb, up dozens of thigh-burning stone steps and along sloping dirt paths. Both points are ideal places to watch a sunset or just enjoy aerial views of the village, surrounding valleys, and the port, harbour and beach area of Gialos.
The top of the hill east of Chora offers two more terrific spots for taking in the scenery while getting some fresh air and exercise. One excellent lookout point is the Giannis Gaitis-Gavriella Simosi Museum of Modern Arts, a huge modern museum & gallery space that opened in 2008 to display work by the late artist Yiannis Gaitis and his wife, but has apparently been sitting vacant ever since. (At least, that's what several locals told us, and we certainly didn't see any artwork when we peered through dusty windows into the cavernous empty rooms inside.) From both the big terrace outside the museum and from its wide, flat roof (you can climb a flight of stairs to get up there),  you'll enjoy panoramic views of Chora and nearby Sikinos island to the west. A short walk away is the 1,100-seat outdoor Theatre of Odysseas Elytis, which faces the opposite direction, and offers breathtaking views of Mylopotas beach and bay far below.
The island abounds with countless more scenic lookouts, including footpaths that wind down mountainsides to beautiful beaches like Mylopotas and Kolitsani. Ios has many additional hiking paths with jaw-dropping views, but we'll have to wait for future visits to discover and explore them — we just didn't have enough time to see more during our first Ios visit last May. Until then, here are some photos we shot from the vantage points I mentioned above. More photos can be viewed in the Ios 2011: Getting high on Ios album on the mygreecetravelblog.com Facebook page.
The post below this one includes links to several videos I shot from the peaks above Chora.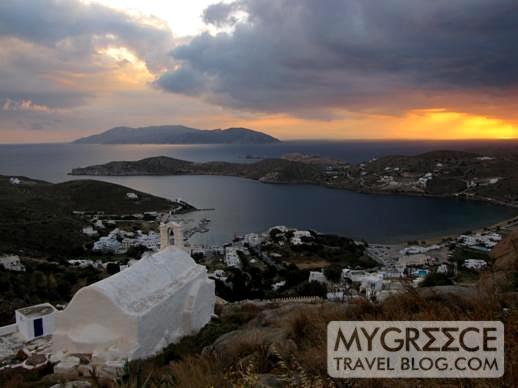 A sunset view of Yialos harbour and village and nearby Sikinos island from one of the four churches on the mountain above Chora.

A view of Chora from the church at the top of the hill on the south side of town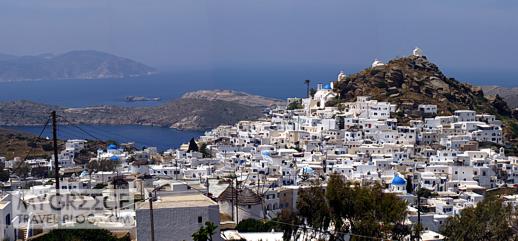 A panoramic view of Chora and points beyond, from the road leading to the modern arts museum and amphitheatre east of the village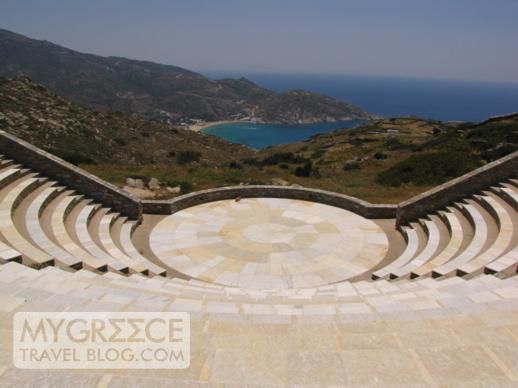 The Theatre of Odysseas Elytis has terrific views of Mylopotas beach and bay. The outdoor amphitheatre seats 1,100 people.
Overlooking the mountains and valley behind Mylopotas beach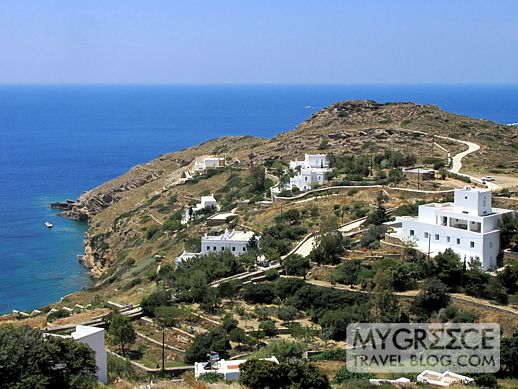 Villas on a mountainside below Agios Ioannis, between Chora and Mylopotas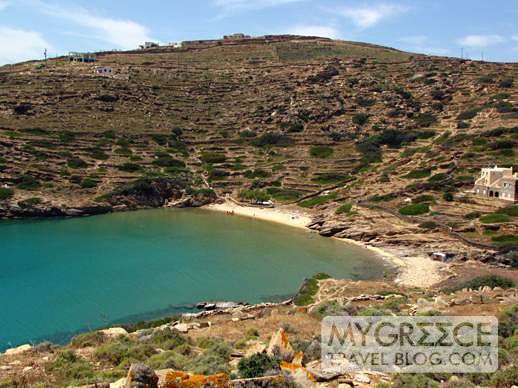 Looking down on Kolitsani beach and bay from one of the mountain paths leading to the secluded beach. It's accessible only on foot.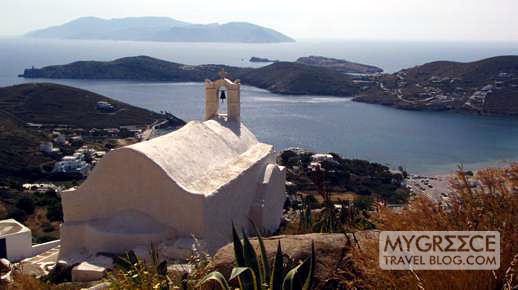 Views toward Sikinos island from one of the churches above Chora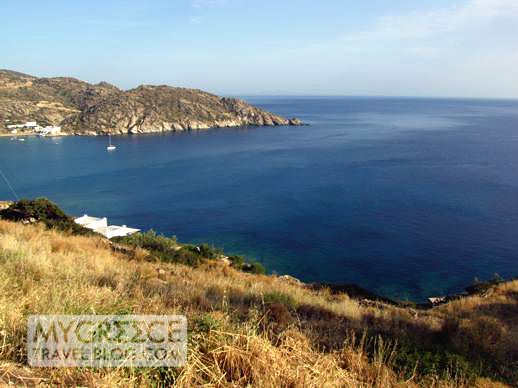 Overlooking the mouth of Mylopotas Bay from the Agios Ioannis area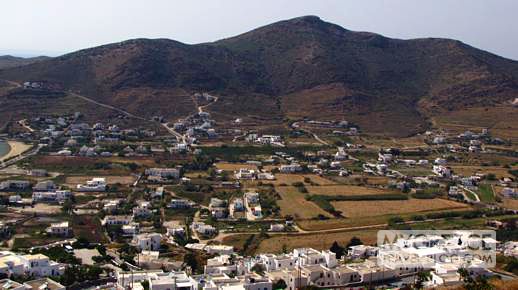 The mountains and valley behind the Yialos port, beach and harbour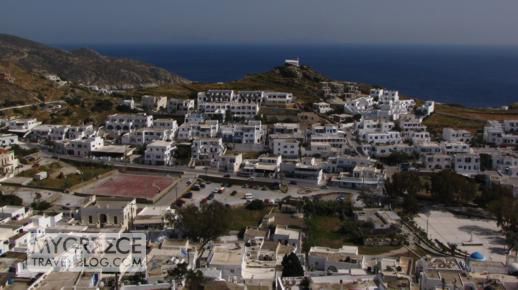 A view of Chora from the north mountain peak topped by four churches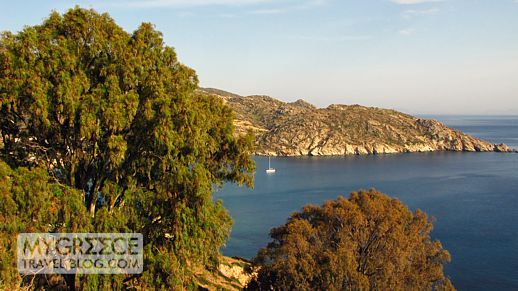 Overlooking Mylopotas bay from the Agios Ioannis area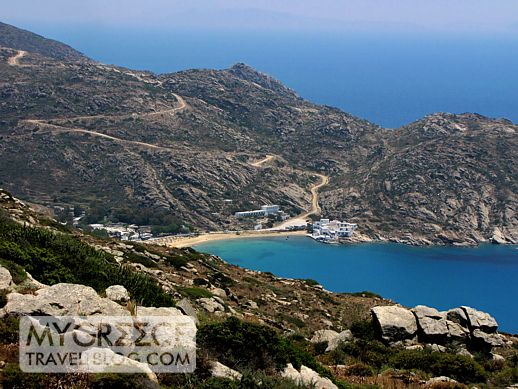 Overlooking Mylopotas Bay and beach from the amphitheatre above Chora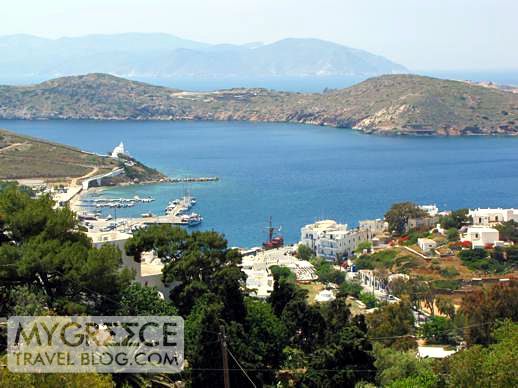 Overlooking the Yialos port and harbour on a sunny afternoon …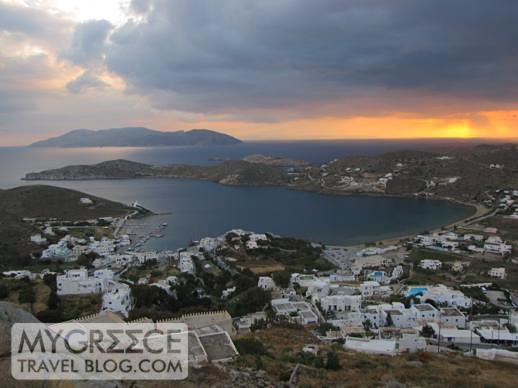 … and at sunset, as thick thunderclouds drift away from the island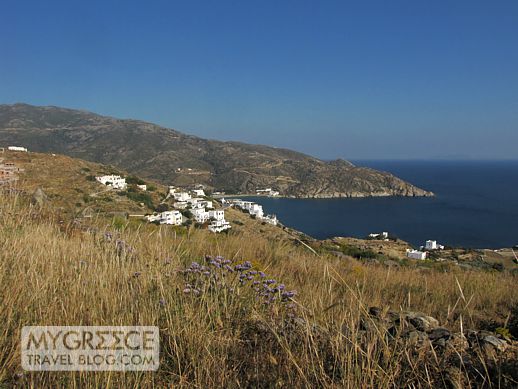 The view toward Mylopotas bay, from atop the hill south of Chora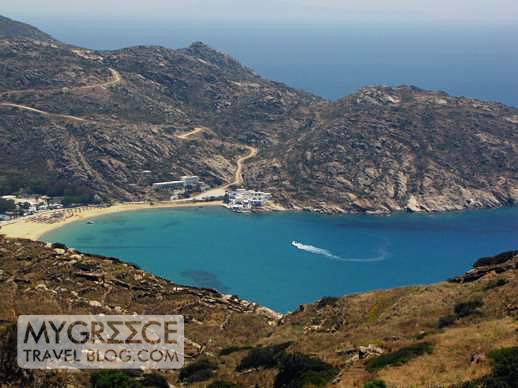 Another amphitheatre view of beautiful Mylopotas beach and bay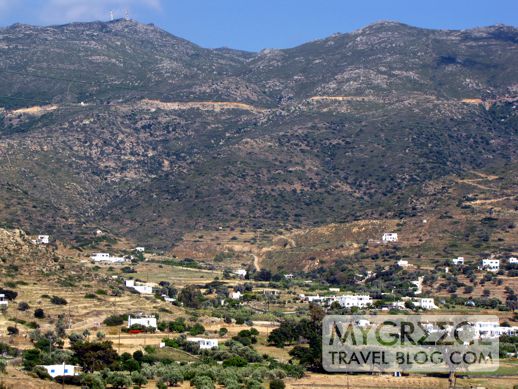 Another shot of the mountains and valley behind Mylopotas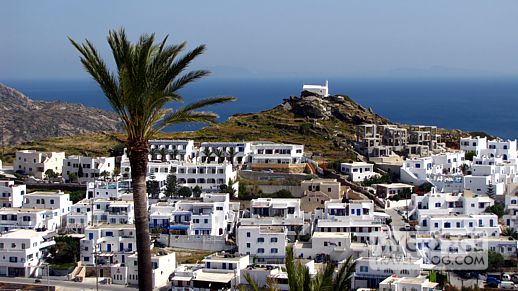 Looking toward the church atop the hill south of Chora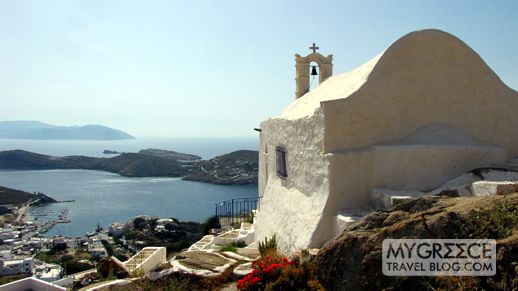 Westerly view from one of the churches on the north peak above Chora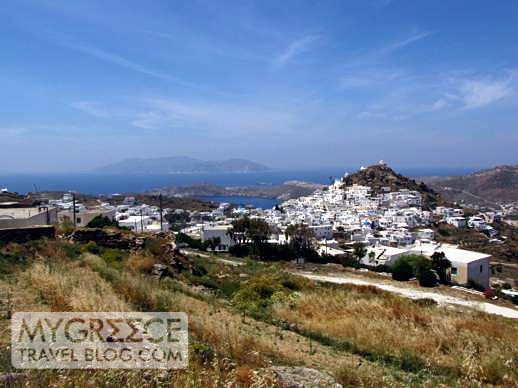 Looking toward Chora and Sikinos island from the road leading to the modern arts museum and amphitheatre
<>