The mountainous Amorgos coastline was in silhouette from a brilliant sunrise when we approached by ferry for our first-ever visit to the island …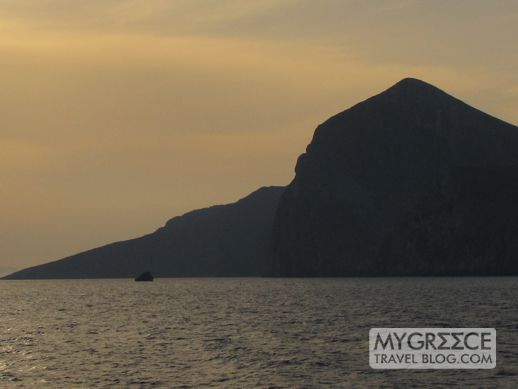 … and it was once again in silhouette when we departed the island, also at sunrise, several days later. Both photos show views of Cape Koutsogiani, the hulking dark mountain at right. Tiny Monopetra island pokes out of the sea a few hundred meters from the sheer cliff coastline of the Amorgos north coast.

Scenery silhouettes: During our island-hopping holiday in 2009, we arrived at Amorgos in very much the same circumstances as we departed several days later — watching the sunrise from the open deck of a ferry.
Our arrival on May 21 2009 is literally burned into my memory, probably because I was nearly blinded by the fiery, searing sun while I tried to take photos as we approached Amorgos on the Blue Star ferry ship, the Naxos.  I'll never forget arriving at Amorgos for another reason: the horribly early start to our day.
CONTINUED ON PAGE 2