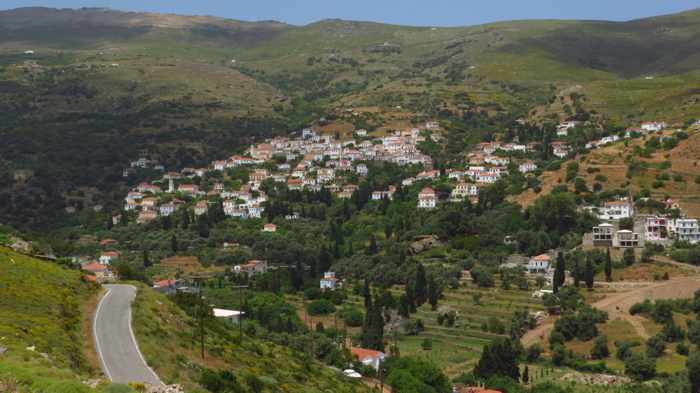 Approaching the Stenies mountainside settlement on Andros island
Valley village:  There is much to see in the mountain and valley areas near Andros Town (also called Chora) on Andros Island. In fact, visitors could easily spend several days sightseeing and exploring the surrounding countryside by car or, if they prefer, by foot (the island boasts a network of nearly two dozen sign-posted walking and hiking trails, several of which start in or near Chora).
Unfortunately, we didn't have that much exploration time at our disposal. During the first two days we stayed at Andros Town in late May, we spent much of our time in and around Chora itself. But on our third (and final) day, we ventured a little further off to do some hillside hiking in Stenies village and vicinity.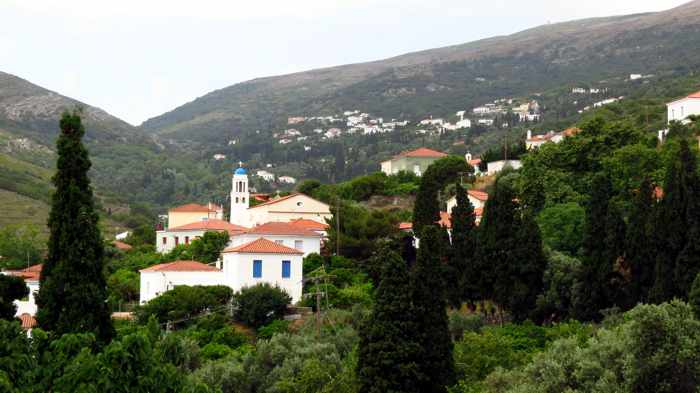 At Stenies, visitors can stroll past churches, red-roofed houses and palatial private villas nestled against verdant valley hillsides …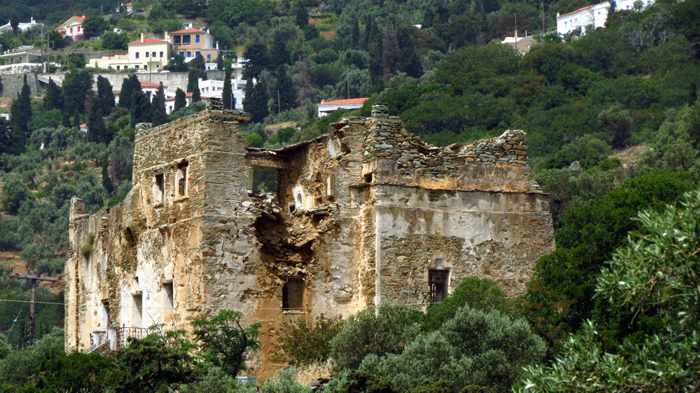 … and see historic ruins, including the crumbling Bistis-Mouvelas tower house, which dates from the 17th Century
Situated less than a 20-minute drive from Andros Town, Stenies is a residential settlement area that stretches across rolling hillsides in a mountain valley verdant with flowers, greenery and towering Cyprus trees. Blue-domed churches and large houses with red tile roofs rise from the leafy slopes,  while several sprawling estates with palatial private villas indicate that Stenies is a popular valley enclave for the affluent. Besides recently-built and still-under-construction stone mansions, the hillsides are home to some crumbling old buildings, including the Bistis-Mouvelas tower house, which was built in the 17th Century.  And on the coast at nearby Gialia Bay are two beaches — the pebbly Empros Gialia, and the sandy Piso Gialia, where travellers can stop for a meal on the seaview terrace at Gialia Restaurant and Snack Bar.
We spent several hours at Stenies, where we wandered along a series of paved paths and dirt trails that meandered up and down hills, past attractive homes, over mountain streams and across grassy fields, eventually making our way to and from the Bistis Tower. After working up hearty appetites hiking in warm temperatures under a mixed sky of sun and clouds, we drove to Drosia restaurant in the village of Menites for a midafternoon lunch break. (Staff at the Andros Town hotel where our travelling companions were staying had highly recommended we drop by Drosia for a meal. We enjoyed it as much as they had promised we would.)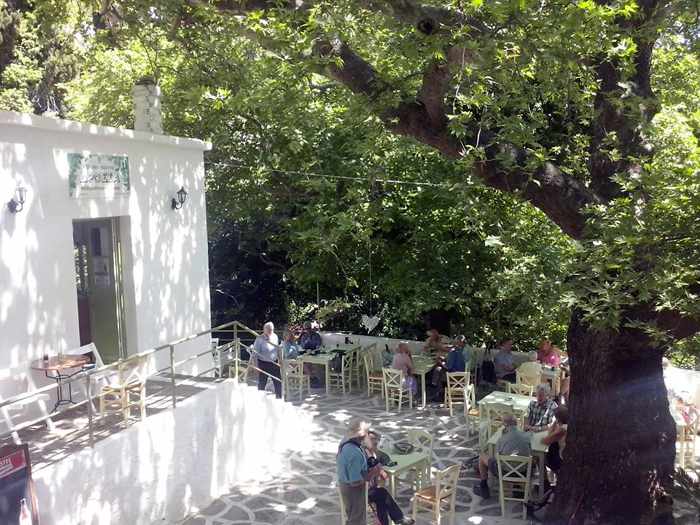 Part of Drosia restaurant's very pleasant tree-shaded patio is seen in this photo from the Drosia Facebook page
Drosia's outdoor terrace was as delightful as its delicious food — shaded by soaring trees, the patio is perched on the edge of a ravine through which streams cascade down the steep slopes. As we sat amidst thick vegetation, with the sound of water rushing in the creeks below us, it truly felt like we were in a lush island oasis — something we've never experienced on predominantly barren other islands in the Cyclades, like Mykonos, Ios or Santorini. 
It was just a short — but sweet — visit to Stenies and Menites, and we realized we had merely scratched the surface in terms of the multitude of things to see and do in both areas. We hope we get the chance to go back and  see more.
I shot this short video from the mountain road that took us to Stenies. It shows views of the mountainside settlement as well as nearby Gialia Bay. Click on the arrow to start the video.
Please click on the link below to turn to page 2 of this post, where you can read more about our day and view some of our photos of Stenies and Menites.  You can see full-size versions of the pictures, along with dozens more, in my Stenies and Menites album on Flickr.
CONTINUED ON PAGE 2